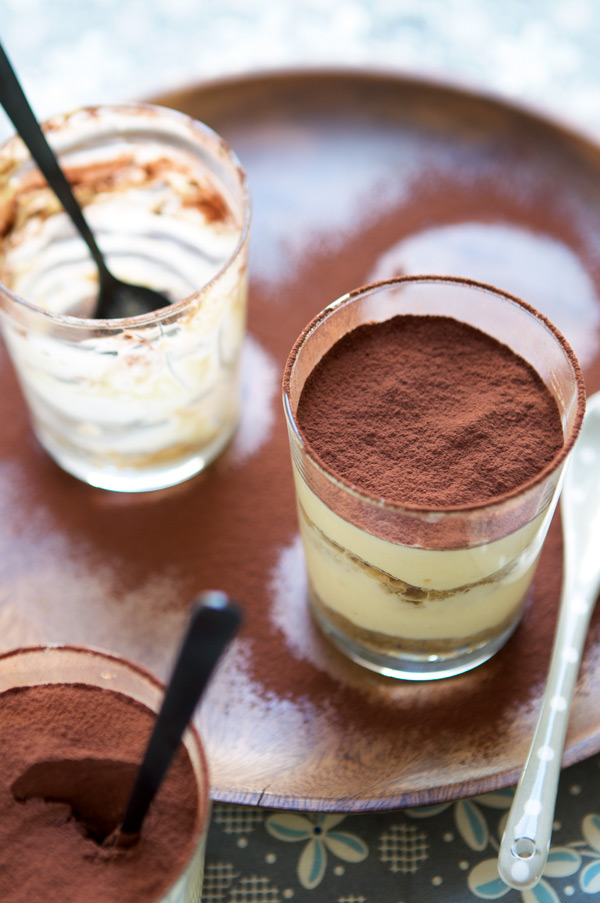 Tiramisu en verrines
Tuesday afternoon.
Le 4 janvier 2011.
I am sitting at my desk, keen to catch up with unanswered emails and piles of work that were left behind.
The last two weeks have been really busy. Not unusual, is it?
December was filled with time spent with family and friends, the first winter snow storm that kept us cozily inside for a few days, Lulu discovering the joy of sledding–and lots of long lunches and dinners. In fact, this afternoon is really the first quiet one in a while, without food on the stove or shots to be taken. It feels sweet and gentle. And at last, I am able to realize that we are in 2011 indeed. I never thought I would be too busy to see 2011 arrive. So fast. Almost unexpectedly.
But here we are.
I wanted to gather my thoughts and reflect on the past year. Lulu's second year. Amazing.
2010 was the year when she learned to walk; swim and make bubbles; run; eat risotto; laugh loudly and heartily; stretch into down dog pose; sing while reading Llama Llama Red Pajama over ten times on the sofa; feel the soft sound of snow pressed under her feet; dance and jump high while listening to the beat of Nothing Lost by The Cry on the stereo. I could never have imagined that two would be the age when she'd run to grab our hands and reach the stereo, repeating "Danse ! Danse !" with her eyes lit with excitement.
It's the cutest thing.
2010 felt full.
It presented itself with wonderful things. Thank you, thank you! But it also brought sadness and difficult times. Intense at all levels. Physical. Emotional. Going hand in hand. I was not prepared. We never are. But in the end, 2010 showed us, me, that we have incredible resources inside when we need them the most. It also taught me how lucky I am to have Lulu, family and friends around.
With a high dose of love, and food inspiration.
Snapshots.
In January, P. sold his company and started a new work adventure, which kept us home for the first months of the year. I continued to work on my cookbook–I promise, it will happen!– and other cooking and photographic projects.
In February, my parents visited us and in March, Lulu learned to walk.
A new world started right there. For her to explore. For us too.
At the end of March, we traveled to the island of Tortola in the Caribbeans where we indulged in a relaxing vacation.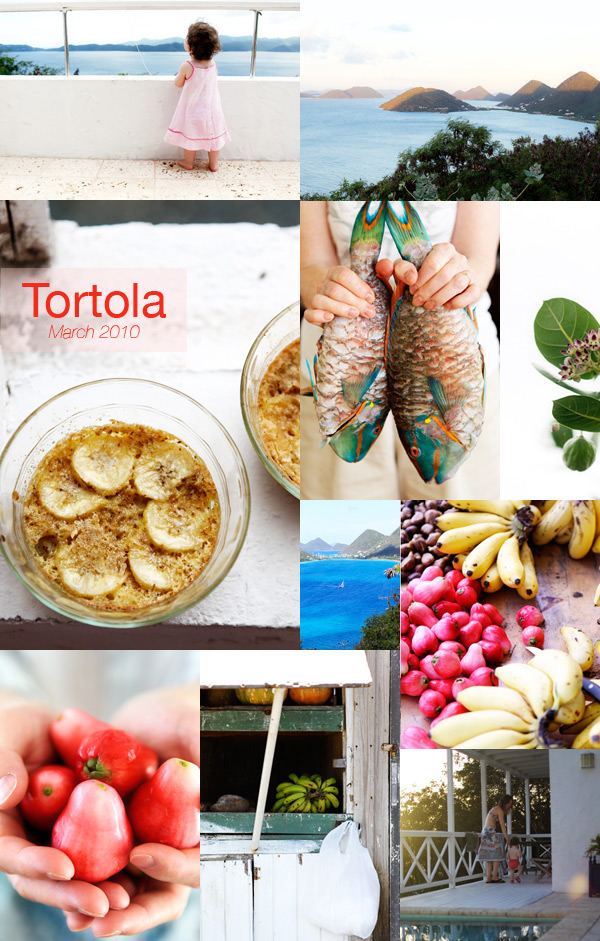 There was a lot of work involved too: the delightful collaboration to Fog Linen; writing for the Boston Globe; and shooting for Boston Magazine and The Improper Bostonian.
In March, too, La Tartine Gourmande was featured in the French TV documentary Envoyé Spécial la suite. I am still in awe that it happened for real.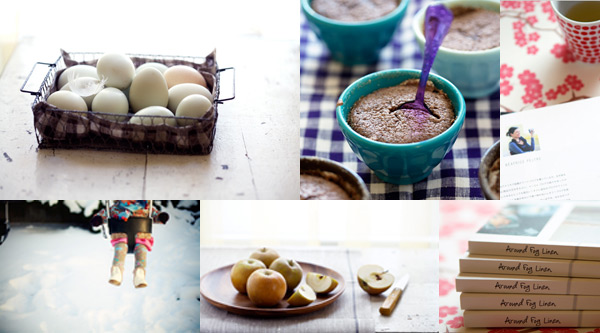 In April, we started to think seriously about moving and finding a new house. We packed and sold ours. When we eventually found a new house to buy, we were scared and excited. It had a space for a potentially new kitchen and a large garden in the back.
In May, we traveled to France where we had a wonderful reunion with family and friends to celebrate Lulu's christening. There, Lulu ate her first cherries picked right from my father's cerisiers. My mother introduced her to the world of croissants, pains aux raisins, radishes, salade de carottes râpées, venison and rabbit.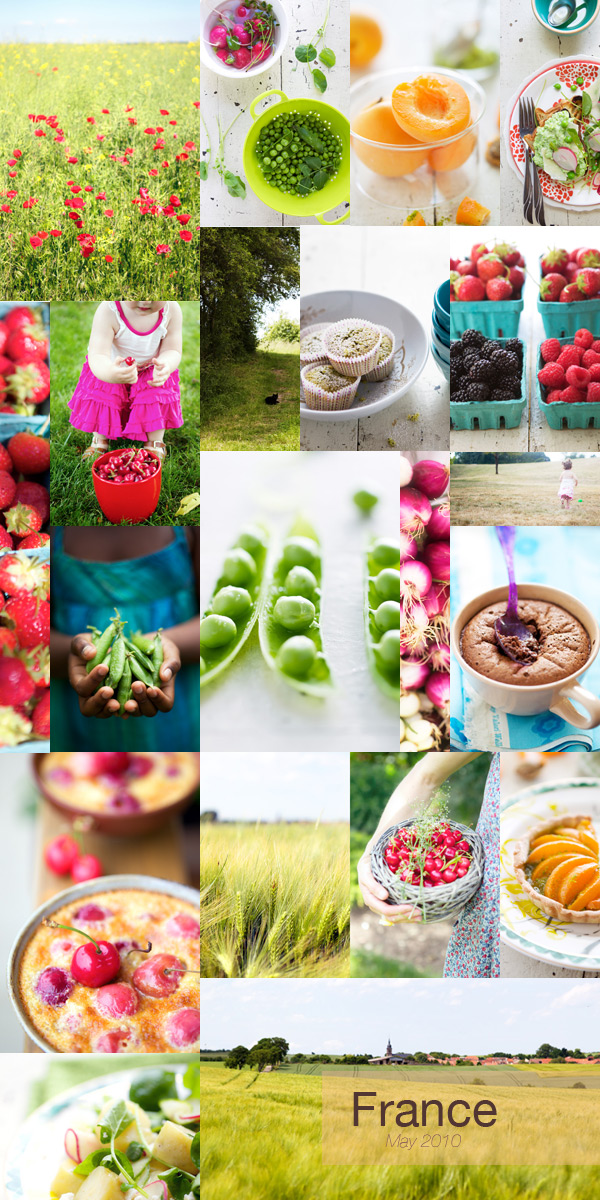 The early summer was spent in our new house and France, between the beautiful island of Belle-Ile en mer in Brittany: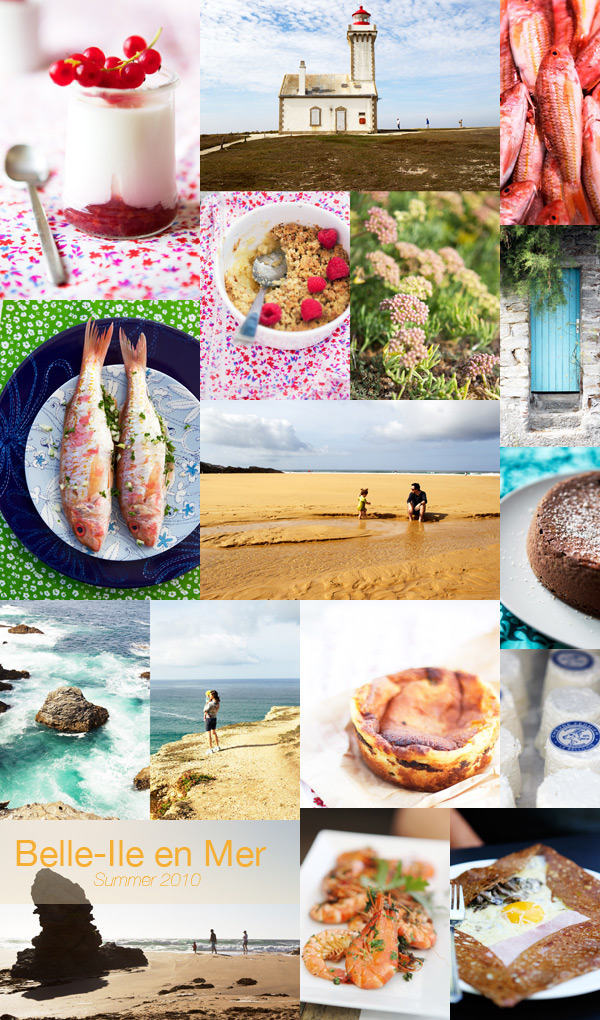 And my parents' house in Lorraine: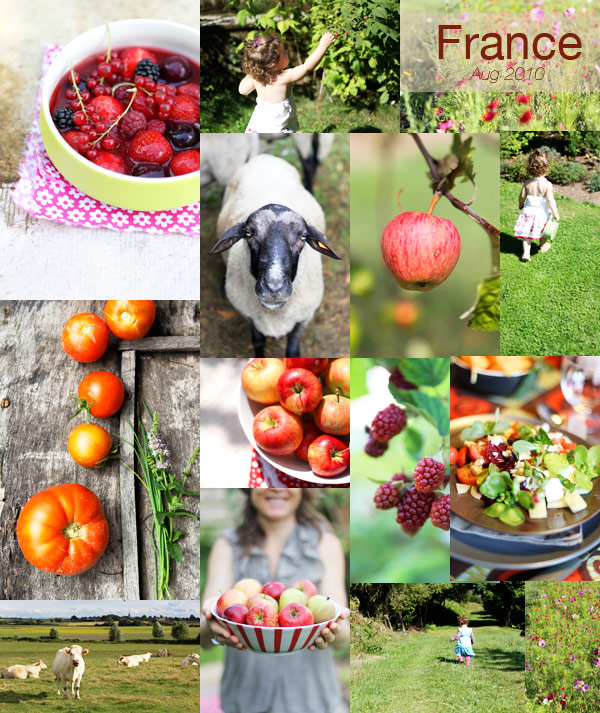 When September came, we moved out of our house once again, this time to start the long renovation of the kitchen. I traveled to New Hampshire to teach a food styling and photography class at Squam.
October was spent working on the final revisions of my cookbook manuscript while Lulu started to go to daycare a few days a week. I was relieved to see she loved meeting new faces. And was good at it.
Then, by the end of November, we finally moved back to our house, which left December for unpacking boxes, family visits and celebrating Lulu's second birthday. And amongst other food projects, I was able to work with super talented Francine Zaslow and Jo Packam.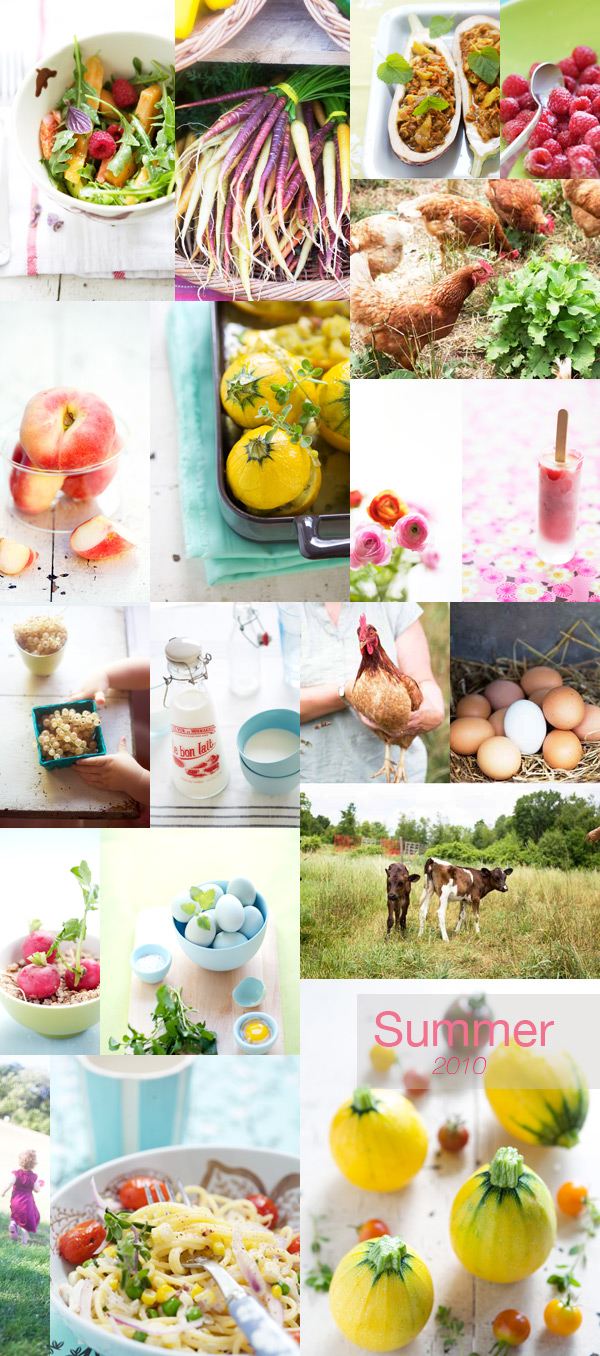 I really thought that, in the midst of 2010's craziness, this could well have translated into less time for me to spend cooking in the kitchen. I dreaded that it might happen, in fact.
But it didn't. Thankfully.
There was always an incredible amount of dishes and food prepared out of the kitchens I visited. Whether it was in the spacious house we rented in Belle-Ile en mer; in my mother's or sister's-in law kitchens; in the small apartment where we temporarily lived for three months–and eventually in my new cooking space. Oh, it's such a happy space!
Creating food kept me together. Pushed me forward.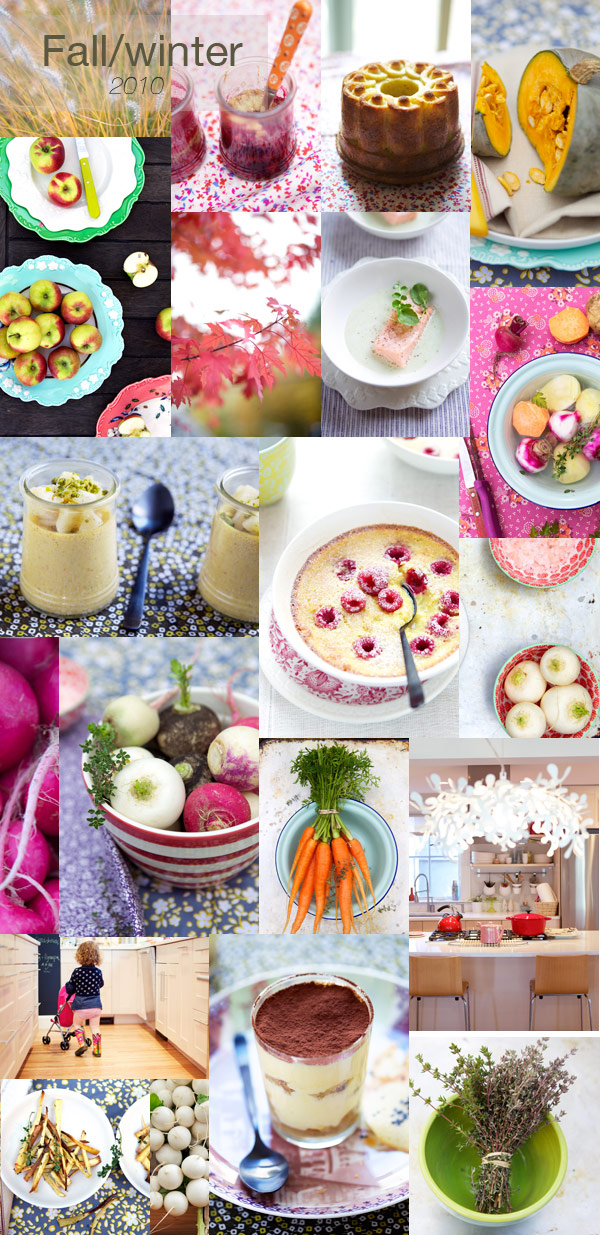 So there we are. Bonjour 2011 !.
I am still not sure what 2011 keeps for me this year. And frankly, I don't want to either know too much or make big plans. But instead, I want to live in the moment. Now. Enjoy Lulu's new discoveries of life. 2011 will be the year when she goes to la maternelle. It will be the year when we also hope to travel with her even more, to show her more of the world we love.
I am blessed to have a loving husband, an adorable girl in love with life, a great family, my work, my blog. And all of you who have stayed and come back patiently despite a year busier than I had anticipated.
I wish you all a fantastic new year. I hope it's filled with a lot of incredible things. Laughter. Food. Everything you hope for.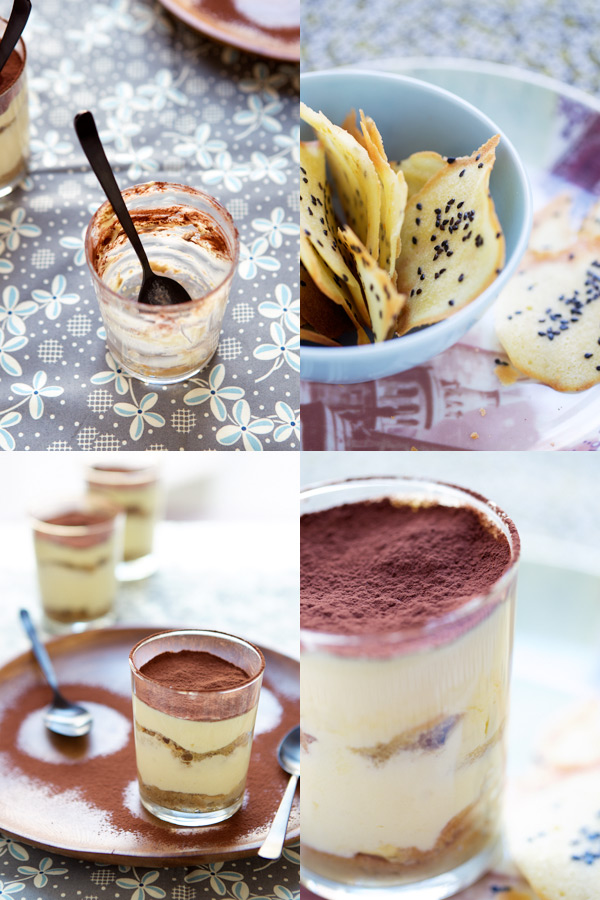 We finished 2010 with a tiramisu. I wanted to start 2011 with another one. Because that's a very good recipe in my opinion! But also because I've just discovered that Lulu really loves when I bake ladyfingers.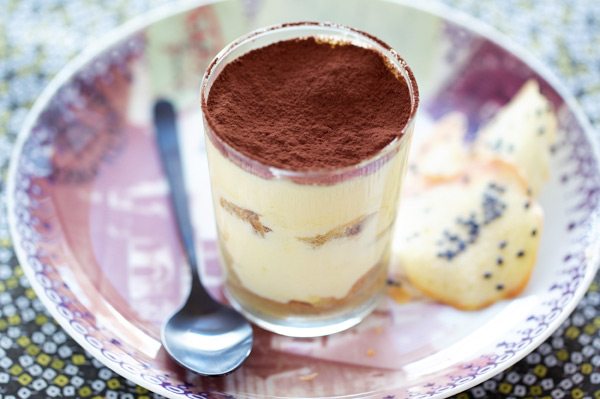 On Sunday, after we returned from the Children's museum and a lunch made of soup, salad and crusty bread at Flour's, she stood quietly on her tiptoes by the kitchen island to grab a few ladyfingers I had left to cool. When P. and I eventually took notice as she walked by us with one cookie in her mouth, she was smiling with pride.
As to us, we could not help but burst into laughter.
To a good start.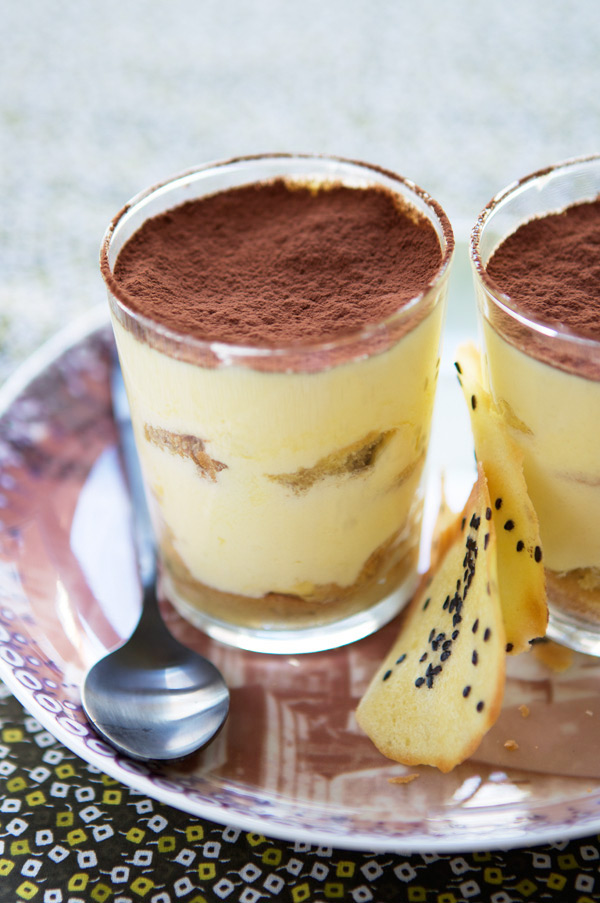 Tiramisu en verrines
(For 4 people)

You need:
For the tuiles:
3 egg whites
3.4 tablespoons (50 g) butter
3 tablespoons millet flour
1 teaspoon pure vanilla extract
1 tablespoon blond cane sugar
Black sesame seeds, to sprinkle

Steps:
Preheat the oven to 350 F and have a large baking sheet covered with parchment paper ready; set aside.
In a bowl, beat the egg whites with the vanilla and flour and sugar. Add the melted butter. Let rest for 15 minutes.
Using a small pastry brush, make 3-inch circles on the parchment paper. Sprinkle with sesame seeds. Cook for 6 to 7 minutes, or until golden in color. Remove from the oven and using a spatula, transfer the tuiles to a cooling rack. Repeat until you run out of ingredients. These can be stored for a week in an air-tight container.
For the tiramisu:
2 large eggs, separated
1/3 cup (80 g) blond cane sugar
1 teaspoon pure vanilla extract
7 oz (200 g) mascarpone, at room temperature
Pinch of sea salt
3/4 cup prepared dark coffee
10 ladyfingers (I made a Gluten free version)
Unsweetened cocoa powder, to dust
Steps:
In a bowl, beat the egg yolks with the sugar and vanilla. Place the bowl over a pot of simmering water and continue to beat until the batter is light in color and doubles in volume.
Beat in the mascarpone. Let cool slightly.
Whip the egg whites firm with a pinch of salt and fold them in the egg batter.
Have four small water glasses handy. Take 1 ladyfinger and dip it quickly in the coffee. Coat the bottom of the first glass with it, cutting it in pieces if necessary. Repeat with the other glasses.
Cover the layer of ladyfinger with mascarpone cream and repeat another layer of ladyfingers (dipped in coffee) in each glass.
Finish with the rest of the mascarpone cream. Cover each glass with plastic wrap and place in the fridge for at least 5 hours (or overnight, which is what I always prefer to do).
When ready to serve, dust each glass with cocoa powder and serve with the tuiles on the side.
Note: I prefer my tiramisu without the addition of marsala or rum. It's a question of preference.