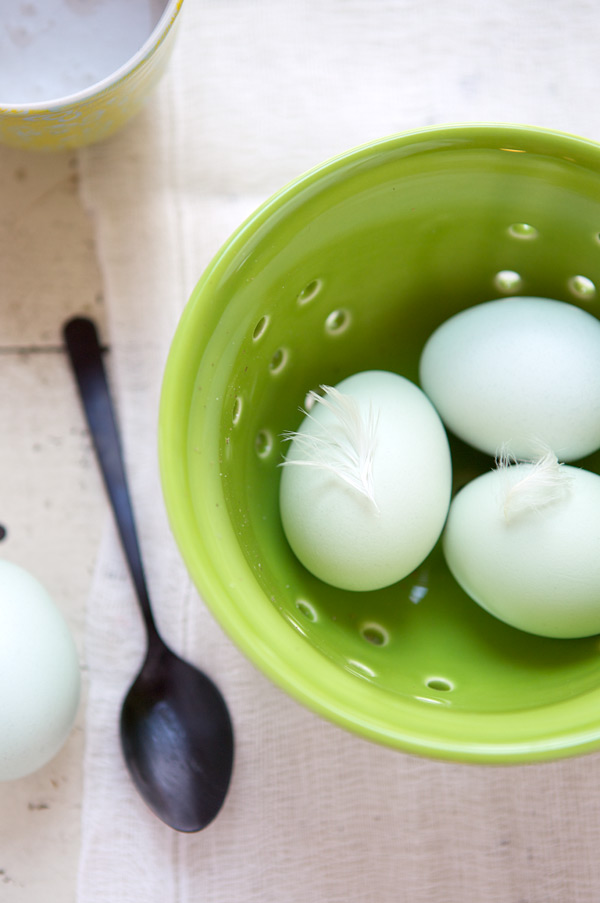 In a few days, it will be Christmas. Lulu's birthday. At home, we will have close Irish family and we will be eating bûche de Noël (if I can get to making one) and a lot of French Christmas food–delicate and elegant, because that's what I feel like cooking this year. I will take the time to cook in my new space. Again. I've been missing it so much.
Maybe it's also my mother's fault.
When she and I talked on the phone today and I asked what she was going to cook for le réveillon (Christmas eve) and on Christmas day, her words and the dishes she described inspired me. I closed my eyes and for a moment, I felt I could have been in the kitchen with her. She made me want to cook one of the French Christmas dinners she always prepares, with pretty looking amuse-bouches, oysters, scallops with coral, sabayon, champagne, venison and a scrumptious looking bûche de Noël. I thanked her. "Why?" she asked. "Because you inspired my Christmas, despite the fact that I was feeling unprepared with everything we've been going through over the last few months."
"What dessert are you going to cook?" she then continued.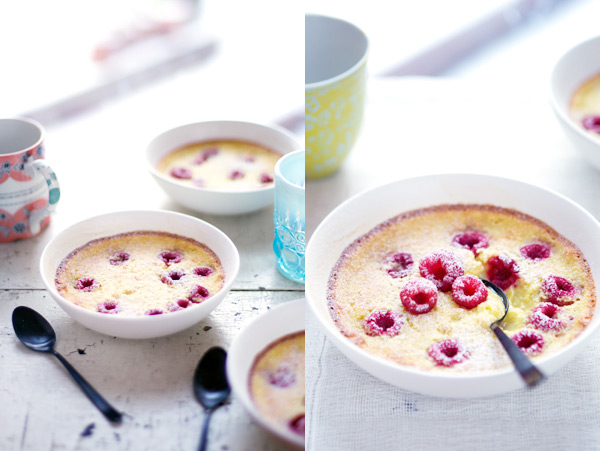 So I told her about these baked custards that I made with lime and raspberries. It's a recipe somewhat inspired by one found in Saveurs' December issue. I had decided to create this version one afternoon when it was snowing outside, there was a fire in the wood stove and I was getting presents wrapped and slipping inside the Christmas feeling.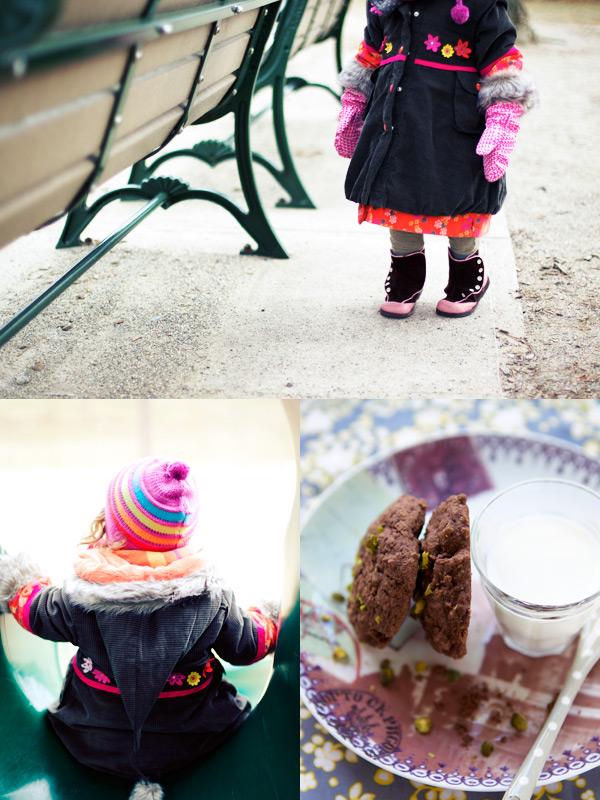 P. was working from home while Lulu was napping tightly upstairs after having played on the slides in the morning, despite the wintry morning air. Something that, I had promised her, would translate into chocolate cookies when she woke up.
When four o'clock struck, I called to ask P. whether he wanted to try the custards with me.
"I am trying this for our Christmas dinner," I said. We sat down cozily on the floor in front of the fire, with one bowl and two spoons. And we started to eat.
"I just want a taste," I went on. "Me too," he said.
We finished the first serving. And then had another one.
Then we smiled. We were enjoying a peaceful moment in our new home. At last.
Merry Christmas to all of you. May this holiday be filled with wonderful thoughts and happy times, love and delicious food.
I am glad to be here. I am glad to be back.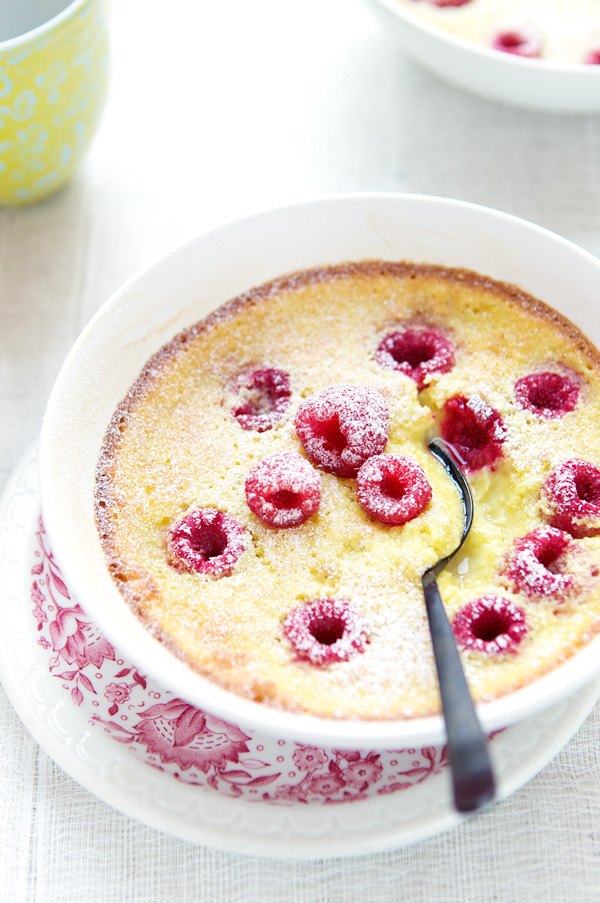 Baked lime custards with raspberries
(For 6 people)
You need:
4 tablespoons (50 g) unsalted butter, soft + more for molds
2/3 cup (80 g) blond cane sugar
4 large eggs, separated
4 tablespoons millet flour
1 teaspoon baking powder
2 limes, for juice and zest
1 inch ginger root, peeled and finely grated
2 cups unsweetened coconut milk
Pinch of sea salt
10.5 oz (300 g) raspberries
Confectioner's sugar, to serve
Steps:
Preheat the oven to 350 F and butter 6 shallow wide bowls (mine measure 6 1/4″ by 2″); set aside.
In the bowl of a food processor, cream the butter and sugar together for a few minutes, and then add the egg yolks, one at a time. Beat until well incorporated.
Add the millet flour and baking powder and beat until combined.
Add the lime zest and juice and ginger.
Stir in the coconut milk.
Whip the egg whites firm with a pinch of salt and fold them in the previous batter.
Divide the lime batter between the bowls and stud the custard with raspberries. Bake the desserts for 20 minutes or until the flan is set and the top is golden in color. Let cool and dust with confectioner's sugar when ready to serve. I find the custard best eaten lukewarm or at room temperature.