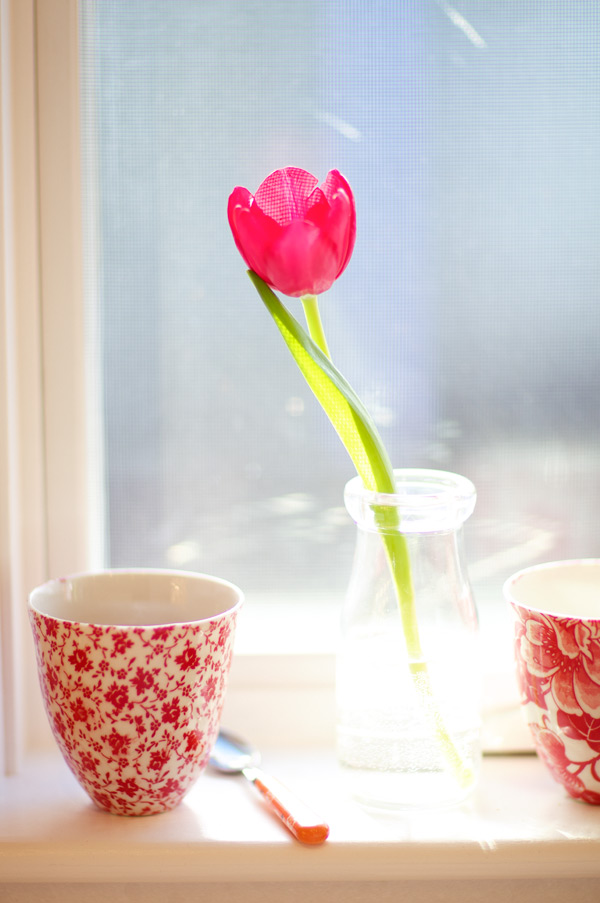 You know, it's one of these times in my life when I am not able to keep up with everything. House, work, Lulu, nous, Christmas, birthday parties and recent travels. I am sure I am not alone, am I?
In fact, I had forgotten how much energy moving and settling into a new home takes. It's fulfilling. Exciting. Tiring. But in the end, amazing. We are lucky to have this large space–Lulu loves it, and that makes us really happy.
So what have I been up to? I am still organizing the kitchen and building a prop room where I will have my textiles, cups, bowls and flatware handy. I cannot wait to show you once it is done. In fact, I have so many images I'd like to share: vegetables from my last visit at the farmer's market, and then the kitchen. Finally for me to enjoy!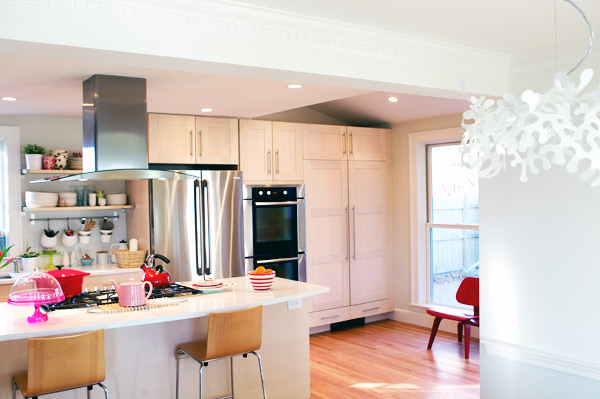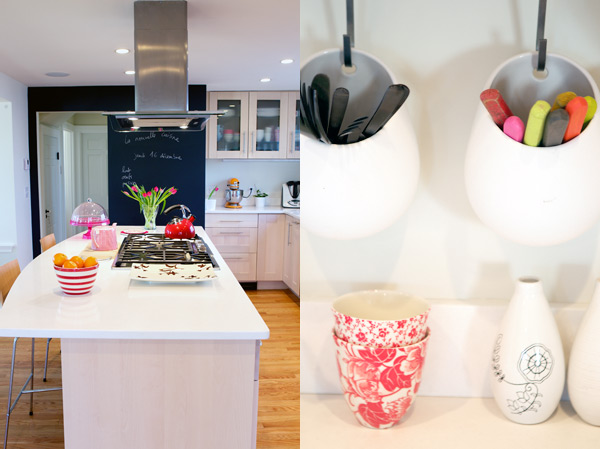 Right now, my head is full of dishes I want to cook right there. I will have to be patient, though, because between photo shoots on location, fighting stomach flu over the last few days and life, simply, I don't have the time and energy to write. I miss it.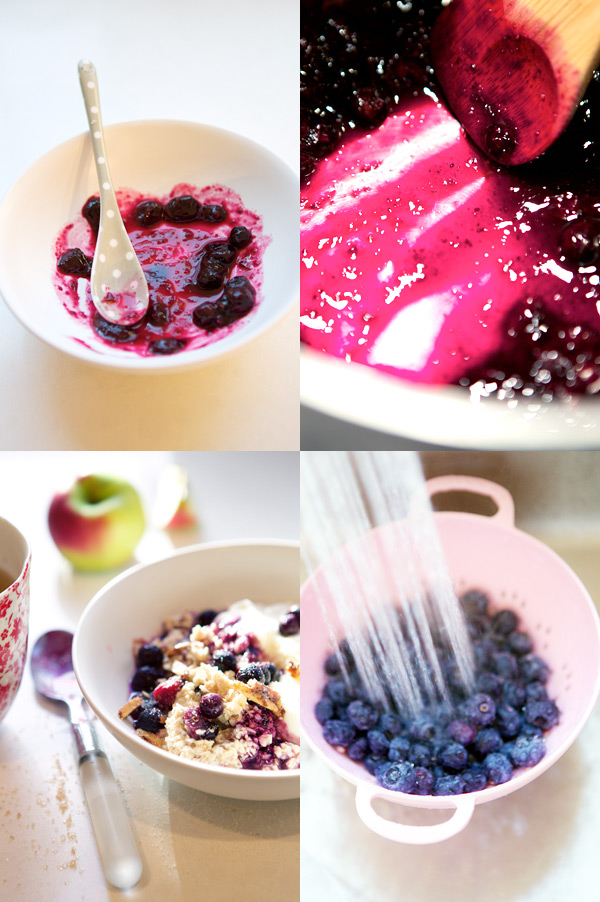 But I thought you might still enjoy hearing briefly about what I've been up to. And hearing about the breakfast we are eating these days.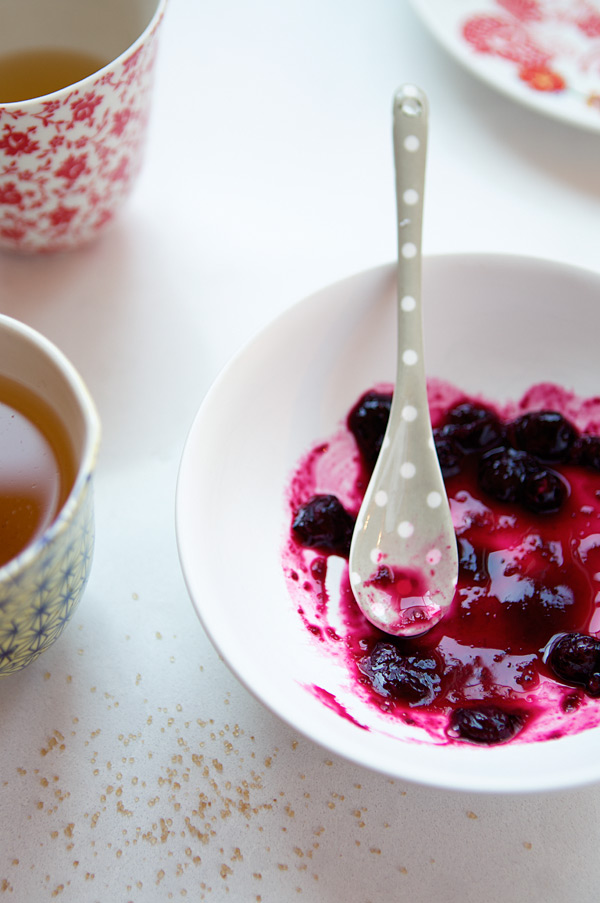 Bircher muesli (Birchermüesli). Swiss. Simple to prepare. A delicious contrast of textures. Nutritious food. One of my favorite breakfasts. Just the kind I need these days.
I like to prepare mine with fresh apple juice, my brother's, or the best store-bought I can find–I particularly love the Fuji apple juice from Red Jacket Orchards. I also like to add blueberries, sometimes with raspberries, choosing fruit according to the season. Always with a grated apple, plain yogurt and roasted nuts.
Maybe that's something you'll enjoy too. To be repeated over and over.
I am not sure when I will be able to stop by again. Hopefully before Christmas. Wait, before Lulu's birthday. I cannot believe she will be already two.
How did that happen?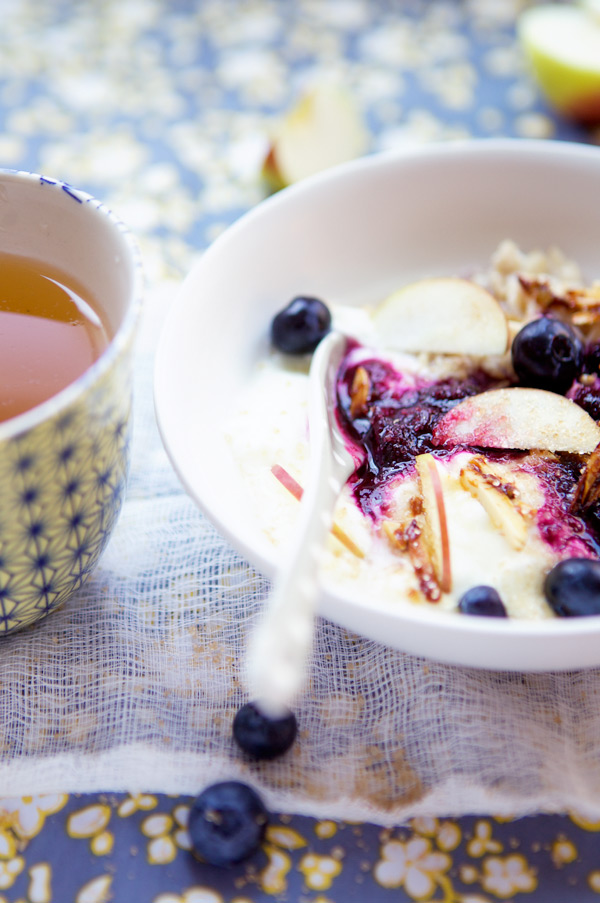 Bircher muesli with apple and blueberries
4 servings

For the blueberry sauce:
1.5 cups blueberries
3 tablespoons Turbinado sugar
1 tablespoon water
Steps:
In a pot, combine the blueberries, sugar and water. Cook until the blueberries soften and release their juice. Continue to cook if you like, to reduce for a thicker syrupy texture.
For the caramelized slivered almonds:
1/2 cup slivered almonds
1 tablespoon butter
2 tablespoons Turbinado sugar
Steps:
In a frying pan, melt the butter over medium heat. Add the sugar and nuts and cook until the sugar is dissolved and the nuts caramelize. Let cool on a piece of parchment paper.
For the muesli:
1.5 cups quick cooking oats
1 cup apple juice
1/4 cup dried cranberries
To serve:
1 red apple, cored and grated
Turbinado sugar, to taste
Blueberry sauce
Fresh blueberries
Caramelized slivered almonds
Plain yogurt
Steps:
In a bowl, combine the oats with the apple juice and cranberries. Cover and let soak overnight in the fridge.
The next day, serve with plain yogurt, a grated apple and blueberry sauce and nuts. Add sugar to taste.