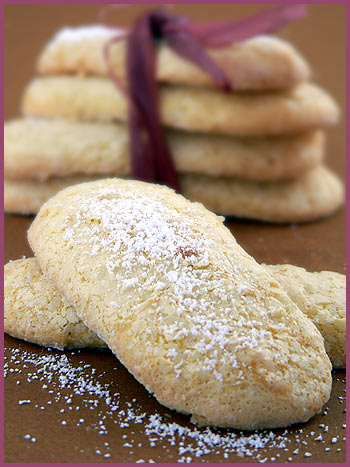 Me: "— What am I going to do?
P.: — What do you mean?
M.: — Je ne les trouve pas ! Ils n'en ont pas !
P.: — They don't have what?
M.: — Des biscuits à la cuillère !
P.: — What?
M.: — Ladyfingers! I need some to make my dessert!
P.: — Can't you make some?
M.: — Ca va pas la tête ? T'es pas fou ? (Are you nuts?)
P.: — Well, there must be a recipe somewhere. Yours will taste nicer anyway. Try!"
I guess P. was right. Totally right. Sam had giving me the hint somehow a while ago. I could totally make some. I needed them.
When I used to live in France, I would just take for granted that if I wanted des biscuits à la cuillère, I simply had to run to my local supermarket. The store did not need to be special, as any supermarket or épicerie would do.
Moi : — Bonjour, je voudrais des biscuits à la cuillère, vous les rangez où ?
Vendeur : — Là-bas, dans le rayon des petits gâteaux.
Me: "— Hello, I would like to buy ladyfingers. Where do you keep them?
Shop assistant: — Over there, with the cookies."
No fuss, easy and straightforward. I never questioned how accessible they were.
But I do not live in France anymore.
One thing I have learned from the fantastic opportunities I have to live overseas is that I am forced to step outside of my comfort zone. Every day I learn something new, even if there are things I will never manage to agree with, such as be tolerant about Bostonian bad drivers or understand why people I have met before sometime call our house to speak with P., but do not even say something like "Hello, it's Michael P. here.. May I speak with P.?". Instead, I hear a I-don't-know-you "Hi, is P. there?", as if I were some stranger living in the house or maybe the au-pair. Call me a snob, but I just do not get that! Never take things for granted. So things are definitely different from place to place, and country to country. As to my food searches, it taught me that it just takes a little more effort to get the ingredients that I want and need. And it is a good thing.
My Ladyfinger Search
Of course, I could have decided to call every possible store in my neighborhood, to see whether they were carrying what I was after. I did not want the typical harder-in-texture ladyfingers I actually can find around here, but the ones that are softer in texture, and a little wider. Like little sponge cakes. They needed to be like that because I was after a specific texture for the dessert I was intending to make. Why it never occurred to me before that I could actually make them just remains a je-ne-sais-pas. Do I sometimes think I could make my own butter? Not really. So I never thought I could make my own ladyfingers until I was faced with a situation: no store around here was carrying what I wanted. Me thinking: "Some people are actually selling them, so if they can make them, so can I!"
Mes biscuits à la cuillère
Initially, the shape of this biscuit was round. What gave the biscuit its name? La cuillère, the spoon, used to place amounts of dough on the baking sheet. Starting around the 19th century, the shape changed to become long rather than round. A spoon would no longer be used but a decoration bag instead, which explains the new shape of the biscuit. Who created them? Antonin Carême. What are they? What we can describe as small finger-shaped sponge cakes.
I needed wide short ladyfingers because of a dessert I am totally obsessed with, which I will talk about later. Made and tested, it is just waiting dans les coulisses (behind the scene) to be introduced. I ran a series of tests and researched for the best texture, until I settled with the following recipe. My ladyfingers turned out light and airy, probably not as pretty as store-bought ones, but just like I wanted them to be. The good news was that I could eat one, two, or three, and it was like I was eating nothing. Or hardly anything. I felt sweetness, softness, like snow meting in my mouth. After all, now that I think about it, ladyfingers used to be the type of biscuit my mum would give to me when I still had no teeth, to calm me down if I was crying. Not that this happened often as I can tell this to you, I was le bébé le plus gentil du monde (the nicest baby in the world), always smiling! I hope you believe me.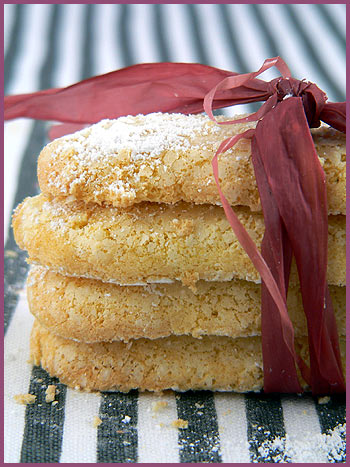 Biscuits à la cuillère
(about 30 ladyfingers, 3″ long)


You need:
3 eggs
About 6 Tbsp cornstarch
About 6 Tbsp all-purpose flour
2.8 oz fine sugar
Confectioner's sugar
Steps:
Preheat your oven at 350 F.
Separate the egg yolks from the whites. Using a stand mixer, beat the egg whites with 1 Tbsp sugar, then progressively add the rest of the sugar until the whites are firm and form peaks.
Sift the flour and cornstarch separately.
Add the egg yolks to the whites, in the mixer.
Add the two flours using a spatula. Be careful when mixing so that you keep the airiness of the preparation.
Take a baking sheet and cover it with a piece of parchment paper, or use a silicone baking mat.
Use a decoration bag to make little sticks, 2.5″ long as they spread a little. Make sure that you space them out.
Sprinkle with confectioner's sugar and let rest for 1 mn until the sugar is absorbed. Repeat a second time.
Place the ladyfingers in the oven and cook for about 15 mns, or until they have a nice golden colour.
Remove them from the oven and let them cool a little before placing them on a cooling rack.
To be followed…
Le coin français
Les biscuits à la cuillère
(Pour environ 30 biscuits, 8 cm de long)
Ingrédients :
3 oeufs
40 g maïzena
40 g farine
80 g sucre
Sucre glace
Étapes :
Préchauffez votre four à 180 C.
Séparez les jaunes des blancs. Montez les blancs en neige avec 1 càs de sucre, puis ajoutez le reste de sucre progressivement, jusqu'à ce que la texture soit ferme.
Tamisez la farine et la maïzena séparément.
Incorporez les jaunes d'oeufs à la neige ferme, toujours au mixeur.
Ajoutez délicatement les 2 farines à la main, sans cette fois utiliser le mixeur.
Mélangez délicatement avec une maryse.
Prenez une feuille cigare et utilisez une poche à douille pour déposer la pâte sous forme de petits bâtonnets de 6-7 cm (ils s'étalent un peu).
Espacez-les.
Saupoudrez de sucre glace, en 2 fois. (laissez la pâte absorber le sucre glace avant de saupoudrer avec le sucre glace une 2ème fois).
Faites cuire au four pendant 15 mns.
Sortez du four et laissez-les refroidir sur une grille.
A suivre…