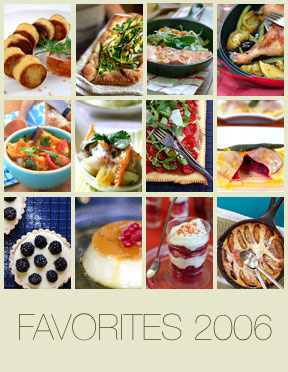 I am very bad at making quick decisions. No, let me say this again. If given to choose Ten Favorites, I am like a lost soul in the desert. I do not know where to go, left, right, middle, maybe under? It is worth mentioning that I once got lost in the American Grand Canyon, so let me tell you that I know what I am talking about.
The lovely Lorette from the French food blog A la table de L. asked me to provide a list of my Tartine's Ten Favorites Recipes 2006 — I can tell you that I would love to eat at her table. Hard to choose but I tried, and gave a list of twelve recipes that I love (well there were twelve icons fitting my picture, so here it is). Thanks a lot Lorette for inviting me to this wonderful table. It gave me an excellent opportunity to reflect on the recipes I created this year. It is hard to believe but the reality is that I had forgotten about so many! It was excellent to look back and make notes of some of which I should definitely try again soon, not forgetting to add that it gave me the opportunity to practice my poor choosing skills! Anyone interested in jumping in? Try, it feels pretty good actually, and let me know if you do. I am curious.
The Top Twelve
– 1 – Sautéed Gnocchi with Tarragon Tomato Sauce
– 2 – Surreal Green Vegetable Tart
– 3 – Red trout and vegetable peels with garlic cream
– 4 – Lemon Chicken, Green Zebra Tomatoes and Black Olives
– 5 – Tarragon Tomato Soup and its Olive Oil croûtons
– 6 – Scallops Ceviche and Kumquats
– 7 – Roasted Tomatoes, Red Onions and Arugula Tart
– 8 – Beetroot Ravioli and Orange Sauce
– 9 – Blackberry Tartlets with Lemon Cream
– 10 – Crème Renversée of my Dreams
– 11 – Raspberry and Mascarpone Mousse Verrines
– 12 – All You Need to Make a Plum Clafoutis
Je ne suis pas très douée pour prendre des décisions rapides. Non attendez, laissez-moi réfléchir. En fait, si on me demande de dresser une liste comprenant dix de mes recettes préférées, c'est la panique. Je me sens comme perdue dans le désert. Allez à droite, à gauche, en avant, non peut-être en-dessous ? Je devrais sans doute ajouter que je me suis vraiment une fois perdue dans le Grand Canyon américain, alors je sais de quoi je parle.
La très sympatique Lorette du blog A la table de L. m'a demandé quelles étaient mes dix recettes favories, publiées sur ma tartine en 2006 — je peux vous dire déja que je m'inviterais bien à sa table, moi. C'était plutôt une chose difficile à réaliser pour l'incapable que je suis face à ce genre de situation, mais j'ai essayé tout de même, et vous en livre douze (mais oui, ma photo comprenait douze icônes, ceci explique cela). Merci bien Lorette pour m'avoir invitée à cette superbe table. C'est peut-être difficile à croire mais le fait est que j'en avais oubliées beaucoup. Ce petit exercice m'a permis de me replonger avec délice dans mes notes, m'encourageant à refaire ces recettes très vite. Alors, qui d'autre a envie de se dévoiler? Je suis curieuse, ne soyez pas timides. Faites-moi signe.
Les Douze Sélections
– 1 – Gnocchi poêlés et réduction de tomates à l'estragon
– 2 – Tarte aux légumes verts surréelle
– 3 – Pelures de légumes, truite rosée et sa crème d'ail
– 4 – Poulet au citron avec tomates vertes et olives noires
– 5 – Soupe de tomate à l'estragon et croûtons à l'huile d'olive
– 6 – Ceviche de coquille St Jacques et kumquats
– 7 – Tarte aux tomates confites, oignons rouges et roquette
– 8 – Ravioli à la betterave rouge et sauce à l'orange
– 9 – Tartelettes aux mures et creme au citron
– 10 – Crème renversée de mes rêves
– 11 – Verrines mousse aux framboises et mascarpone