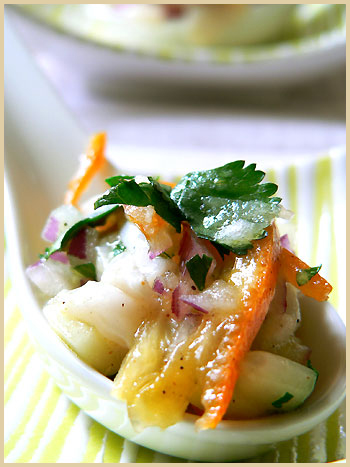 Scallops Ceviche and Kumquats
There is one thing very true when I think about cooking. The boundaries do not exist and there are always new cooking techniques or dishes to discover. Food enables you to travel because most of the time, the choice of ingredients are conditioned by the country or region's climate. Travel, food? My best friends. Add to this a touch of foreign languages and it becomes even better and more interesting. Hence my love for Spanish, the language and the country.
Not everyone is a fan of ceviche. As a matter of fact, I know a lot of people who just make faces when they hear about the possibility of eating raw fish. Du poisson cru? Yes raw fish indeed. However, I think most of those people should be told that the fish is actually somehow cooked.
Although it is obvious that there is no heat source used, I describe the chemistry that happens between the fish and the lemon juice as a cooking process. The power of lemon juice! So strong! The chemistry offered by lemon juice enables the fish flesh to become firmer. Usually when fish is cooked with heat, the protein is "denatured". The citric acid of the lemon juice has the same effect. So is it cooked? Raw? When I use the word cooked, P. always looks at me and says, "it is not cooked Béa!" to which I respond very quickly: mais si, c'est cuit! (of course it is cooked). What does he know? Whatever word we decide to use, I can only say this: ceviche is good. As a matter of fact, many of the guests I have served the following dish to did not even notice that the fish had not been cooked. It combined a beautiful blend of fresh flavours, enhanced by kumquats.

Ceviche with scallops and kumquats
A few words about ceviche: Usually a speciality from South and Central America, particularly in Spanish speaking countries. The name comes from the Latin cibus (food) via Spanish cebo and cebiche (fish stew).
A few words about kumquats: Surfindaave from Serendipitous Chef has a lot of good information for us here.
I will summarize the following. Kumquats are miniature oranges, not bigger than 1.25 inches (3cm) across. Although you might think otherwise and as shown in this recipe, the rind is edible and tasty. Not like your average lime, lemon or orange rinds.
Notes:
Because the scallops are still somewhat raw, you simply need to make sure that they are extra fresh. Be careful, scallops need to show very little water, a sign of quality. In North America, the orange roe (coral) is discarded (to my regret) whereas in Europe, this part is also used.
I found this recipe in the Boston Magazine but followed the proportions very loosely (lost the recipe so here you are, you just have to improvise). This is what I did.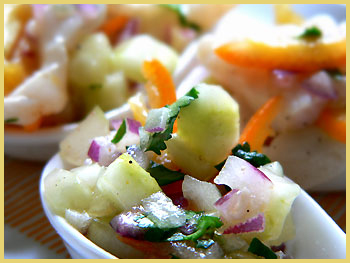 Scallops Ceviche and Kumquats
(for about 4 to 6 people)
You need:
6 large fresh sea scallops (no water)
1/2 English cucumber
6 to 7 kumquats
A dash of lemon juice
Kosher salt
Pepper
1/2 red onion (about 2 tbsp choppped)
1 tbsp chives
1 large tbsp olive oil
1 tbsp fresh coriander
Dash of cayenne pepper
Steps:
Take the scallops and slice them very thinly.
Wash the kumquats and remove the seeds. Slice very thinly.
Peel the cucumber, remove the seeds and cut in tiny pieces.
Mix all 3 ingredients together and add a dash of lemon juice, salt and pepper. Place in a cold bowl in the fridge for about 10 mns.
Chop very thinly the onion, the coriander and chives.
Add to the scallops/kumquats/cucumber preparation.
Add a dash of cayenne pepper and the olive oil, and mix well together.
Serve in small spoons (appetizer spoons).
Try, it is really nice!