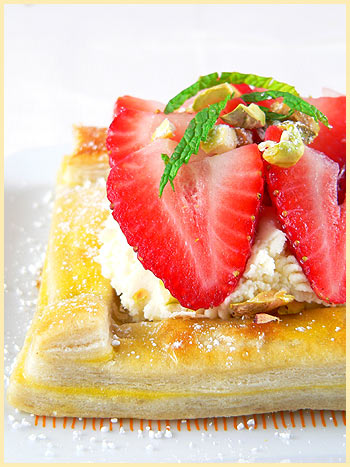 It is not a Poisson d'avril (April Fool's Day, literally in French, April Fish, when the French play hoaxes like in many countries, and act like silly foolish ones, taking great pleasure in sticking paper fish in someone's back, without he or she noticing). We do those things yes. And I remember my school days when the best was to try to get a teacher you hated and make them look like fools by very skilfully sticking that paper fish on their backs. They would walk around school with the fish on their backs all day. We loved it. But back to my post, despite that I am not playing a hoax on you, an error unfortunately was added to this post, and if you are good, maybe you can find it? Let's get ready for the ride.
While listening to Arthur H, Adieu Tristesse
(my favorite at the moment), I am going to tell you a story.
PS: If you were thinking of getting the CD for my birthday (no, you are just too nice), I already have it, so no need for it. Thanks anyway.
I am a May girl. What does this mean beside the yeah she is a Taurus, stubborn, earthy and elle fonce sans réfléchir (in English this means "she is so sensible and thinks a lot before taking decisions"). Well it means that I love strawberries AND that my birthday's cake has always been, well most of the time, a strawberry cake. Mum merci!!!
Lately, I have seen so many strawberry dishes on the foodosphere-look at Fabienne, Sophie, or Ilva– that I thought, et moi alors? I need my strawberry fix, even if it is not yet my birthday. I am not yet making a cake but since dough is to be often found at my house- and you know this by now-, I can easily make desserts like the following.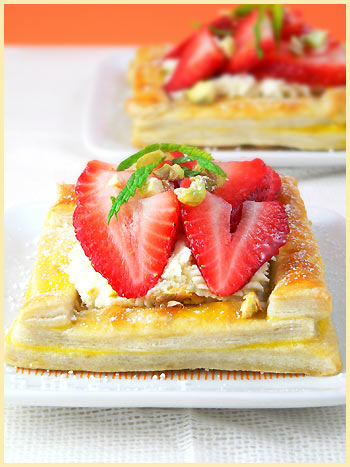 Spring and Strawberry Tartlets
You need:
Puff pastry for 4 mini tarts
250 g (9 oz) mascarpone cheese
1 tsp vanilla essence
50 g ( 2 oz minus 1 tsp)confectioner sugar
Mint leaves
Strawberries
Fresh unsalted green pistachios (about 1.5 oz)
Steps:
Roll your dough and make little tartlets. How?
Preheat your oven at 400 F. (200 C)
Cut four 4 3/4 inches squares (12 cm) in the rolled dough and prick the bottom with a fork.
Cut small strips of dough (1/3 inch, 1 cm) to make the edges.
Place them on top of the bottom part and seal with some egg wash if you like.
Place in the oven for about 15 to 20 mns, or until puffed and golden.
Mix together the sugar with the mascarpone cheese and vanilla essence.
Slice the strawberries.
Place the mascarpone cheese at the bottom of the tart (use a decoration bag if you like) and place the strawberries on top.
Decorate with mint and chopped pistachios (or place the pistachios on the mascarpone and then add the strawberries on top).