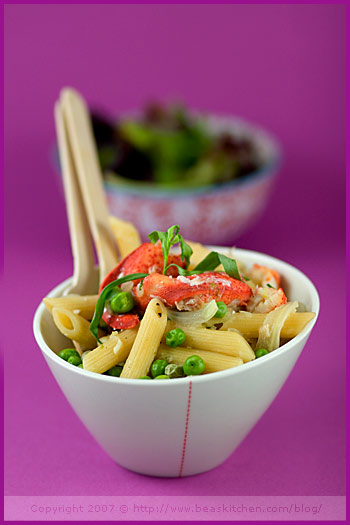 Fennel, Green Pea and Lobster Penne
I have cooked pasta like a risotto frequently by now, though every time is the same intense discovery and pleasure. Why did we not think about doing this long ago, I ask? Or maybe we did, in a place I did not live in or know about!
My first time trying a dish like this was actually in a small restaurant which name I forget. Quite useless really, yet I kept the essential: the sensation and texture of the pasta in my mouth. A je-ne-sais-quoi that made pasta Al Dente just the way I like, with every single pâte flavored by the broth it cooked in, soaking it up. Since Penne remains one of my favorite pasta, over Farfalle or Rigatoni for example, I chose to cook it in this recipe. Not sure why and when it started, probably one of these things that I do not need to memorize and remember — who cares — but I prefer big pieces of pasta to small ones.
A bulb of fennel was lost in my fridge and a jar of fresh lobster meat had to be used in the coming days. Odd things can happen in my fridge. I had frozen peas, always nice and handy for emergencies and a bunch of fresh tarragon, which I seem to use and use again and again. I was quick to compile this recipe, giving us a dinner that I first thought might be boring, yet turned into a delicious one. If I could hug kiss — we Frenchies do not hug that much — whoever invented pasta and risotto, I would do it right as I write. These people are real geniuses.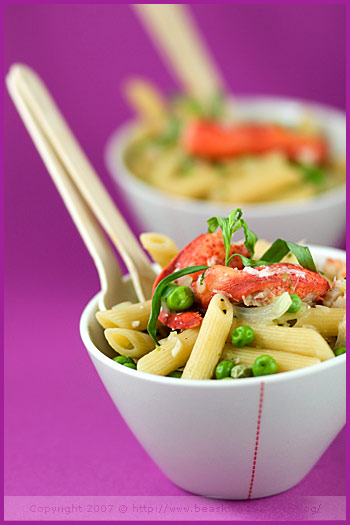 Fennel, Green Pea and Lobster Penne
(For 4 small servings)
You need:
7 oz pasta Penne
5 1/3 oz fennel, thinly sliced with a mandoline if you have one
5 1/3 oz peas, frozen or fresh
1 + 5/8 cups chicken stock
1 shallot, chopped
1 garlic clove, chopped
1 bunch of fresh tarragon
1 lime, zest and juice
6 oz cooked lobster meat
Olive oil
Salt and pepper
Steps:
In a pot, heat the chicken stock and keep warm.
Slice the white fennel bulb thinly (use a mandoline if you have one).
Heat the olive oil in a thick-bottomed pot.
Cook the chopped shallot and garlic for 2 to 3 mns, without browning.
Add the fennel and continue to cook for a few mns until tender.
Add the penne and coat them for 1 to 2 mns. Then add the first ladleful of warm broth. Cook on low to medium heat, keeping an eye on it.
Once the broth is absorbed, add another ladleful of broth and keep going until the before last ladleful.
Before the last ladleful, add the peas.
Once most of the broth is absorbed, stop the heat and add the chopped lobster meat, the lime zest (grated finely), chopped tarragon and cover. Let rest for 2 mns before serving warm. With it, I served a large green salad with a hazelnut- white balsamic vinaigrette.
Note: For a vegetarian version, omit the lobster.
Le coin francais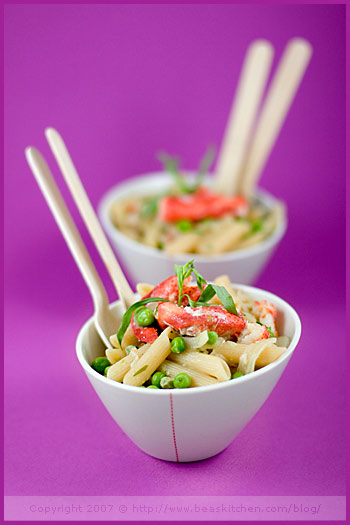 Penne au fenouil, petits pois et homard
(Pour 4 petites portions)
Ingrédients :
200 g de pâtes penne
150 g de fenouil, coupé finement à la mandoline
150 g de petits pois, congelés ou écossés frais
450 ml de bouillon de poule
1 échalote
1 gousse d'ail
1 bouquet d'estragon frais
1 citron vert
170 g de chair cuite de homard frais
Huile d'olive
Sel et poivre
Étapes :
Dans une casserole, chauffez le bouillon de poule. Gardez-le au chaud.
Coupez la partie blanche du fenouil en tranches très fines (utilisez une mandoline si vous en avez une).
Chauffez l'huile d'olive dans une cocotte.
Faites revenir l'échalote et l'ail hachés finement pendant 2 à 3 mns, sans colorer.
Ajoutez ensuite le fenouil et poursuivez la cuisson pendant quelques minutes, jusqu'à ce que le fenouil soit plus tendre.
Ajoutez alors les penne et enrobez-les pendant 1 à 2 mns. Versez une premiere louche de bouillon chaud et faites cuire sur feu moyen à doux. Surveillez.
Une fois que tout le bouillon est absorbé, ajoutez une deuxième louche et continuez ainsi.
Avant la denière louche, ajoutez les petits pois.
Une fois que tout le bouillon est presque absorbé, arrêtez le feu et ajoutez la chair de homard coupée en dés, le zeste de citron très finement râpé, le jus de citron vert, l'estragon haché. Couvrez pendant 2 mns avant de servir. Accompagné d'une belle salade verte, avec une vinaigrette huile de noisette-vinaigre de balsamique blanc, c'est délicieux.
Remarque : Pour une version végétarienne, supprimez le homard.