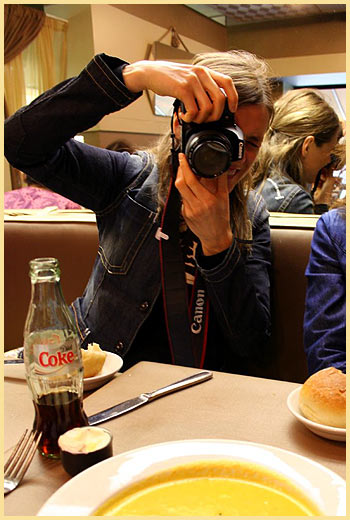 Credit Photo: Irish Cousin Gary
I feel honored and came here to share the news. In fact, none of this would have happened without you, dear readers, everyone of you who generously cast your votes for my food blog in the latest Food Blog Awards 2006 Contest held on Well Fed. First I was honored to be nominated, but then I was even more honored to discover the results. You did give me a lot of votes indeed, and I have to thank you fondly for that. Because you know, my journey would be just different if you were not here, every day, to encourage me. I know by now that my food passion is also fed by your visits, comments, and nice words left in large numbers on my blog. Hence, it keeps me motivated and excited to see every new recipe I choose cooked, styled and shot. And eaten as well, of course.
My tartine gourmande won the Best Food Blog Photography 2006 Award and came second in the Best Food Blog 2006 — Overall Category. Thank You! I only started to blog over a year ago, and really this year has flown by, as I was kept pretty busy with life, and my blog. I promise to keep it up.
You can check all the 2006 Food Blog Award Winners in the announcement here. Congratulations to all the nominees and winners. You make this amazing foodosphere.
Quel honneur ! Je suis venue vous donner quelques nouvelles. En fait, rien de tout cela ne se serait passé si vous, mes chers lecteurs et lectrices, n'aviez pas donné vos votes pour mon blog culinaire dans les
Récompenses pour les Meilleurs Blogs Culinaires 2006
organisées par
Well Fed
. J'étais bien sûr d'abord flattée d'avoir été nominée, et puis encore plus surprise et heureuse quand j'ai appris les résultats. Vous m'avez donné beaucoup de vos votes en effet, et je voudrais vous en remercier du fond du coeur. Car vous devez bien savoir que mon voyage culinaire serait bien différent si vous n'étiez pas là à m'encourager tous les jours. Je sais désormais que ma passion pour la belle et bonne cuisine continue à vivre grâce à vos visites, commentaires et aux gentils mots que vous laissez en grand nombre sur mon blog. Je reste toujours motivée et enthousiaste à l'idée d'une nouvelle recette que je vais cuisiner, styliser et photographier. Et manger aussi, bien sûr !
Ma tartine gourmande vient de remporter le prix du Meilleur Blog Culinaire 2006, catégorie Photographie et a terminé deuxième pour le Meilleur Blog Culinaire 2006 – Toutes Catégories. Merci ! Ce blog a vu le jour il y a seulement un peu plus d'un an, et pour sûr, il m'a bien tenue occupée. Je vous promets de continuer.
Tous les résultats des gagnants des Récompenses pour les Meilleurs Blogs Culinaires 2006 se trouvent ici. Un grand bravo à tous les nominés et nominées et aux gagnants. C'est vous qui donnez vie à cette superbe blogosphère culinaire.