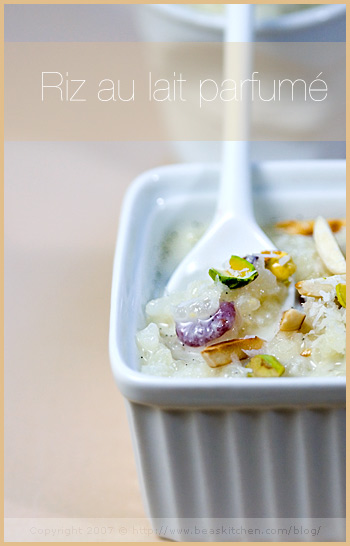 Scented Milk Rice Pudding
I used to get lost when driving to Jamaica Plain, a neighborhood of Boston. It is not even far from downtown. Yet the winding roads crossing each other at Fenway always look like a maze to me. I found a way to remember however, telling myself secretly as I drive in the two-lane road that I should "stick by the river, and I will be fine". It seems to have done the trick. Or maybe I have learned to memorize the way since we have recently spent quite a few evenings in one of our favorite dining spots.
I remember the first time when I walked along Center street, known as the main street of Jamaica Plain. In fact, I can still remember the first time when I had a peak through the window of the restaurant Ten Tables. Was it really "it"? A room with only ten tables placed close the ones to the others, with an open kitchen in the back, where you can feed your curiosity by observing, from the corner of your eye, what is going on in the food preparation stage. If you did not know about the place, or had not heard about it, you might not even stop there. Well maybe not. Small, quaint, Ten Tables is an adorable local restaurant where you can have a casual comfortable, yet elegant meal, comme à la maison. Every time we go, we are welcomed by an excellent friendly waiting staff, and of course, delectable food. Last week, it became even better. Not only did we dine there once, starting Friday night with Alli and Yoav, but we went back again on Sunday as we had a special occasion to honor. Since the talented Lara, as friendly as sensed from her blog Cook & Eat, and her husband Cam were visiting Boston, I thought about taking them to Ten Tables right away. We would not mind a second dinner there for sure, especially as I knew we would end up spending some time chatting with David Punch, the chef. Ten Tables is that type of friendly place. We enjoyed celery root soup and grapefruit granité mise-en-bouche, green lentils and Toulouse sausage, homemade charcuterie — yes, they smoke their meat on the premises — culotte steak with Yukon potatoes and bone marrow, Homemade Gnocchi and Root Vegetables — bummer they were out of their oxtail — Arctic Char with Meyer lemon salsa on a bed of Farro and Beets with fresh salads and a nice bottle of Chateau Neuf du Pape, followed by crème caramel, rosemary ice cream, and spiced rice pudding. The evening was delightful, but I was just half surprised really as I still vividly remembered the great time we had had when we visited Lara and Cam in Seattle last September. Once more, as we were the last people to leave the restaurant, I left the place feeling inspired from gorgeous food and company. Happy. And on our way home, ideas kept coming. In fact, I already knew that I would get a special request from P. Ten years spent together helps you get to those things right away. You know without asking or saying it.
Le riz au lait
How could we not fall in love with the marvelous spices found in this delicious dessert? Rice pudding of that sort is simply our type of dessert. As I concentrated to mentally write the recipe, I focused to try to visualize every bite we had had. I remembered round rice grains enveloped in a delicious silky vanilla and cardamom flavored milk , various nuts and dried raisins soaked in the juice, scents of coconut, giving you the impression that all of sudden, you had managed to escape and travel to a middle-Eastern country, far away. Memories of my trips to Turkey or Tunisia came back to me. I had the recipe in my head. I had to make it.
Ten Tables
597 Center Street
Jamaica Plain, MA 02130
617.524.8810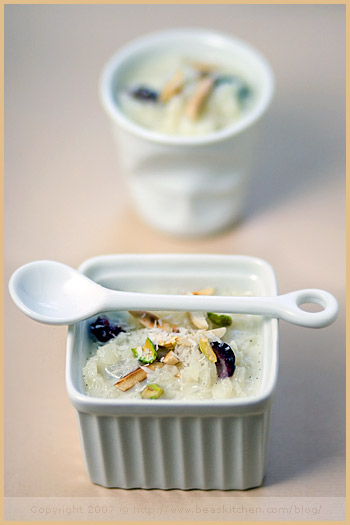 Scented Milk Rice Pudding
(For 2 servings)
You need:
2 2/10 to 2.5 oz round rice, risotto type
1 1/2 cups milk
6 cardamom pods
1/2 vanilla bean, cut in the middle and seeds removed
2 2/10 oz fine cane sugar
1/4 cup slivered almonds
1/4 cup fresh pistachios
1/4 cup dried cranberries
1 Tbsp grated coconut

Steps:
Place the milk, vanilla pod and seeds, and cardamom pods in a pot. Bring to a gentle boil.
Rinse the rice under cold water and when the milk starts to boil, pour the rice in the pot. Reduce the heat and cover, cooking for 30 mns on low heat. Check occasionally to make sure the rice does not stick to the bottom.
After this time, remove from the heat and check if the rice is cooked. Add the sugar with 1 Tbsp of grated coconut. Remove the vanilla bean and cardamom pods.
Add the cranberries and mix together gently.
Dry roast the almonds in a pan.
Chop coarsely the pistachios.
Serve the rice in small ramekins, topped with pistachios and almonds. Spinkle with grated coconut.
Note: I think this dessert is nicer if served lukewarm to warm. Also, 2 2/10 oz rice provides a juicy rice pudding. I like it this way. If you prefer it less juicy, add more rice.

Le coin français
Riz au lait parfumé
(pour 2 portions)
Ingrédients :
60 à 70 g de riz rond, type risotto
350 ml de lait
6 capsules de cardamome
1/2 gousse de vanille, fendue et grattée
60 g de sucre de canne fin
30 g d'amandes en julienne
30 g de pistaches fraîches
30 g de canneberges sèchées (ou fraîches)
1 càs de noix de coco râpée

Étapes :
Mettez le lait, la gousse de vanille et les capsules de cardamome dans une casserole et portez à peine à ébullition.
Rinsez le riz sous l'eau froide et dès que le lait commence à bouillir, versez-le dans la casserole. Couvrez et faites cuire à feu doux pendant 30 mns environ. Surveillez et au besoin réduisez le feu, afin d'éviter que le riz n'attache.
Après ce temps, vérifiez la cuisson du riz et ajoutez le sucre et 1 càs de noix de coco râpée. Mélangez bien et retirez les capsules de cardamome et la gousse de vanille.
Ajoutez les canneberges et mélangez délicatement.
Faites griller les amandes à sec dans une poêle.
Décortiquez les pistaches et concassez-les grossièrement.
Servez le riz au lait dans des ramequins avec les pistaches et les amandes. Saupoudrez de noix de coco.
Remarque : je trouve que ce dessert est meilleur mangé tiède ou légèrement chaud. De plus, 60 g de riz donne un riz au lait plus juteux. Je préfère le riz au lait comme cela, mais vous pouvez ajouter plus de riz si vous le préfèrez moins juteux.


Bloggies 2007?
You have until today, Wednesday, January 10th 2007, 10:00 PM Eastern Standard Time (GMT-5) to nominate your favorite blogs, all types, styles etc… The nomination form can be found here.
Bloggies 2007?
Vous avez jusqu'à aujourd'hui, mercredi 10 janvier 2007, 10 heures heure de la côte est américaine pour nominer vos blogs favoris, tous genres confondus. Le formulaire à remplir se trouve ici.