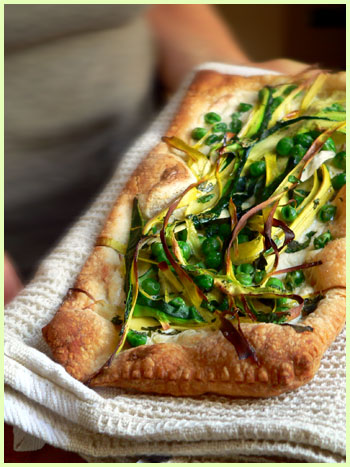 Surreal Green Vegetable Tart
Leftovers or the Art to Extend the Use of Dough
I am not a baker. I am way too grumpy in early morning for that, not even to mention the clumsiness factor. But there is definitely something about baking strongly anchored in me. Remember? I once was elected "Miss Panini" while working in a kitchen in Italy during summers years ago. Like in the oscars! The spell had been thrown on me there! Knew it! Mamma Mia!
Whether it has to do with the smell of bread or a cake cooking in the oven, or working with my hands, I love the direct relationship I establish when I make dough. And I make a lot of it! Flour all around you, a floury fog in your kitchen. I l.i.k.e it! Working dough involves touch and feel as you are never sure how your batch will turn out. Surprise! Such things as the weather, the type of flour you use, the temperature and the amount of water you add, all play essential parts in the success of your dough. At each time it can be different. For many it looks laborious and difficult but the truth is that making dough is pretty easy and fully rewarding. Take my word for it.
I have always wondered why I had such an attraction to tarts of all kinds. So the answer to why I love tarts is simple. I am not a tarte (with the e please) but at home, there were always tarts to eat. The typical goûter could very well be a piece of tart, my favorite ones being rhubarb or plum tart ; no matter how old you are, in France people love this end of afternoon treat. It surely helps to keep your energy up until comes dinner time, which rarely is served before 7 pm. Oddily enough, history shows that tarts were not known as sweet dishes first. According to The Penguin Companion to Food, the words Tart (and tartlet) first appeared in the 14th century recipe compilation the Forme of Cury, and were first known as savoury dishes. They however very quickly evolved into sweet flavours. Tarte, tartelette, tourte, pie, tarta, tartaleta, torte, torta, whatever the language, I just love them all since after all, I am coming from Lorraine in France, where we are known for the quiche lorraine ( although this one is far from being my favorite). When well-made however, a quiche lorraine can be an excellent dish. And again, without a good dough, the chances for a tart to turn successful are more limited.
Whenever I make dough, I usually like to make a big batch so that I can use it for many different dishes in the course of the same week (thank you Mum for having taught me this). Last week, I realized that I had puff pastry left, which sooner or later would need to find a home. In my fridge, I also had a few vegetables, such as one leek, 2 courgettes (zucchinis) and herbs. I felt lucky. I almost had all the required ingredients to make a recipe I had caught a glimpse of a week before, while reading Delicious. I was set to work.
How to make puff pastry? Refer to my mango tatin tartlets recipe.
And the magic happens in the oven. Pouf! It goes up and up! Swelling like a balloon. There is chemistry there!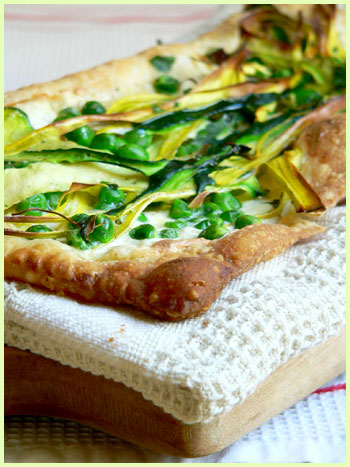 Green Vegetable Tart
(For 2 tarts, 30 cm by 15 cm, 12 inches by 6 inches)
You need:
Puff pastry
1 cup frozen peas
2 small zucchinis
1 leek
140 g ricotta cheese
4 tbsp grated parmesan cheese
1 white egg
Olive oil
Salt and Pepper
Dash of cumin
Fresh basil and parsley
Steps:
Take out 1 cup frozen peas and let defrost.
Preheat your oven at 220 C (425 F).
Roll your puff pastry and make 2 rectangulars (30 cm by 15 cm) (12 inches by 6 inches). Make little holes in the dough with a fork so that it does not rise too much.
Mix together the ricotta, the parmesan cheese, a dash of cumin and salt and pepper.
Wash your vegetables. With a vegetable peeler, make long zucchini peels.
Form peels in the white part of the leeks.
Whip your egg white until frothy.
Mix together all vegetables with the egg white (it helps to prevent the vegetables from turning brown).
Chop the basil and parsley and add them to the vegetables.
Add salt and pepper.
On your dough, layer the ricotta preparation, leaving 1 inch all around to form an edge.
Place the vegetables over.
Pour a dash of olive oil.
Place in the oven for about 25 mns, or until golden. Serve warm or cold.
My love for tarts continues. As a matter of fact, it is one of my favorite lunch, kept simple with a piece of savoury tart accompanied by a few fresh salads.
Examples:
A piece of this tart served with a nice celery root salad and an arugula salad,
A piece of salmon quiche with a nice tomato salad with mozzarela and basil.
While composing those meals, a priority is placed into balancing colours. After all, we are what we eat AND before anything else, we eat with our eyes first.
Linguistic slang note: did you know that a real French insult is to say to someone "Espèce de tarte!" (What an imbecile you are!, literally meaning, you belong to the species called Imbeciles), old fashioned I am sure amongst the 2006 teenager crowd, but still used in my world!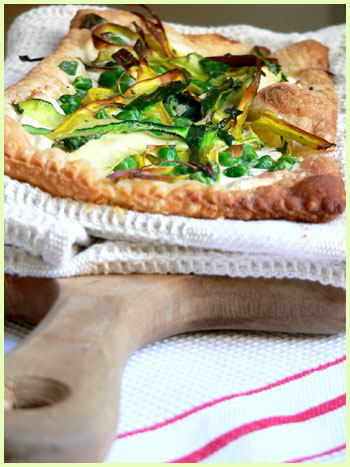 Adapted from a recipe in Delicious.