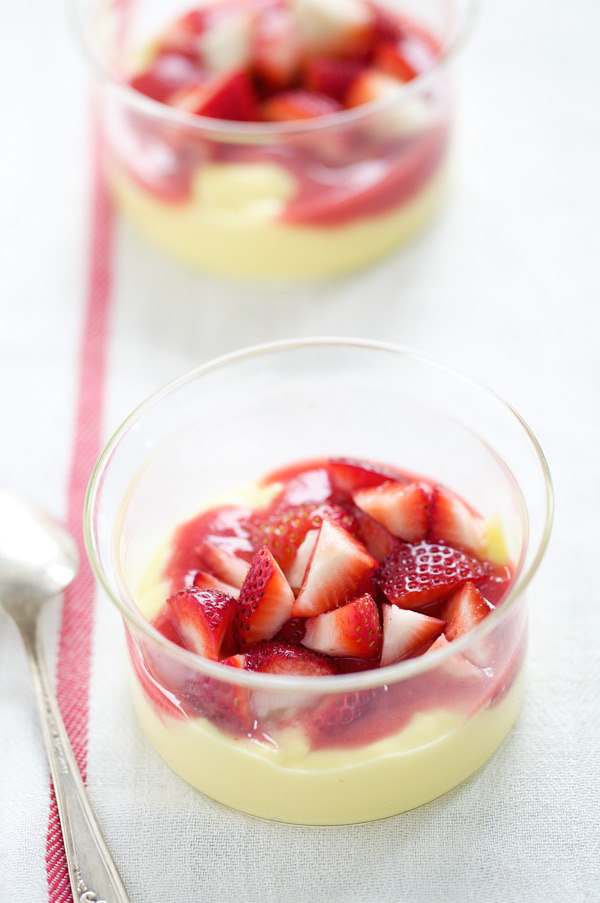 Verrines of strawberry and vanilla-flavored custard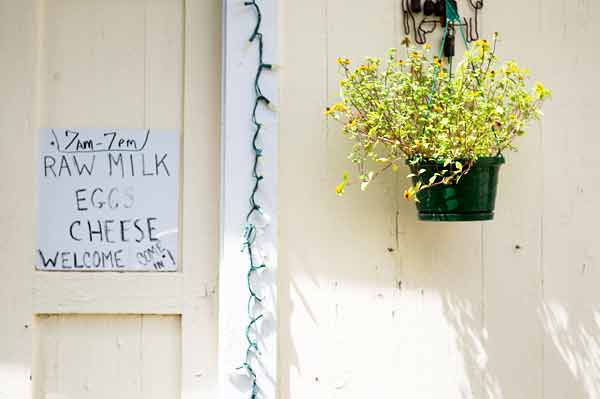 "It's too late in the year," Pamela said. "The cows will already be back in the barn."
"Really?" I replied, trying to hide my disappointment.
"Yes, sorry. You'll have to wait until the spring if you want to see them outside."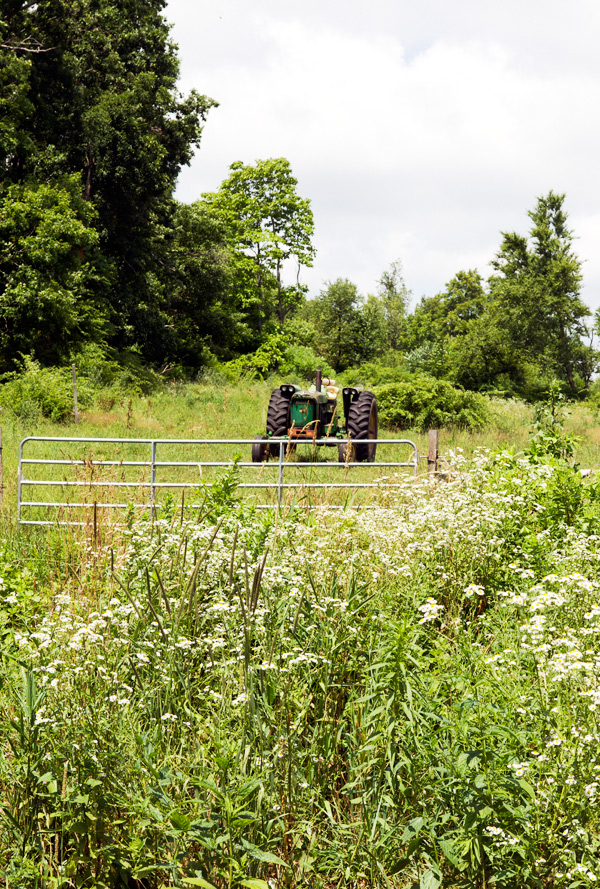 Pamela, one of the owners of Robinson's Farm, was just as friendly as I had imagined her after we spoke in November. At the time, I wanted to visit the farm with Delphine, for the Envoyé Spécial la suite TV program she was working on with me.
I felt sad that Delphine, Cyril and I never made it to visit the farm in November–although our lobster trip was *really* good and made up for it–so I made a mental note of what Pamela had said. J'irai au printemps (I'll go in the spring), I told myself, determined not to give up. Je veux vraiment voir cette ferme (I really want to see this farm).
Because at Robinson's farm, they make raw milk. And are starting to make cheese too. Both of which really piqued my curiosity.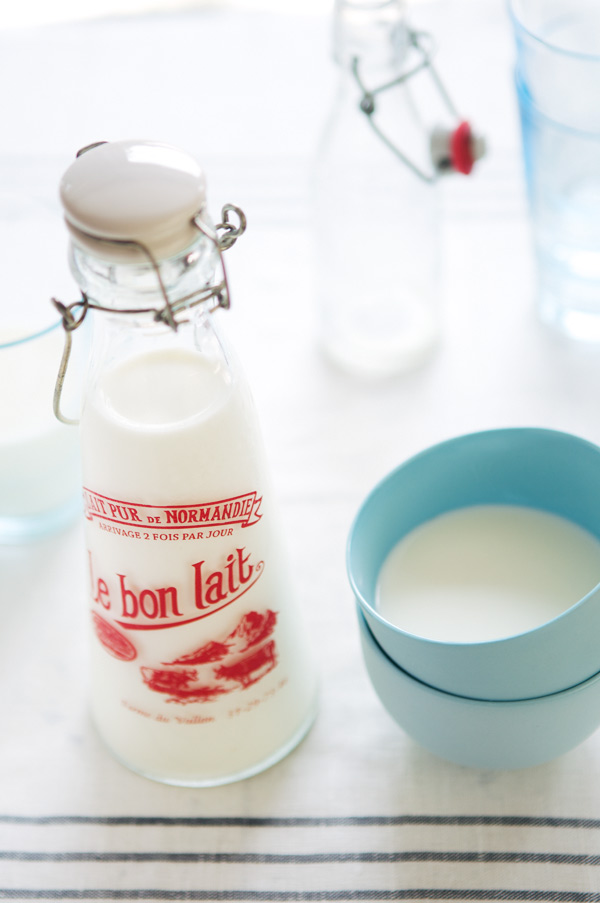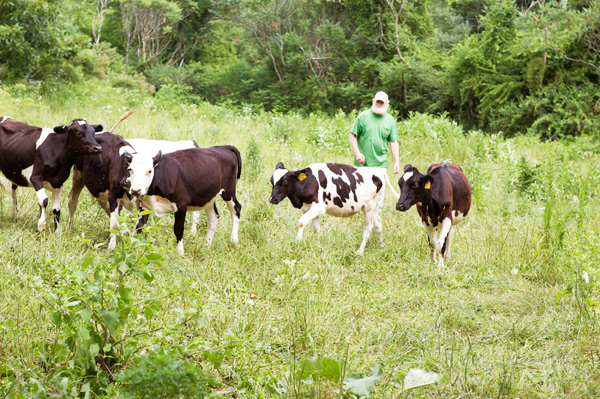 But spring came and I was away. Then summer followed naturally and I wasn't sure it would still be a good idea to go to the farm. Maybe it was going to be too hot then and the cows would have traveled to an exotic place where they'd be cooling off…who knows what cows have on their mind?
"No, no," Pamela said, when I emailed her back in early July to ask whether I could come. "It's a great time. Come over to visit!"
"Can I bring Lulu?" I went on.
"Sure! we'd love to meet Lulu."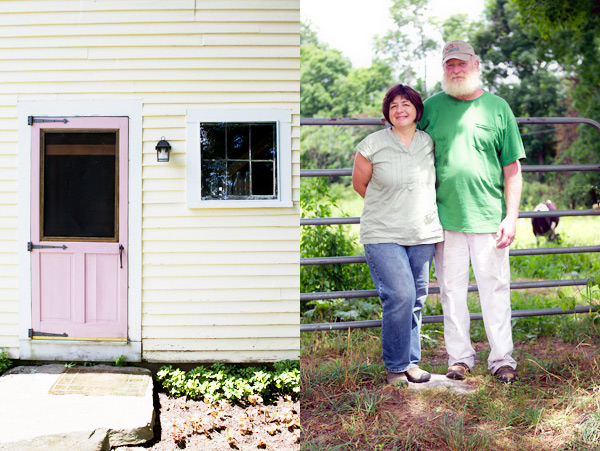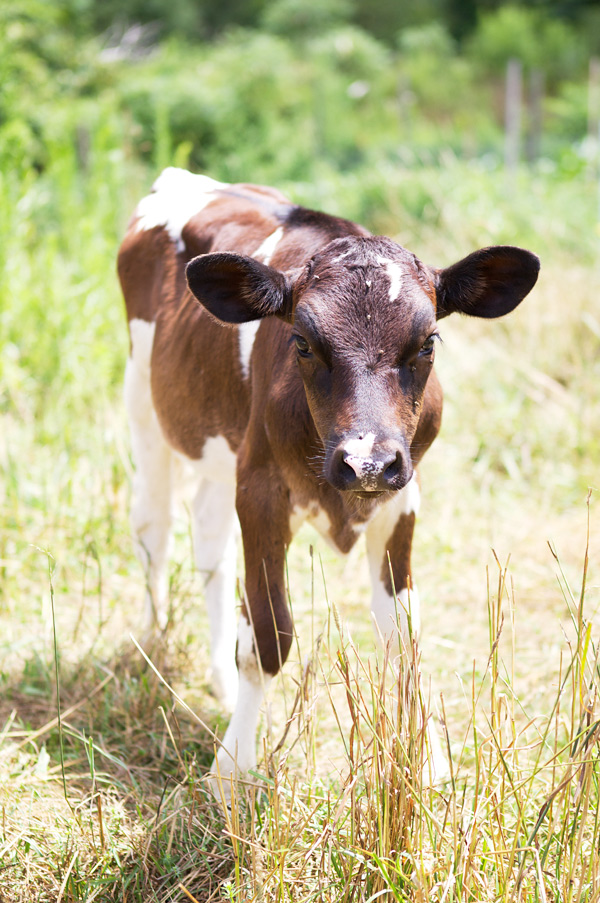 That was how it started. And that was how, two weeks ago, I finally made it to visit Robinson's farm.
I didn't go alone–and I was glad. I wanted that my Lulu could run around on the farm, and that she saw cows and calves, trees and vegetables, chicken and eggs. So not only did my beautiful princess come along (did I already tell you that we've not yet spent one day away from each other?), but a dear friend of mine decided to accompany us with her son. We packed a tasty picnic made of quinoa salad, sandwiches, watermelon and financiers I'd baked the night before, and after a two hour drive, we arrived at Pamela and Ray's doorstep.
We had an amazing lunch. And a memorable day.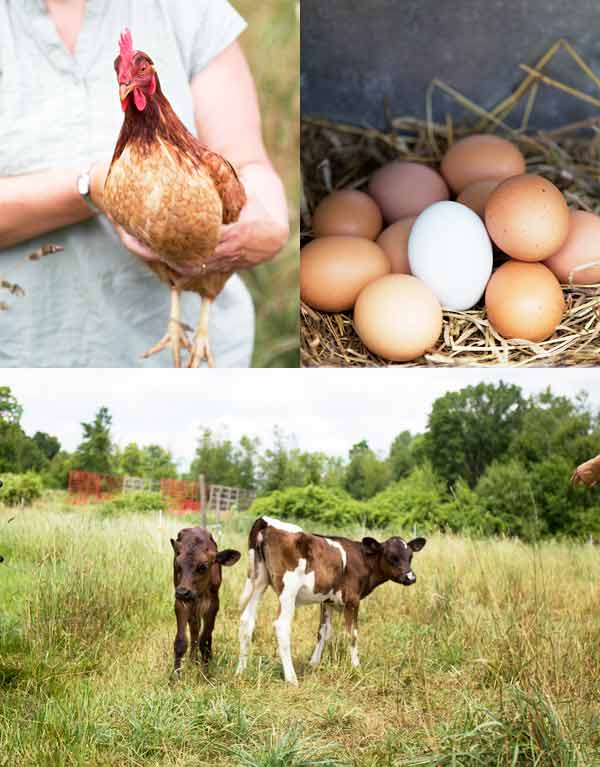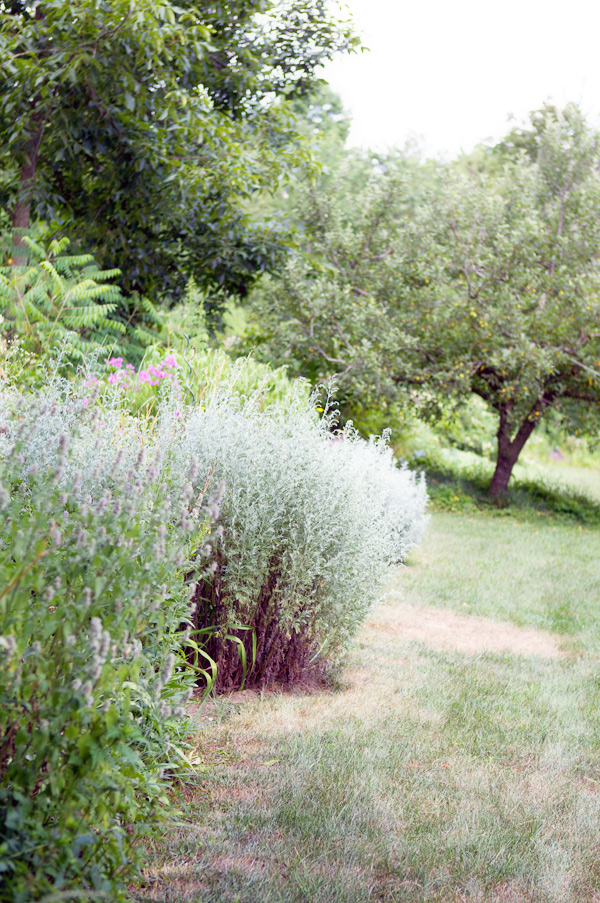 The Robinsons live in rural Hardwick, a small town west of Boston, and they have been farming since 1892. "Four generations," Ray had said proudly when I'd asked how old the farm was.
I had not yet visited this part of the state and wasn't really sure what to expect. As soon as I arrived, though, and caught sight of the large red barn with balls of hay and cows grazing in the fields nearby, I felt relaxed. Taking a deep breath in and closing my eyes for a minute, I could almost imagine that I'd been transported back home.
Presque.
This rural setting is suggestive of a slow pace of life. Yet, people on the farm work hard. Long hours. Whether it's dry, humid or raining, hot or cold–no matter what the weather decides to be.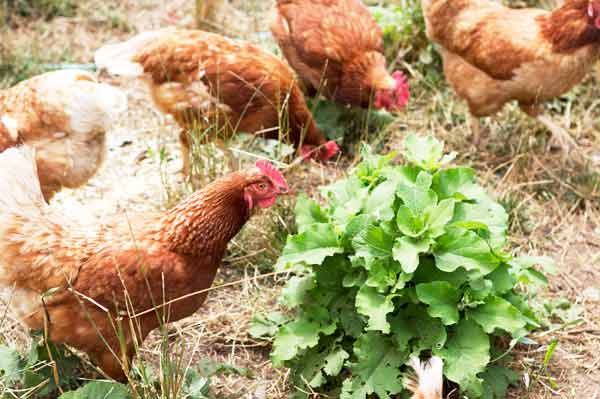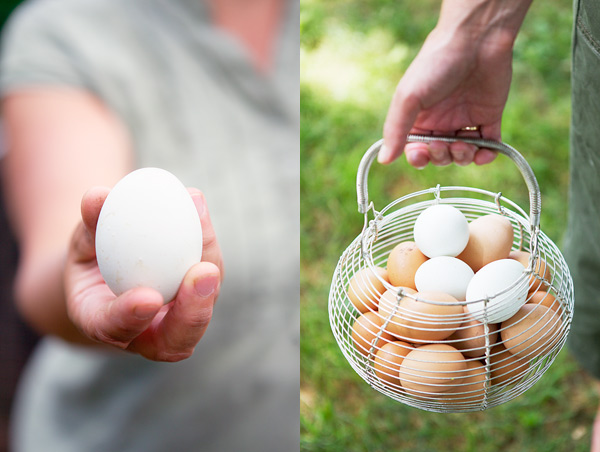 Pamela and Ray own a forty-cow pasture based herd comprised of primarily registered and grade Holsteins, with cross breeding practices which include New Zealand Holsteins, Jersey & Normande breeds. They've been making raw milk for five years now and like it this way. They believe that clean, fresh milk from grass fed cows provides all of the nourishment nature intended without destroying the enzymes and probiotics that assist with digestion. They are fully certified organic, which means that the pastures, hay, chickens, eggs, perennials, and herd found on the farm are organic. Every summer, they grow vegetables and flowers they sell at local farmer's markets or at their farm stand, along with grass fed beef, "rose" veal and yogurt from Sidehill Farm (which is made with their milk). And this coming fall, they hope to sell their cheese too.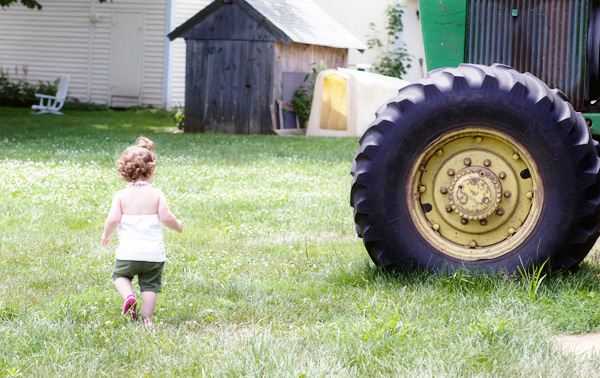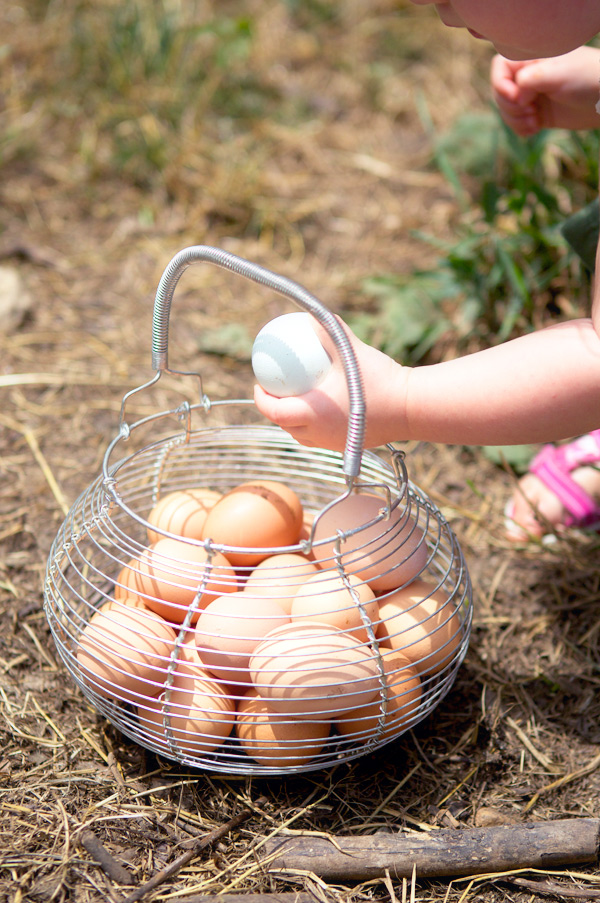 They told me that they've been making cheese for a while now and are keen to continue. If you visit the farm, you'll be able to taste their practice cheese. We did. We had just settled for our picnic lunch at the back of the farm when Pamela brought a large platter of cheese for us to enjoy. I quickly noticed that every time she'd walk by the wooden table where we sat to eat, she'd nonchalantly grab a slice of cheese.
"I saw you!" I exclaimed jokingly, seeing she was putting cheese in her mouth. "You're snacking on cheese all day long, aren't you?" I added. She laughed.
Why wouldn't she?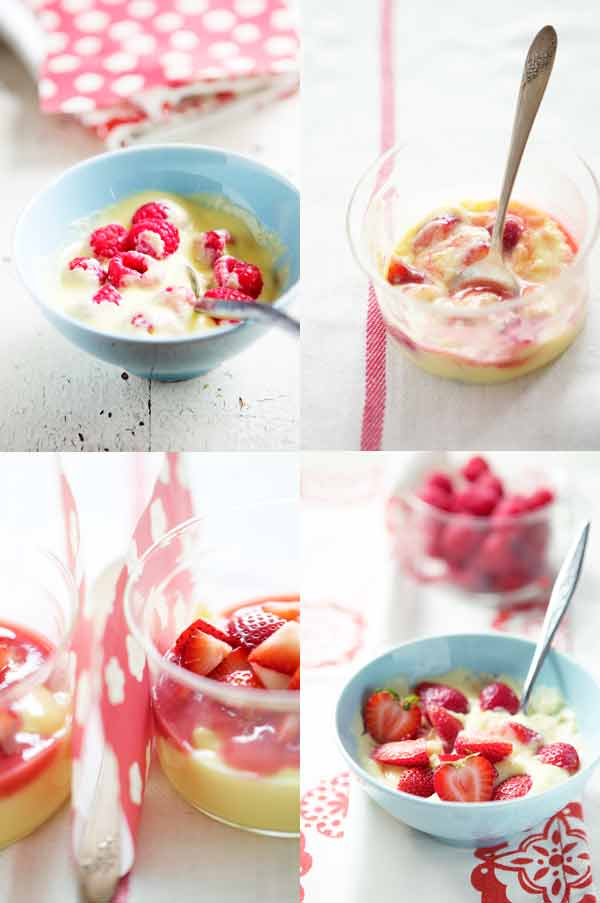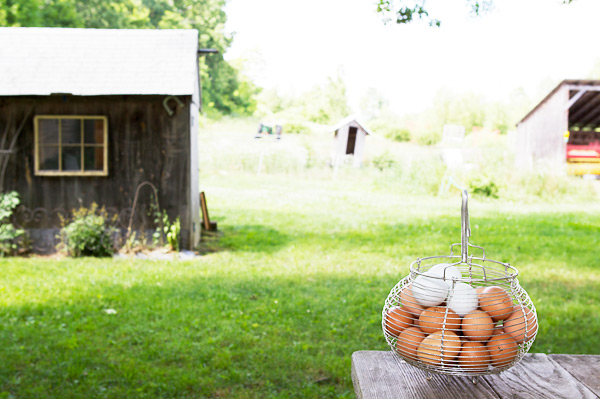 We sampled a few types of hard cheese: Robinson Family Swiss, Tekenink Tomme, Hardwick Stone (brick) and a Barndance (abondance). We could not stop eating. Lulu, ma petite gourmande, neither. The cheese was tasty. It was the perfect food to accompany our lunch.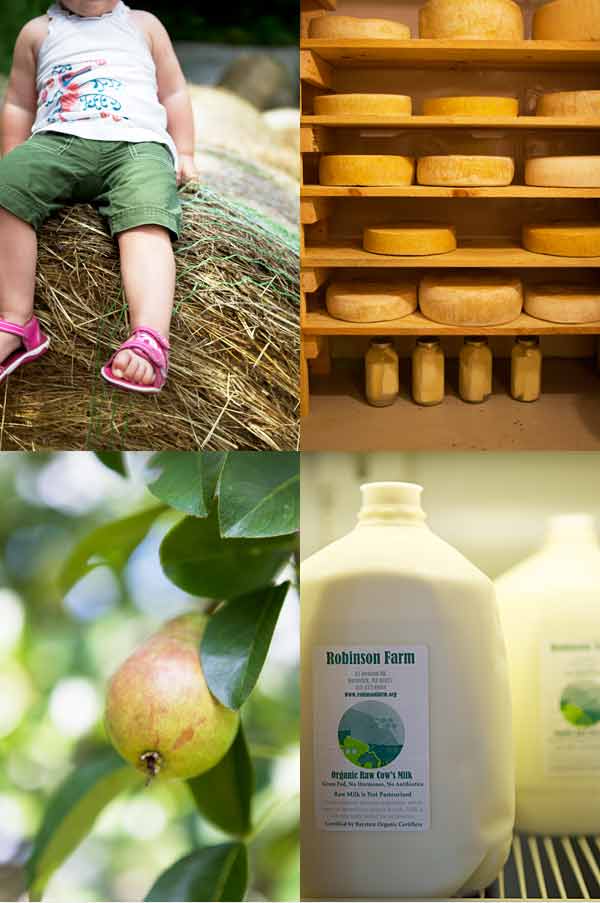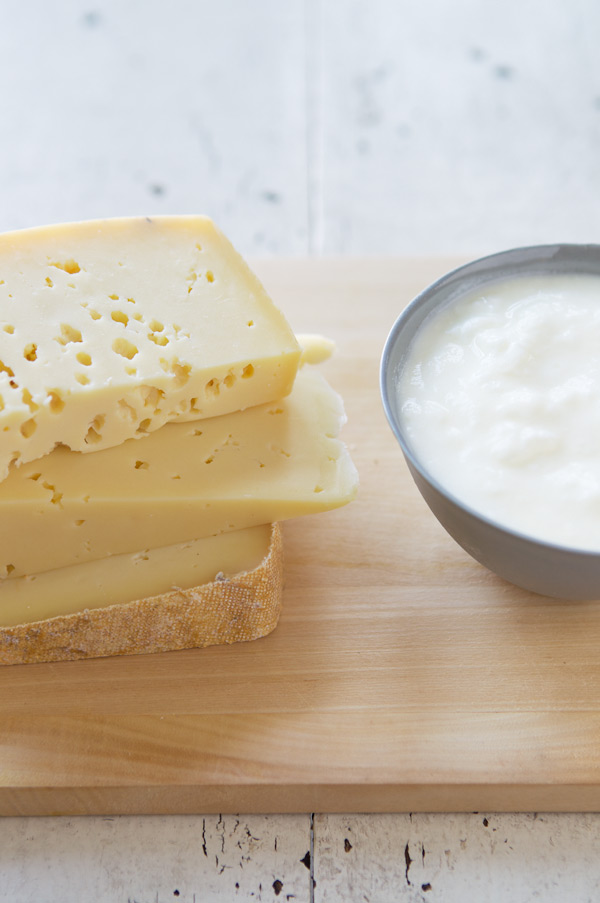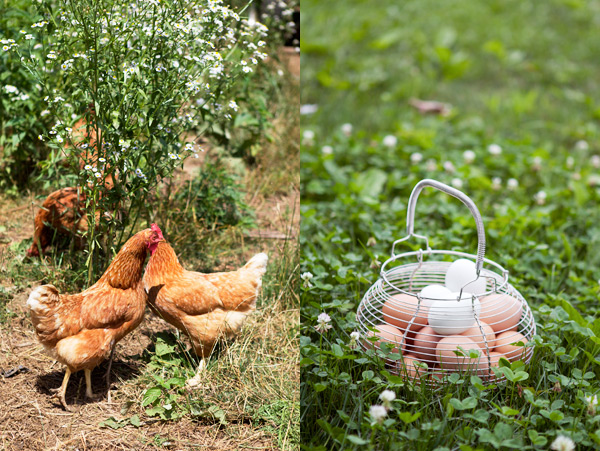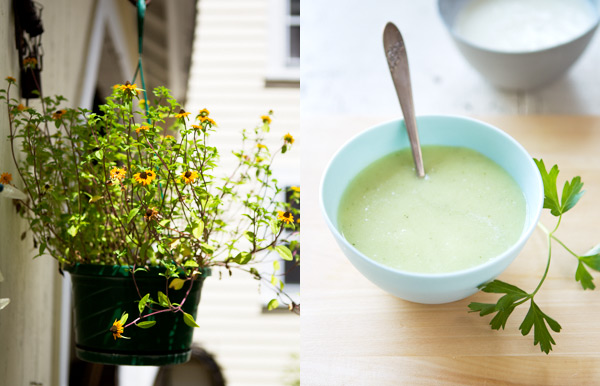 After lunch, we also had a tour of the farm. We walked through Pamela's large vegetable garden that gave me real vegetable envy; we saw where they make raw milk and cheese; we met the calves and cows who were smartly gathered in the shade of tall trees; and we visited the chicken.
"Lulu isn't scared at all! Pamela exclaimed when we stepped inside the hen house to collect a basket of fresh eggs. "That's right!" my friend E., who was holding Lulu by the hand, went on.
"Can we have some milk?" I asked.
"Of course," Pamela replied. "I also have some cheese for you."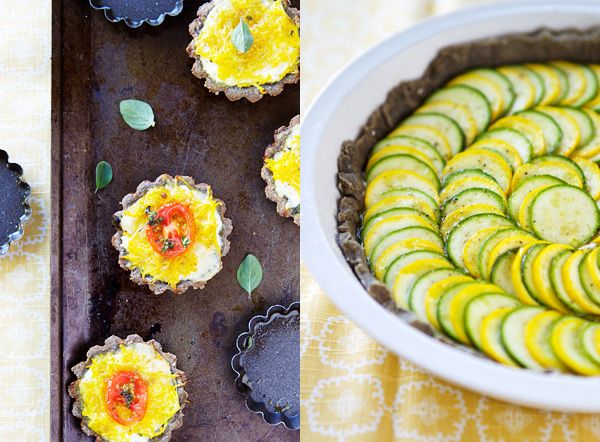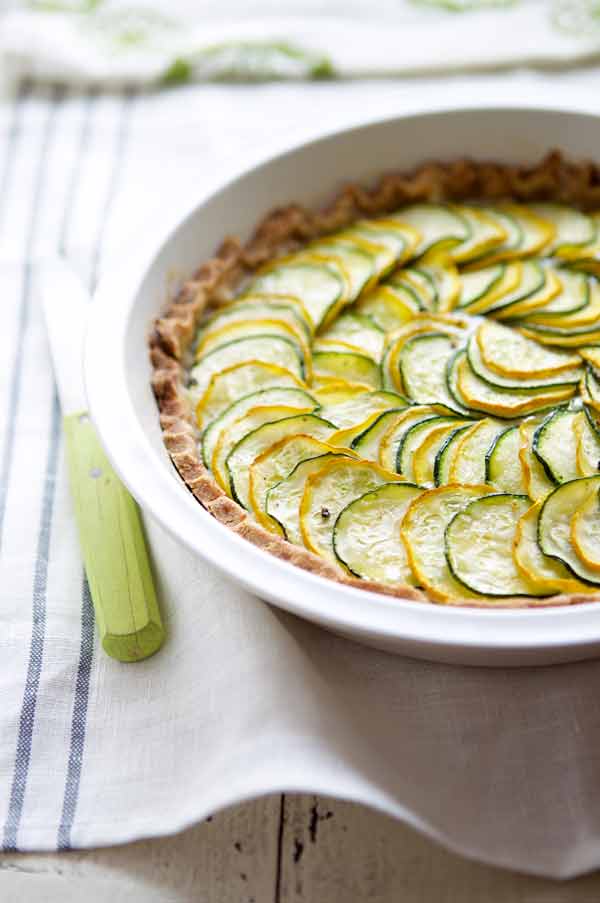 Zucchini tart
Before leaving, we packed a gallon of raw milk, a large container of yogurt and three pieces of cheese each. We were happy. We'd spent a simple fulfilling day.
I was keen to taste the milk to find out whether it would taste like the one I'd grown up with. At my grandparents' or my parents' house, le lait cru (raw milk) was what we'd drink.
"Qu'est-ce que tu vas faire avec tout cela?" (What are you going to make with all of this?) E. asked when we were back in the car.
"Je ne sais pas encore," (Don't know yet) I said.
But it didn't last for long. Back home, ideas started to come.
I was going to bake a herb-scented vegetable tart, a variant of this one that followed my inspiration. And small cute ones for Lulu too.
Prepare a melon and cucumber soup with yogurt and fresh herbs from the garden.
In the morning, drink milk with a batch of homemade granola.
And make a vanilla-flavored custard, and serve it in verrines with strawberries sauce and fresh strawberries–a dessert I frankly have a strong weakness for and could eat every day!
All of these foods tasted like summer, no exception.
Just like home.
To my dear local readers…if you know of a farm that you think is a worth of a visit, leave me a comment to let me know. I am always *so* keen to learn of new places…And take Lulu around.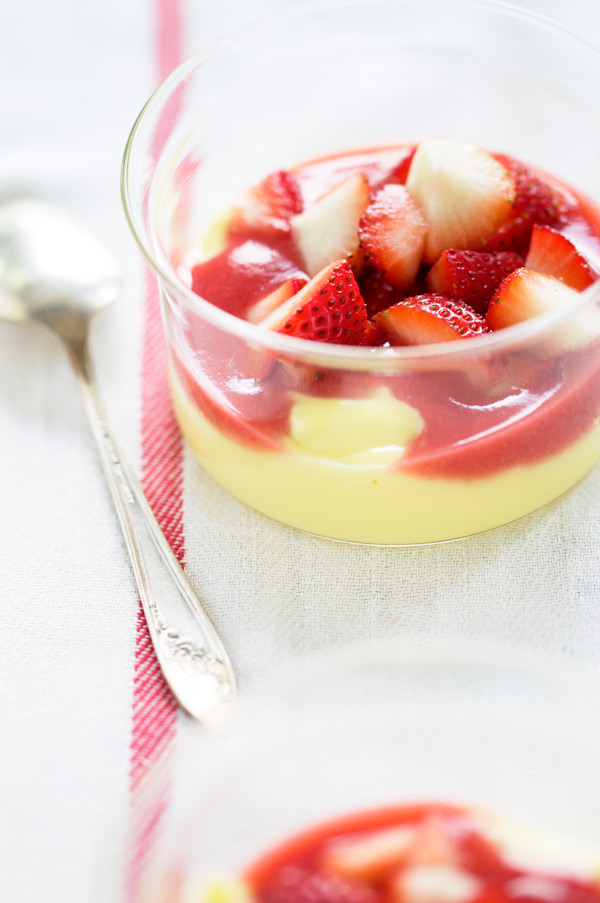 Verrines of strawberry and vanilla-flavored custard
(For 6 people)
You need:
For the vanilla custard:
2 1/4 cups whole milk
2 large eggs + 2 large egg yolks
1/3 cup blond cane sugar
Pinch of sea salt
1 teaspoon pure vanilla extract
2 tablespoons cornstarch
For the strawberry sauce:
3 tablespoons blond cane sugar
14 oz strawberries
More strawberries, diced, to serve
Steps:
To make the strawberries sauce, place all the ingredients in a blender or food processor and purée finely; set aside.
To make the custard, in a pot, bring the milk and vanilla to a simmer.
In the meantime, combine the eggs, egg yolks and sugar in a bowl and beat until homogeneous.
Add the salt and cornstarch.
Pour the hot milk slowly in while stirring. Transfer the custard to the pot and heat again. When you've reached a simmering point and small bubbles form at the surface, cook the custard for 1 minute while stirring–it's going to thicken and coat the spoon, a sign that it's ready. Transfer the custard to a large bowl placed in a iced bath. Stir occasionally to prevent that a skin forms at the surface.
Let cool completely and refrigerate (if you can resist, I cannot since I love the cream lukewarm), covered, until ready to use. To serve, divide the vanilla custard between small glasses. Add the strawberry sauce and serve with freshly diced strawberries. Stir lightly and enjoy. It's a simple but delicious dessert!
Le coin français
Verrines de fraises et crème à la vanille
(Pour 6 personnes)
Ingrédients :
Pour la crème à la vanille:
500 ml de lait entier
2 gros oeufs + 2 gros jaunes d'oeuf
80 g de sucre de canne blond
Pincée de sel
1 càc d'extrait de vanille pur
2 càs de maïzena
Pour le coulis de fraises :
3 càs de sucre de canne blond blond cane sugar
400 g de fraises
Fraises, coupées en dés, pour servir
Etapes :
Pour faire le coulis de fraises, mettez tous les ingrédients dans un blender et réduisez en purée fine; mettez de côté.
Pour faire la crème à la vanille, faites chauffer le lait et la vanille dans une casserole.
Pendant ce temps, battez les oeufs, les jaunes d'oeuf et le sucre dans une jatte. Ajoutez le sel et la maïzena.
Versez le lait chaud tout en remuant. Transférez la crème dans la casserole et faites à nouveau chauffer. Une fois que de petites bulles se forment à la surface, cuisez la crème pendant 1 minute sans cesser de remuer–la crème est prête quand elle épaissit et nappe bien la cuiller. Transférez la crème dans un bol placé dans de l'eau glacée. Remuez de temps en temps pour éviter qu'une croûte ne se forme.
Laissez complètement refroidir et couvrez. Mettez en attente au frigo (j'ai pour ma part du mal à attendre car j'aime la crème tiède !) Pour servir, versez la crème dans de petits verres. Nappez de coulis de fraises et servez avec les dés de fraises. Mélangez un peu et dégustez! C'est tout simple mais délicieux.