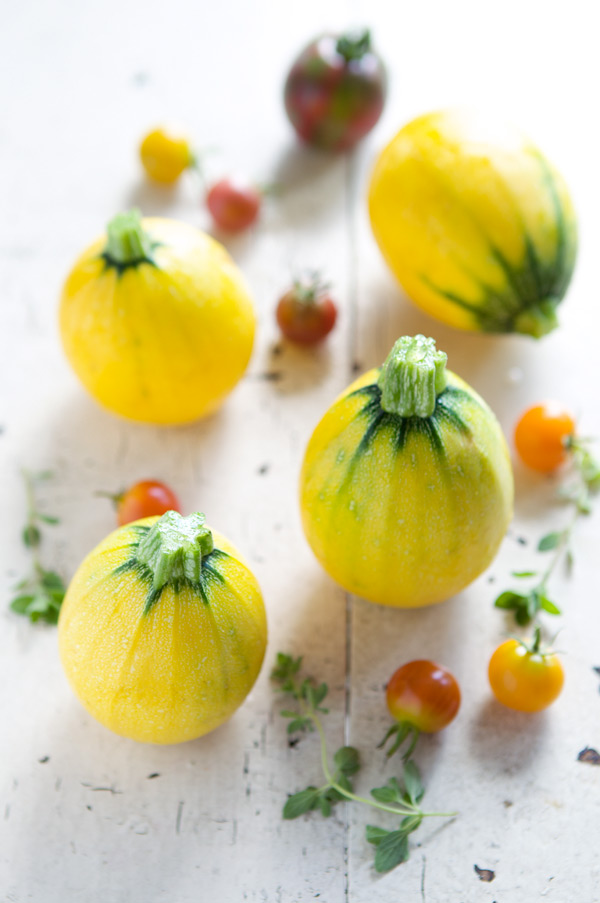 Les courgettes rondes
I have a garden. Finally. It's still full of weeds and plants I don't know the name of, but I don't mind. For now, I feel blessed that we own a large space where Lulu, and P., the three of us, can play. It's a garden with a tall mulberry tree under which we will sit late at night, if we feel like it, to reflect on the days that pass, and life. It's where I will assuredly plant vegetables, fruit and herbs too, when the time is right. Next fall, oh! Come soon!
Since it's too late in the season to plant vegetables, I've decided to arrange pots of fresh herbs until I find the perfect place for each one of them to grow strong and healthy.
Within the bunch, I've planted marjoram, la marjolaine, a favorite in my kitchen and cooking. Especially during the summer. There's no reason. It's just something I do. Something I like.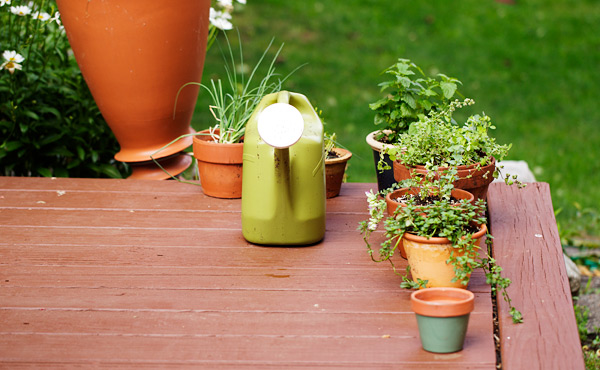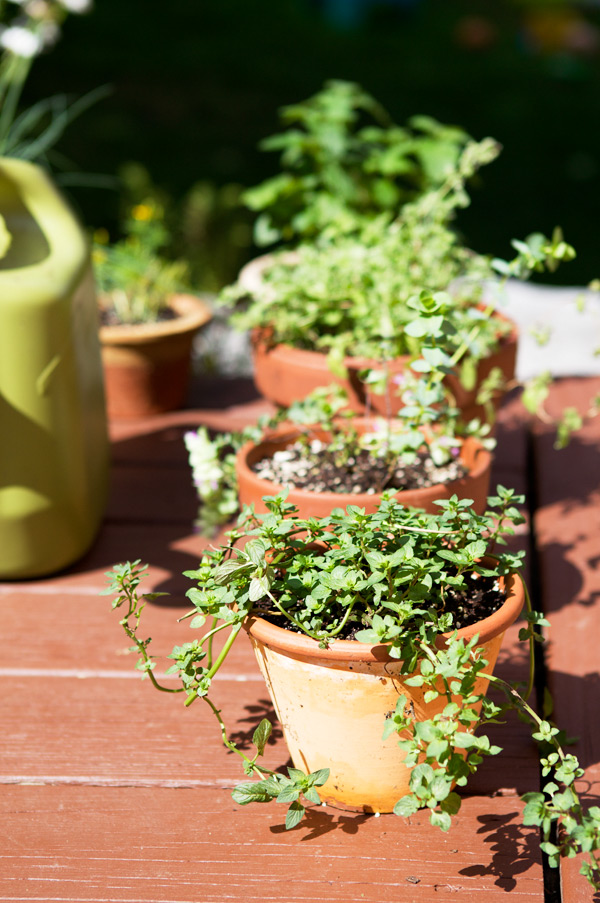 I hope that you've been lucky to cook with marjoram before, and if not, that you've at least eaten a dish infused with its delicious citrus-y aromas. The name of the herb comes from the Greek and means la joie de la montagne, (the joy of the mountains), which in my case translates as the joy in my plate. As such, it made dinner remarkable last night in our home.
Mind you, it was easy. I had come back from the farmer's market the day before with a basket filled with fresh and colorful vegetables, including a variety of zucchini and squash of different shapes and colors, each one looking more beautiful and irresistible than the other.
So much so that they all ended up in my basket. At least I thought in view of the large number I eventually brought home.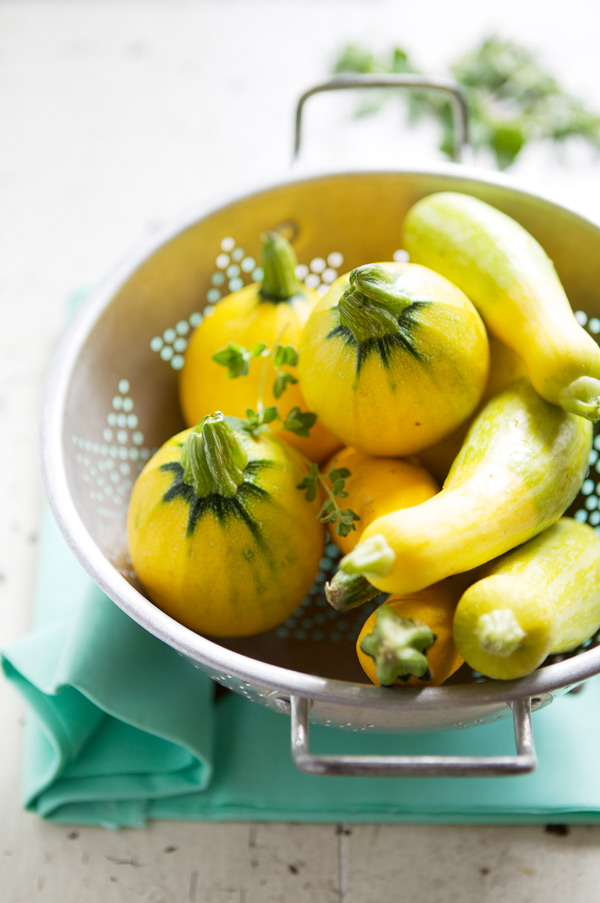 "Regarde cette courgette Lulu, et oh…celle-là aussi!" (Look at this zucchini Lulu…and that one) I had exclaimed while pointing to show her the different zucchini on display at my favorite organic farmer. Lulu was sitting comfortably in her stroller with her feet resting on the security bar, not sure what to think about what she was seeing but otherwise undisturbed by the pouring rain and her agitated maman. I was trying to not speak too loud as to hide my excitement to other shoppers who, like us, were also finding shelter from the rain. "They'll think I am funny weird to behave like this in front of a bunch of plain zucchini".
The truth is that the sight of those zucchini was filling me with an indescribable enthusiasm. The yellow globe zucchini, in particular, with their elegant round shape and pretty color gradient. I was staring at them, imagining dinner: a marjoram-flavored vegetable stuffing inside each one of them, with delicious flavors of sautéed shallot, celery, sweet potato, lime zest and grated Comté cheese, and prosciutto for added taste. Because, really, anything with prosciutto ends up tasting better ninety nine percent of the time.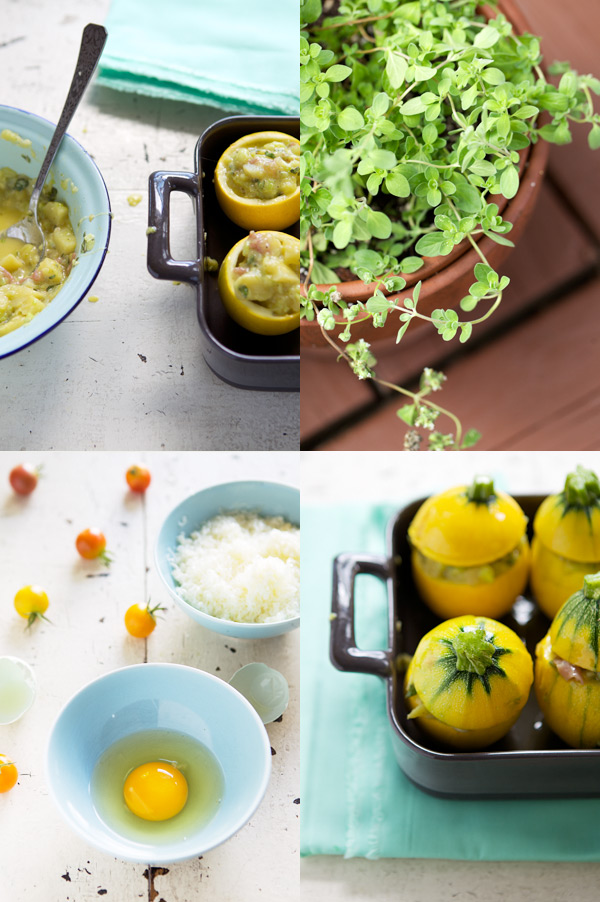 That was my plan and that's what we ate. I am a girl with a determined mind. We enjoyed our stuffed zucchini with steamed Jasmine rice and a green salad on the side. By the end of dinner, we formed a family of three with happy bellies.
Repus. (Content with food)
Joyeux. (Joyful)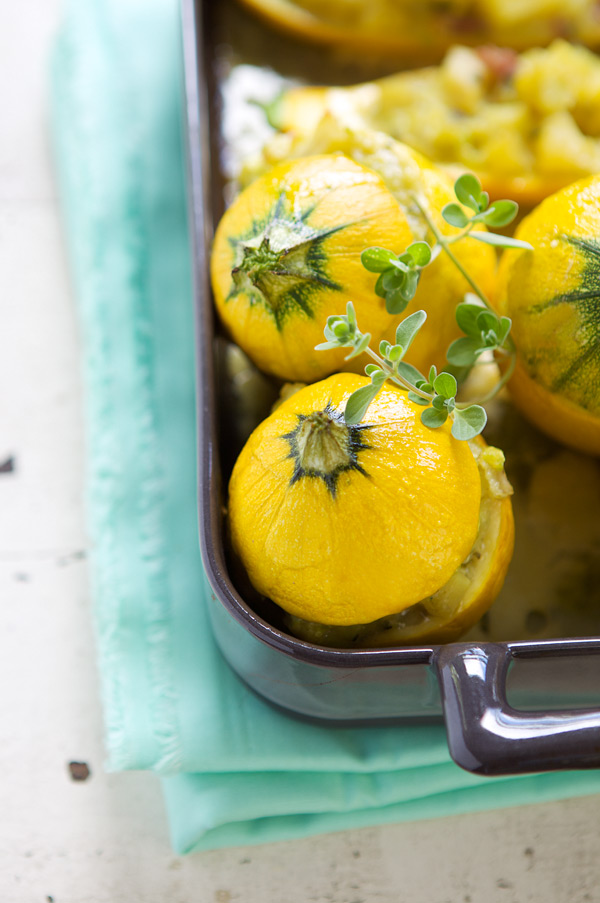 Marjoram-flavored globe zucchini stuffed with sweet potato
You need:
6 small globe zucchini, green or yellow
1 Japanese sweet potato, peeled and finely diced
2 large shallots, finely chopped
1 celery branch, finely diced
2 garlic cloves, peeled and finely minced
1 tablespoon chopped marjoram*
1 tablespoon chopped parsley
2 sprigs of thyme
Sea salt and pepper
Olive oil
Zest of 1 lime, finely grated
2/3 cup finely grated Parmesan (60 g)
3 slices prosciutto, finely diced
1 egg
*Use oregano if you cannot find marjoram
Steps:
Preheat the oven to 375 F and have a large baking dish ready.
Slice a small piece off at the top of the zucchini; set aside. Scoop the flesh out with a spoon, making sure to keep the shells intact. Season with salt and pepper. Chop the zucchini flesh; set aside.
In a pot, heat 2 tablespoons olive oil over medium heat. When warm, add the shallots, celery, lime zest and thyme. Sweat for 4 minutes, stirring occasionally. Add the garlic and continue to cook for 2 minutes.
Add the sweet potato and cook for 5 to 7 minutes. Add the zucchini flesh and cook for 5 more minutes. Transfer to a bowl and stir in the prosciutto, herbs, cheese and egg. Season with salt and pepper, and discard the thyme.
Stuff the zucchini shells with this mixture. Place the top on each zucchini and place them in the oven dish. Drizzle generously with olive oil and add 1/4 cup cold water at the bottom of the dish. Bake the vegetables for 45 to 50 minutes, or until the shells are tender when pierced with a small knife. Serve with plain steamed rice on the side, and a salad.