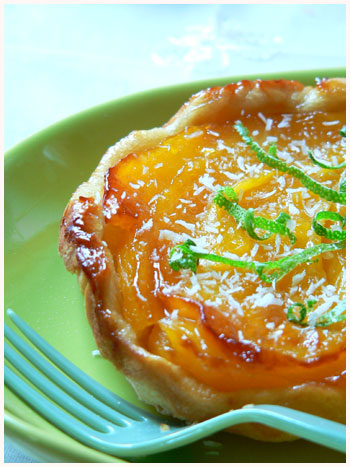 Did you understand already while seeing the title how much I am in love with making dough, tarts, tartlets of all kinds? Sweet, savoury, or both together, I just love them. I just cannot explain why I have this attraction with les tartes (better to say this in French!).
It might come from the following. Since I was very small, I have always seen my mum making tarts. Whether she was using pâte brisée, pâte feuilletée, pâte levée or pâte sablée, she was always making her own dough. And what do you think a kid like me wanted to do when she saw her mummy her hands full of sticky flour? She wanted to join in! Hence I have always loved to get sticky hands while making dough. The roughest methods are the best!
I wanted to participate in the Weekend Cookbook Challenge #3 organized by Weekend Cookbook Challenge which theme is Orange. It could not have been a better choice as the little visual me loves the colour Orange (P. even once made me promise that I would not buy any more orange kitchen appliances!).
I found my inspiration in one of my amazing food magazines (yes, I already talked about that here). This time around, I used a recipe from Cuisine et Vins de France (février-mars 2006).
While the recipe suggests to buy puff pastry ready made, I decided to make my own. Of course, I needed to keep the kid in me happy!
Puff Pastry Making
Proportions:
400 g flour
250 g butter (room temp. but not too soft)
Salt
Water
Most of the work involved in this tart is in the making of the dough itself. The rest is pretty straightforward. As much as you might think it is a hard process, once you have done it a few times, it is very easy.
You first need to do la détrempe which is a mere combination of flour and water, with salt.
While you add the water to the flour and salt, you need to add as much water as needed, so that you get a dough that is elastic, not too wet, not too dry. It should detach from your fingers. I cannot tell you how much water to add, you really have to go slowly and add little by little, while working the dough with the tips of your fingers.
Once this is done, you need to flour a working surface and roll your dough into a nice long rectangular. In the middle, place the butter cut in long pieces. Flip both sides of the dough over the butter lengthwise, so that you cover the butter and then tap on the dough with a rolling pin. Fold the two ends of the rectangular towards the middle to form a square. Then roll your dough again in the opposite direction. If the dough sticks to the rolling pin (because of the butter), sprinkle some flour on top. You will have another rectangular. Flip both ends again to form a square. Place in a clean towel and place in the fridge for 30 mns. Repeat the process two to three times (roll, flip etc). The more you repeat the process, the more layers you will have. This process is what makes your pastry puffy. Easy non? If my explanations fail to convince you, I will rework at explaining better and provide pictures next time.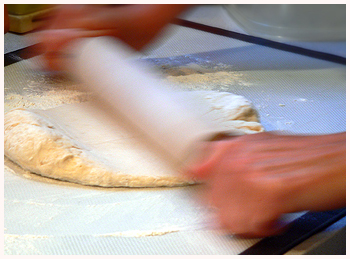 Photo presented in the Foodography event on Flickr.
Now of course, you always have the option to buy prepared puff pastry. I have not yet found one I liked in the stores here in the US (and I have not yet asked a baker for some!)
Tartelettes Tatin à la mangue – Mango Tatin Tartlets
Next to my love for tarts, there is the Tatin story. Do you remember those?
A similar process is used for the sweet version of the typical Tarte Tatin. Instead of apples, this recipe uses mangoes. Tatins are fun to make, just a little twist to your regular tarts. So jump in for the fun!
Mango Tatin Tartlets
You need:
250 g puff pastry
4 mangoes (not too ripe)
Zest of an organic lime
50 g butter
60 g sugar
2 tbsp unsweetened grated coconut
Steps:
Preheat you oven at 210 C ( 410 F)
Peel your mangoes and make slices.
Melt the butter in a pan.
Add the sugar and then the mangoes slices. You want them to caramelize (5 mns or so).
Roll your puff pastry on a floured surface. Make small holes on top with a fork.
Take individual ceramic molds and in each, place carefully the caramelized slices of mangoes.
Place a circle of dough on top (same size as the mold or slightly bigger).
Cook in the oven for about 10 mns first, then reduce the heat to 170 C (330 F) for 25 to 20 more mns. Check regularly.
Take out of the oven and let cool for 1 to 2 mns.
Flip the tarts on plates.
Decorate with lime peels and grated coconut.