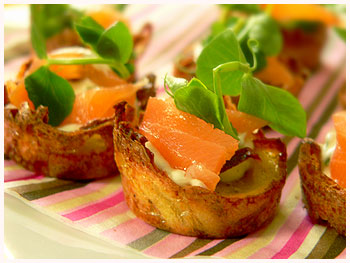 I do not know anybody who does not like parties. There are parties and parties of course and one party does not necessarily equal another. Depending on the kind of party, you have fun, a lot of fun,…ok and sometimes you just wonder what on earth you were thinking before deciding to accept an invitation. In fact, experience has shown me that a successful party should have a balance of everything, and food should certainly not be ommitted. And going with this idea, it means a choice for quality . When there is good food, it makes people happier. Everyone remembers the party as a highlight. I think in many ways, our stomach is our second brain! If it is not happy, you are not happy!
Party food is one of the types of food I just *love* to make. You say finger food and my head bursts with ideas for all those little miniature "things" that can be thrown down one's throat in less than 1 sec. Petits fours, amuse-bouches, mini this, mini that, I already imagine the buffet made up with lots of colours and designs. The fun begins before the party.
When I found out that Dispensing Happiness was organizing the following event, Blog Party #8, brunch, I was already sold on it. Wasn't it luck? I had a good reason to make little nibbles for a brunch! There were, however, just too many things I could make. Hence for this time around, I preferred to try something that had been on my wishlist for a long time. Donna Hay magazines once again inspired me with a lovely and easy recipe that I adapted slightly. Those little amuse-bouches have everything to make a normal man or woman happy. Potato for the male? He is happy. Crème fraîche for the female? She is happy. Salmon? [pause]…both are happy. And green for the eyes.
Smoked Salmon Potato Nests
You need:
200 g grated potatoes
A few slices of smoked salmon
1/2 cup crème fraîche
1 Tbsp chopped dill
1 Tbsp lemon juice
A bunch of alfafa sprouts (type watercress, larger green leaves)
1 egg
30 g melted butter
Salt and pepper
Dash of paprika
Fleur de sel
Steps:
Preheat your oven at 400 F (200 C).
Peel the potatoes and grate them.
Squeeze the juice out. Mix one egg in, and season with salt and pepper.
Take a mini muffin pan (I used a silicone one, all molds are 1.5 inch or 4 cm) and grease it. Place a small amount of the grated potatoes at the bottom of each mold, as if to make a nest.
Melt the butter and place 1/2 tsp in each.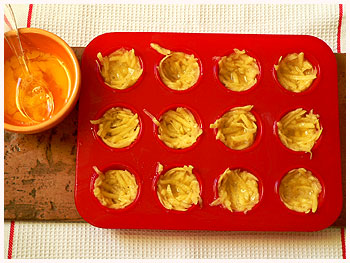 Place in the oven for 20 min, or until brown. Remove and cool down.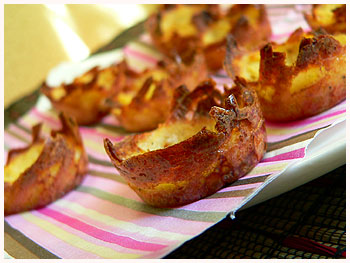 Mix together the crème fraîche with the chopped dill, and the lemon juice. Add salt and pepper.
In each potato nest, place a few alfalfa leaves, some cream, a dash of paprika and a slice of smoked salmon.
Sprinkle with fleur de sel.



Et voilà! It is super easy and is eaten in less than 1 sec. Timer on, I challenge you! Let the fun start!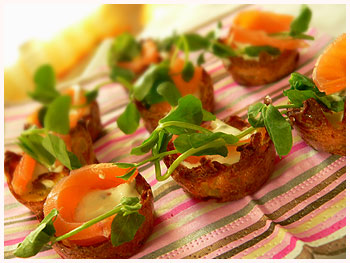 PS: I also made mini Raspberry Feuilletés with Orange Mascarpone Cheese, but how do you feel that I keep them for next time?