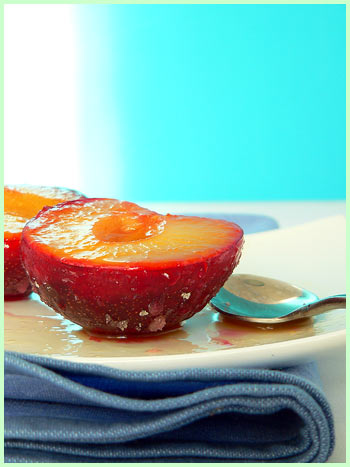 Plums cooked in sugar with Cointreau Orange syrup
Rowena's beautiful blog, Rubber Slippers in Italy, says "[…] one thing remains true. You can take the girl out of the island but you can't take the island out of the girl."
So true isn't it? You are what you are and no matter where you live and what you do, you somehow keep characher traits for life.
I think I am pretty much like this: "[…] one thing remains true. You can take the girl out of the country side but you cannot take the country side out of the girl."
Dear mum and dad,
Thank you for allowing me to play in fields,
In our orchard full of trees,
Plum trees,
Apples trees,
Cherry trees,
Mirabelle trees,
I remember climbing up those same trees,
When other girls,
Not me,
Played dolls,
And in the trees,
We laughed,
We giggled,
And fruit we ate,
Plums, apples, cherries,…
I love plums!
To celebrate my love for plums, I baked. Histoire à suivre (Next episode to follow…)
Linguistic note:
English plum = French prune (n. f.) –> la prune
English prune = French pruneau (n. m.) –> le pruneau
Confusing?
This is what we call a false friend! (un faux-ami!)