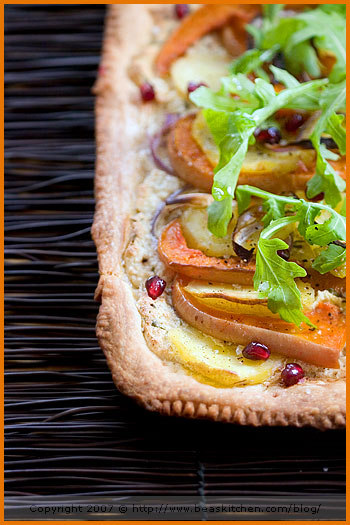 Butternut Squash, Potato and Arugula Tart
I had in mind to make a tart like this one since I ate a potato pizza at Cambridge 1 in Harvard Square. I love potato pizza, even more than the more traditional pizza with tomatoes. Whenever we have a meal at this small Harvard pizza place, I always get pretty much the same thing. Not that I am stuck in my own ways, but rather more or less obsessed with finding out how they actually make this delicious potato pizza. It is that good! I am not sure about their secret recipe yet but as I was looking for ideas to create a new tart using the I-never-get-enough-of puff pastry, I came across a few sources that inspired the recipe that follows: my Surreal Green Vegetable tart, Heidi's Butternut Squash Tart and the pizza I am still thinking about. I will get the secret!
In the mood for orange and yellow, just like the sun, summer — you get the picture — that is warm colors, I played with the idea of making a tart that would be colorful, fresh, healthy et tout le reste. After all, if you are a regular of my blog, you cannot NOT know that I am a tart girl! So I chose to combine three main cooked vegetables, potatoes, butternut squash and red onion. Since I like the idea of uncooked salad with it, I added arugula on top, following the same idea I used in my summer roasted tomato tart. It added a lovely crunchy, soft bitter taste next to the more creamy cooked sweeter vegetables. I did not want to use a powerful cheese as I was more interested in tasting the vegetables than the cheese, hence the choice falling for ricotta. And do you know what is great about tarts like this one? They make a great lunch on day 1 and another perfect one on day 2. P. calls this type of food pig-out food. When I heard him say this expression, I actually thought that he had said piglet food. But I must have heard poorly — or he must have mumbled — both quite typical as a matter of fact. Never mind. You will know what I am talking about if you live in a bi-cultural/language couple. In the meantime, I hope that you will enjoy the tart. We surely did. For lunch, on Day 1. For lunch on Day 2.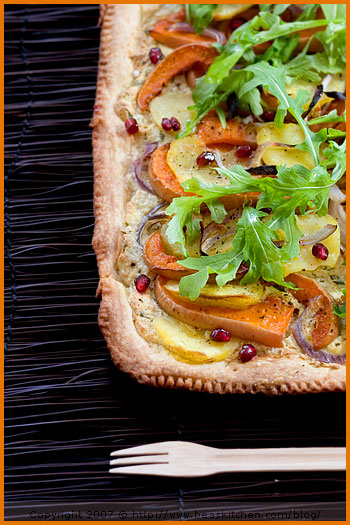 Butternut Squash, Potato and Arugula Tart
(For 1 tart 10 x 14 inches)
You need:
11 oz puff pastry
9 oz butternut squash, sliced
5 1/3 oz Yukon Gold Potatoes (about 2 medium-sized), unpeeled and boiled
7 oz ricotta cheese
1 Tbsp tarragon, chopped
3.5 oz red onion, sliced
Handful of arugula
Pomegranate seeds
Olive oil
1 tsp sherry vinegar
A dash of cumin powder
Salt and pepper
Steps:
Place the slices of butternut squash on a piece of foil paper placed on a baking tray. Add a splash of olive oil, salt and pepper and cook in the oven preheated at 400 F, for about 20 to 30 mns or so.
Cook the potatoes in boiling water, until almost cooked (15 mns). Peel and slice them.
Slice the red onion.
Roll the puff dough and place it on a baking sheet. Make some holes with a fork and place in the fridge for 1 hour.
Chop the tarragon.
Mix together the ricotta, tarragon and cumin, salt and pepper, and add 1 tsp olive oil and 1 tsp sherry vinegar.
Spread the ricotta mixture on the tart, leaving 1 inch around the edges.
Mix loosely the onion, butternut squash slices and potatoes together. Add a splash of olive oil.
Cook in the oven for about 30 mns.
Top with freshly washed arugula, pomegranate seeds, and a dash of olive oil.
Le coin français
Tarte à la courge musquée, pomme de terre et roquette
(Pour 1 tarte mesurant 25 x 35 cm)
Ingrédients :
300 g de pâte feuilletée
250 g de courge musquée, en tranches
150 g de pommes de terre à chair ferme, environ 2
200 g de ricotta
1 càs d'estragon, haché
100 g d'oignon rouge, émincé
Une belle poignée de roquette
Graines de grenade
Huile d'olive
1 càc de vinaigre de xérès
Un soupçon de cumin en poudre
Sel et poivre
Étapes:
Mettez les rondelles de courge sur une plaque de cuisson. Arrosez d'un filet d'huile d'olive, assaisonnez de sel et de poivre et faites cuire au four préchauffé à 200 C pendant environ 20 à 30 mns.
Cuisez les pommes de terre dans de l'eau bouillante, jusqu'a ce qu'elles soient presque cuites (15 mns). Pelez-les et coupez-les en rondelles, une fois un peu refroidies.
Émincez l'oignon.
Étalez votre pâte en un rectangle de 25 x 35 cm et placez-la sur une plaque de cuisson. Piquez la pâte avec une fourchette et mettez-la au frigo pendant 1 heure.
Hachez l'estragon.
Mélangez la ricotta, l'estragon et le cumin en poudre, assaisonnez de sel et de poivre et ajoutez 1 càc d'huile d'olive et 1 cas de vinaigre de xérès.
Étalez ce mélange sur la pâte, en laissant une bordude d'environ 2 cm tout autour.
Mélangez l'oignon, la courge et les pommes de terre et mettez-les sur la ricotta. Arrosez d'un filet d'huile d'olive.
Faites cuire au four pendant 30 mns.
Pour servir, disposez la roquette lavée sur la tarte avec les graines de grenade. Arrosez d'un filet d'huile d'olive fruitée.