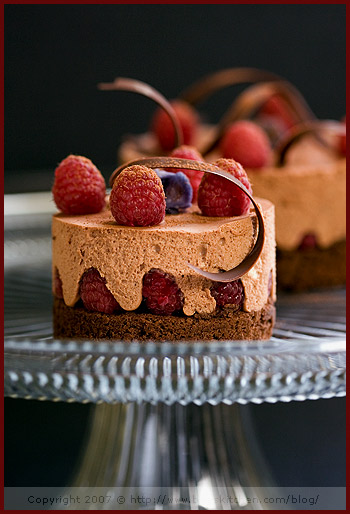 Dark Chocolate and Raspberry Cake, with its Chocolate-Ginger Mousse
I do not often make cakes like this one. Perhaps I should add that it is rather silly because as my grand-mother Marie used to often tell us — when asked about whether she enjoyed her meal — I can say, just like she did, that "ce n'est pas mauvais" (it is not bad). My grand-mother was one of these women who rarely complimented on food. She had not been taught to, and was also shy by nature. In the family, however, we always knew that whenever she responded "ce n'est pas mauvais" to our "c'est bon mémé ?" enquiries (Is it good grandma?), what she actually meant was that the food was good. Pretty great, as a matter of fact.
Despite what you might think, cakes like this one are not difficult to make. But for a minute, I enjoyed imagining that I transformed myself into a pâtissière, which I am really not. Because you see, I do not think that I have many pâtissière skills: I would know it by now. The well-needed qualities in the name of patience and precision not being particularly my cup of tea, I knew very early in age that becoming a pâtissière would be out of the question. As a kid, I always wanted to be an air-hostess anyway! It is good to see that we can change our minds!
Since I never hid from you how much I love chocolate, will you be surprised if I tell you that, when David announced the theme chosen for the Sugar High Friday Theme this month, he le pâtissier-chocolatier-humoriste américain à Paris became my star. Ok, only for one day, or as long as the cake I decided to make lasted. His theme was the word with eight bright letters: C.H.O.C.O.L.A.T. Did I say it right? I would need to say it once more: chocolat, more particularly Chocolate by Brand.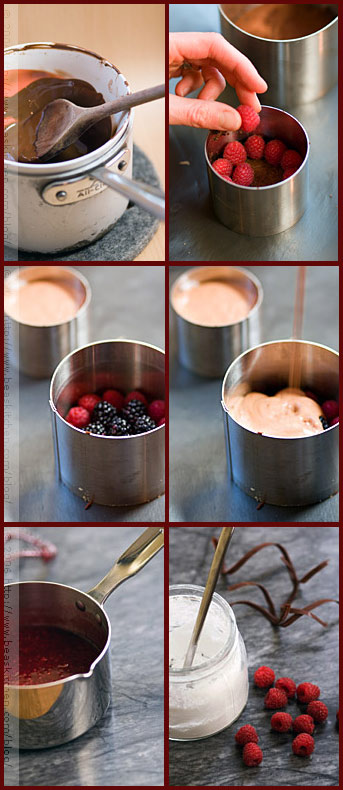 What chocolate brand do I use when I bake?
I will not provide a list of hundreds of names. In fact, I am one of these people that like to stick to something when it works well. How did it happen that I solely started to bake with Valrhona Chocolate is purely a piece of luck, or chance. Le hasard. While you all know that I live in the US, you might not all know that finding good quality baking chocolate can be more challenging here. There are not chocolatiers to be found in every town and city. They exist, Dieu merci, but they are just harder to find. Valrhona worked for me when, many years ago, I first bought a piece from places like WholeFoods or Formaggio — and since I do not fancy paying the high shipping cost from NYC to Boston, from chocolatiers like Maison du Chocolat for example, I stick to what is easily accessible to me. I am lucky too, Valrhona makes excellent chocolate.
It did not take me long to decide what I was going to make. I had wanted to improvise a cake of that type for quite a while now. As a true lover of raspberries and chocolate together, I imagined layers that would complement each other. The cake starts with a génoise-type dark chocolate basis which is simply topped with a layer of fresh raspberries lost in a chocolate mousse which I lightly flavored with freshly grated ginger. To dress it slightly more I finished with more raspberries on top, and chocolate twirls — and how much fun I had to make these. Eh bien voilà. Nothing else to say. I said it all. The introduction was made to my Dark Chocolate and Raspberry Cake, with its Chocolate-Ginger Mousse. Now I can sit and relax, waiting impatiently to discover the many more chocolate treats that this event will bring to us. Can we do chocolate every month please, pretty please?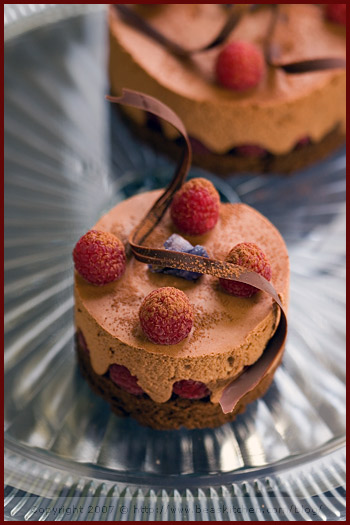 Dark Chocolate, Raspberry Cake and its Chocolate-Ginger Mousse
(For a 7 to 8 " in diameter cake, or 3 x 3″ individual ones)
Note: For 6 individual cakes, simply double all the quantities in the recipe.
You need:
For the Chocolate Cake:
2 2/3 oz dark chocolate, 64 % cocoa contents, Valrhona Manjari
1 Tbsp unsweetened cocoa (I used Scharffen Bergen)
3 large eggs
1.5 oz confectioner's sugar
1 tsp cornstarch
For the Chocolate-Ginger Mousse:
1 3/4 oz dark chocolate, 64 % cocoa, Valrhona Manjari
1/4 cup (minus 2 tsp) milk
1 gelatin sheet
1 tsp finely grated ginger root
2 Tbsp confectioner's sugar
1/2 cup (minus 1 Tbsp) cold heavy cream
Decoration and Fruits:
Fresh raspberries
Dark chocolate, 70% cocoa Valrhona de couverture, for the decoration
Unsweetened cocoa, to sprinkle
Raspberry Sauce:
Mix 5 1/4 oz fresh raspberries (or frozen) with 2 tsp lemon juice and 1.5 oz confectioner's sugar. Place in a fine sieve to remove the seeds.
Steps:
To make the chocolate cake serving as a basis, start by melting the chocolate in a double-boiler.
Separate the whites from the egg yolks.
Beat the egg yolks with the sugar until white in color, then add the cocoa and cornstarch. Mix well before adding the melted chocolate.
Whip the egg whites firm with a pinch of salt and add them delicately to the chocolate batter.
Pour in a mold covered with a sheet of parchment paper and cook in a preheated at 350 F oven for 15 mns. When cooked, let rest and cool down on a rack.
Take mold rings and cut chocolate cake rounds serving as the basis.
Line the ring molds with cake strips. Place them on a baking sheet and add a chocolate cake basis in each mold.
Arrange fresh raspberries on top, pointing up.
To make the chocolate-ginger mousse, start with heating the milk with the finely grated ginger. Add the confectioner's sugar and mix well. Keep warm.
Soak the gelatin in cold water for a few min and squeeze out the excess water. Add it to the milk and mix to dissolve.
Melt the chocolate using a double boiler.
Pour the hot flavored milk into the chocolate, in 2 to 3 times, mixing well at each time.
Whip the cold heavy cream firm. Fold it gently into the chocolate batter.
Pour this mousse on top of the raspberries in each mold. Place in the fridge for 1 to 2 hours, or until the mousses are set.
When you are ready to serve, remove the ring molds carefully, then the cake strips. Decorate with fresh raspberries and chocolate twirls. Sprinkle bitter cocoa on top and serve with the raspberry sauce.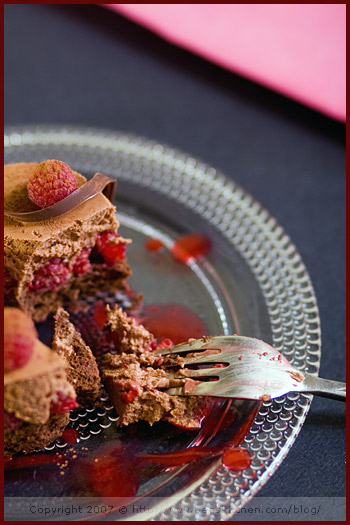 Note: the cakes can be prepared one day ahead of time.
Le coin français
Gâteau au chocolat, framboises et mousse au chocolat-gingembre
(Pour un gâteau de 18 à 20 cm de diamètre, ou 3 petits de 6 cm de diamètre)
Remarque: pour 6 petits gâteaux individuels, simplement doublez toutes les proportions.
Ingrédients :
Pour le gâteau au chocolat :
75 g de chocolat noir à 64 % de cacao, Valrhona Manjari
1 càs de cacao en poudre non sucré (j'ai utilisé Scharffen Bergen)
3 gros oeufs
40 g de sucre glace
1 càc de maïzena
Pour la mousse au chocolat au gingembre :
50 g de chocolat noir à 64 % de cacao
50 ml de lait
1 feuille de gélatine
1 càc de racine de gingembre râpé très finement
2 càc de sucre glace
100 ml de crème liquide froide
Décoration et fruits :
Framboises fraîches
Chocolat noir de couverture à 64% pour la décoration
Cacao en poudre non sucré, pour saupoudrer
Coulis à la framboise :
Mixez 150 g de framboises fraîches avec 2 càs de jus de citron et 40 g de sucre glace. Passez au chinois pour rétirer les pépins.
Étapes :
Pour faire le gâteau au chocolat de base, commencez par faire fondre le chocolat au bain-marie.
Séparez les jaunes des blancs d'oeuf.
Battez les jaunes avec le sucre jusqu'à ce que le mélange blanchisse, puis ajoutez le cacao et la maizena. Mélangez bien puis ajoutez le chocolat fondu.
Battez les blancs en neige ferme et ajoutez-les à la préparation précédente.
Versez dans un moule recouvert de papier sulfurisé et enfournez au four préchauffé à 180 C pendant 15 mns. Sortez et laissez refroidir sur une grille.
Prenez vos cercles et découpez les bases de vos gâteaux de la taille des cercles.
Chemisez vos cercles avec des feuilles de rhodoïd. Placez-les sur une plaque et dans chaque cercle, placez une base de gâteau.
Disposez les framboises par dessus, pointe vers le haut.
Pour réaliser la mousse au chocolat au gingembre, commencez par chauffer le lait avec le gingembre finement râpé. Ajoutez le sucre glace et mélangez bien. Gardez au chaud.
Faites tremper la gélatine dans de l'eau froide pendant quelques minutes, essorez-la et mettez-la dans le lait pour la dissoudre.
Faites fondre le chocolat au bain-marie.
Versez le lait chaud dans le chocolat fondu, sous forme de petit filet d'abord, puis en 1 à 2 fois, en mélangeant bien avec une maryse à chaque fois.
Montez la crème liquide froide en chantilly. Mélangez-la délicatement au mélange précédent.
Versez cette mousse sur les framboises et placez au frigidaire pendant 1 à 2 heures, jusqu'à ce que les mousses prennent.
Au moment de servir, retirez les feuilles de rhodoïd, décorez de framboises et de décor en chocolat. Saupoudrez de cacao amer et servez avec le coulis de framboises.

Remarque : ce gâteau peut être préparé un jour à l'avance.
SHF, Sugar High Friday, SHF#27, Chocolate, Dessert, Food Styling, Photography