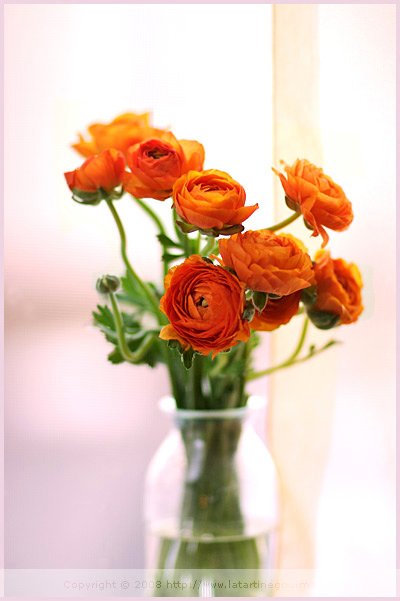 Saturday at home
When I open my eyes, the alarm clock indicates 6:30 am and surprisingly, I do not feel tired. After all, it is my first good night sleep in the past week, so I gladly welcome the change despite the early hour. P. is cozily wrapped under the duvet and blankets, with only his black hair sticking out; I know that he is still sound asleep. I hesitate for a second, tempted to cuddle up next to his warm body. But after I have a few seconds to gather my thoughts and think about the day, I remember that friends are coming for dinner. That's right, no hesitation then. I have to get up because I've got a lot to do.
With a sleepy head, I walk downstairs as quietly as I can, impatient to pull the blinds open to let the soft wintry light filter in. At least then I know that it is really day time. Les Rita Mitsouko are already playing on Radio FIP in the living room, which gives a good start to my day.
Breakfast is easy since it does not involve any thinking on my part: a freshly squeezed apple juice, a bowl of cereals with goji berries, and a piece of whole grain toast topped with slices of goat cheese — sometimes I also add slices of avocado. A cup of hot green tea helps me to wake up and savor this quiet moment: I really love breakfast time.
"At least I don't have to clean the house," I hear myself think. "One less thing to do." I look around and notice the bouquet of Ranunculus flowers — my favorites — bought at the store the day before. They put me in a good mood with their vibrant orange color. I am happy to have found them since they are not always available. Then, I start to think about my menu for dinner. I am preparing the same Moroccan chicken dish with preserved lemons and purple olives that my brother cooked during our recent ski vacation, and I plan to prepare thin strips of sautéed zucchinis and roasted red and purple potatoes to accompany. A platter of cheese with salad will follow. But I am in fact more particularly looking forward to the preparation of dessert. I want to play with an idea to wow my friends, and I surely hope that they will like it as much as I do.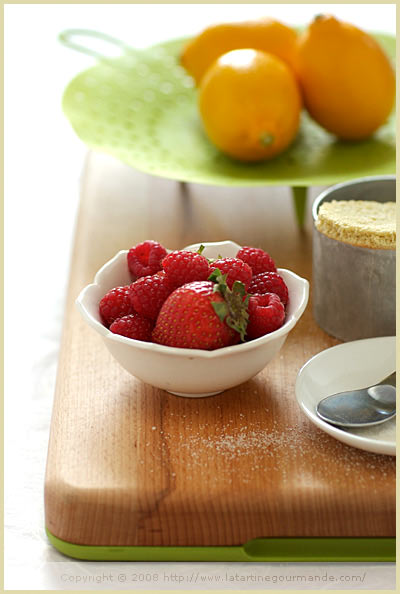 Baking
My idea is not necessarily new, but I enjoy revisiting the idea of a successful cake to create variations with new flavors. Since they are in season — Sam and national papers have talked about them — I also join in, and choose to bake with Meyer lemons**.
I use mine to prepare a mousse, one of the two main components of the final dessert served at our dinner. Oval-shaped and smooth to the touch, Meyer lemons have an attractive dark yellow-color that is the first thing you notice. They are also juicy and sweet, yet offering a perfect balance between sweet and sour flavors: the king of lemons. In my dessert, they require little work: the juice sweetens the mousse while the zest adds nice touches of bright yellow in it.
For the base of the dessert, I make a sponge cake.
You have been quite a few to ask what flours you could use instead of quinoa and brown rice, which have become regular ingredients in my baking. To this question, I've replied that while on one hand, all-purpose and baking flours can be great substitutes, on the other the taste will change. I find that quinoa and brown rice flours — as well as amaranth — really add a dimension to baking, not even mentioning the better quality nutrients, amino acids, (quinoa flour offers 17% high-quality protein, which is more than any other grain flour) and vitamins they give to food. You should have a try and determine which ones you end up preferring. Between P. and I, the choice is made. And I know that we are not alone.
"Quinoa and brown rice?" my friend M. asks when she has a first bite of the dessert. "That's really delicious, I will have to try that."
"I've also added a touch of tonka bean to flavor the cake." I add to pick her curiosity even more. "Have a look," I say when I bring my small jar full of the pitch-dark beans to the table. I've managed to have the lively conversation paused, getting everyone's attention onto the spice. I then start to explain what I've learned.

** for people who have asked me where to find Meyer Lemons in Boston, I buy mine at Whole Foods.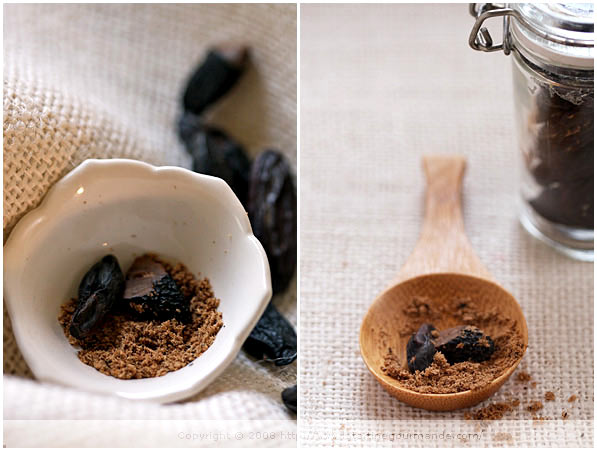 Tonka Bean
Tonka bean tastes like bitter almond and vanilla combined to a light touch of clove. Friends who have tried pastries I've prepared with this fragrant bean tell me so, and I have to agree with them. I typically use the bean to infuse milk or cream for crèmes brûlées or flans, and I prefer to grate it finely — a microplane grater works like a charm — into a cake batter. Either way, the flavor is strong, and cannot be missed.
J.F.'s eyes tense up with interest and curiosity when he holds the bean in front of his nose to inhale its noticeable taste. He pauses and let a few seconds go by before adding: "Perhaps the smell of a peach that you've just cut open."
I think he is right. Fruit pits often reveal an almond taste.
Before he leaves that evening, I sneak a bean into his pocket.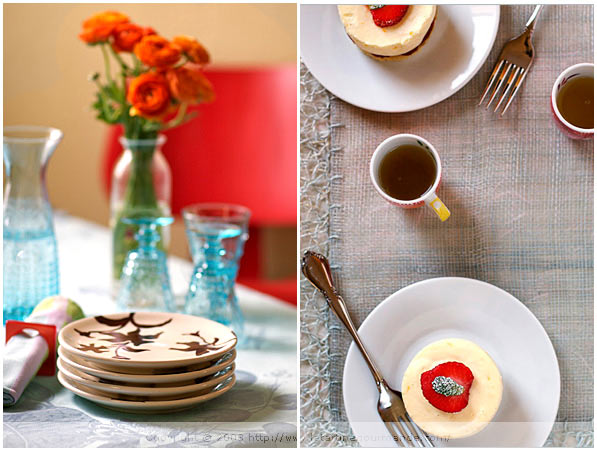 Since I have more mousse than needed, I decide to pipe the leftovers into small glasses. "Always good to have," I think while cleaning the mess I have made on the countertop. "In case anyone wants more."
The dessert does not last long; the plates are wiped clean quickly.
"Quelqu'un veut un peu plus de mousse ?" (anyone wants more mousse?) I add.
Withing a few minutes, the glasses are perfectly clean too.
I smile. I get a sense that the jolly crowd gathered around the table has enjoyed dessert as much as I have when preparing and tasting it.
Will a clean plate indicate that they have?
I surely hope so.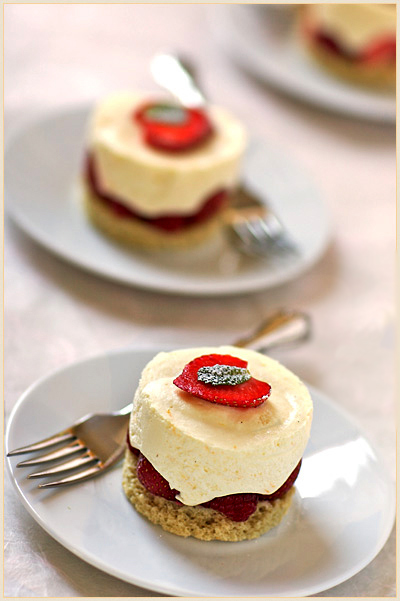 Meyer Lemon Mousse Cake and Berries
(For 8 small cakes)
Equipment: 8 ring molds (3″ x 2.5 ") and plastic liners; a decoration bag
For the tonka bean sponge cake:
1/3 cup brown rice flour*
1/3 cup quinoa flour*
1/2 cup blond cane sugar
4 eggs
1 pinch of salt
One half tonka bean, grated finely
1.5 Tbsp butter, melted
1/4 tsp baking powder
*or all-purpose flour
For the Meyer Lemon Mousse and Berries:
7 oz raspberries
14 oz strawberries
3 small Meyer lemons
9 oz mascarpone
4 eggs, extra fresh
1/2 cup blond cane sugar
1 cup heavy cream, cold
3 gelatin sheets (6 g)*
*Note: if using gelatin powder, the typical equivalence is 4 gelatin sheets = 1 package of powdered gelatin; I recommend using sheets if you can find them.
Steps:
To prepare the sponge cake, separate the egg whites from the yolks. Mix the egg yolks with the sugar until white and light in texture (use a mixer if you have one).
Add the tonka bean, the flours and baking powder, and the butter.
Beat the egg whites firm with a pinch of salt. When they are almost done, add 1 tsp sugar and continue to whip. Fold into the previous preparation.
Pour this batter on a baking sheet covered with parchment paper.
Bake for 12 to 15 min at 350 F. Remove and let cool before removing the parchment paper.
Cut 8 circles of the size of your ring molds; set aside (the sponge cake leftovers are delicious eaten as a snack! My favorites)
To prepare the mousse, soak the gelatin sheets in a large volume of cold water.
Grate the lemon zests and squeeze the juice.
Beat the egg yolks with the sugar until light, then add the zest and lemon juice and mascarpone; keep.
Heat 2 Tbsp heavy cream and add the gelatin sheets (make sure to squeeze the water out first). Add to the lemony cream.
Beat the egg whites firm with a pinch of salt. When they are almost done, add 1 tsp sugar and continue to whip. Fold into the previous preparation.
Whip the cold heavy cream and fold in as well.
To assemble your cakes,, do as follows: line 8 ring molds with plastic liners and place a round of sponge cake of the same diameter at the bottom. Arrange the fruit on top, then pipe in the mousse to cover. Make sure the surface is even. Place in the fridge for a few hours, until set (about 2 to 3 hours).
When ready to serve, remove the ring molds carefully first, then the plastic liners. Decorate with more fresh fruit, mint and confectioner's sugar.
Note: you will have mousse leftovers so perhaps you want to pipe it in small glasses, to be enjoyed with more fresh fruit.
Le coin francais
Gâteau léger aux fruits rouges et sa mousse au citron meyer
(Pour 8 petits gâteaux)
Matériel: 8 cercles de pâtisserie (7,5 cm x 6 cm) et des feuilles de rhodoïd; une poche à douille
Pour la génoise à la fève tonka :
50 g de farine de riz complet*
50 g de farine de quinoa*
100 g de sucre de canne blond
4 oeufs
1 pincée de sel
demi fève tonka râpée
20 g de beurre, fondu
1/4 càc de poudre à lever
*ou farine type T 45
Pour la crème citronnée et les fruits rouges :
200 g environ de framboises
400 g de fraises
3 petits citrons Meyer
250 g de mascarpone
4 oeufs
100 g de sucre de canne blond
250 ml de crème liquide froide
6 g de gélatine (3 feuilles)
Étapes :
Pour réaliser la génoise, cassez les oeufs et séparez les blancs des jaunes. Battez les jaunes avec le sucre jusqu'à blanchiment (au batteur électrique si vous en avez un).
Ajoutez la fève de tonka, les farines tamisées et la levure, et le beurre refroidi.
Montez les blancs en neige ferme avec une pincée de sel, et 1 càc de sucre vers la fin. Mélangez délicatement à la préparation précédente en soulevant bien la masse.
Versez votre pâte sur une plaque de cuisson recouverte de papier sulfurisé.
Enfournez au four préchauffé à 180 C pendant environ 12 à 15 min, ou jusqu'à ce que la génoise soit cuite. Retirez du four et retournez sur une grille pour retirer le papier délicatement.
Découpez 8 cercles pour votre dessert, de la taille des cercles ; mettez de côté (les restes de génoise sont délicieux en snack, mes préférés).
Pour préparer la mousse, commencez par tremper la gélatine dans un grand volume d'eau froide.
Rapez le zeste des citrons finement, et pressez le jus.
Battez les jaunes d'oeuf et le sucre jusqu'à blanchiment, puis ajoutez le zeste et le jus de citron ; réservez.
Faites fondre la gélatine essorée dans 2 càs chauffées de crème (prélevée des 250 ml). Ajoutez-la à la crème citronnée.
Montez les blancs d'oeuf en neige ferme avec une pincée de sel, et serrez-les avec 1 càs de sucre à la fin. Incorporez-les délicatement à la crème citronnée.
Battez la crème liquide froide en chantilly et incorporez-la délicatement.
Pour monter vos gâteaux, procédez de la façon suivante: mettez une feuille de rhodoïd dans le cercle puis déposez un cercle de génoise au fond. Recouvrez de fruits en alternance, puis ajoutez la crème citronnée à l'aide d'une poche à douille. Mettez au frigidaire jusqu'à ce qu'elle soit prise (environ 2 à 3 heures).
Décorez de fruits frais et saupoudrez de sucre glace.
Remarque: il vous restera sans doute de la mousse. Vous pouvez en garnir des verres, pour faire des verrines avec des fruits frais.