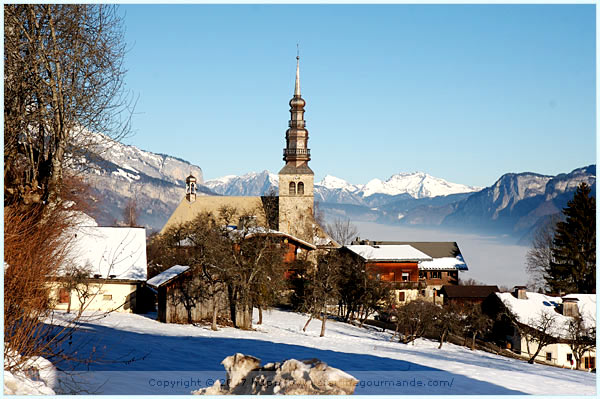 Baroque Church in Combloux
Looking through the small porthole of our plane, all I can see is vast stretches of white land, with some darker gray areas showing here and there. We are getting close.
"Regarde comme les Alpes sont belles," (Look at how beautiful the Alps are) I tell P. when I point out at the gorgeous snowcapped mountains spreading under us.
New energy runs through my entire body, shaking stiffness away from my tired limbs after too many hours spent sitting in a cramped aircraft seat. P. is half asleep and I have to pinch his arm hard to get his attention. He moans and I smile. Invariably, whenever I visit the Alps, I look at these magnificent mountains with fresh eyes again, just as if it were my first time. I have stopped counting the many times spent over the years in this beautiful part of France. Each trip always feels like a discovery.
"Wow, that looks amazing," P. says then wide awake.
The drive between the gray-looking airport in Geneva and the small village of Combloux is short, but we are glad to finally arrive, leaving the thick fog behind us in the valley below. I want to chat with everyone, my brother and sister-in-law, my dad and mum, and ask them about the latest news back home, but I am clearly too tired to sustain a comprehensible conversation. In fact, even if the clock is only marking 5 o'clock when my dad's car pulls in front of our rented chalet, all I think of is tasting my mum's food, and find a bed to lie on. P. and I are in serious need of a good night sleep. That night, we dine on a rôti de chevreuil (a deer roast), mashed sweet potatoes and a green salad. I cannot remember the last time I ate deer, so I savor each bite greedily.
"Comment est équipée la cuisine ?" (how equipped is the kitchen?) I ask my mum when we walk into the apartment.
"Ca va, c'est correct," (Not too bad) she replies "On fera avec." (We will do with it.)
And we do.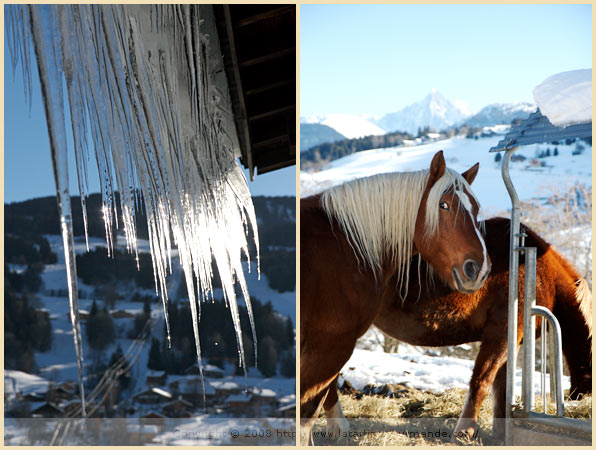 I know that we will talk about food quickly, discussing what we are going to cook for Christmas. My sister-in-law G. has brought the latest French food magazines full of holiday recipes. We plan to eat oysters, foie gras and champagne, to keep some tradition, but also decide to make our menus simple. After all, we are on vacation, and our kitchen equipment is somewhat limited, even if I have asked my mum to bring her mandoline and mixer. I prepare mixed salads with cumin-flavored shrimps, shaved fennel and radish, veal roulades (roll) with sage, pear and purple potatoes, and a crab, grapefruit, kiwi appetizer.
"I have everything for a dessert on Christmas's eve," I tell G. I have made sure to pack my ring molds, a pack of plastic liners, a confectioner's bag, tonka beans and heaps of dark chocolate with different cocoa percentages. I have promised to make my small dark chocolate ginger mousse and raspberries cakes. But this time, I use tonka bean to flavor the chocolate sponge cake.
"What is this taste?" G. asks my brother who is quite skilled at this type of blind test. "Il a du nez," we say in the family.
"It tastes like bitter almond," he replies when I hold a bean under his nose.
They are both seduced by it and promise to get some when they return home.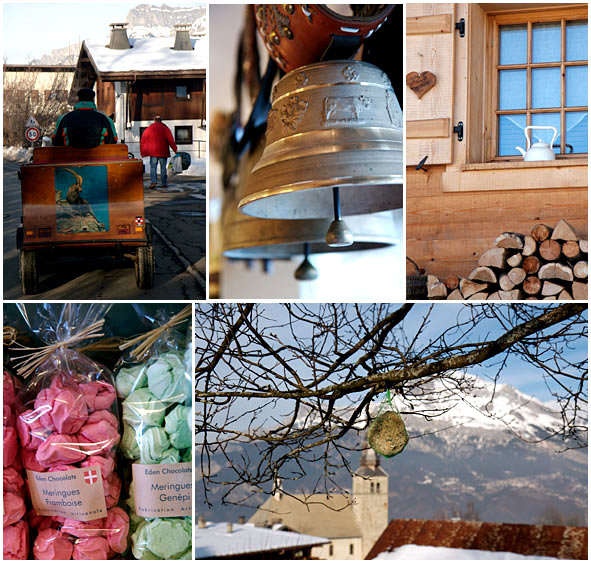 Nested at about 1000 m in altitude, the small village of Combloux faces the Mont-Blanc, with Megève four kilometers away, and Chamonix thirty kilometers further. Victor Hugo called it "la perle des Alpes dans son écrin de glaciers." (the pearl of the Alps in a jewelry case of glaciers). Right away, we love the simplicity and unpretentiousness of this quiet village compared to the neighboring more popular ski resorts.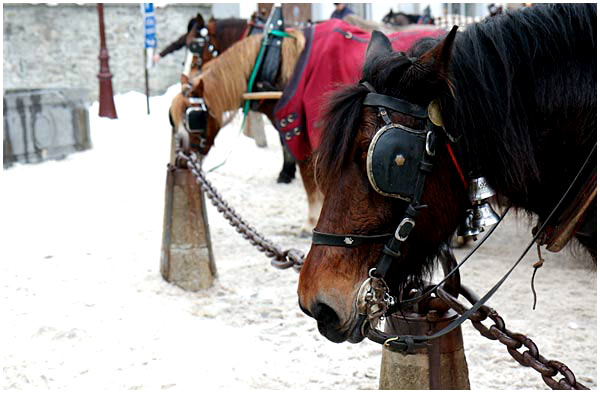 During the entire week, our program stays loose. When our legs feel sore after a long afternoon of skiing, we prefer to take a walk the following day. Since my dad is the first one to wake up every morning, he treats us with fresh baguette and country breads on the breakfast table. We enjoy walking the narrow streets of the village to feel the crisp air, and pay many visits to the épiceries fines du village (delicatessen stores). L'épicier is a tall smiling man who makes large gestures and talks a lot. He appears all dressed in a traditional custome, peering through his glasses at the tip of his nose, and is proud to educate us to the local cheese and cured meats. You can quickly guess that he is passionate about it.
"J'espère que ce n'est pas que mon chapeau que vous prenez en photo, mais moi aussi, parce que je suis beau," he tells me jokingly when he sees that I pull my camera out (I hope that you are not only interested in my hat for the picture, but in me too, because I am handsome).
"Mais bien sûr !" I reply, laughing (Of course!) How could anyone not remember such a face?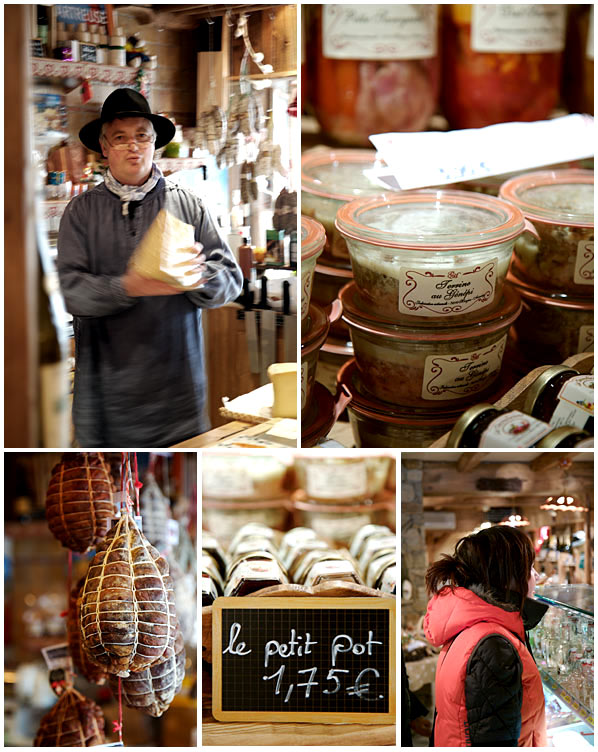 A Visit to an épicerie in the village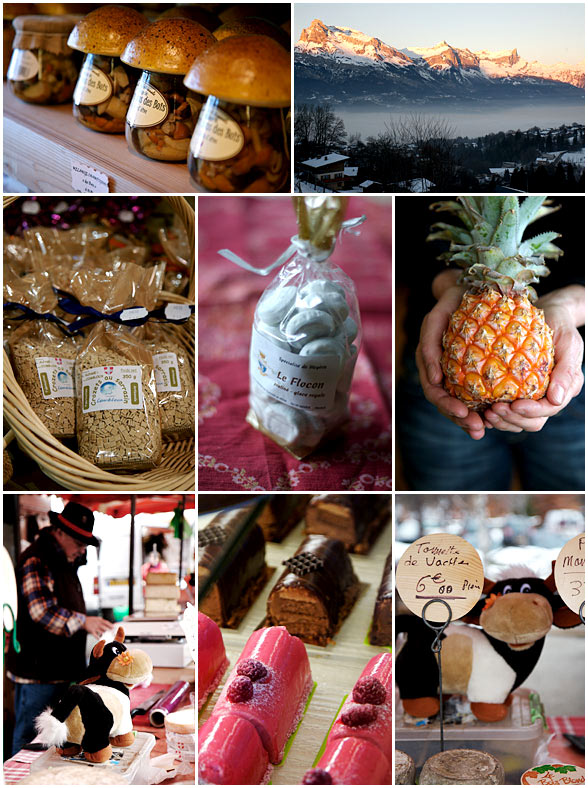 Champignons des bois ; the mist in the valley ; Crozets au sarrasin; Le Flocon de Megève ; Ananas Victoria ; Cheese stand at the village market ; Les bûchettes de Noël ; Tomette de vache
I make sure to buy and pack a few bags of crozets au sarrasin (buckwheat), a specialty of the region that I always indulge in whenever I visit this French region; they are hard to find elsewhere. Crozets resemble pasta, but have the shape of small brown cubes made from a blend of white flour and buckwheat flour. You eat them traditionally prepared with local grated cheese, browned onions, or gratinéed with crème fraîche and lardons.
The bûchettes de Noël in display in the local bakery are a treat for the eyes too. I still do not know how we manage not buying some every day. Then, when we visit Megève, I cannot resist to try les flocons de Megève, the village specialty.
"They are pralinés dipped into a meringue," the lady selling me a bag tells me when I ask her of what these white-covered sweets are made. We eat them while sipping a glass of vin chaud taken in a local brasserie.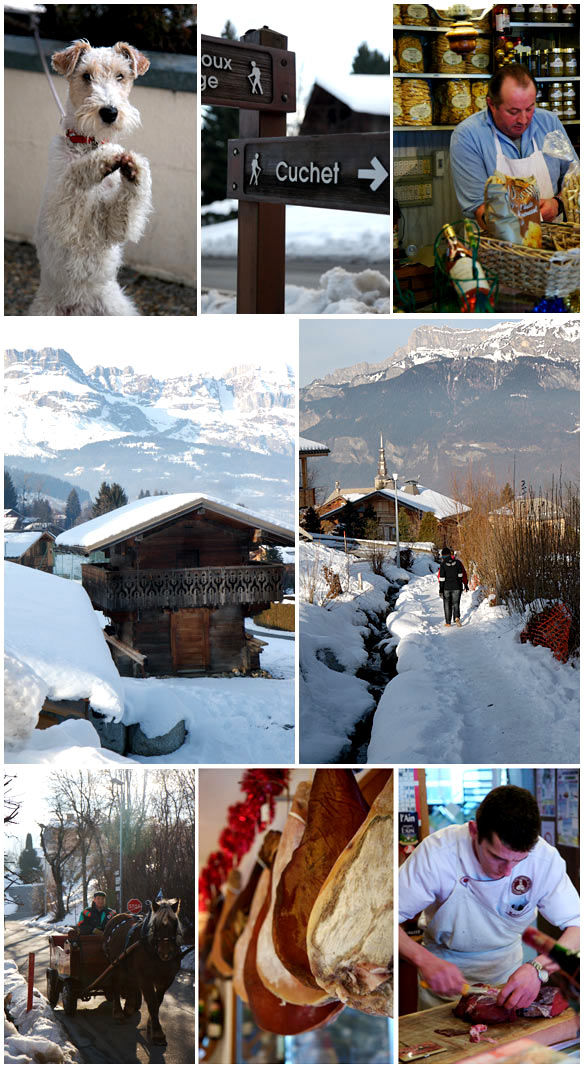 The village market in Combloux is another great discovery. No one seems to mind the cold, and I find the same energy as the one remembered from summer farmer's markets.
"What is this vegetable?" my brother B. asks the man behind the largest display of fresh produce. "It looks like salsify," he adds pointing at the long black sticks bundled together. I forget the name that he gives us, but recall him explaining how to eat this peculiar vegetable.
"Can we taste it?" B. continues.
"Look at his hands," G. whispers in my ear when she catches sight of the man's strong wrinkled hands holding a piece of the peeled vegetable for us to taste. "Il a des mains de vrai jardinier," (He has the hands of a real gardener). The taste of the crispy white flesh makes me think of shaved black radish, without the spiciness. I imagine it prepared in the same way. I like to notice how different the same vegetables look when compared to the ones I buy in Boston. I purchase fresh arugula and raddichio which I use to make a risotto for lunch. At another stand, G. buys a weaved basket that she plans to use to store potatoes at home.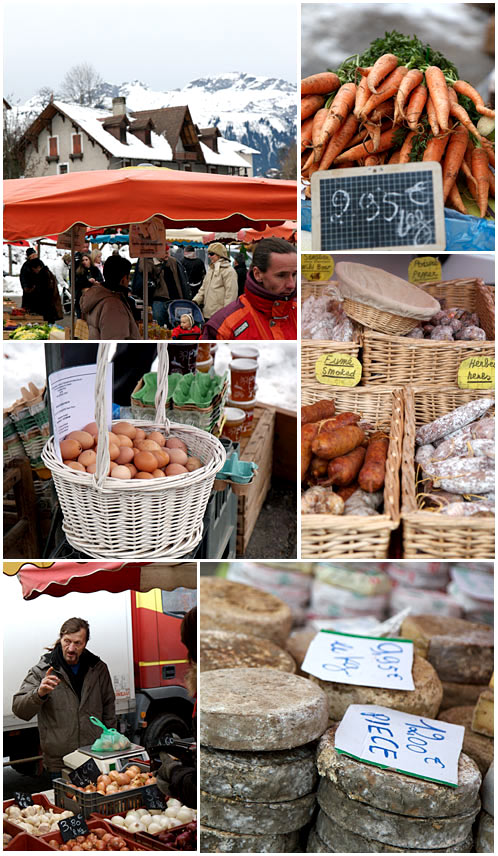 "Let's have a raclette tonight," my mum suggests one morning. This specialty of the Swiss and French Alps — melted raclette cheese, potatoes, cured meats, pickles and condiments — is commonly eaten now everywhere in France, and is easy to prepare. But eaten in this setting, and prepared with local cheese and meats from the village, it simply tastes much better. We decide to choose cow and goat milk raclette cheese, and ask for an assortment of meats composed of caillasse, viande des Grisons, jambon de savoie and coppa. A white wine from Savoie, cornichons (French gherkins) and picked onions complement it perfectly.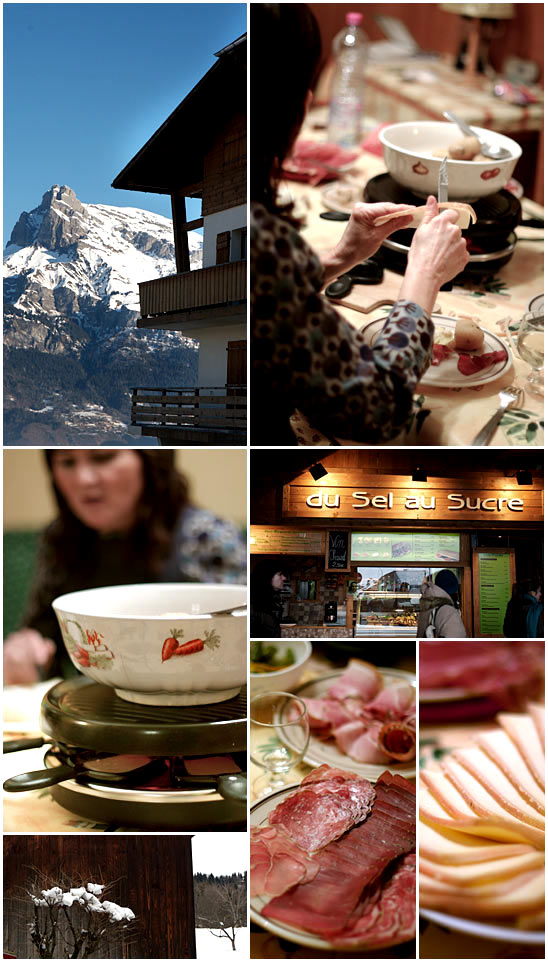 La raclette
We are also lucky to taste my mum's delicious boeuf aux carottes (beef roast cooked with carrots in a dark thick sauce), or my brother's scrumptious poulet souris (Morrocan chicken dish made with preserved lemons, olives and eggs).
And I cannot help but bake a few cakes. We have various types of flour, quinoa, rice, amaranth, and individual molds and spices. I think about something simple, easy to toss in a backpack to bring on the ski slopes, or to nimble with a cup of tea or hot chocolate, after a long walk or a few hours skiing.
"A la cannelle, ca vous dit ?"(What would you say about cinnamon?) I ask the crowd sitting around the table.
I make them a healthy treat, gluten-free too, using quinoa, rice and almond flours.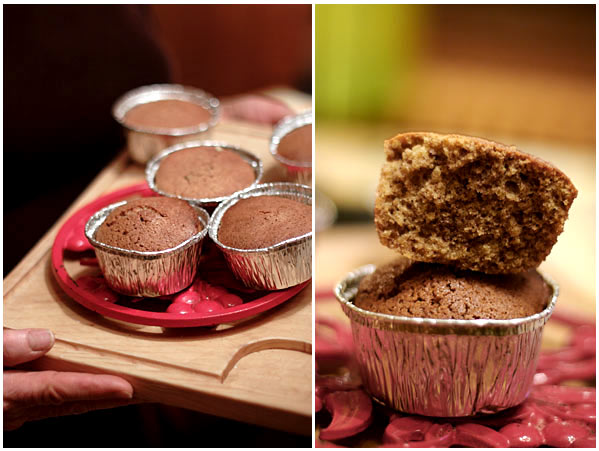 After-Ski Cinnamon Tea Cakes (gluten-free)
A few leftover do well in our cabin bag when we eventually prepare to leave a week later. As usual, I pack my bag reluctantly, always feeling a pinch in my heart at the thought of leaving my family behind. Oddly enough, the fog seen in the distant valley seems thicker too on the morning we load the car. This time, however, it somewhat seems easier to leave, probably because we know that our next stop is Dublin, and then because I am convinced that another trip to the French Alps is already in the planning. The beauty and peacefulness found in the mountains never disappoint.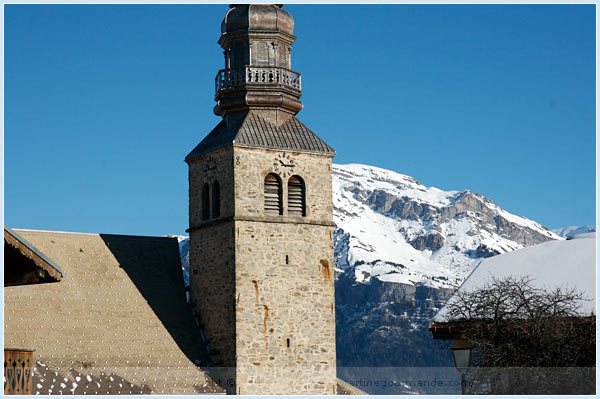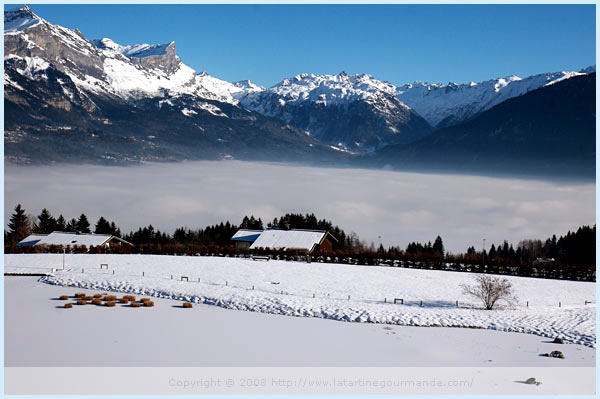 View from our balcony
After-Ski Cinnamon Tea Cakes (gluten-free)
(For 6 small cakes)
You need:
3 eggs
1/2 cup blond cane sugar
7 Tbps unsalted butter, melted
1/2 cup quinoa flour*
1/2 cup minus 1 Tbsp brown rice flour*
1/4 cup almond flour
1 tsp baking powder
1 Tbsp ground cinnamon, sifted
*Replace with all-purpose flours if you do not have quinoa and rice flours

Steps:
Preheat your oven at 350 F.
Grease 6 small molds and coat them with sugar, and remove the excess.
With a whisk or using an electric mixer, beat together the sugar and eggs until the preparation is light, and white in color.
Add the melted butter and mix well.
Slowly add the dry ingredients, flours, baking powder and almond. Mix and add the cinnamon. Fold in gently.
Bake the cakes for about 35 min. Remove from the oven and let cool.
Le coin français
Petits gâteaux à la cannelle, pour l'après-ski, (sans gluten)
(Pour 6 petits gâteaux)
Ingrédients :
3 oeufs
100 g de sucre de canne blond
100 g de beurre non salé, fondu
60 g de farine de quinoa*
60 g de farine de riz complet*
30 g de poudre d'amandes
1 càc de levure chimique
1 càs de cannelle en poudre, tamisée
*Remplacez par de la farine T45 si vous ne trouvez pas de farine de quinoa et de riz

Étapes :
Préchauffez votre four à 180 C.
Beurrez 6 petits moules et saupoudrez-les de sucre ; enlevez l'excédent.
A l'aide d'un fouet, ou d'un batteur électrique, battez ensemble les oeufs avec le sucre jusqu'à blanchiment.
Ajoutez le beurre fondu et mélangez.
Ajoutez doucement les ingrédients secs, les farines, la levure, la poudre d'amandes et la cannelle. Ne mélangez pas de trop.
Cuisez les gâteaux pendant environ 35 min, et retirez-les du four pour qu'ils refroidissent.