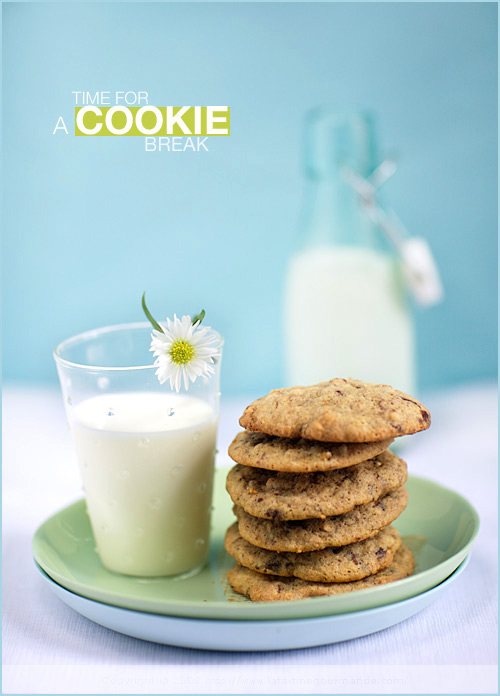 Dark Chocolate Chip and Nut Cookies
What a relief when the rain finally came. And it really came down heavily at times. So much so that it woke me up last night. But I liked the smell that it left on the concrete and grass outside, the sound it made when it hit and banged against the windows and roof. I liked the feeling that we could almost be in a different season, perhaps at the end of summer, or in another country.
"Seriously, I feel as if we were in a tropical country," P. told me as large droplets kept coming down rhythmically in heavy downpours.
I agreed.
We could not ignore the pleasant music the rain created outside. The temperatures cooled down too and we were finally able to wear pants, and even a light jacket. Delight!
I had not made big plans for the day and as I looked outside the dining-room window, contemplating the unceasing lightning in the sky and hear the thunder grumble in the near distance, I suddenly felt a strong urge to bake.
In fact, to bake cookies.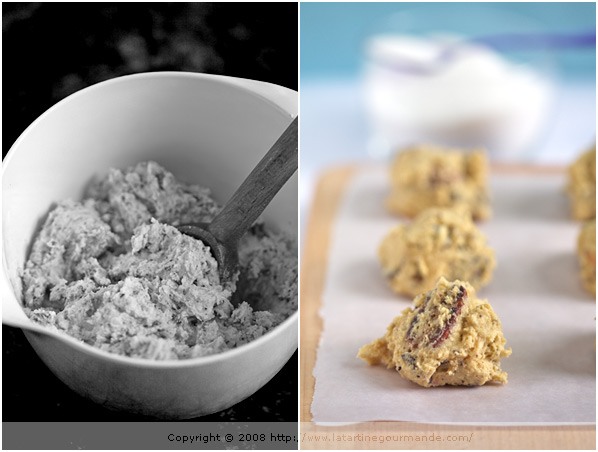 P. often complains that I never bake cookies. And he is right. Perhaps I would have needed to be born American to have this spontaneous baking talent in me. Clafoutis, crème brûlée, île flottante or oeufs à la neige, sabayon, mousse, charlotte, petits pots de crème or tartelettes aux fruits would never be an issue: there is always one or the other around in the house, visiting my kitchen almost daily. But cookies? I simply don't think enough about them. We never baked cookies at home. C'est pas dans ma culture. So when the desire seized me, you can trust me, I did not hesitate. I grabbed it and pulled out the ingredients I needed.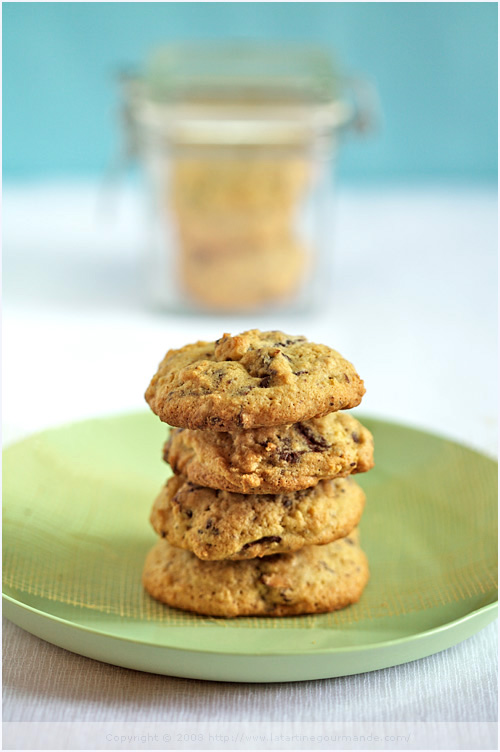 I've always had a strong inclination for natural healthy eating and cooking. At home, I was taught to eat and cook this way. So in my pantry, I always make sure to have a wide selection of different baked products available. Flours? I have many many types, so for my cookies, I liked the idea of using quinoa, brown rice, millet and amaranth flours and combining them to quinoa flakes. But there is also another reason which you may have been curious about. Let me say a few words about it, if you will, and explain to you why I've recently stopped eating wheat, and gluten generally speaking.
Am I celiac?
No.
So why cutting down on wheat, and gluten you may wonder?
To cut my long story short, let's say that a genetic test — yes yes, a real DNA test — showed that I had a predisposition to gluten intolerance (both my parents gave me one gene). And at the time I was tested, I was reacting to gluten. It came around about a year ago, more or less, after our trip to Peru — during which I was once pretty sick because of the food. My body did not like it. I did not like it. I became an active researcher of the root of my problems, trying to rid myself of unpleasant symptoms, keen to find out what to do — think as if your immune system is always in reactive mode.
So what to do?
Simply remove gluten.
And in my case, it worked. It really quietened things down.
Of course, I wondered too: is it a permanent thing?
The good news was that in my case, it was not. Because our bodies keep going through cycles and changes, and that reactions like this one can come and go. My body simply needed some time to heal. I gave it this time.
At first, removing gluten was a challenge. But I truly grew into loving the challenge, and learned a ton from it, boosting more creativity than I expected. I even think that I became a better and more experimental cook and baker, a more creative one for sure. I found my gluten-free baked goods always lighter, often tastier too — notice that flours like amaranth, teff, quinoa are full of nutrients and vitamins that also give a lovely taste to your finished products. In fact, many of my friends who tasted my gluten-free dishes could never guess — I did not tell them beforehand. And they really enjoyed them even more.
Needless to say that for someone like me who likes to bake so much, that was plenty to make me happy.
Don't be surprised then if I decided to bake these cookies gluten-free — you can always decide to substitute the flours, if you found them hard to find, or did not feel like using them. In such case, I would suggest to substitute the brown rice flour with whole wheat flour, or all-purpose flour. I personally have grown extremely fond of rice, amaranth, teff and quinoa flours in particular.
The cookies turned out light, deliciously nutty and chocolaty, but not overly so either, with un petit goût de reviens-y (with a taste of come back to them).
And since I can never eat one only, I ate two. And a third one later in the day when the sun was already back, clearing the sky from the dark-looking clouds, loaded with more rain I am sure.
Cookies need to be eaten par deux ou plus, non ?
PS: Merci Fred for the lovely green cups. I love them, as you can tell!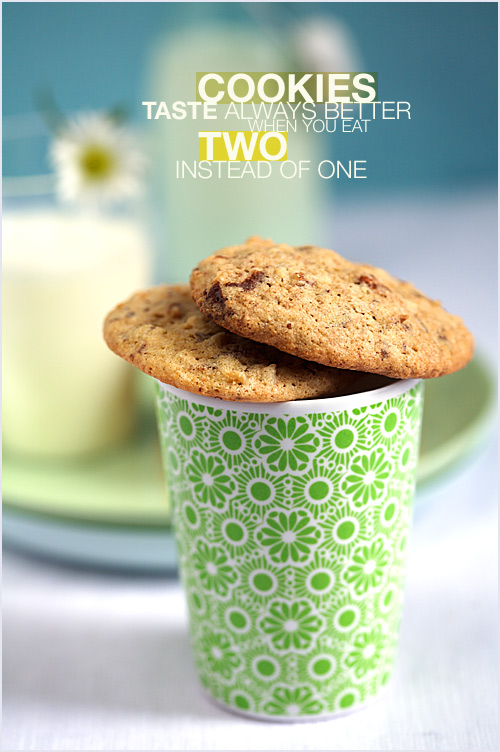 Chocolate Chip and Nut Cookies
Dark Chocolate Chip and Nut Cookies
You need:
1 cup brown rice flour
1/3 cup quinoa flour
1/3 cup quinoa flakes
1/3 cup millet flour
1/3 cup amaranth flour
1 cup blond cane sugar
2 eggs, at room temperature
1/2 cup butter, at room temperature
1/2 tsp baking powder
1/2 tsp baking soda
1/2 tsp salt
1 tsp maple extract (or pure vanilla)
3/4 cup coarsely chopped chocolate 64 or 70% cocoa (100 g)
1/3 cup slivered almonds (40 g), toasted
1/2 cup pecans (50 g), toasted
Steps:
Preheat the oven at 350 F. Line your baking sheet (or two) with parchment paper.
In a large bowl, whisk together the different flours, quinoa flakes, baking soda, baking powder, and salt; set aside.
In a large bowl, or the bowl of your stand mixer equipped with the paddle, beat the butter until light, then beat in the sugar.
Stir in the maple or vanilla extract.
Mix for a few minutes and then add the eggs, making sure the first one is well incorporated before adding the second — scrape down the sides of the bowl a few times.
Add the flour mixture slowly, mixing until just homogeneous.
Then add the chocolate and nuts.
Place 1 large Tbsp of dough for each cookie onto the baking sheet, making sure to keep them about 2 inches apart.
Bake the cookies for about 12 minutes, until the edges start to be golden in color — they will harden as they cool. Let them cool on racks, and eat right away, or whenever you feel like it.
Le coin français
Cookies aux noix et éclats de chocolat
Ingrédients :
150 g de farine de riz complet
40 g de farine de quinoa
25 g de flocons de quinoa
60 g de farine de millet
40 g de farine d'amaranth
200 g de sucre de canne blond
2 oeufs, à température ambiante
113 g de beurre, à température ambiante
1/2 càc de poudre à lever
1/2 càc de bicarbonate de soude
1/2 càc de sel
1 càc d'extrait pur d'érable (ou de vanille)
100 g de chocolat noir haché grossièrement, de 64 à 70% de cacao
40 g d'amandes émincées, grillées à sec
50 g de pécanes, grillées à sec
Étapes :
Préchauffez le four à 180 C. Couvrez une plaque de cuisson (ou deux) avec du papier sulfurisé.
Dans une jatte, mélangez les farines, les flocons de quinoa, la poudre à lever, la bicarbonate de soude et le sel; mettez de côté.
Dans un grand bol, ou le bol de votre mixeur à pied (équipé de la spatule), travaillez le beurre en pommade. Ajoutez le sucre et mélangez pendant quelques minutes jusqu'à ce que la consistance soit légère.
Ajoutez l'extrait d'érable ou de vanille.
Mélangez puis ajoutez les oeufs, un à un, en attendant que le premier soit bien incorporé avant d'ajouter le second — raclez les bords du bol plusieurs quand vous travaillez cette pâte.
Ajoutez alors doucement la farine, et mélangez (pas de trop) jusqu'à ce que le tout soit homogène.
Ajoutez ensuite le chocolat et les noix.
Placez 1 grosse cuiller à soupe de pâte pour chaque cookie sur la plaque de cuisson. Espacez-les de 5 cm.
Faites cuire pendant environ 12 minutes, jusqu'à ce qu'ils commencent à dorer sur les côtés — ils se raffermissent en refroidissant. Laissez-les refroidir sur une grille, et dégustez de suite, ou quand cela vous prend.