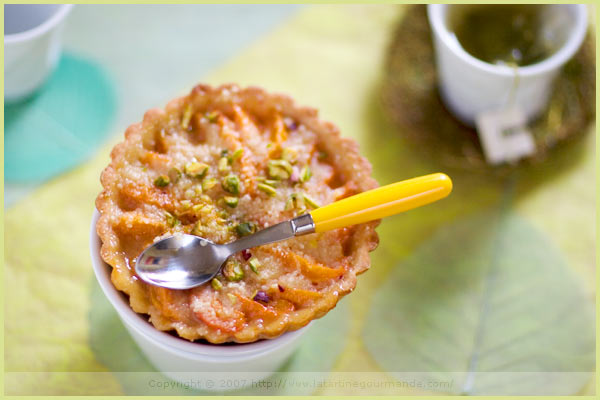 Apricot and Olive Oil Crust Tart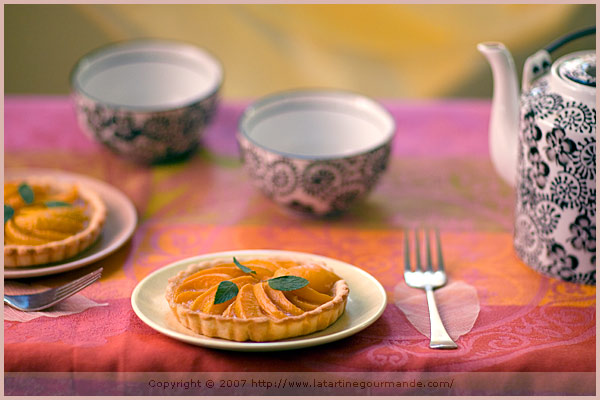 Tea Time with an Apricot and Almond Oil Crust Tart
As you will be able to tell, we have been eating quite a number of fruit tarts chez nous.
But let me explain.
Imagine using fragrant oils instead of butter or margarine in a tart crust. When I first heard about it, I was immediately intrigued and seduced. At home, I have such a wide selection of oils to choose from that once in a while, I find that it is a good idea for me to check what supplies I have and which ones I should use soon.
Fabienne is the one who introduced me to the idea of first using olive oil in a sweet tart crust, and I want to thank her for the brilliant idea. Knowing my attachment to making tarts of all sorts, I decided to play with her original recipe a little and since I have started, I have simply not being able to stop. I have fallen in love with the taste and texture of this type of crust, so much so that I am not even sure whether I will actually want to go back to my old way of preparing a tart crust. But you know the saying: Never say never.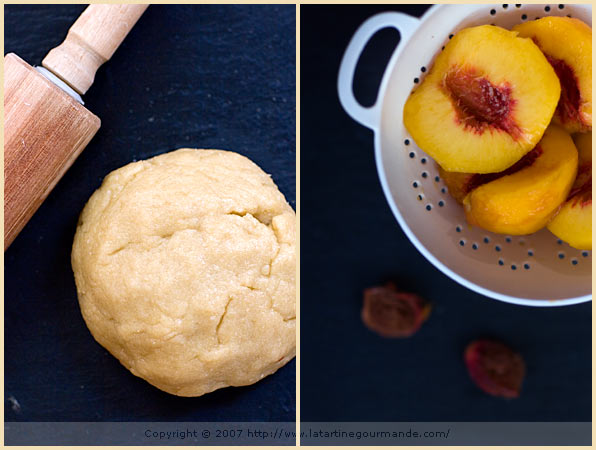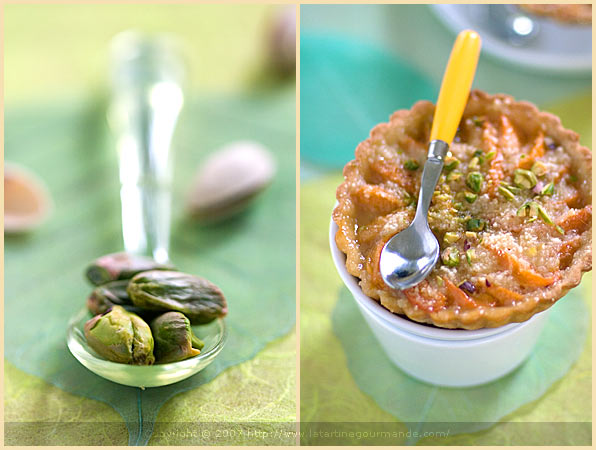 While I simply started by following Fabienne's recipe — and loved it — I have since then been experimenting with using different types of oils. I first made a sweet olive oil crust recipe using a combination of all-purpose flour and quinoa flour. I modified the ingredient quantities and even decided to prepare a gluten-free version a few times, using gluten-free all-purpose flour to which I added xanthan gum to help with the texture. If you have ever prepared gluten-free baked products, you know that the challenge is to make sure that the dough sticks together and do not end up into a crumbly mess. Then, I went on to experiment further, and on my third or fourth batch, I chose almond oil to complement the almond flour already used in the list of dry ingredients. My verdict? I have been extremely happy with all the results obtained. Using flavored oils instead of butter in a tart crust is a fantastic idea, and definitely a keeper with me — I have even developed a recipe for an olive oil crust for savory tarts, and let me tell you, this is a real treat!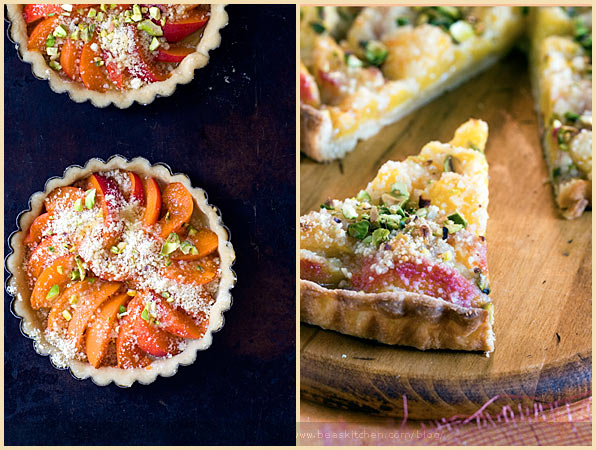 So if you are waiting for the recipe, here it comes. Still, allow me to add a few more things before you eagerly jump to the punch line a.k.a the recipe.
This past month, this sweet fruit tart has become one of my favorite desserts to bake. When you have tart crust ready — which I always have, even frozen — it really takes no time to assemble these tarts. They cook in a dash. Trust me: I recently had a few friends stop by for a drink, and while we were still chatting together, I decided to make a batch of these tartlets, which we enjoyed before they left.
Last week, when I found these beautiful red-yellow-orange apricots (coming from Red Jacket Orchards), I continued to bake more tartlets as P. and I kept feeling a craving for them. I made a few batches with peaches, others with a combination of peaches and apricots, some with olive oil, others with almond oil. Too much dough? I froze it. Both peaches and apricots worked perfectly, the key being to make sure to choose fruit perfectly ripe. To sweeten the fruit, Fabienne's original recipe used almond flour, honey and olive oil. When baking with an olive oil crust, I kept her idea but changed the quantities. I also decided to add chopped unsalted pistachios. Really, the variations are endless.
So yes, even if you have heard me say this before, for this one, I can only encourage you to try. You never know. Perhaps you too will become as addicted as I am. Not only they are delicious, but with the use of olive oil or almond oil instead of butter, honey instead of sugar, they also make for a much healthier way to prepare a tart. What can I say? With a family member owning un magasin d'alimentation biologique (an organic store), I have maintained this simple motto: we like food which tastes good, looks good and which is also healthy.
Alors, il n'y a aucune raison de s'en priver ! (Then, there is no reason to stop yourself!)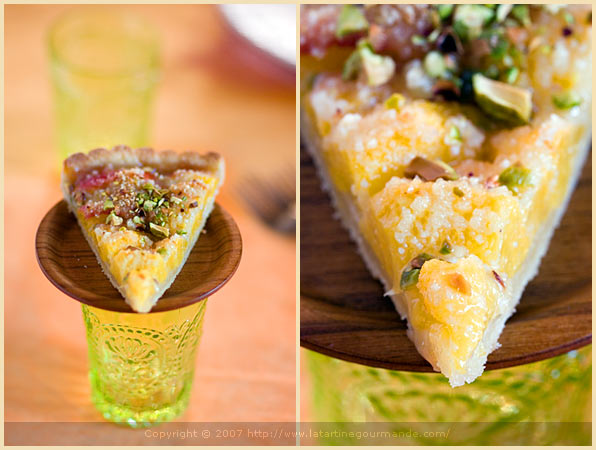 Peach and Olive Oil Crust Tart
Fabienne's recipe can be found here, mine (with different variants, including a gluten-free one) follow:
Peach (or Apricots) Tart, Sweet Almond Oil Crust
(For a 9.5″ large tart — for 6 people — or 4 tartlets)
For the Almond Oil Quinoa Crust:
1 cup all-purpose flour (for a Gluten Free variant, use here all-purpose Gluten Free flour with 1 tsp xanthan gum)
1/3 cup quinoa flour*
1/4 cup almond flour
1/3 cup organic fine cane sugar
1/8 tsp salt
1/3 cup almond oil (or olive oil, for a variant)
1/3 cup cold water (perhaps an extra Tbsp)
*If you cannot find or do not want to use quinoa flour, simply replace with all-purpose flour.

For the Fruit Topping:
2 large peaches and 2 to 3 apricots (or 8 apricots, according to size)
2 Tbsp unsalted pistachios, chopped coarsely
4 Tbsp almond powder
4 Tbsp honey
Steps:
Start preparing the crust an hour ahead of time. Place the dry ingredients in the bowl of a food processor prepared with a dough blade.
Add the oil and mix on pulse until crumbly (stop if necessary to scrape the sides of the bowl and make sure that everything is well incorporated).
Then add the water progressively, enough for the dough to detach from the bowl and form a ball.
Let it rest for 1 hour at room temperature before using.
Preheat your oven at 350 F.
Roll your dough and place it in molds**. Make holes with a fork at the bottom.
Sprinkle with the almond powder (or if you prefer, place the almond on top of the fruit).
Cut the apricots open and remove the pits. Slice them (if using peaches, you can peel them too) and arrange the fruit on top.
Pour the honey over the fruit and add the chopped pistachios.
Bake for 30 min for the tartlets, a little longer for a bigger tart.
Remove and let cool.
** I use non-stick removable bottom molds, very handy.
Le coin français
Tarte aux pêches (ou abricots), pâte sucrée à l'huile d'amande douce
(Pour 1 grande tarte de 24 cm — pour 6 personnes — ou 4 tartelettes)
Pour la pâte sucrée à l'huile d'amande douce et au quinoa :
150 g de farine blanche (pour une variante sans gluten, utilisez ici de la farine à tout usage sans gluten avec 1 càs de gomme xanthane)
50 g de farine de quinoa*
30 g de poudre d'amandes
60 g de sucre de canne blond
1/8 càc de sel
80 ml d'huile d'amande douce ( ou de l'huile d'olive par une autre variante)
80 ml d'eau froide (1 càs de plus si nécessaire)

* Si vous ne trouvez pas, ou ne voulez pas utiliser de farine de quinoa, remplacez par de la farine blanche

Pour les fruits :
2 grosses pêches et 2 à 3 abricots (ou 8 abricots, selon la taille)
2 càs de pistaches non salées, hachées grossièrement
4 càs de poudre d'amandes
4 càs de miel liquide aux fleurs
Étapes :
Commencez par préparer la pâte sucrée une heure à l'avance. Mettez tous les ingrédients secs dans le bol de votre mixeur (utilisez la lame pour réaliser des pâtes).
Ajoutez l'huile et mixez jusqu'à ce que la texture ressemble à de grosses miettes (raclez les bords si nécessaire).
Ajoutez l'eau progressivement, assez pour que la pâte se détache du bol et forme une boule.
Laissez-la reposer une heure à température ambiante.
Préchauffez votre four à 180 C.
Etalez la pâte et garnissez-en un grand moule ou des petits**. Piquez le fond avec une fourchette.
Saupoudrez avec la poudre d'amandes (ou mettez la poudre d'amandes sur les fruits).
Coupez les abricots en deux, retirez le noyau et coupez-les fruits en fines lamelles (si vous utilisez des pêches, pelez-les). Arrangez les fruits sur les fonds de pâte.
Versez le miel sur les fruits et ajoutez les pistaches concassées.
Faites cuire au four pendant 30 min pour les tartelettes, un peu plus longtemps pour une grande tarte.
Sortez du four, démoulez et laissez refroidir sur grille.
** J'utilise des moules antiadhésifs à fond amovible, ce qui est bien pratique.
Technorati Tags: Food Styling, La Tartine Gourmande, Food Photography, Olive Oil Crust, Almond Oil Crust, Apricot Tart, Gluten Free, Quinoa Flour, Honey, Healthy Dessert