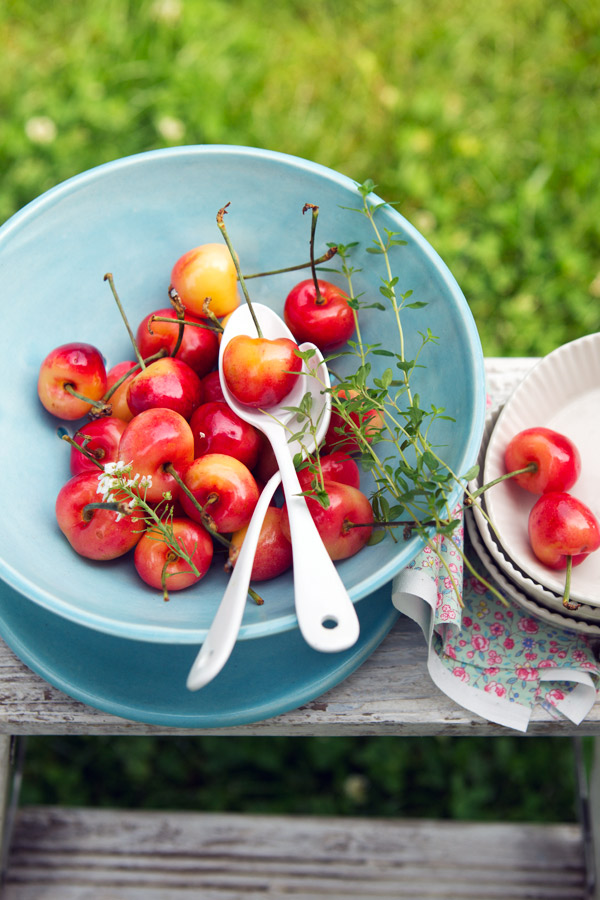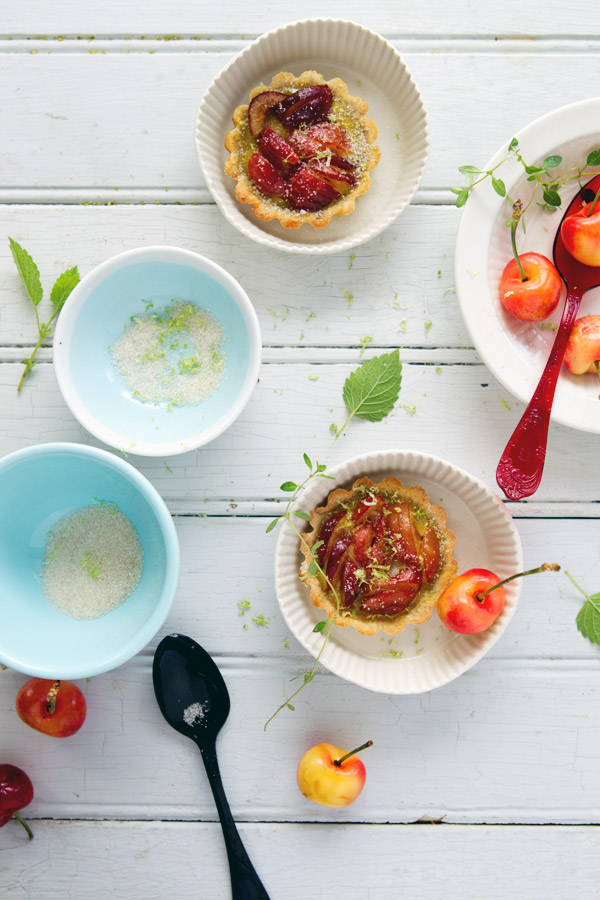 Rainier Cherry Tart Recipe (gluten free)
"Oh miam, je veux manger la croûte !" (Oh yum, I want to eat the crust!) Lulu exclaimed as she reached for one golden piece of crust from the tart I had left to cool on the kitchen countertop.
"Attends !" (Wait!)
It was already too late. Her mouth was full and she was smiling, reaching for more.
By looking at the cherry tart with its missing crust around the edge (not the one you see here in the picture), you'd have thought that tiny mice had come in the house for a snack.
I am no blaming Lulu. At her age, I, too, was very fond of la croûte of the many tarts my mother baked, sweet and savory alike–and it has not changed. In French, we even refer to this part of the tart as le trottoir (literally meaning the sidewalk). And you either like le trottoir, or you don't.
My family and I belong to the first group.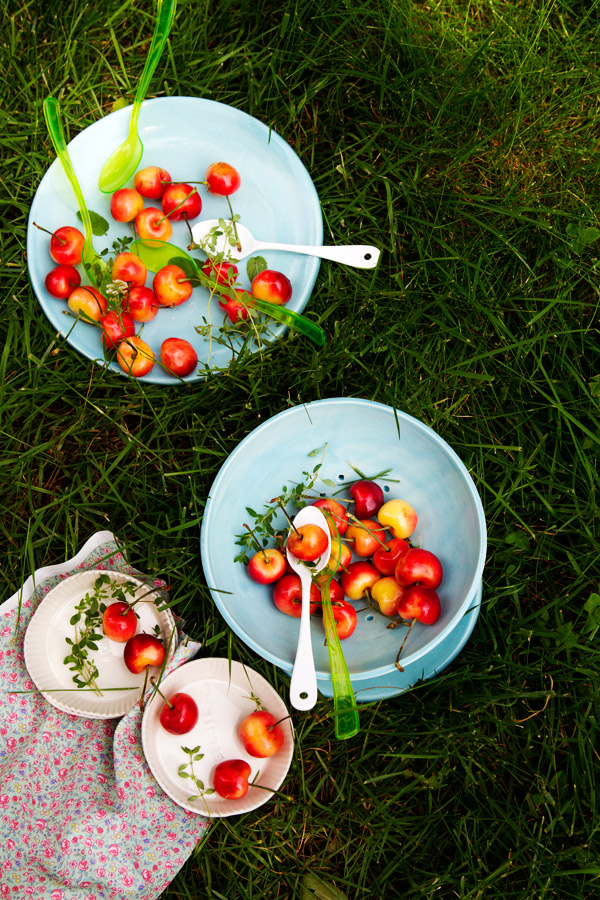 We loved my cherry tart so much that I thankfully baked it a number of times with Rainier cherries which, right after I tasted one, I fell in love with.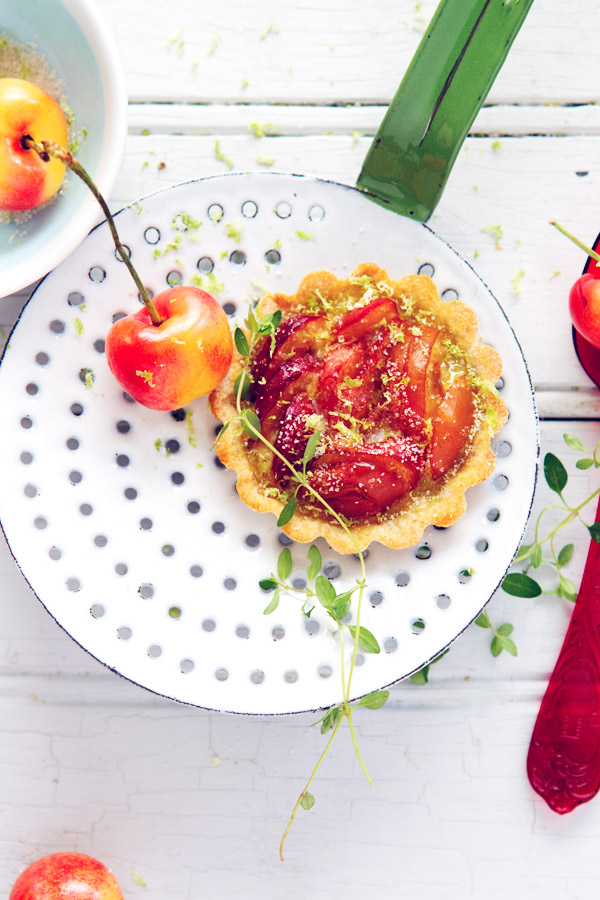 Every year, I am eagerly waiting for cherry season. I check the market regularly; I ask my parents how their cherry trees are doing, and how much fruit they think they'll have. This year, P. and I even decided to plant a cherry tree in our back garden. We want Lulu to grow up with cherry trees around her.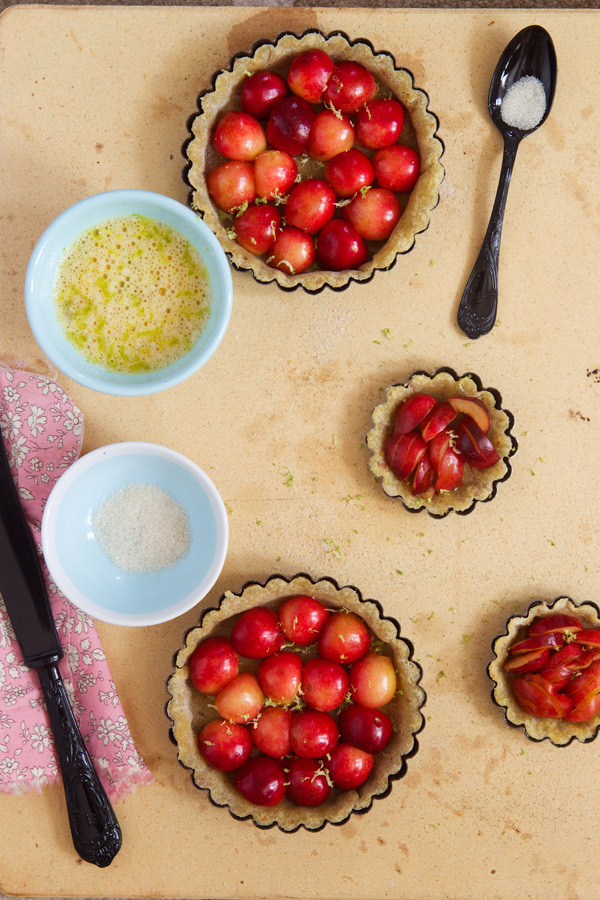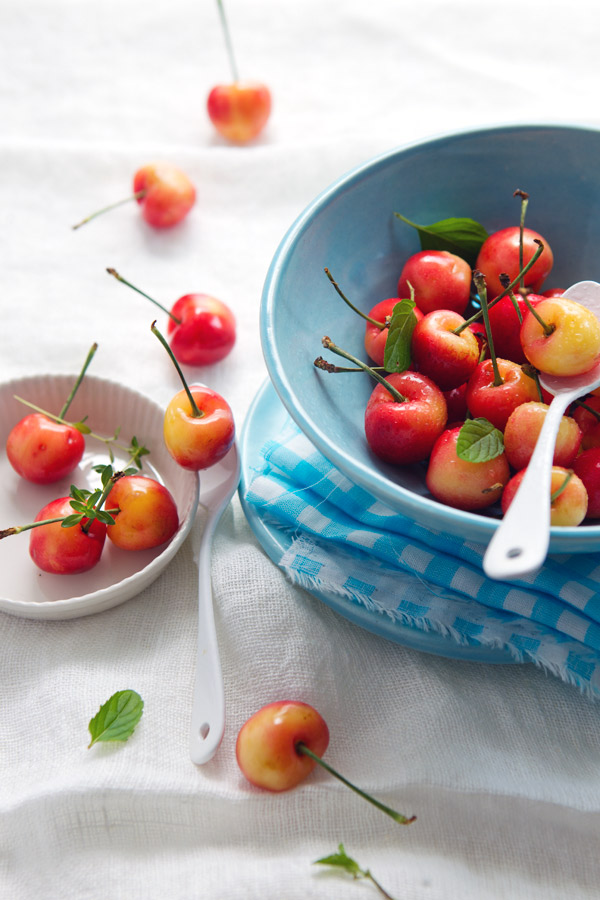 AND SO when we are not eating cherries as a snack–at this time of year, there's always a bowl of cherries sitting on the table, and yes, I am one of these people that cannot stop once I start–I like to can them, prepare salads, make soup, or bake with them in clafoutis–and tarts.
Like this tart.
Wouldn't you fall for their beauty too?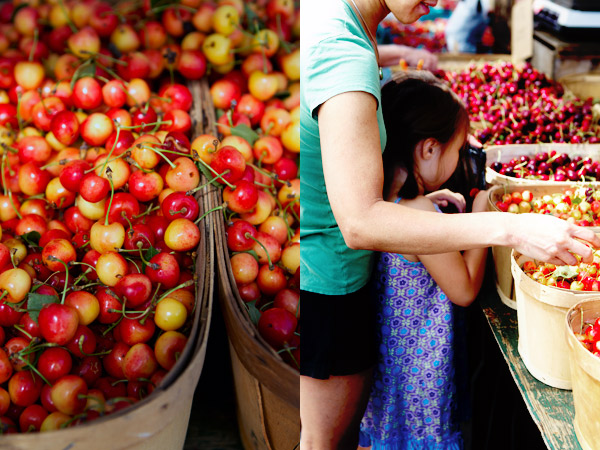 Of course, the tart welcomes any type of cherries, even if my preference will invariably go for the cheerful colors and flavor a Rainier brings to a dessert.
I baked the tart using a crust–which comes from my cookbook–made with millet, rice flours, and almond meal combined with olive oil and flavored with lemon zest. The crust is delicate and has a firm crunchy texture that I love. (But I imagine that many other crusts would go well with it too, like this one.)
And then, I chose a light egg-based topping allowing the flavor of the cherries to stand out.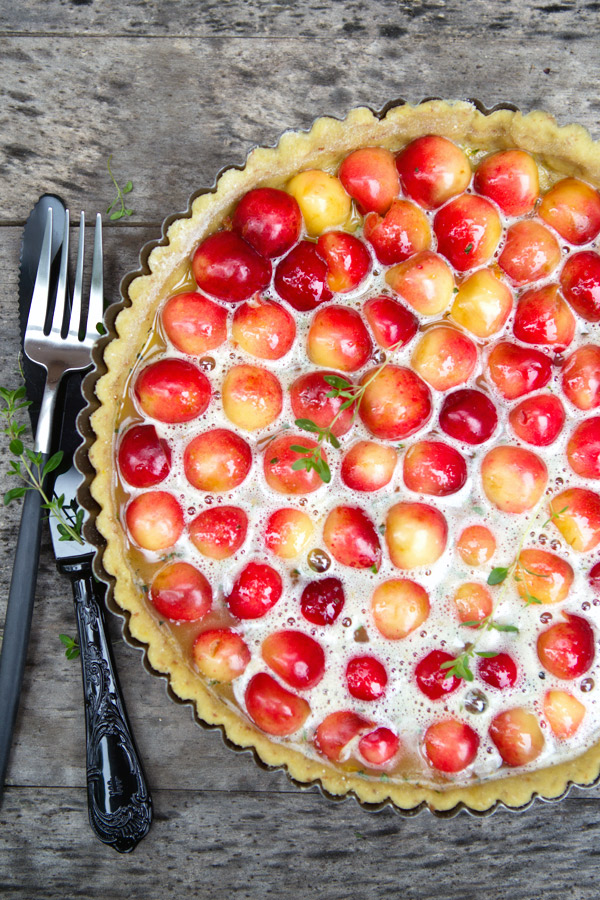 "Maman, ca c'est ma tarte pour après l'école," (Mummy, this one is my tart for after school) Lulu exclaimed one morning after catching sight of a batch of cherry tartlets I had prepared for an afternoon goûter with friends and children.
"Mais oui, si tu veux," (Of course, if you want) I said, with a smile.
I was looking forward to watching her.
I knew that she was particularly excited about nibbling on the crust of her own tart.
That enough made it oh so memorable and a happy moment shared together.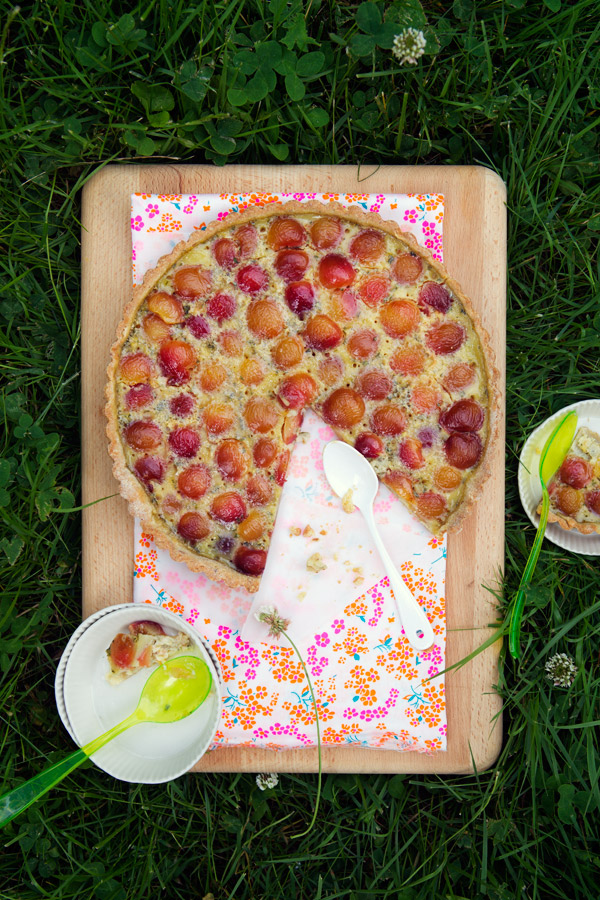 Rainier Cherry Tart Recipe (gluten free)
Ah, le temps des cerises, how special you are in our family!
Rainier Cherry Tart Recipe with Lime and Lemon Thyme
For a 9-inch tart (or 4 tartlets)
You need:
Olive oil sweet crust flavored with lemon*–recipe from my book, or another olive oil crust you like, like here
14.5 ounces (425 g) Rainier cherries, pitted and halved
2 large eggs
1 teaspoon lemon thyme, finely chopped
Zest of 1 organic lime (or lemon) finely grated
1/4 cup (50 g) blond cane sugar

*You will have leftovers which you can use for more tartlets if you want. For 2 more tartlets, add to the batter 1 egg and 2 tablespoons sugar
Steps:
Prepare the crust as per instructions. Roll and garnish the mold. Make small holes with a fork and refrigerate for 15 minutes.
Preheat the oven to 350 F.
Cover the crust with a piece of parchment paper and add dry rice or beans. Cook for 10 minutes and then remove the parchment paper and beans. Cook for 5 more minutes.
Garnish with the cherries.
In a bowl, beat 2 eggs with the sugar, lime zest, and lemon thyme. Pour this batter over the tart and bake for 30 to 35 minutes, or until the crust is cooked and the flan is set. Remove from the oven and let cool on a cooling rack.
Le coin français
Tarte aux cerises au citron vert et thym citron
Pour une tarte de 23 cm (ou 4 tartelettes)
Ingrédients:
Pâte à l'huile d'olive et citron*–recette tirée de mon livre, ou une autre pâte préparée avec de l'huile d'olive de votre choix, comme celle-ci par exemple
425 g de cerises, dénoyautées et coupées en deux
2 gros oeufs
1 càc de thym citron, haché finement
Zeste d'un citron vert bio râpé finement (ou celui d'un citron)
50 g de sucre de cane blond

*Vous aurez des restes de pâte que vous pouvez utiliser avec des tartelettes par exemple. Pour 2 tartelettes, ajoutez 1 oeuf et 2 càs de sucre à l'appareil.
Etapes :
Préparez la pâte en suivant les instructions. Garnissez-en votre moule et piquez le fond avec une fourchette. Mettez au frigo pendant 15 minutes.
Préchauffez le four à 180 C.
Faites cuire la pâte à blanc pendant 10 minutes (recouverte de papier sulfurisé avec un poids), puis 5 autres minutes sans le papier et le poids.
Mettez les cerises sur la pâte.
Dans une bol, battez les oeufs avec le sucre, le zeste de citron vert, et le thym citron. Versez cet appareil sur les cerises et enfournez pendant 30 à 35 minutes, ou jusqu'à ce que la croûte soit dorée et le flan pris. Sortez du four et laissez refroidir avant de déguster.