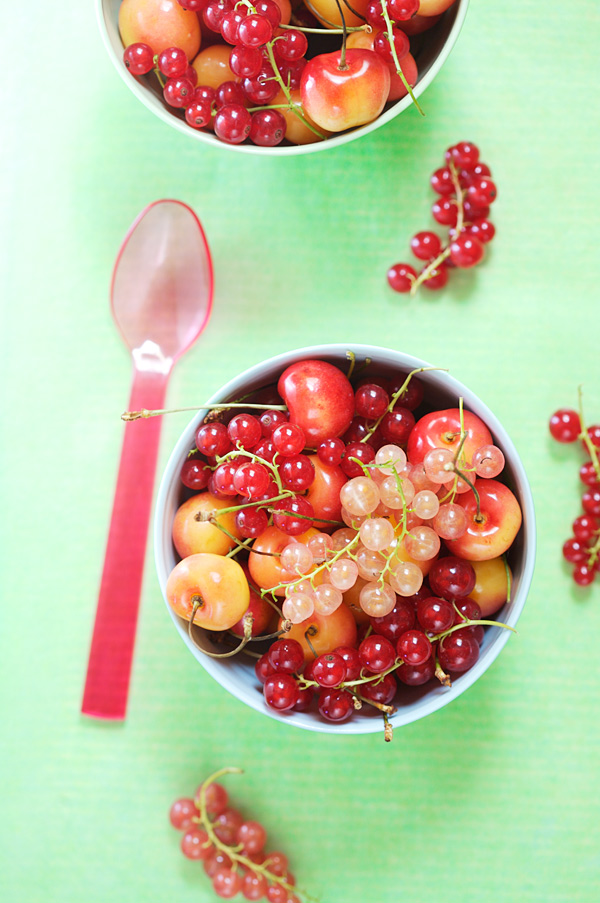 After one single bite into the plump fruit, I fell in love.
I had not seen Rainier cherries before I moved to the US. Where I am from in France, we grow des cerises noires (black cherries) and des cerises aigres (sour cherries) , delicious and juicy, especially those I am able to pick and eat right from the cherry trees. But Rainier cherries have a je-ne-sais-quoi that takes any variety of cherries a step up. They are sweeter and with their yellow orange hue, seem to be smiling and beaming like the sunshine at sunset.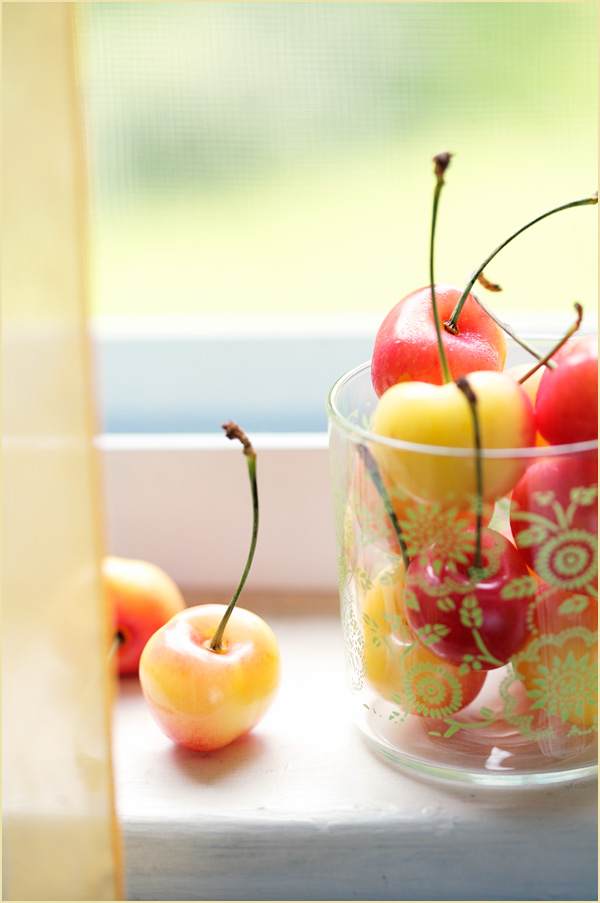 Rainier cherries
I remember that when my father and I talked over the phone one Sunday sometime in June, he had told me that their cherry trees were so heavy with fruit that every day during an entire week, he filled buckets with delicious overly ripe fruit, which incidentally made every neighbor and friend stopping by happy as he gave the buckets away. C'est une année à fruits (It's a good year for fruit), he had carried on, explaining at length how they were going to use the fruit. My father likes to talk about those things too.
My parents worked as a team: while my father was busy with the picking, my mother made jams and filled bags for the freezer. Then, she used the leftovers in clafoutis and tarts.
"Il y aura encore des cerises et des groseilles quand on vient ?" (Will there still be cherries and red currants when we come?) I eagerly asked when, a few weeks later, we chit chatted about this and that as we were — are — getting ready for our upcoming stay with them.
"Ah non ma grande, ça malheureusement c'est déjà fini!" (Oh no, that's unfortunately already over!)
They knew well that I was going to be disappointed to hear that. This time of year is so special!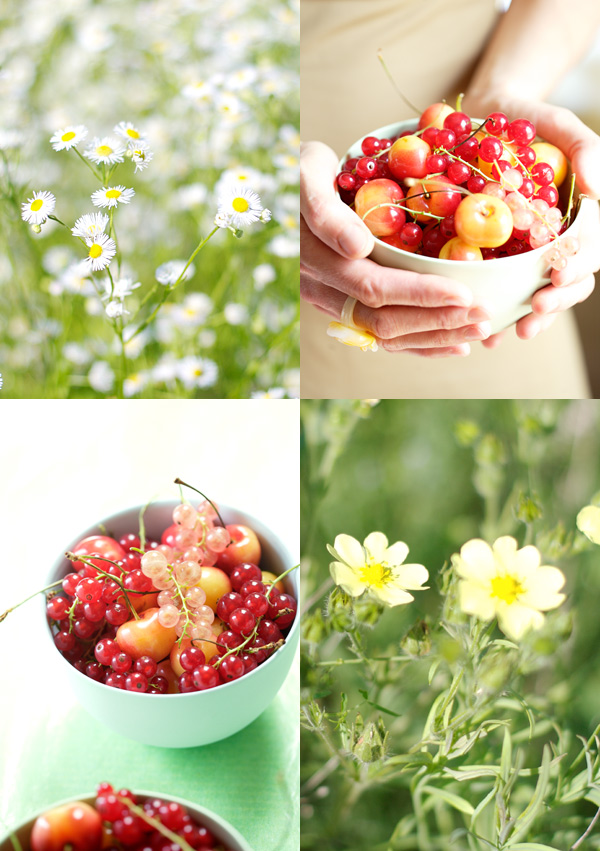 So instead, I indulged in Rainier cherries and all the other pretty fruits rouges (red berries) that summer offers here too, and that I am such a fan of. And then fairly quickly, I forgot that I was jealous of my parents' cerisiers (cherry trees) and cherries and red currants. I could have a taste too and c'est mieux que rien ! (It's better than nothing!)
I'm sure you know that Rainier cherries come from Washington State, and are a cross between the Bing and Van varieties. Since these jewels have appeared in my local store, I never seem to have enough of them. In fact, every time I buy a bag, I have a plan to cook something cute and scrumptious with them, but they rarely seem to make it into a dish.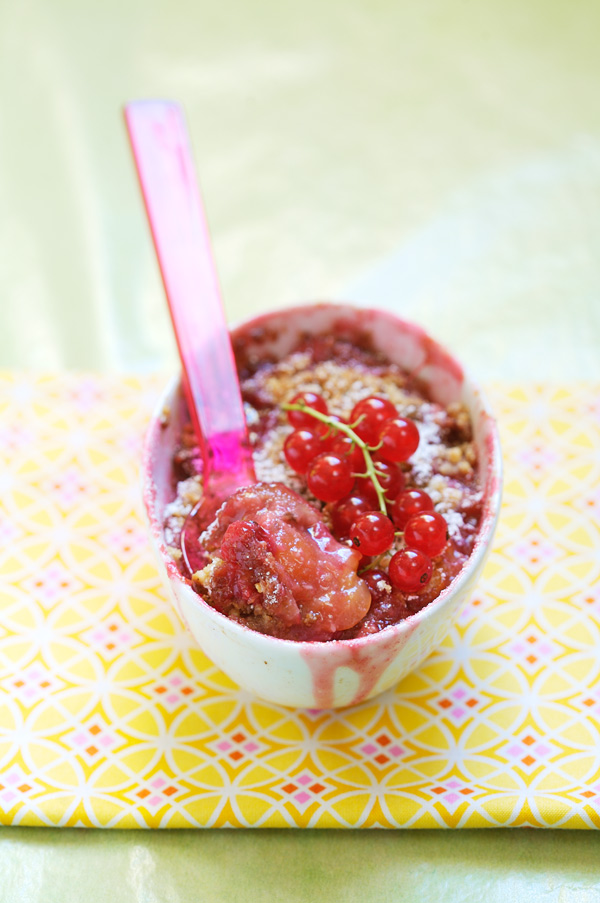 Rainier cherry and red currant almond crumble
Instead, we love to eat them nature.
I like to wash a few handfuls and keep them in a bowl on the kitchen island. I look at them and they make me smile. They are a favorite snack every time I walk by — and I'd walk around with pits in my mouth. At other times, P. and I enjoy them in a fruit plate after dinner, with a little cane sugar sprinkled on top, and a large bowl of sheep plain yogurt and homemade granola on the side.
It's nice and simple but so rewarding. It makes us rejoice in summer, especially if we are able to eat sitting outside, with the grass brushing against our feet, and nothing to worry about but enjoy the moment — and the fruit.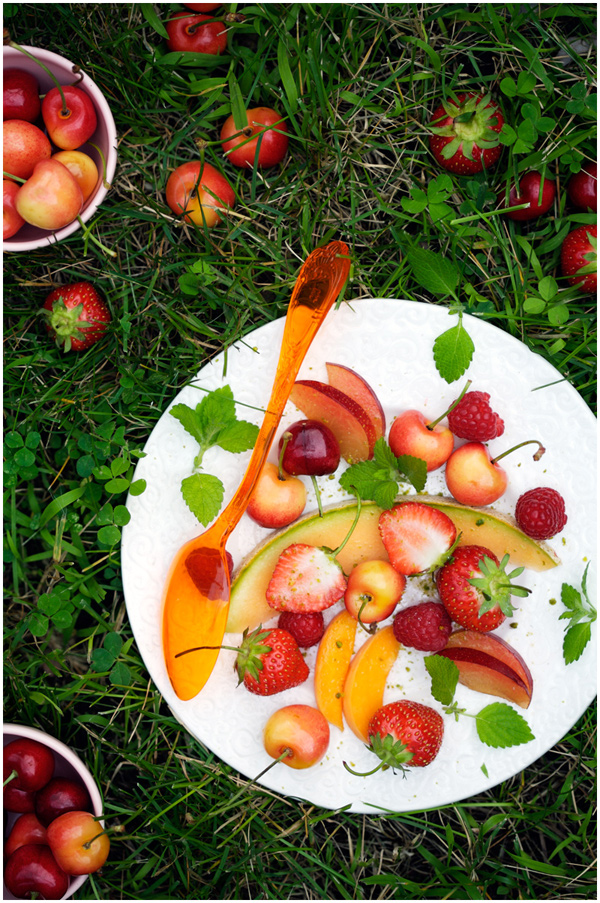 But on some days, these summer fruit really inspire me to prepare a more elaborate dessert or a salad.
Like these two recipes.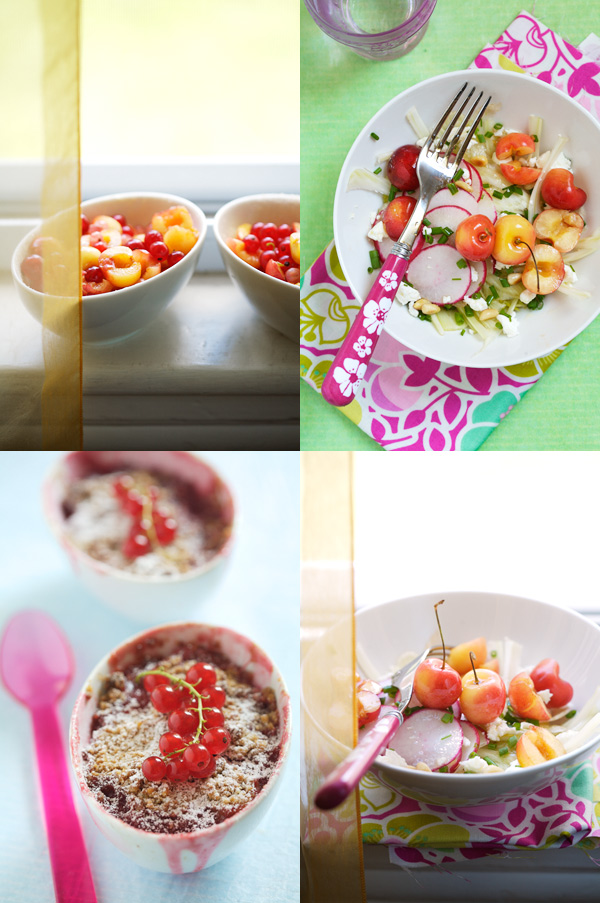 My first idea was to bake a fruit crumble. P. and I really love crumbles! Do you too?
A crumble is one of many comforting everyday desserts so easy to make, one that always seems to welcome any seasonal fruit wonderfully. It does not matter whether the fruit isn't the prettiest; it's always going to be tasty in a crumble. In this recipe for example, I combined Rainier cherries and red and white currants and I tossed them in cane sugar and lime juice. Then, I topped the fruit with a mixture made with almond meal, quinoa flour, butter, brown sugar and a generous amount of nuts. With the sweetness of the cherries balancing the tarter taste of the currants, the dessert bursted with flavor. I think that like P. and I, you'll fall in love with it!
Then on that same day, as I was about to prepare my lunch, I thought about adding Rainier cherries in a crunchy fennel and radish salad. I completed the dish with my favorite soft goat cheese and freshly chopped chives picked in the garden. It was delicious and refreshing, so much so that I made more to accompany our dinner the next day. A recipe that is a real keeper.
And when I was done with my bag of cherries and boxes of currants, I walked to the store to buy more.
I am sure that you've already noticed that I am just addicted. It shows and I cannot help it.
Be aware, it's contagious.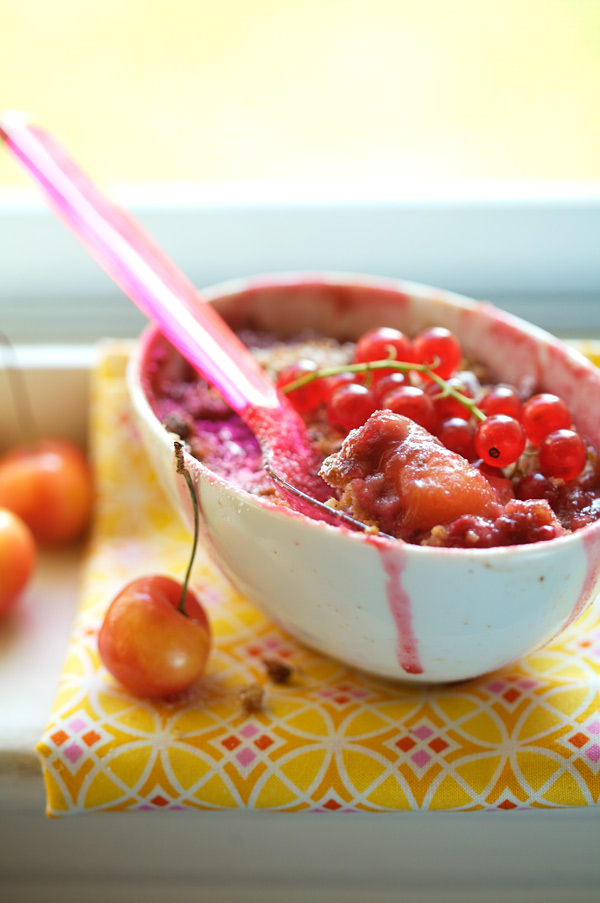 Rainier cherry and red currant almond crumble
(For 4 crumbles)
For the fruit:
1 lb + 2 oz Rainier cherries, pitted and halved
7 oz red currants
2 teaspoons cornstarch
Zest of 1 lime
2 tablespoons lime juice
2 tablespoons blond cane sugar
For the almond crumble:
1/2 cup quinoa flour (65 g)
1/2 cup almond meal (60 g)
1/2 cup brown Muscovado dark sugar
3 tablespoons walnuts, chopped coarsely
2 tablespoons slivered almonds, chopped coarsely
7 tablespoons butter, room temperature but not soft
Confectioner's sugar, to serve
You will probably have leftovers of the crumble topping. Freeze it and keep it handy for future uses. You'll be thankful for leftovers.

Steps:
In the bowl of a stand mixer, combine the flours, almond meal, sugar and nuts. Add the sugar and then the butter. Pulse to obtain coarse crumbles.
In a bowl, combine the fruit ingredients; set aside. Butter 4 ramekins and coat with sugar.
Preheat the oven at 400 F.
Divide the fruit between the ramekins and top with the crumble. Bake for 30 to 35 minutes, or until the fruit is bubbly and the top is golden brown in color. Let cool for 10 to 15 minutes before serving. Dust with confectioner's sugar.
Fennel and radish salad with Rainier cherries and goat cheese
(For 2 people)
You need:
1 fennel bulb, finely sliced (use a mandoline)
4 pink radishes, finely sliced (use a mandoline)
2 oz fresh soft goat cheese, crumbled
1 tablespoon chopped chives
12 Rainier cherries, pitted and halved
Olive oil
Lime juice
2 tablespoons pine nuts
Salt and pepper

Steps:
In a non-stick frying pan, roast the pine nuts on medium heat until fragrant and lightly brown; set aside.
In a bowl, combine the fennel, radish, goat cheese and cherries.
Season with salt and pepper and drizzle generously with lime juice (or lemon) and olive oil.
Add the chives and pine nuts, and toss before serving.