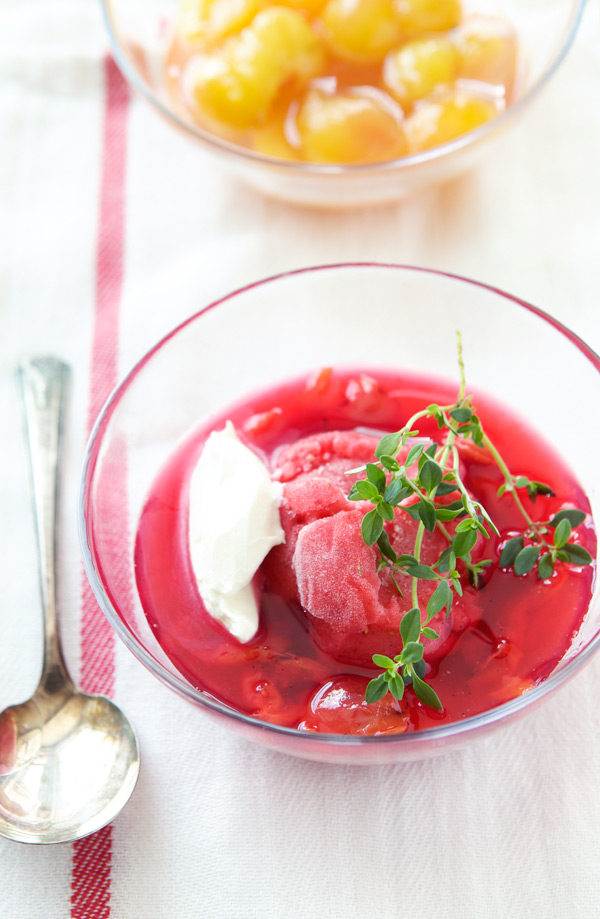 Sour cherry soup and its strawberry sorbet
It was easy to fall for them. They sparkled like ruby stones with their rich red color. Perhaps I am the only one noticing them, I thought. How could no one else seem to see them? Or want them? They suddenly brought memories of treasured moments spent in my mother's small kitchen, when she and I made preserves and the house smelled sweet like a sugar mill.
We were canning sour cherries. Des cerises aigres. Those small bright red cherries that many people don't care about because of their more emphasized acidic taste.
Nous?
We would never get enough of them. We'd pet the sour cherry tree in the back garden with love. And great care. Hungry, when summer came, for a taste of the delicate fruit in our mouths.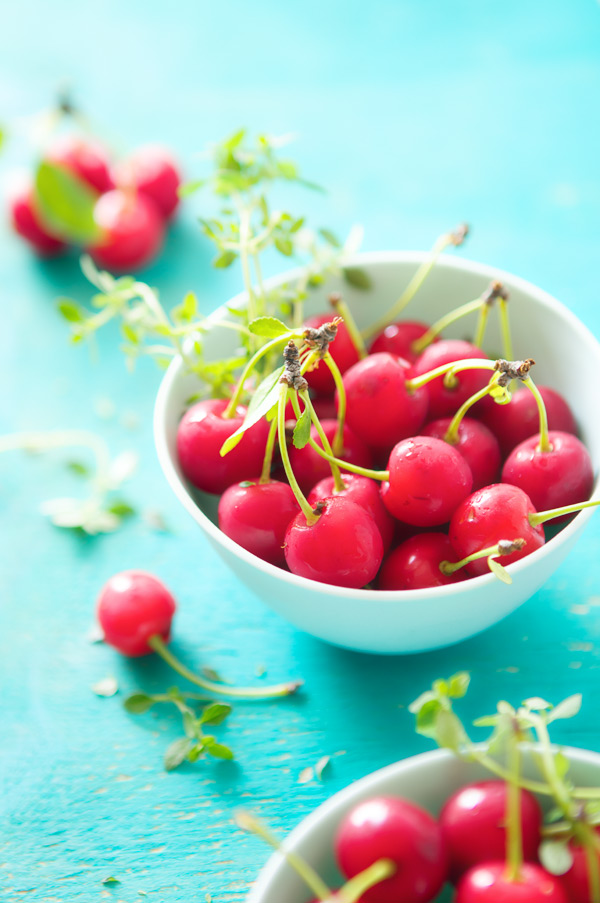 Frankly, I didn't think that I would still be lucky enough to find sour cherries at this time in the season. But I did. And I indulged when I caught sight of a few boxes in the store. One box. Two boxes. Three. In my cart.
I wasn't sure of what I would make with them but was nevertheless convinced that I'd find something tasty to render them justice. It was a necessity. And I'd have to work fast too since I knew the fruit would spoil quickly.
Then Saturday came and there was a spontaneous dinner invitation for friends to come for dinner. The kind we love. It was a hot summer night, and we enjoyed the breeze as we sat outside to eat on the patio. We were eating grilled fish, potato and radish salad with a melon cucumber soup to start.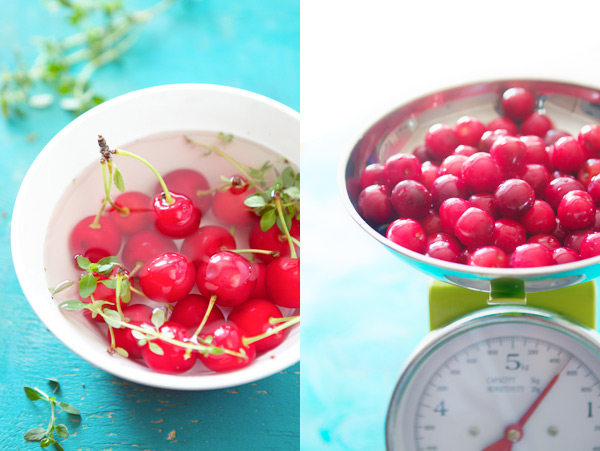 And for dessert, I made a cherry soup infused with lemon thyme, and served it with a fresh strawberry sorbet and a dollop of mascarpone. It's an idea that crossed my mind while not knowing really what I would eventually serve.
The dessert offered subtle flavors that worked wonderfully, leaving us light and refreshed after eating. The best during summer.
So the next day, between a walk to the playground to explore our new neighborhood, I made it again. This time, using Rainier cherries to compare, curious to see whether I would like it just as much.
The color of the Rainier cherry soup was pretty but Les cerises aigres stood out.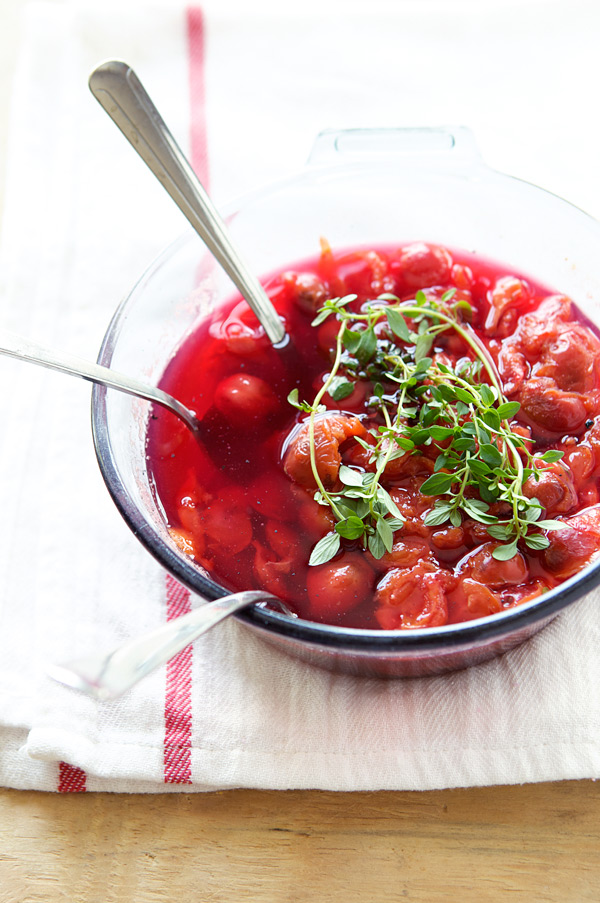 Making the sour cherry soup is easy. Prepare a light syrup and add spices that you like. I flavored mine with lemon-thyme , lime juice, vanilla and cane blond sugar. Then, simmer the cherries in the syrup until they soften. The cooking time will depend on how ripe the fruit is and how you like it. Then, serve the soup chilled with mascarpone cheese and a scoop of homemade made berry sorbet. I made mine using delicious fragrant organic strawberries, confectioner's sugar–that I made with blond cane sugar–lime juice and a few tablespoons of apple juice.
Together, it was an explosion of some of the best aromas of summer fruit in the mouth.
Fresh and bright.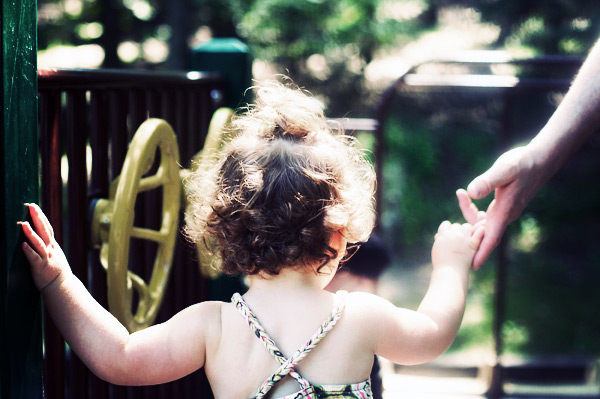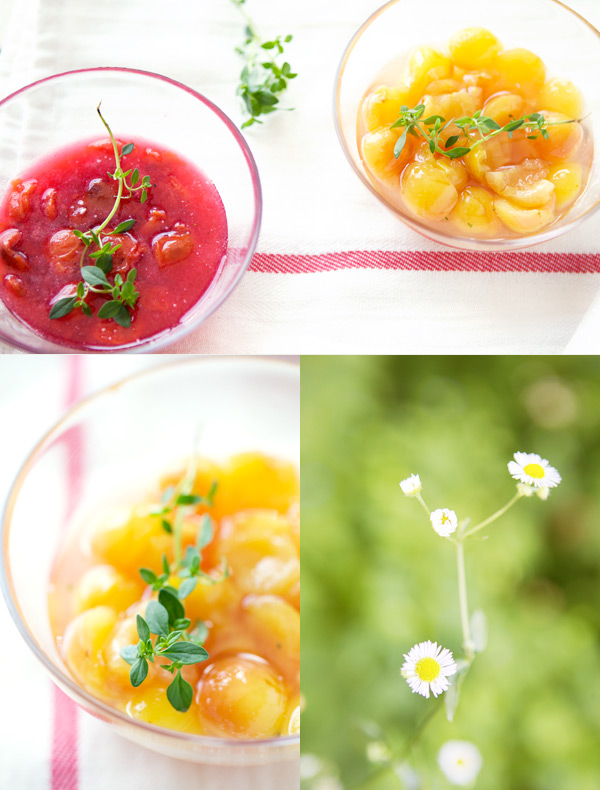 Sour cherry soup with lemon thyme and vanilla, strawberry sorbet
For 6 people
You need:
1 pound 5.5 oz (600 g) sour cherries, washed and pitted
5 sprigs of lemon thyme
1 cup (240 ml) water
1/4 cup (50 g) blond cane sugar
Juice of 1 lime
1 vanilla bean, split open and seeds scraped out
6 scoops of homemade strawberry sorbet
6 tablespoons mascarpone cheese
Steps:
Place the water, sugar, vanilla, lime juice and lemon thyme in a pot. Bring to a simmer and cook until the sugar is dissolved. Add the cherries and stew the fruit for 5 minutes, or until they soften. Stop the heat and let the fruit cool. Chill in the fridge until ready to serve.
When ready to serve, ladle the soup into shallow bowls and add one scoop of sorbet in each with 1 tablespoon of mascarpone cheese.
Le coin français
Soupe aux cerises aigres parfumées au thym citron et à la vanille, sorbet fraises
Pour 6 personnes
Ingrédients :
600 g de cerises aigres, lavées et dénoyautées
5 brins de thym citron
240 ml d'eau
50 g de sucre de canne blond
Jus d'un citron vert
1 gousse de vanille, fendue et grattée
6 boules de sorbet à la fraise maison
6 càs de mascarpone
Etapes :
Mettez l'eau, le sucre, la vanille, le jus de citron vert et le thym citron dans une petite casserole. Faites frémir jusqu'à ce que le sucre soit dissout. Ajoutez les cerises et laissez compoter pendant 5 minutes, ou jusqu'à ce qu'elles soient tendres. Arrêtez le feu et laissez complètement refroidir. Mettez en attente au frigidaire.
Au moment de servir, servez la soupe de cerises dans de petites coupelles et placez une boule de sorbet au milieu. Ajoutez une càs de mascarpone et servez sans attendre.