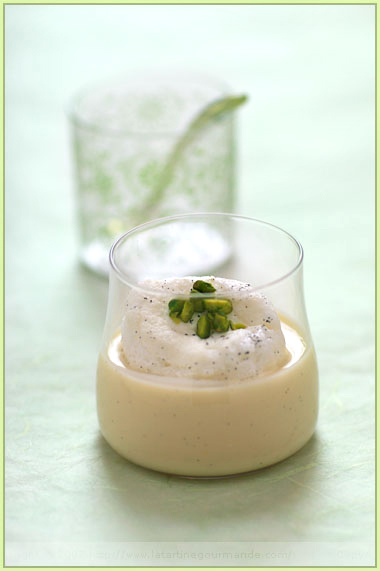 Vanilla, Cardamom Snow Eggs
"OK, here's the thing," I told P. when he walked into the kitchen. I learned this expression from him; P. actually uses it all the time. "I want you to try to guess what is my most favorite dessert," I went on. "I made it for us tonight."
We like to play silly games like this one. They amuse us, and that is plenty. When he plays music blind tests on me, I play food games with him.
He furrowed his eyebrows, and looked back at me. He was obviously thinking.
"Crème brûlée?"
"Nope," I replied with a confident open smile. At that point, I was convinced that I was going to win my improvised game. There are so many desserts that I like, or that I claim are my favorites, that P. had no chance to guess which one I was talking about.
"Hmmm, euh, rice pudding."
"I think that you are more thinking about what your favorite desserts are. Try harder. If you know me well, you should know better."
He paused. From the way his eyes shone — I cannot explain, you have to see it — I could tell that he really wanted to get it right.
His entire face lit up with a victorious smile. "Oh, I know! Des oeufs à la neige."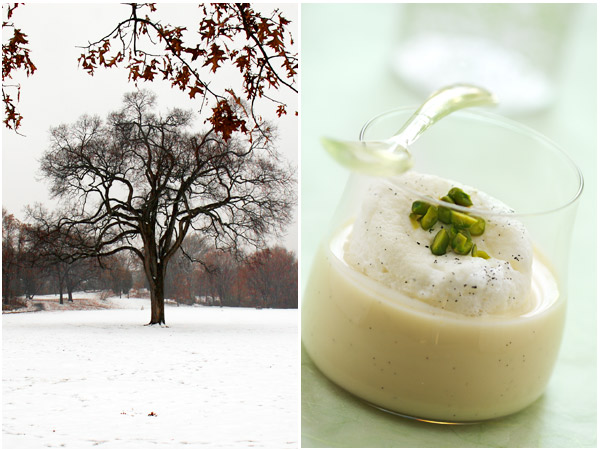 P. was right. Snow eggs rank pretty high on my list of favorites. And why wouldn't they? They are uncomplicated, completely unpretentious, and scrumptious.
When I was only a young French girl already keen to experiment in the kitchen with pots and pans, I used to make snow eggs for my brother. I claimed that they were for him, but the truth was that I loved them just as much.
Snow eggs, and floating islands, are common desserts in French cuisine. They are often mistaken one for another, although purists will make sure to let you know about the difference. For the longest time, I did not know the subtle detail that makes each dessert unique, because in fact, they are extremely close in the concept.
Both desserts use a flavored custard (a crème anglaise) as the basis of the dessert — vanilla is common. The difference lies in the egg whites: they are poached in milk for snow eggs, and baked in a bain-marie for floating islands. Most of the time, a caramel sauce is also added on top. When I made pistachio floating islands, I even attempted — and made a mess — to prepare caramel threads. But even without the caramel, this simple dessert is a winner.
"What flavor is the custard?" P. said with his mouth full. "I cannot really tell."
"Comment cela ?" (how so?) I was quite annoyed that he actually missed it.
"Cardamom, of course! Haven't you noticed my thing for this spice these days?" I replied. I often like to infuse the milk with many more flavors, to create different versions of the same treat.
Then, perhaps if I had to call one dessert temptation, snow eggs would be it. Take my word for it.
Why would you resist a sweet treat so good, and so simple to make?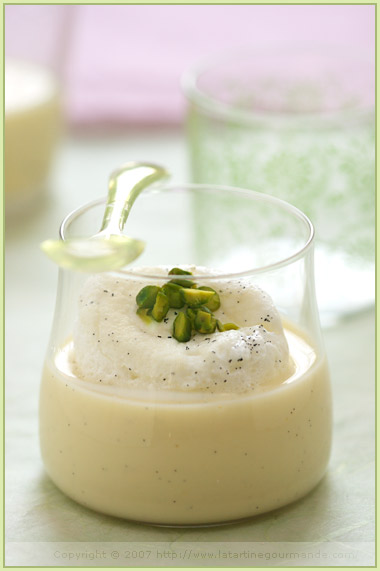 Vanilla, cardamom Snow Eggs
(For 4 people)
You need:
4 eggs
2 1/2 cups whole milk
1 vanilla bean, sliced and seeds removed
6 green cardamom pods, ground with a mortar
1/2 cup minus 1 Tbsp blond cane sugar
Unsalted green pistachios, shelled and chopped coarsely
Steps:
In a pot, bring the milk to a boil with the cardamom pods and vanilla seeds, and bean. Stop the heat and cover, to let infuse for 30 minutes. Filter and discard the cardamom pods, and vanilla bean.
Reheat the milk and keep at a simmering point.
Separate the egg whites from the yolks.
With an electric hand mixer, beat the egg whites firm with a pinch of salt. Once they are almost firm, add 2 Tbsp fine sugar and beat for an extra minute.
Take a large spoonful of egg whites and drop it in the milk. Poach on each side for 1 min in the simmering milk. Remove and place on a paper towel. Repeat until you do not have egg whites left; set aside.
In a bowl, beat the egg yolks with the rest of the sugar, until light and white in color.
Pour the warm milk slowly, while stirring. Transfer to the pot again, and heat the cream on medium to low heat. With a wooden spoon, stir constantly until the cream thickens, and coats the spoon — never let the cream boil (this might take 10 min.)
Once the cream has the right consistency, pour into a recipient to let cool. Then transfer to serving glasses, and cover with plastic film. Place in the fridge until ready to use. Serve with the egg whites on top, and chopped pistachios.
Le coin français
Oeufs à la neige vanille et cardamome
(Pour 4 personnes)
Ingrédients :
4 gros oeufs
60 cl de lait entier
1 gousse de vanille, fendue et grattée
6 capsules de cardamome verte, pilées
80 g de sucre de canne blond
Pistaches vertes non salées, hachées grossièrement
Étapes :
Dans une casserole, faites bouillir le lait avec la vanille (graines et gousse) et la cardamome. Arrêtez le feu et couvrez. Laissez infuser pendant 30 min avant de filtrer.
Chauffez le lait à nouveau, et maintenez-le feu pour qu'il frémisse.
Cassez les oeufs en séparant les blancs des jaunes.
A l'aide d'un mixeur à main, battez les blancs en neige ferme avec une pincée de sel. Une fois qu'ils sont presque fermes, ajoutez 2 càs de sucre de canne pour raffermir la meringue, et battez pendant 1 minute.
Prélevez une grosse cuiller à soupe de blancs d'oeuf, et déposez-la dans le lait frémissant. Pochez de chaque côté pendant environ 1 min. Retirez et réservez sur du papier absorbant.
Dans une jatte, battez les jaunes avec le reste de sucre jusqu'à blanchiment.
Versez lait chaud en filet, et mélangez. Reversez cette crème dans la casserole, et faites épaissir sur feu doux en mélangeant avec une cuiller en bois — sans jamais laisser bouillir — pendant 10 min environ. La crème est prête une fois qu'elle nappe bien la cuiller.
Versez la crème anglaise dans un récipient pour qu'elle refroidisse, puis dans des ramequins ou des petits verres. Filmez et mettez au frais jusqu'au moment de servir. Servez avec les blancs en neige pochés, et des pistaches hachées.