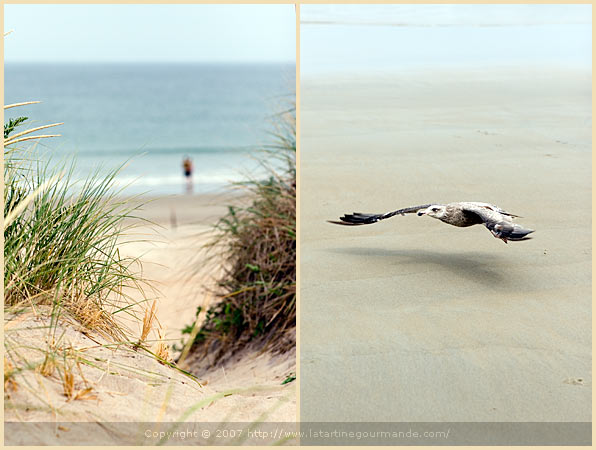 Plum Island, MA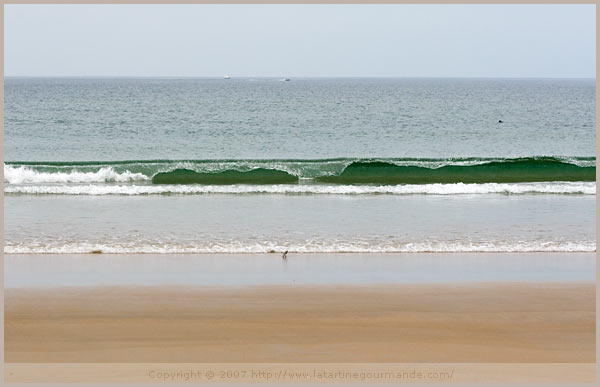 PLUM Island is not necessarily an island like many others we have been to. In fact, it starts with this: it is not an island as you might imagine. You only need to drive one hour North of Boston to get there; taking a boat is unnecessary. After an easy drive through the town of Newburyport, Sgt. Donald Wilkinson Bridge is the connection of the island to the rest of the world. We really love to go there.
Over the years, this natural reserve has become another of our favorite spots for a short day trip, an excellent spot for a casual picnic by the water, in winter and summer, fall or spring, as each season brings its own panel of natural beauty — except for greenheads, blood-sucking flies which hatch from the island's salt marshes in early July. We have seen the place under the snow, in fog or haze, and under a beautiful sunny bright sun. We have also learned that the best way to enjoy the pace of this wonderful coastal stretch is by bike, and when we bring ours, we enjoy cycling to Sandy Point located at the very southern tip of this natural reserve. On the way, we can then observe the rich flora, with its thick trees and shrubs, and the vast salt marshes typical of the place, where a multitude of birds like the piping plover feed, nest and live.
Since Sunday was meant to be quite a hot and humid summer day again around here — and we hope it is the last one of the year — we knew that the best way to remain cool and sane would be to feel the sea breeze. We did not need convincing: right after noon, we packed the car and got under way. Perhaps it is cliché but I never tire of spending cool Sunday afternoons on the beach with a picnic, away from crowds. Especially when it is hot in the city.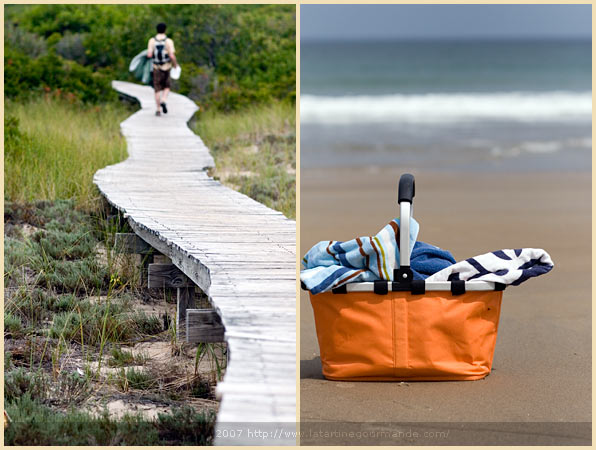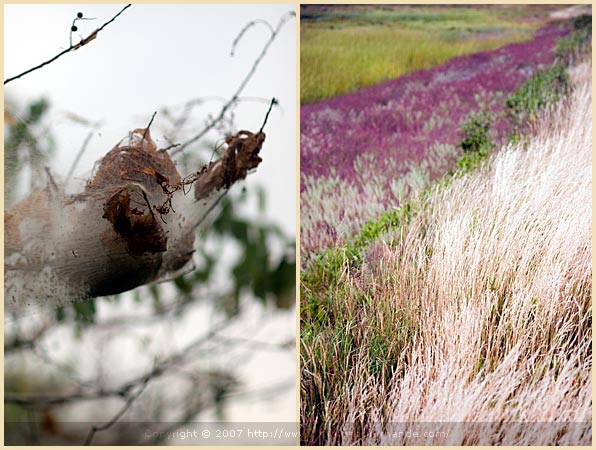 With a large blanket to lie on, swimming suits, a multitude of books to read and the same basket full of picnic food — sandwiches, salad, drinks, fruit and yogurt — we were ready to find a quiet spot on the beach, quite happy to simply observe life going by. Isn't it what Sunday is for, after all?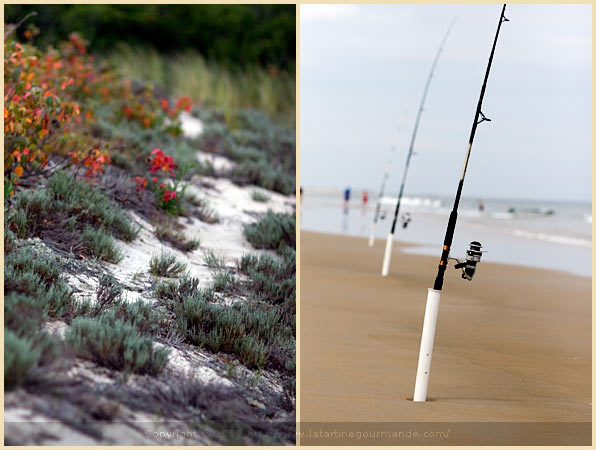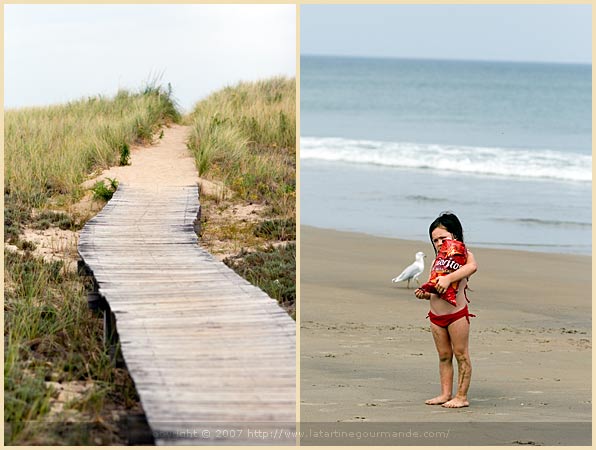 Not too many people were on the beach. Not too many people were in the water either, except for a few courageous ones. The water is not known to be too warm on the island — which some of my friends complain about.
Me?
Chut, don't repeat it but I like it this way; it really keeps the crowds away!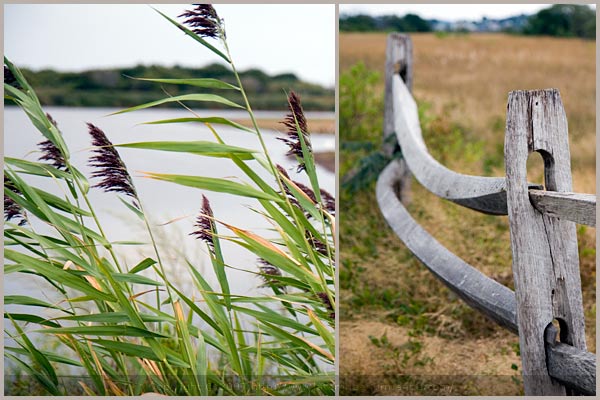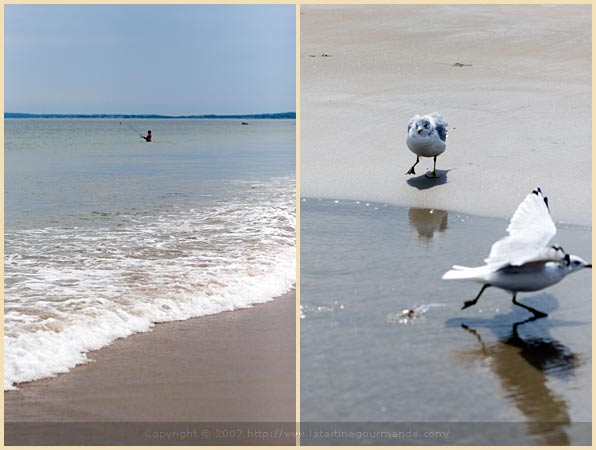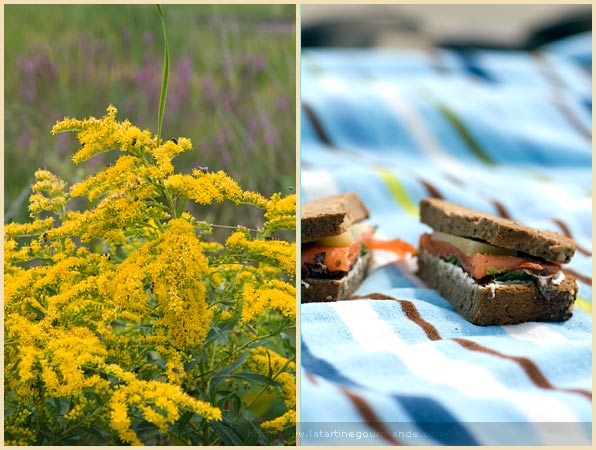 So we walked, and lied down, read a bit and rested. I managed to take a quick dip — the water was cold indeed — while P. watched me from a distance. And then we had our picnic. But tell me, what would one of these picnics be without a homemade sweet tart, one of those that I am so fond about?
"Another one?" I can hear you say!
"Mais oui, another one."
When some were raised eating cupcakes or cream cakes, I was tasting one tart after another.
Since we had guiltily gulped down the first batch of multi-fruit ricotta cream ones I had baked, I decided to prepare some more, using the Maine wild blueberries I had been so excited to find and buy at the market the day before. These tartlets turned out just like my mum's tarte aux myrtilles.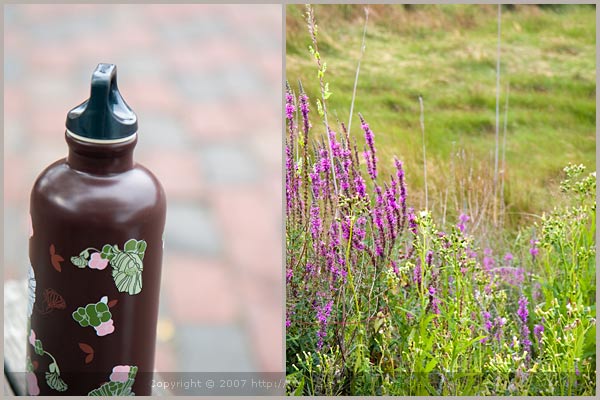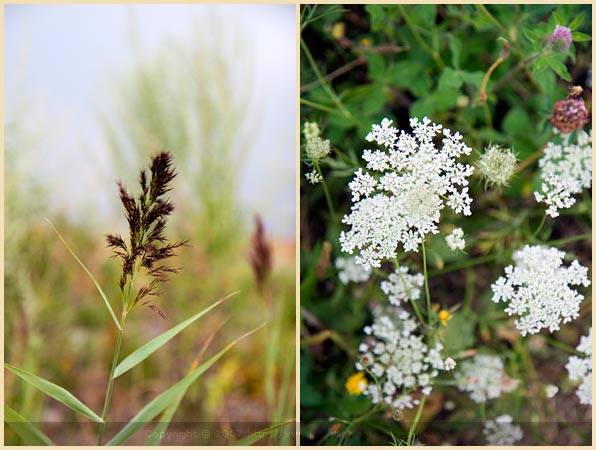 Wild Blueberries remind me of French myrtilles found in the Vosges, a département in Lorraine close to where my parents and family live. Smaller and somewhat tarter than regular blueberries, wild blueberries are also juicy, fantastic in a tart. While in New England people like to bake blueberry pies, I like to make une tarte aux myrtilles.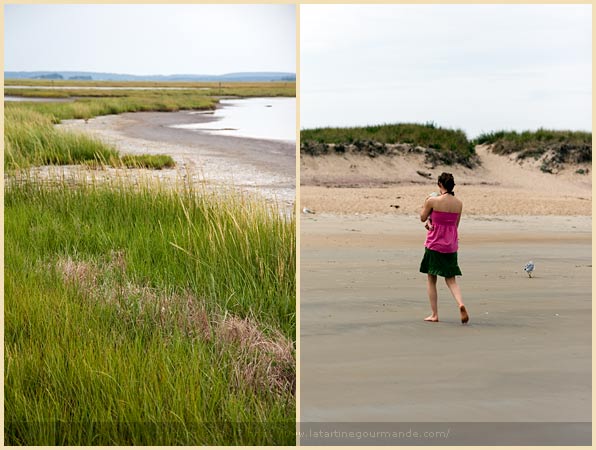 My recipe is extremely simple, making for tarts easily packed in a picnic basket. Start by making a sweet crust — and I chose to make an almond oil and quinoa sweet crust — and add a little almond flour and organic cane sugar. This time, I also had this insane idea to add tarragon to boost the flavor of the fruit — any reason to add tarragon in food always sounds great to me.
And do you know what?
Even if you do not believe me, the two flavors, tarragon and wild blueberries, really worked as a charm together.
As to the destiny of the tarts?
We did not leave a crumb, not even a single one for the seagulls greedily watching us.
So, is it next Sunday yet?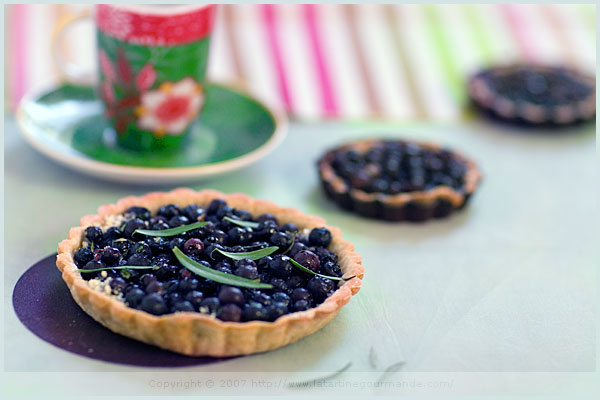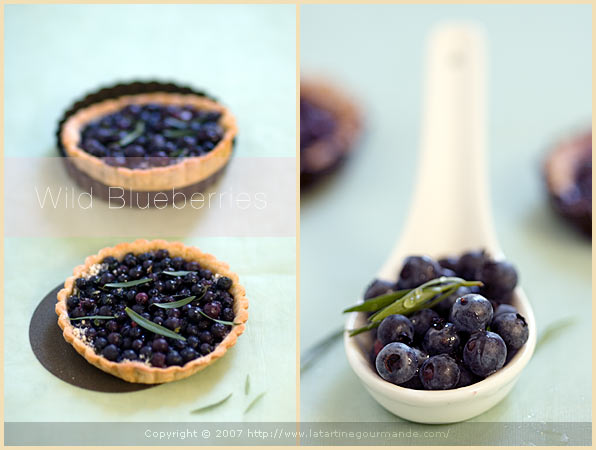 Wild Blueberry Tarragon Tartlets
Wild Blueberry Tarragon-Flavored Tartlets, Almond Oil Sweet Crust
(For 4 tartlets)
You need:
Almond Oil Sweet Crust, recipe here; with or without gluten, as you prefer
2 cups wild blueberries
2 tsp tarragon, chopped
Almond flour (2 Tbsp per tartlet)
4 Tbsp fine cane sugar
Steps:
Roll your dough and place in individual molds. Make holes at bottom with a fork. Place in the fridge for 30 min.
Preheat your oven at 350 F.
In a bowl, mix the washed blueberries with the sugar and tarragon.
Precook the crust for 10 min (with rice placed on parchment paper).
Remove the paper and then sprinkle each tart with 2 Tbsp almond flour.
Top with the blueberries.
Cook the tartlets for 20 min. Remove and let cool.
Le coin français
Tartelettes aux myrtilles et estragon, pâte au quinoa et à l'huile d'amande douce
(Pour 4 tartelettes)
Ingrédients :
Pâte au quinoa et à l'huile d'amande douce, recette ici; avec ou sans gluten, selon préférence
400 g de myrtilles
2 càc d'estragon, haché
Poudre d'amandes (2 càs par tartelette)
4 càs de sucre de canne blond
Étapes :
Étalez votre pâte et garnissez-en des moules individuels anti-adhésifs, ou huilés. Piquez les fonds et mettez au frigo pendant 30 min.
Préchauffez votre four à 180 C.
Dans un bol, mélangez les myrtilles lavées avec le sucre et l'estragon.
Faites précuire vos fonds de tarte (en couvrant la pâte de papier sulfurisé sur lequel vous mettez des légumes secs).
Enlevez le papier et saupoudrez chaque fond de tarte avec 2 càs de poudre d'amandes.
Recouvrez de myrtilles.
Cuisez vos tartelettes pendant 20 min. Retirez du four et laissez refroidir.
Technorati Tags: Food Styling, La Tartine Gourmande, Food Photography, Maine Wild Blueberries, Tartlet, Quinoa Crust, Tarragon