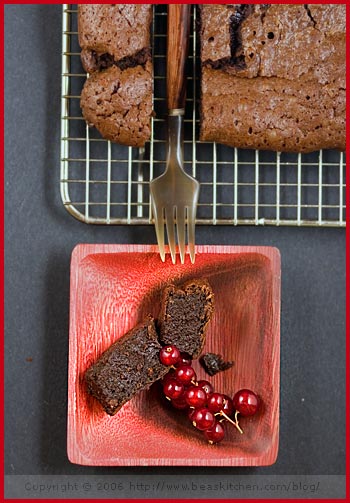 Terrible Chocolate Cake — Gâteau au chocolat terrible
When do you know that you are a chocoholic? Not simply a shy one, someone whose answer to the question "Do you like to eat chocolate?" is "Yes, I do not mind a piece occasionally", but a real ferocious one! If one day goes by and you feel miserable because you did not have your daily chocolate intake? After an hour, two maybe? If you miss your daily after-lunch carreau de chocolat ? — I cannot even be satisfied with one, I need two pieces. If you eat dark chocolate, milk or white? Purists would argue that white chocolate is only sugar, and milk chocolate does not fall far behind. Or, you actually discover that you are a real addict when, only a few days after Christmas, not weeks, the first cake that you imagine baking is a very rich, dark chocolaty cake, one that is almost pure chocolate. Tell me, but I think that for me, it is quite clear. I had that very thought and impulsive desire to bake anything chocolate, dark and rich only a few days after the holiday season was over. As I reflected on that behavior, I wondered what it actually meant and realized that I must be the victim of an addiction: I am a real chocoholic.
Yes, I like chocolate that much. When it is dark, between 65 and 80% cocoa contents — a higher cocoa percentage sends an electrical shock to my stomach — en tablettes (chocolate bars), in desserts, when it is messy and runny, or still warm, melting slowly in your mouth. I cannot resist, really. And, if one day goes by and I have not had my intake, I think about it and start craving it. When going on a vacation, there are always bars of chocolate hidden between piles of clothes in my luggage. "Au cas où," I tell P (just in case). When I come back from my regular trips to France, I always have a réserve with me, dreading each time that customs agents are going to sniff it! Whenever we go to the movies, P. always makes sure to ask me: "Tu as pris du chocolat ?" (Did you take some chocolate?) There is always a piece in my handbag. While we hear people around us munch away on pop corn, we gulp down chocolate. Friends visiting us know about the réserve as well, and happily steal a few pieces. At my parents', we talk about le tiroir de chocolat (the chocolate drawer). At our house, the secret place is the chocolate box placed on the shelf in the living room, with its real "La boîte de chocolat" inscription on it, a gift from friends that know us well. Most of the time, there are more chocolate bars than the box can contain, hence numerous bars are placed on top each time I buy a new one. And I even hate the idea of collecting things. So if I briefly run my eyes over this list, the diagnosis is pretty simple: I have all the recognizable chocoholics symptoms.
I had had in mind to bake this cake for quite a while but mainly forgot, pressed by too many other dishes I wanted to cook. So when I recently came across this recipe, by pure luck really, I was thrilled. Extracted from a small All About Chocolate booklet received as a gift from the magazine Elle à table, I had a hard time refraining myself from not making many more chocolate sweets, all at once. They all looked evilly good. Le vrai bonheur ! (True happiness). This chocolate cake, however, won over the others, erasing any possible hesitation on my end: it did not take much to make, and was easy and quick to complete, perfectly suited for the spontaneous craving.
Outcome?
Wow!
Ça, c'est plutôt riche. The real chocolate cake for the chocoholics, when only eating a small piece at a time can do. This cake is rich but also not, it seems. How can I describe it well? Since it is mostly a flourless moist chocolate cake, it definitely melts in your mouth. Of the kind of taste that you hope will stay with you for ever. Not convinced? Too much? You will have to check it for yourself. Really. For me and P., it was a winner, one that triggers many "Mmmmmmm" after the first bite. When I gave a piece to my friend R. — 'cause as hard as it is, you have to share it, you see — I saw her eyes open wider as she swallowed it down slowly, as if saying "Mon Dieu, Béa!"
If you do not manage to finish your slice, pas de problème, I will.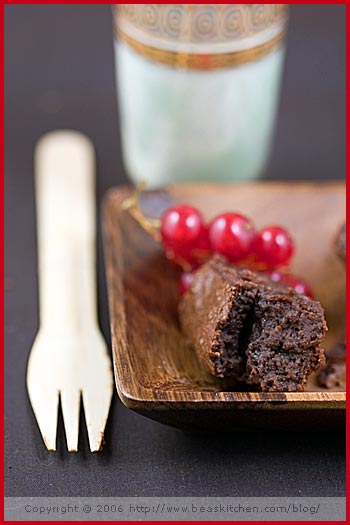 Chocolate Cake,
recipe adapted from "30 Recettes Tout Chocolat", Elle à table
(For 6 to 8 people)
You need:
7 oz dark chocolate, 64 or 70 % cocoa, I used Varlrhona
7 oz butter
5 large eggs
8 oz fine sugar (instead of 9 oz suggested in the original recipe)
1 Tbsp all-purpose flour
Steps:
Preheat your oven at 375 F.
Melt the chocolate and butter in a double boiler.
Transfer into a bowl and add the sugar. Mix with a wooden spoon.
Let cool a little before adding the eggs, one after the other, stirring well between each.
Add the flour.
Pour this batter in a square 8″ mold lined with a sheet of parchment paper (easier to unmold). Place in the oven for 25 to 30 mns (the original recipe called for less time). When shaking the cake gently, the middle should still be a little soft. Remove from the oven and let completely cool on a cooling rack. Be careful as when warm, the cake is fragile.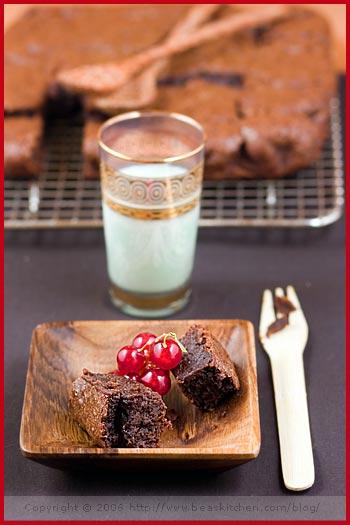 Le coin français
Gâteau au chocolat,
recette adaptée du livret "30 Recettes Tout Chocolat, Elle à Table"
(Pour 6 à 8 personnes)
Ingrédients :
200 g de chocolat noir, 64 ou 70% de cacao
200 g de beurre
5 gros oeufs
230 g de sucre (au lieu de 250 g dans la recette d'origine)
1 càs de farine
Étapes :
Préchauffez votre four à 190 C.
Faites fondre le chocolat et le beurre au bain-marie.
Transférez dans une jatte. Ajoutez le sucre et mélangez avec une spatule en bois.
Laissez refroidir un peu, puis ajoutez les oeufs, un à un, en mélangeant bien à chaque fois.
Ajoutez alors la farine.
Versez votre préparation dans un moule carré de 20 cm de côté, recouvert de papier sulfurisé (plus facile à démouler). Mettez au four pendant 25 à 30 mns (la recette d'origine indique moins longtemps). Le milieu du gâteau doit trembler quand vous le bougez. Sortez-le du four, attendez quelques minutes avant de le démouler délicatement sur une grille. Laissez complètement refroidir avant de déguster.