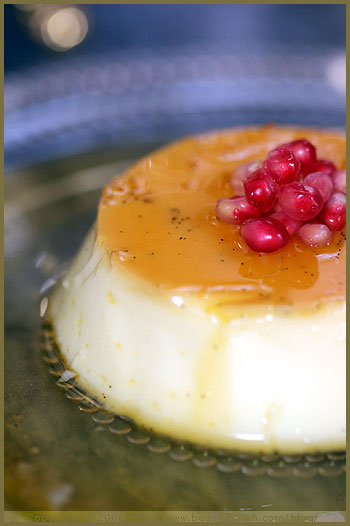 I learned something interesting. J'en suis renversée ! I am amazed by it! Yes, just like la crème (like the cream). Whenever you make caramel, you only need one thing, or maybe two.
For my second time, I got it right. Finally! La seconde fois était la bonne ! (The second time was the good one!) I even know why the caramel I tried to make did not work so well the first time. Typical actually of me, and partially attributed to a shortcoming I have lived with for most of my life, le manque de patience. Lack of patience! In fact, I realized that not only I used the wrong type of sugar to make the caramel, but I also simply did not wait for the time the sugar needs to transform itself in a beautifully colored caramel.
So I tried a second time, and a third to make sure, and was pleased to see that the results were excellent.
La crème renversée
It is sometimes the simplest things that are the most rewarding. For most French people, a crème renversée is nothing extraordinary in view of the possible choices of desserts. A crème renversée can be eaten in most traditional French restaurants, to the point that making it at home is not going to be a real call from the heart pour la ménagère française (for the French housewife). Things are however different for me. I believe that when you do not have easy access to a certain dish you like, you start missing it, and so having and making it becomes a special occasion. Créer le manque (missing something) can be a good thing. Because there are not many places where I live where I can find crème renversée, my only other option is to make it at home. I have actually learned to appreciate this dessert more because, as it is difficult to find, I miss it so much. Try to understand the logical reasoning behind this and apply the theory to many things, and you will see it works.
For the longest time, I assumed that crème renversée and crème caramel were the same thing. Can you see the difference in the two desserts when there is seemingly none? To me, these two desserts are so close that perhaps if I were to have one of each in front of me, I would not know which one is which. They both belong to the family of what we call in French, les entremets, preparations made of milk, eggs and sugar, served cold. Both a crème caramel and a crème renversée will be cooked in a bain-marie, and take their final shape from a mold in which the preparation is poured. They are then flipped on a plate. A crème renversée can be done without caramel whereas a crème caramel will have caramel, obviously. Looking at different recipes, I realized about a small difference: whereas the first dessert uses a combination of egg yolks with whole eggs, the second one uses whole eggs. So as to be able to decide which texture I preferred, I ran a series of tests by which I cooked the cream at different oven temperatures: 275 F the first time and 350 F the second time. The results were clear: I strongly favored the texture when cooking the cream in a low-temperature oven. Of course, when doing so, it required twice as long to cook.
Because the verb renverser in French really means to turn over, you will understand why this dessert is called une crème renversée. There is no secret as it is precisely what you do when you unmold the cream: turn the cream over on a plate. As soon as you do so, a pool of shiny yellow caramel falls down on the plate as it is released from the bottom of the mold. Simplement irrésistible ! Simply irresistible! Just for the fun of seeing this caramel run, I would make crème renversée or crème caramel over and over.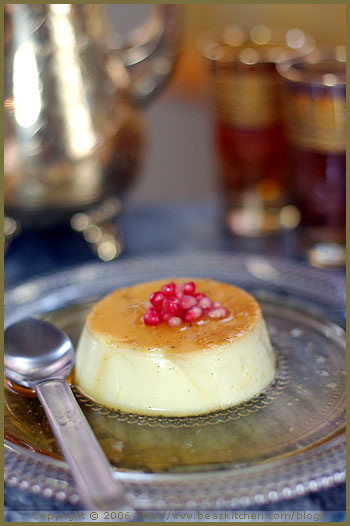 I should maybe also add that I have always been attracted to desserts of the flan type. Eggs, milk, sugar, can we get a more simple combination? Choosing between a crème brûlée, crema catalana, crème caramel, or a crème renversée? What a challenging decision to make!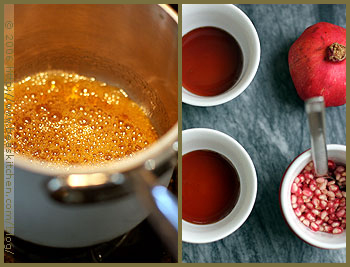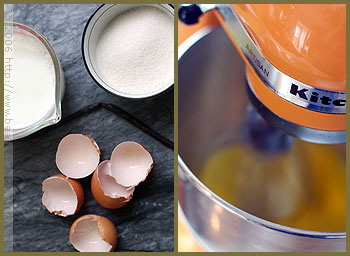 Following the steps of this recipe are really simple. Mixing the eggs with the sugar is effortless. Such is adding milk. I advise to remember to remove the foam which forms at the surface of the cream, after you beat the eggs with the sugar and milk. It really helps to achieve a smooth texture of the cream, once it is cooked.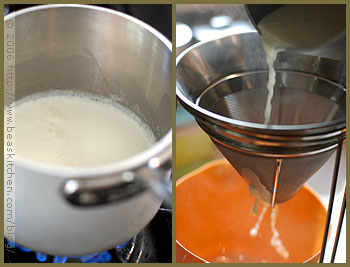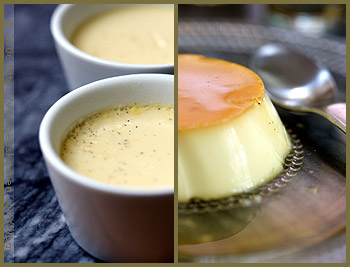 And so, with this being said, I just advise you to try. Whenever I go back to France, I am always reminded how much we love desserts of this kind. Next time you are in France, take a walk into the simplest supermarket and check the cold section, where yogurts, cream and fresh fromage blanc are kept. You will understand what I mean, with your own eyes. Les crèmes desserts, what a world of happiness!
Crème Renversée of my Dreams
(For 6 ramekins)
You need:
For the Caramel:
5.5 oz fine white sugar
3 Tbsp + 1 tsp water
1 Tbsp warm water
Steps:
Put the sugar and water in a small pot. Once the sugar has absorbed the water, bring to a boil. The caramel is ready when it has a nice golden color. You do not need to stir often (it takes about 8 to 10 mns).
Add 1 Tbsp warm water and stir quickly.
Pour the caramel in oiled ramekins without waiting. Set on the side.
For the Vanilla Cream:
2 cups + 3 Tbsp whole milk
1 vanilla bean, open and seeds removed
3 large eggs
2 large egg yolks
2.7 oz fine sugar
Steps:
Boil the milk with the vanilla bean. Cover and let infuse for 30 mns before filtering the milk.
Make your caramel and pour it in the oiled ramekins.
Beat the eggs with the sugar for 1 mn using a stand mixer, if you have one.
Pour the hot milk on the egg/sugar preparation and mix well.
Let the preparation rest for a few minutes, before removing the foam that formed at the surface (with a spoon).
Divide the cream between the ramekins and place them in an rimmed oven dish.
Cover with a sheet of foil paper.
Pour water in the dish, as high as half of the height of the ramekins (making a bain-marie).
Cook in a preheated oven at 275 F, for about 1 hour.
Make sure the creams are cooked by inserting the blade of a knife in the middle. If it comes out dry, the creams are ready. Remove them and let them cool down. Cover each with a sheet of plastic film, and place them in the fridge.
To unmold them easily, dip the molds in boiling water for 1 or 2 mns so that the caramel is less solid. Run the blade of a knife between the cream and the ramekin edge. Turn them over on a plate. Decorate with fresh fruit such as pomegrenate or fresh raspberries. This gives a nice colorful touch to your dessert.
Le coin français
Crème renversée de mes rêves
(Pour 6 ramequins)
Pour le caramel :
150 g de sucre blanc fin
50 ml d'eau
1 càs d'eau chaude
Étapes :
Mettez le sucre et l'eau dans une casserole. Une fois le sucre imbibé, amenez à ébullition. Il n'est pas nécessaire de remuer souvent. Le caramel est prêt quand il a une belle couleur ambrée (après 8 à 10 mns).
Ajoutez 1 càs d'eau chaude et remuez rapidement.
Versez le caramel dans des ramequins huilés sans attendre. Mettez-les de côté.
Pour la crème prise à la vanille :
500 ml de lait entier
1 gousse de vanille fendue et grattée
3 oeufs
2 jaunes d'oeuf
75 g de sucre
Étapes :
Faites bouillir le lait avec la gousse de vanille fendue. Laissez infuser à couvert pendant 30 mns. Filtrez le lait.
Réalisez votre caramel et versez-le dans des ramequins huilés.
Mélangez les oeufs avec le sucre pendant 1 mn, au batteur.
Versez le lait chaud sur le mélange sucre/oeufs et mélangez bien.
Laissez la préparation reposer quelques minutes avant d'enlever l'écume à la surface (avec une cuiller).
Répartissez la crème entre les ramequins et mettez-les dans un plat à rebord allant au four.
Couvrez-les avec une feuille de papier aluminium.
Versez de l'eau dans le plat, à mi-hauteur des ramequins, pour réaliser un bain-marie.
Faites cuire au four préchauffé à 140 C pendant environ 1 heure.
Vérifiez que les crèmes sont cuites en insérant la lame d'un couteau au centre. Si la lame ressort sèche, elles sont cuites. Sortez-les alors du four, et laissez-les refroidir avant de les mettre au frigidaire (recouvertes d'un film alimentaire).
Pour les démouler facilement, trempez-les pendant 1 à 2 mns dans de l'eau bouillante et passez la lame d'un couteau entre la crème et le bord du ramequin. Renversez-les sur des assiettes. Servez avec des fruits frais, comme de la grenade ou des framboises. C'est une jolie touche de couleur.