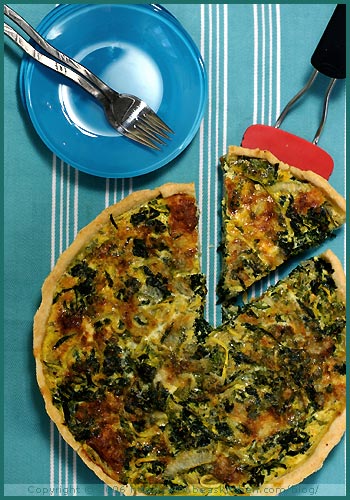 Green Quiche
Can I say this out loud? La quiche is from Lorraine, just like me! Despite the fact that I do not really like the traditional quiche lorraine so much, I however love the concept found in a quiche. By now, you know how much I like to cook savory tarts, and not failing the rule, la quiche — because it is a she — finds a special place amongst meals I like to cook for lunch. I often revisit the idea to cook it, and this quiche is a good vegetarian example.
The idea to make a green quiche came after this past weekend, when a French friend visited us for the day. J.F. arrived late in the morning while P. and I were out, running an errand. At 12 pm, we were all back together at home. I suddenly realized that we were all hungry and I had not even thought about lunch. Pas possible ! That was just too unusual! I simply had no idea what I was going to make. I don't really think that I thought my lunch plan through very well because I eventually decided that I was going to make a quiche, despite the fact that the three of us were affamés (starving). And a quiche really requires some time! So, while the dough waited in the fridge, we fed ourselves on slices of prosciutto and saucisson. We simply had to.
I did not have many vegetables in the fridge, two zucchinis, one onion, Irish cheddar cheese, some cream and milk. And eggs of course, I always have des oeufs (eggs). I just cannot do without them. Within the only five mns I gave myself to decide, the idea to make a green vegetarian quiche was born.
Quite happy with the result, I rethought the idea a second time this week. Even if I liked the simple association of zucchini with onions in the first quiche I made, I decided to give more strength to the taste — as zucchinis are usually pretty mild — and an even darker green touch to the tart: I added kale (over spinach which we cannot find ANYWAY around here these days!) Are you just like me, not cooking this vegetable often enough, still stuck with the idea that cabbage is just too smelly when it cooks? It does not really do justice to this wonderful vegetable, fragrant indeed but deliciously so, full of great nutrients such iron, calcium, vitamin C, folic acid, vitamin K and carotenoids. Once you are over this belief, you can only love to eat it.
Also, whether you use cheddar, fontina or emmenthal is a question of your cheese taste and preference. Irish cheddar was a good choice for me.
Et voilà ma quiche toute verte !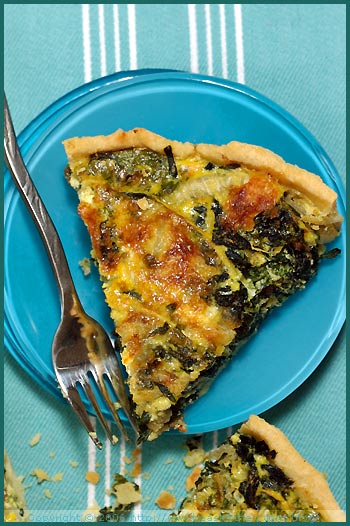 Zucchini, Kale and Onion Quiche
You need:
2 small zucchinis cut in julienne (about 0.75 lb)
4 oz green kale (1 small bunch)
1 medium yellow onion
1/2 tsp coriander powder
1/2 tsp cumin powder
4 garlic cloves
1 Tbsp fresh coriander, chopped
1 Tbp fresh parsley, chopped
3 eggs
1/2 cup whole milk
1/4 cup heavy cream
1.5 oz cheese (use a type of cheddar, or fontina cheese)
For the Pie Crust:
1 1/2 cups All-purpose flour
7 Tbsp cold butter (or margarine)
Dash of salt
Cold water (about 6 to 7 Tbsp)

Note: you will have dough leftovers, which can be used for another smaller tart.

Steps:
To make the crust, place the flour in the bowl of a stand mixer and use your hook attachment.
Add the salt and cold butter cut in pieces and start mixing.
Slowly add cold water. Add enough so that the dough detaches from the bowl.
Cover under a plastic film and place in the fridge for 30 mns, minimum.
In the meantime, wash the kale and remove the hard middle part.
Blanch the kale in salted boiling water for 3 mns, and strain.
Squeeze out the excess of water and chop coarsely.
Sauté the onion with the coriander and cumin powder in 2 Tbsp olive oil, then add the garlic cloves, thinly chopped. Cook for 5 mns.
Add the julienned zucchini. Mix well and cook on medium to low heat while stirring once in a while, for 10 to 15 mns.
Add the kale and mix well. Cook for 2 mns and set the vegetables aside.
Roll the pie crust and place it on a 10″ dish.
Chill the dough for 30 mns after rolling it and pricking it with a fork.
Cover your dough with a piece of foil paper and some weight (like beans or rice) and precook the dough at 375 F for 15 mns. Remove it from the oven.
Grate the cheese. Keep it.
Beat the eggs with the milk and cream.
Season with salt and pepper and add the chopped herbs.
Put the vegetables on top of the precooked pie crust and pour the egg/milk preparation.
Add the cheese on top.
Cook the quiche in the oven for 35 to 40 mns, in an oven at 400 F.
Remove it and let it rest for 5 mns before unmolding and serving it with a salad.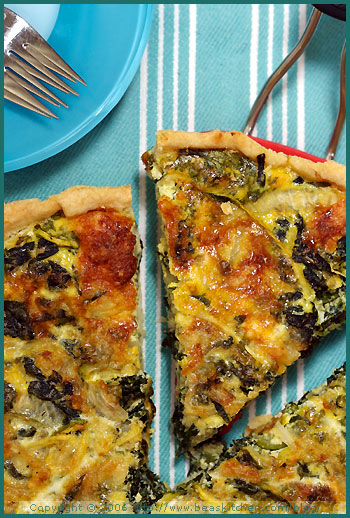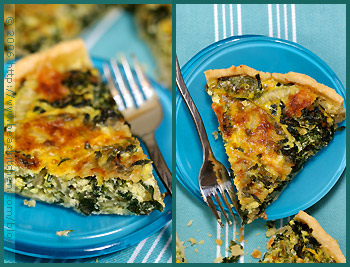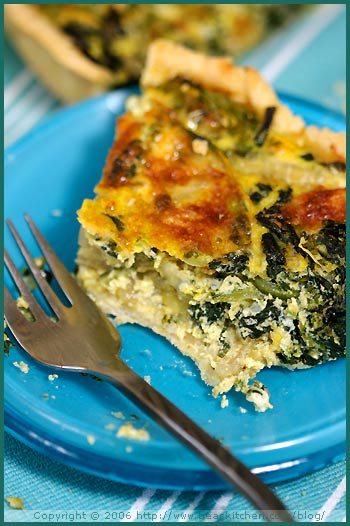 Le coin français
Quiche aux courgettes, chou vert et oignons
Ingrédients :
2 courgettes coupées en julienne
125 g de chou long vert (sans tête)
1 gros oignon
1 càc de coriandre en poudre
1 càc de cumin en poudre
4 gousses d'ail
1 càs de coriandre fraîche, hachée
1 càs de persil frais, haché
3 oeufs
120 ml de lait entier
60 ml de crème liquide
50 g de fromage fraîchement râpé, du type cheddar, fontina ou emmenthal
Pour la pâte brisée :
200 g de farine
100 g de beurre froid (ou de la margarine végétale)
1 pincée de sel
Eau froide (environ 6 à 7 càs)

Remarque: il vous restera de la pâte à utiliser pour une autre petite tarte.

Étapes :
Pour réaliser la pâte, mettez la farine dans le bol de votre robot à pied (si vous en avez un, ou un robot simple, et utilisez la lame appropriée).
Ajoutez le sel et le beurre froid coupé en morceaux, et mixez.
Ajoutez l'eau froide progressivement, cuiller après cuiller, jusqu'à ce que la pâte se détache du bol. Arrêtez le robot.
Couvrez la pâte avec un film alimentaire et mettez-la au frais pendant 30 mns, minimum.
Pendant ce temps, lavez le chou et enlevez la partie centrale dure.
Blanchissez-le pendant 3 mns dans de l'eau bouillante salée, et égouttez-le.
Pressez-le entre vos doigts pour enlever l'excès d'eau, et hachez-le grossièrement.
Faites chauffer 2 càs d'huile d'olive et faites-y revenir l'oignon émincé avec l'ail émincé finement et les poudres de cumin et de coriandre. Cuisez pendant 5 mns.
Ajoutez les courgettes coupées en julienne. Mélangez bien et cuisez sur feu moyen à doux pendant 15 mns, en remuant.
Ajoutez le chou et mélangez. Poursuivez la cuisson pendant 2 mns et mettez les légumes de côté.
Étalez votre pâte et garnissez-en un moule de 25 cm de diamètre.
Piquez-la avec une fourchette et mettez-la au frigo pendant 30 mns.
Couvrez ensuite la pâte d'une feuille aluminium sur laquelle vous placerez du riz ou des légumes secs, et précuisez-la pendant 15 mns, dans un four préchauffé à 190 C. Sortez-la du four.
Râpez le fromage.
Battez les oeufs avec le lait et la crème.
Assaisonnez de sel et de poivre et ajoutez la coriandre et le persil hachés.
Mettez les légumes sur la pâte précuite et versez la préparation oeufs/lait.
Répartissez le fromage dessus.
Cuisez votre quiche pendant 35 à 40 mns, à 200 C.
Sortez la quiche du four, laissez-la reposer 5 mns environ avant de la démouler et de la servir avec une salade.