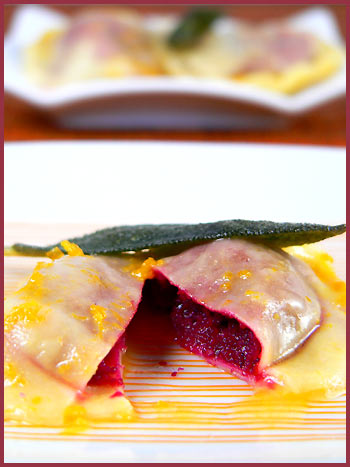 Mes poches de bonheur – My Happiness Bags
I think there is no doubt that making ravioli provides true satisfaction. Cooking does in general for me, but there is definitely something bigger that happens when it comes to be making tiny little bags filled with all-the-things-to-make-you-happy, like des poches de bonheur. Now of course, one has to be careful and show some reservation. Looking at my recipe below, there is one essential criteria you need to meet in order to like it. Beetroots: do you like or hate them? Although this sounds more or less like a black and white sort of question, I would like to add the following. After tasting those little happiness bags, all of you who hate beets might change your mind. It could just be that you, people of the I-hate-beetroots land might just have tried beetroots under the wrong light. Your world might change after this post and with it, a new love for beets might grow. Tout est possible! (everything is possible!)
Beetroots are sweet and not always tasting earthy (elles sentent la terre is the French familiar expression, meaning they taste like soil). They are delicate in flavour and as to the colour, how can you not fall in love with this deep red? They can be eaten raw in salads (see here and here) or soups, or cooked (which is more common). If cooked and once they are peeled (remove that wrinkled coat, will you?), they shine just like a pair of well-polished shoes -not that I polish my shoes often, mind you. However, I understand that there has to be different tastes for every one, and as we say in French, les goûts et les couleurs, cela ne se discute pas! (There is no need to argue with people's preferences for taste and colour). We are all different which is what makes us a very interesting crowd. But wait until this recipe.
I belong to the I-love-beetroot land. So easy for me to say that I like the colour and the sweetness of beets.
During every summer while I was a child, my mum would plant beetroots in our vegetable garden and while we could eat them over the course of late summer and early fall, she also spent a lot of time making wonderful preserves with them. Since she was a teacher, she had the summer offs, with plenty of time available to make delicious home prepared foods. Like squirrels, we were getting ready for the winter. Her beetroots preserves (conserves in French) were simply beetroots pickled in vinegar before being sterilized in large glass jars. Vinegar and beets are best friends. And so, I remember "stealing" many of her preserves while going to college. A preserve of beetroot? Oui, c'est pour moi (for me), a preserve of ratatouille (oui, pour moi aussi, par ici), and what about this cherry jam and this preserve of French beans (pour moi encore, maman ne remarquera pas qu'il en manque quelques uns) (for me too, mum won't notice if some are missing). Et hop! In my bag! Off I went to college with my goodies. I was a well-fed student thanks to my mum's preserves.
When I made these beetroot ravioli a few nights ago, the plan was to make enough so that P. and I would still have some for lunch the next day. A problem occurred however after we had our first bite. Right away, we started counting how many we had on the plate and how many we could still eat without compromising the following day's lunch. Difficult calculation. At some point, while we were still not finished with our first plate, I caught P.'s eyes looking over my shoulder into the kitchen, to check for the plate where they were waiting for us. Je les vois!, P. told me (I can see them). After a short debate about what to do, we decided that we would only have a few more each and stay reasonable. Quand même (by now you should know what this means in English as I use this expression all the time!) The next thing I remember was seeing us rushing into the kitchen to grab the plate, and start counting how many we were allowed, 1, 2 or 3, maybe one more, 4 and soon enough before we realized it, the plate was empty. This was how good those were.
Did I convince you?
Maybe you do not believe me and that is truly ok. While I loved eating them (more for me anyhow), I also enjoyed tremendously making them, after my first attempt here. For a second, I felt Italian! Vive les italiens et la cuisine italienne! Merci! I should let the test go to my fellow bloggers much better than I am at assessing Italian food: Rob, Ivonne, Sandra, Francesca and Rowena!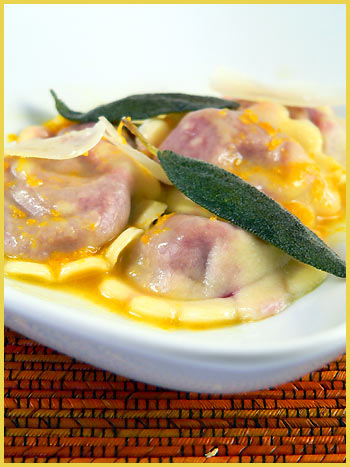 Beetroot Ravioli and Orange Sauce
For about 40 raviolis
You need:
For the dough:
1.5 cups flour
4 egg yolks (large)
1 tsp olive oil
Water (about 4 to 5 tbsp) but add gradually as it varies according to the size of your eggs
Pinch of salt
1 egg, lightly beaten for egg wash
Steps:
I make my dough using a food processor. I combine the flour with salt and then add the egg yolks.
Then I add 2 tbsp of water, and then add one more, one at a time until the dough has the right texture. At the end, your dough should be elastic and detach from the bowl.
Let rest for 1 hour before using.

I also used a pasta machine to make the sheets of pasta, but you can roll the dough manually if you prefer. It depends on what you have available!
For the fillings:
180 g cooked beetroot, peeled
1 shallot
25 g ground almonds
25 g freshly grated parmesan
1 tbsp olive oil
1 tbsp cherry vinegar
1/4 cup mint leaves
Salt and pepper
Steps:
Mix all ingredients together until you have a smooth paste (in a food processor).
Use a ravioli maker if you have one. Roll your dough using the machine or by hand. (Start with a wider thickness to reduce to the desired thickness. I like the ravioli dough thin.
Place the sheet on the ravioli maker if you are using one or make small squares.
In each piece of ravioli, place a heaped tsp of filling.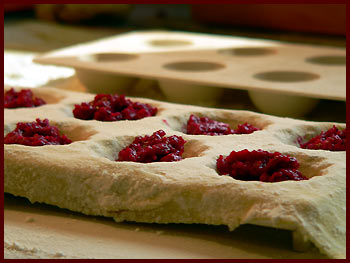 Brush with egg wash around the edges and then place another piece of ravioli of the same size on top, pressing firmly to seal the ravioli well.
Set aside on a baking sheet covered with parchment paper. Cover as you go.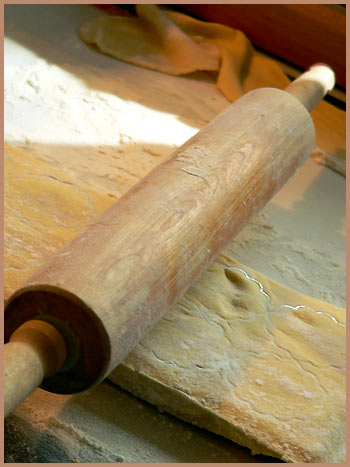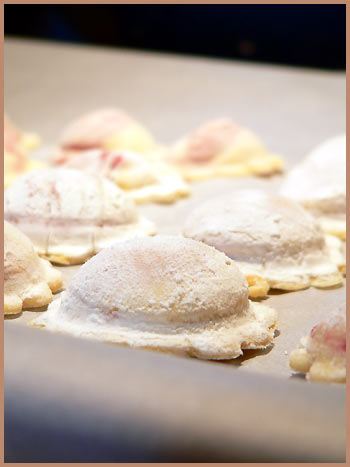 For the sauce:
Juice of 1 orange and its zest
100 g butter
Steps:
Zest your orange and squeeze the juice.
Heat in a pot and when slightly reduced, reduce the heat and add the butter in pieces.
The sauce should thicken a little bit with the butter. Do not boil at this point.

For the decoration:
Sages leaves. How to fry them?
Take a frying pan ad heat vegetable oil.
When very hot (like when you fry food), add the sage leaves and fry on both sides for just about 15 s.
Take out and remove excess grease on paper towel, until ready to use for decoration for the ravioli.
Serve the ravioli with the sauce and sage leaves, and extra shaved pieces of parmesan.
So, the verdict is there, in front of you.
Do you still dislike beets?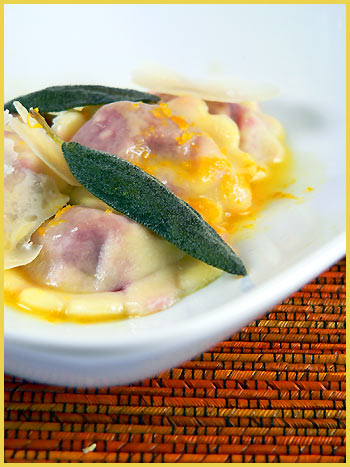 Recipe adapted from Vogue and Entertaining International magazine