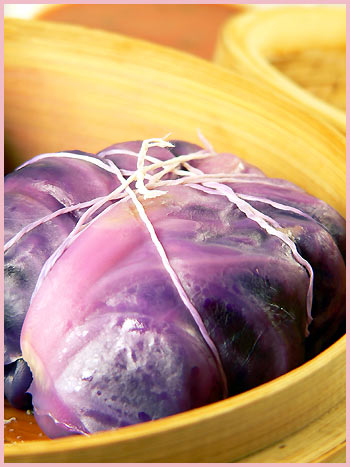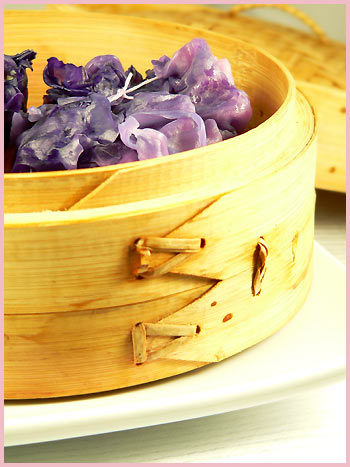 And what about a bilingual post? You get the 2 worlds, French and English.
J'ai des petits paquets à livrer
Pour participer à Blog Appétit edition #7, chou et volaille, j'ai décidé de m'amuser à faire des choux farcis. C'est drôle car cela me donne l'impression de faire du travail manuel. Et comme j'adooooreuh toutes les épices venues des îles, gingembre, lait de coco, et la coriandre, et que je mange ou cuisine peu le chou (et je ne sais vraiment pas pourquoi!), je souhaitais une idée plus originale pour une recette utilisant ces deux ingrédients. Alors voilà! Et puisqu'il me fallait de la couleur, j'ai décidé de choisir du chou rouge!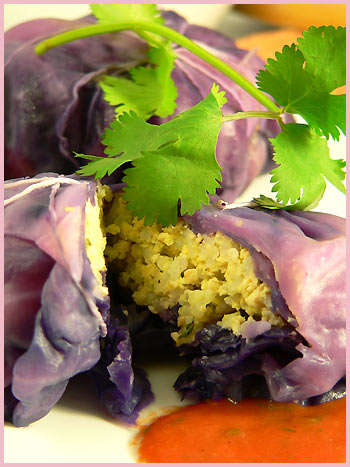 Chou rouge farci à la saveur des îles
Ingrédients :
Pour les choux
1 gros chou rouge
2 échalotes
1 morceau de gingembre frais (3 cm)
800 g de blancs de poulet (filets)
2 jaunes d'oeuf + 1 oeuf entier
Un bouquet de coriandre fraîche
100 g de riz basmati
Sel et poivre
Pour la sauce
25 cl de coulis de tomate
5 cl de lait de coco
Coriandre fraîche

Étapes:
Commencez par nettoyer le chou rouge et prélevez 12 belles feuilles.
Faites les blanchir pendant 1 mn dans de l'eau bouillante salée. Placez-les ensuite sur du papier essuie-tout.
Couvrez votre riz d'eau, ajoutez une pincée de sel et faites cuire jusqu'a absorption de l'eau.
Prenez une sauteuse et faites chauffer 1.5 c à soupe d'huile. Ajoutez les échalotes hachées et faites les blondir pendant 1 ou 2 mns.
Ajoutez ensuite le gingembre haché et laissez cuire encore 1 à 2 mns.
Ajoutez ensuite le poulet haché et faites bien cuire pendant 5 mns. Assurez-vous que tout le poulet est cuit.
Mélangez le poulet avec le riz, les oeufs, les jaunes d'oeuf et les 2/3 de la coriandre hachée. Ajoutez du sel et du poivre.
Prenez deux feuilles de chou et faites-les se chevaucher. Au milieu, placez de la farce.
Recouvrez-la avec les bords des feuilles de chou, et tenez-les en place avec de la ficelle culinaire (nouez comme si vous faisiez un petit baluchon).
Recommencez les mêmes opérations pour les autres choux, et faites-les cuire ensuite à la vapeur pendant 20 mns.
En attendant, préparez la sauce. Faites chauffer doucement le coulis de tomate et ajoutez-y le lait de coco et le reste de coriandre hachée.
Servez pour accompagner les choux farcis. C'est simple et délicieux!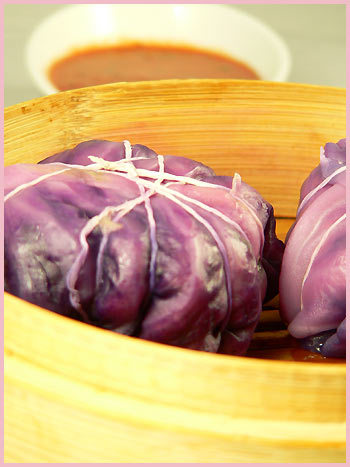 I Have Small Parcels to Deliver
And how do you say this in English? I am so nice that I am going to translate it all.
I decided to participate in an event organized by Blog Appétit, edition # 7 which theme is Cabbage and Poultry. Since I do not cook cabbage often ( and I don't know why really) and I wanted to have something more original than the cabbage stews I know (nothing against them though), I decided to make Small Stuffed Cabbage. AND, because I love all fragrances from the islands, such as ginger, coconut milk and coriander, I just came up with a recipe using them all. To add a touch of colour, I went with red cabbage! (purple to be more exact). The result was a very simple recipe that is simply truly delicious. It also enabled meto use my manual skills again to tie those knots!!! If I can do it, you can as well.
Stuffed Red Cabbage with Island Fragrance
You need:
For the cabbage
1 large red cabbage
2 shallots
1 inch fresh ginger
800 g chicken breasts
2 egg yolks + 1 whole egg
A bunch of fresh coriander
100 g basmati rice
Salt and pepper
For the sauce
25 tomato sauce
5 cl coconut milk
Fresh coriander

Steps:
Clean the red cabbage and reserve 12 nice leaves.
Blanch them in salty boiling water for 1 mn. Place them on a paper towel to absorb the excess water.
Cover the rice with water and add a dash of salt. Bring to a boil and cook until all the water is absorbed.
Take a sautée pan and heat 1.5 tbsp oil. Add the chopped shallots and cook for 1 to 2 mns.
Add the chopped ginger and cook for an extra 1 to 2 mns.
Add the chopped chicken and cook for 5 mns. Make sure the chicken is well cooked.
Mix the chicken with the rice, the egg yolks, the egg and 2/3 of the chopped coriander. Add salt and pepper to taste.
Take two cabbage leaves and place them so that they interlap.
Place some of the chicken/egg preparation in the middle.
Cover with the edges of the cabbage and tie them together using cooking string (tie them like you would tie a parcel).
Start over for the other cabbages. Steam them for 20 mns.
Meanwhile, prepare the sauce. Heat the tomato sauce without boiling and add the coconut milk. Chop the rest of the coriander and add it to the sauce.
Serve the cabbages with the sauce. A taste of the islands in your plate.