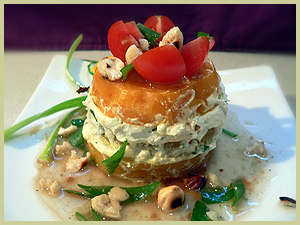 Yellow Beetroot and Ricotta Cheese Layered Cake
I think I must already have mentioned that a long time ago, when I still lived in France and I was a little girl, a friend of my dad's, who owns a farm (he is the farmer in my home village all things considered as he owns pretty much all of the land) could not understand my attraction to beets of any kind. He kept telling me that this was food for his animals, "pour mes bêtes" as he would put it. Little did he know then, and how happy do I feel now that he is so wrong! I need to prove this to him.
It could all well have started like "Once upon a time, in a small countryside village, one believed that human beings do not not eat beets, but cows do…"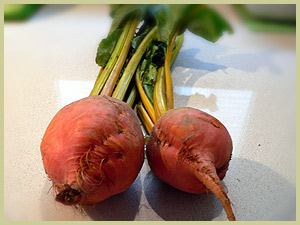 La betterave, French for beets (sorry I cannot help it, the former French teacher in me is acting up a little) deserves a praise. I think looking back, I am quite a good defender of the values that our friends the vegetables, les légumes provide. After fennel, and soon leek, here we are with la betterave!
What I have learned since that time is that beetroots are not always red, but you can now find beautiful yellow ones.
I am suggesting a recipe made with yellow beetroots and ricotta cheese, and tons of fragrant herbs.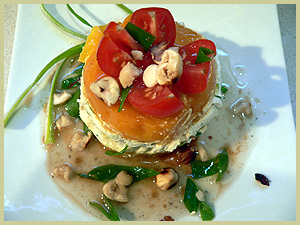 Yellow Beetroot and Ricotta Cheese Layered Cake
(for 4 people, as an appetizer)
You need:
4 medium to small sized yellow beets
3 scallions
2 shallots
1 tbsp fresh chopped coriander
1 tbsp fresh chopped chives (+ some whole pieces for decoration)
1.5 cup fresh ricotta cheese
3 tbsp walnut or hazelnut oil
4 tblsp sherry vinegar
Salt and pepper
Fleur de sel
A few cherry tomatoes
2 tbsp hazelnuts, roasted and slightly crushed in smaller pieces
Steps:
Take a large pot in which you place the beets washed, not peeled. Bring to a boil and cook them until you can easily stick a sharp knife blade in them (depending on the sizes of your beets, it could take 45mns to more). When done, remove them and let them cool down.
Chop very thinly the herbs (chives and coriander) with the shallots.
Cut the green parts of the scallions and put them on the side for decoration (later).
Chop thinly the white part of the scallions.
Mix together the ricotta cheese, the herbs, shallots and scallion whites and add 2 tbsp of the sherry vinegar, salt and pepper. Place in fridge until ready to use.
Peel the beetroots and let them cool down.
Take a frying pan, and without oil, roast your hazelnuts (about 5 mns). Crush coarsely.
Take a circular mold (about the same size as your beets) with a hole in the middle and place one slice of the beetroot at the bottom.
Cover with some ricotta preparation and place over another slice of beetroot, then some ricotta cheese and a slice of beetroot again (until you have 4 slices of beetroots and 3 layers of ricotta preparation.
Carefully remove the mold and cut the pieces that are not regular. You can decide to play with the shape of the layered cake.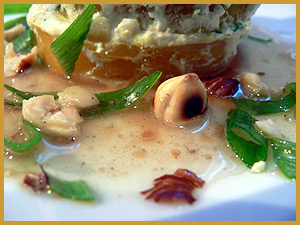 11-Prepare your vinaigrette by mixing salt, pepper, adding the remaining 2 tbsp of vinegar, then adding the oil. Mix until it bubbles a little.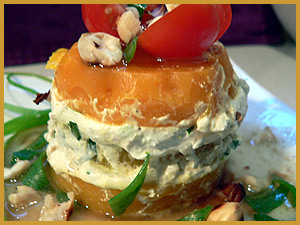 12-Decorate the beet/ricotta layers with the hazelnuts, a cherry tomato cut as a flower on top and the green parts of the scallions. Pour over the vinaigrette and fleur de sel , and serve immediately, or place in the fridge until ready to serve (no more than one hour).
I think cows would not eat that. But I know, I know, I cannot convince everyone, and for some, beets are just a big No No! –like for Pim in her funny article "I'm the Boss, and I Say No Beets"–, but it is all a question of taste for sure. Maybe I was just born in a beet.
Note, I had been living in the US for about 2 years and once a man called our home phone and said "Could I speak to "Beat Rice?"
That must be the reason, that is it!