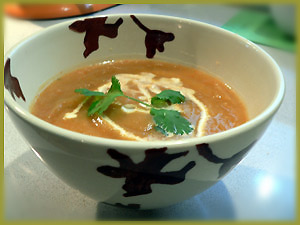 Two days ago, I was the unlucky winner of a ticket to go to have a root canal done. This came when I did not both expect and want it. Who really wants root canals anyway? I still had the memory of earlier this year, when I had had a tooth emergency and had spent 4 hours on the dentist's chair for a similar procedure, followed by the worse pain ever. No need to say I was not very enthusiastic and excited to go. But I had to. Sigh…
My appointment was scheduled at 11 am. A lot of people would have taken advantage to sleep in before going. I decided I was going to make soup, so that I could still enjoy the pleasures of food, and eat something. At least I was not going to die of hunger. I needed to keep something joyful!
I love soups, and at my parents', we have always made those last minute soups, with any vegetables handy. This was exactly my scenario. Hardly any food left in the fridge as I had decided to slow down on grocery shopping since we are going to be away for the holidays. Yet, there was still enough to make one of those delicious soups. So what would the soup of the day be??
Soupe au céleri-rave.
Those soups take literally 25 mns to cook and prepare, 2 mns to mix the vegetables and then as long as you want to enjoy! The perfect plan!
Let's look at what I had: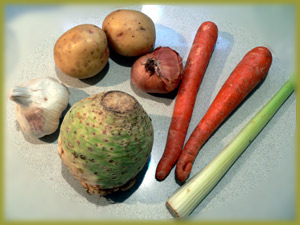 My main ingredient for this soup was celeriac.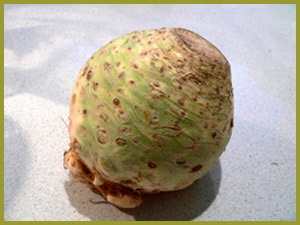 I just love this vegetable. Typically, the traditional French recipe known using this vegetable is céleri rémoulade as shown in Elise's recipe, but I also like to make this salad with a lighter dressing, just a simple mustardy vinaigrette, and shred the celeriac very thin. Just a variation learned by playing with it.
But for the purpose of this soup, the principle is simple. Here is my recipe:
Celeriac Soup
You need:
1 celeriac
2 carrots
1 celery branch
2 potatoes
2 garlic cloves
1 shallot
Fresh parsley
1 cup chicken stock
1 cup water
Olive oil
Salt and pepper
Cream and 1 bay leave (optional)
Steps:
Take a large pot, type Dutch Oven, which I love to make those simmered soups. Mine is a le Creuset.
Start by washing, peeling and cutting all vegetables in big pieces. Note: for the celeriac, you need to remove the soft part inside.
Chop the garlic and shallot thinly.
Heat the oil and start by cooking the shallot and garlic, with the celery branch, for about 3-4 mns, until softer.
Add the other vegetables and let cook for about 5 mns.
Pour the chicken stock and water, enough to cover the vegetables. Season with salt and pepper.
Bring to a boil, then reduce and let cook covered for about 20 mns, until the vegetables are tender.
Take a hand mixer and mix all the vegetables. If you think your soup is too thick, add some water or more stock.

I often add a bay leave while the vegetables cook, and remove it when done, before mixing the soup. It really adds a nice flavour. If any fresh herbs handy, I add them too, such as coriander or sage (which I really like for its fragrance)

Another of my favorite soup vegetable is leek (which I think deserves a big praise), but I need a whole chapter to talk about it, just like I did with Fennel, my forgotten friend.

So to finish with our soup, once it is mixed (I also sometimes blend the vegetables with my presse-purée

The texture is then less smooth but very nice as well), I just add some parsley and cream, and mainly enjoy!
My root canal happened and I can tell you that this soup idea was of the most appropriate!