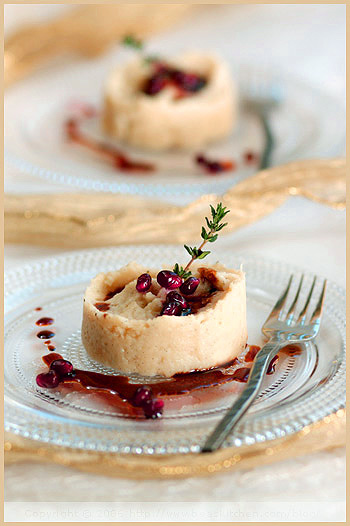 C'est simple comme bonjour ! or "It is as easy as saying hello".
I swear that this is an expression that we use. I had not used it in so long!
The idea of adding vanilla to celery root had been with me for a while. I knew for a long time that these two ingredients would fall in love with each other. When I brought the dish to the table, I told P. that I had a surprise. I asked him if he could guess what ingredient I had added to my celery mash, knowing well that I was not being fair on him. P. is not one of these people who are good at food blind tests. But as the two of us like to play this silly game anyway, he tried. After a few attempts, he finally gave in and begged for the answer. "C'est de la vanille", I said, to which he responded immediately "Ah mais oui, évidemment, je le savais" (I knew it!).
Of course, easy for me to say that it should have been obvious to him when I had cooked the dish. But the truth is that I really believed that it was not possible to confuse the vanilla flavor with anything else. The power of the spice was definitely present.
Since I have always enjoyed to prepare celery root, whether in salads, soups, steamed, in gratin, braisé or mashed, I was pretty happy with my experiment. Can you really resist any type of vegetable mash? I can't. A smooth warm texture melting in the mouth? Ah yes, please! If kids like it, their reason is good. While searching for ideas for the holidays, I imagined this accompaniment dish. Extremely simple to make, with a twist that makes it stand out from the more traditional vegetable mash. I cooked the celery root in milk infused with fresh vanilla and thyme, and added fresh pomegranate seeds. Like many root vegetables, celery root has natural sweetness that matched perfectly vanilla. As I remembered a bottle of pomegranate molasses bought a while ago, I thought this celery mash was going to be a good place to make use of it. Needless to say that it worked as a charm. The more acidic touch brought by the sauce balanced the sweetness of the vegetable mash whereas the fresh pomegranate seeds were a good contrast in texture, bringing crunchiness into the smoothness of the mash. I was pretty excited to have a dish that would be a great addition to one of the holidays menus. I cannot wait to try it again!
And of course, I hope that you like it! If you do not cook celery root often, this is a good place to start.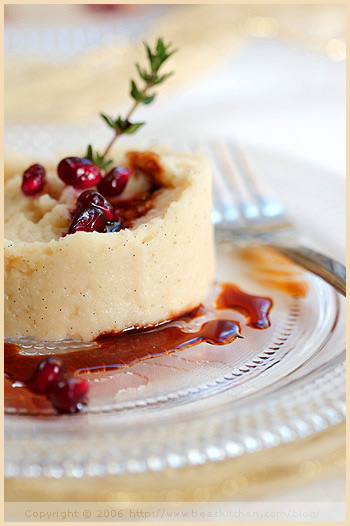 Vanilla-Flavored Celery Mash and Pomegranate Sauce
(For 4 small accompaniment servings)
You need:
1 celery root (14 oz)
1 pomegranate
7/8 cup milk
1 Tbsp butter
1 Tbsp Olive oil
2 thyme sprigs
1/4 vanilla bean, cut and seeds removed
Fleur de sel
Pepper
Pomegranate molasses*
*If you cannot find pomegranate molasses — I find mine in a Lebanese delicatessen — I suggest buying pomegranate juice (or freshly pressed) and reducing it on low heat until the consistency is syrup-like.
Steps:
Heat the butter and olive oil in a sautée pan and cook the celery root (washed, peeled and cut in big chunks) for 5 mns.
Add the milk. Cut the vanilla pod and scrape the seeds out. Add them to the milk with the thyme. Cook on low heat until the vegetables are tender. When you reach that point, remove the vanilla pod and thyme sprigs and mix the vegetable with the milk (use a food processor or a hand mixer). Season with pepper.
Heat the pomegranate molasses on low heat.
Serve the mashed celery with fresh pomegranate seeds and the pomegranate sauce. Sprinkle with fleur de sel.
Le coin français
Purée de céleri vanillée et sauce à la grenade
(Pour 4 petites portions d'accompagnement)
Ingrédients :
1 boule de céleri rave (400 g)
1 grenade
20 cl de lait
15 g de beurre
1 càs d'huile d'olive
2 brins de thym
1/4 gousse de vanille, fendue et grattée
Fleur de sel
Poivre
Mélasse de grenade*
*Si vous ne trouvez pas de mélasse de grenade — je trouve la mienne dans les épiceries libanaises — je suggère d'utiliser du jus de grenade (acheté ou fraîchement pressé) et de le faire réduire sur feu doux jusqu'à l'obtention d'une consistance sirupeuse.
Étapes :
Faites fondre le beurre et l'huile d'olive dans une sauteuse et faites revenir le céleri lavé, épluché et coupé en gros morceaux pendant 5 mns.
Ajoutez le lait, la gousse de vanille fendue et grattée et ses graines, les brins de thym, et faites mijoter à feu doux jusqu'à ce que les légumes soient tendres. À ce stade, mixez les légumes avec le lait. Poivrez.
Faites chauffer la mélasse de grenade sur feux doux.
Servez la purée avec la sauce et des graines de grenade. Ajoutez de la fleur de sel.