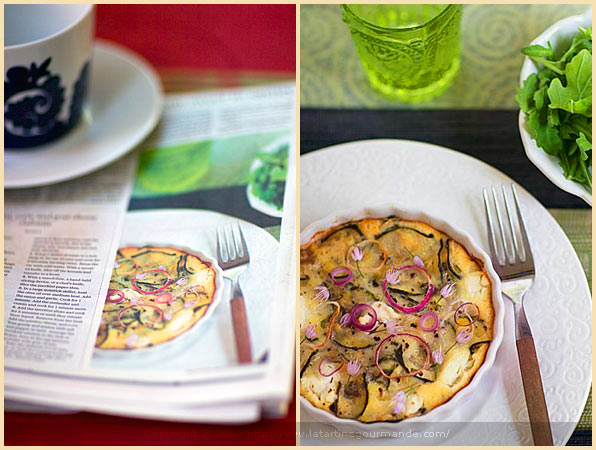 Corn, Zucchini and Goat Cheese Clafoutis, for the Boston Globe
Well well. Today is another one of these days when I wake up to some good news. At least, I feel happy to see some results of my many hours spent behind the kitchen stove. Food is always gulped down so quickly compared to the many hours spent preparing, have you also noticed?
So, it starts this morning when I first receive an email from one of my lovely readers in Melbourne Australia. Jennie tells me that there is a mention of my blog in The Sydney Morning Herald, in an article entitled One from the Heart. I read that Tabitha Carvan used my Vanilla-Flavored Celery Mash and Pomegranate Sauce recipe for her Bastille Day Dinner Party. It really warms me up to see that my recipe travels this far, to a country that I am so fond of.
Then, I see that my second piece is published today in The Boston Globe Food Section, in an article entitled A French delicacy goes from sweet to savory. This time, I talk about Clafoutis — well, I like them, don't I ? — and I present a Corn, Zucchini and Goat Cheese Recipe. I have to say, seeing one of my food photographs in print — and color this time — makes me feel quite excited! The first article I published in this paper can be found here.
So here you are! I am grateful to have been given these opportunities!
And now I can have my cup of tea while thinking about more ideas!
Technorati Tags: Food Styling, La Tartine Gourmande, Food Photography, Corn Zucchini Goat Cheese Clafoutis, Boston Globe, Gluten Free, Sydney Morning Herald