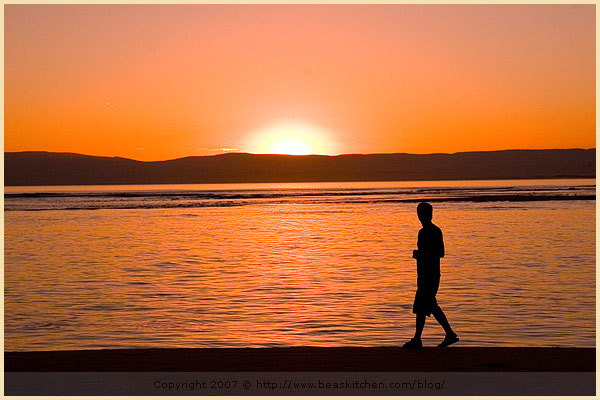 Sunset on Great Oyster Bay, Coles Bay
By six o'clock a.m. we are ready. After a short but warm reunion with friends now living in Melbourne, we head off for the airport. It is still calm and silent at this time of the day. The plane ride between Melbourne and Hobart is only fifty two minutes long. Surprisingly, we do not mind this early start, even if we usually hate morning flights that force us to wake up in the middle of the night. After all, it is for a good purpose. While on vacation, all of a sudden these details do not seem to matter at all.
Australia is well known for big cities like Sydney, Melbourne, Brisbane or Perth, kangaroos, koalas and all sorts of poisonous creatures — I have already seen ugly snakes and dreadful spiders that scared the hell out of me — traveling to the outback and desert-looking reddish landscapes, stunning surf beaches and of course, a high dose of sun. It is one of the few places that I know of where you can physically feel the beams of the sun getting to your bones if you are not careful, whether you have or not an olive skin. It is that strong! Many people come here in search of one of these things. I did too when I came to Australia for the first time. Alone, I backpacked its East Coast ten years ago, traveling from Melbourne up to Cairns, on Greyhound buses or sometimes getting a ride from friendly Aussies met in backpackers' places, snorkeling and diving in the Great Barrier Reef, and I came back to explore it for a second time five years ago, but this time traveling with P. I wanted to show him what I had seen and experienced. Is it possible that it is already that long ago? For a reason I cannot explain, I simply like to be in Australia and ever since my first visit, I have always known that one day, I would visit the only Australian island, Tasmania. I only had to be patient until this time came.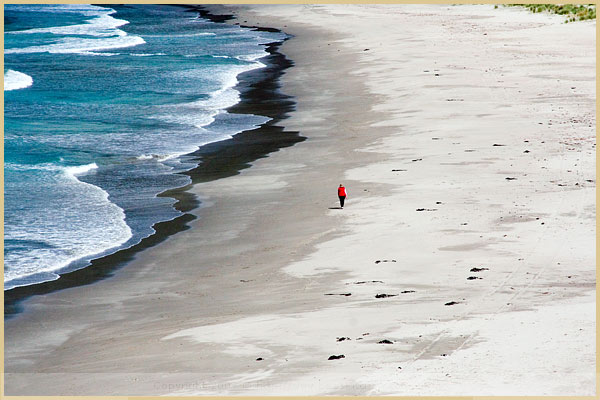 "Why are you going to Tasmania?" the chatty woman selling me local New Zealand potteries asks me when I visit her store before leaving Wellington.
"Why not?" I reply. "I have heard that it looks just like New Zealand, and since I like it so much here."
"Yes, this is what I've heard too. It is supposed to be untouched and wild," she adds.
So yes, after visiting New Zealand and Melbourne, Tasmania is the last stop of our vacation. Unlike a lot of the trips we usually take to faraway countries, our plan this time is to plunk ourselves in one part of the island and explore its nooks and corners without traveling far, living like locals do, almost. We hope to be able to stick to this plan despite our greed to discover it all, as we always do. Who wouldn't when he or she arrives in a place where everything looks new and exotic? This time however, no matter how curious we feel, we promise to make it a priority to relax and soak in the many details of the only place where we decide to stay, and soon enough, we realize that this is a smart choice! Even if looking tiny compared to its mother main land Australia, Tasmania is a much bigger island than one thinks, where short distances are deceiving and turn quickly into longer hours spent in the car on hilly winding roads. Plus, driving on the left forces us to exercise extra caution, especially when locals do not drive particularly slowly either. What is their rush?
When we arrive in Hobart's small airport, we pick up our white Hyundai rental car and head off. We stop on the way in Sorell, at the first supermarket we find. "There is not much around in Coles Bay," the lady renting us the house we will stay at emails me. "You'd be better off buying a lot of your groceries in Hobart," she adds. Fine with us. Hence with the car full of basic groceries, vegetables and fruit, grains, cereals, nuts and cheese packed on top of our suitcases, hiking shoes and walking sticks, we set off on a two hour journey to the northeast. I know that we will buy local fish and bread on site as my friend T. who visited the place once tells me about a local bakery. "They make delicious vegetable pies," she insists. I surely remember that part. Our destination is Coles Bay which lies at the foot of the Hazards, magnificent granite mountains close to the Freycinet National Park. This is where we plan to retreat far from the crowds, ready to hike, swim, cook, and enjoy Nature in an unspoiled part of Australia. And in fact, this is not really hard as there are not many people to be found indeed at this time of year. Is it always like this, I then wonder?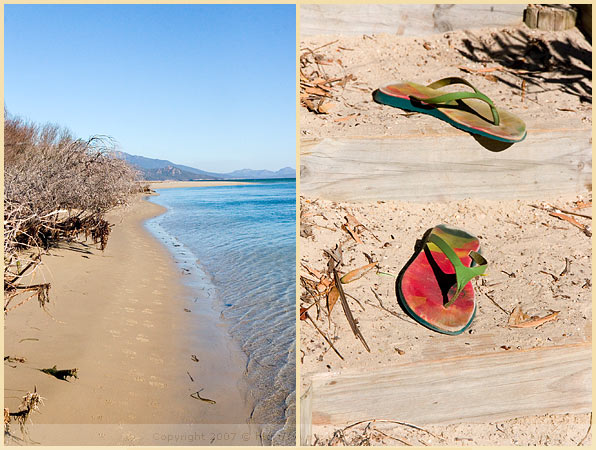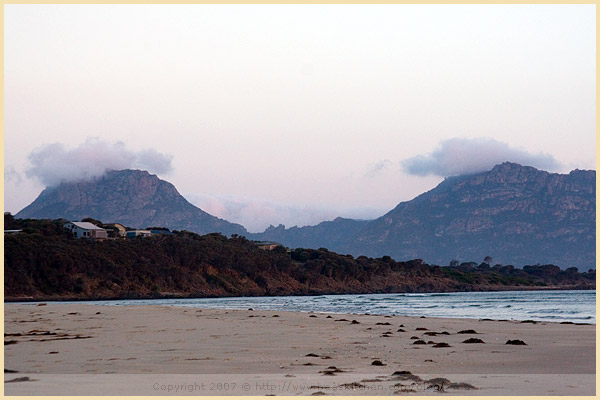 The Hazards Mountains in the evening in Freycinet National Park
Surrounded by the Tasman sea, Tasmania is located a mere 240 km southeast of Australia, with New Zealand as the only neighboring country to the East. For a long time, it seemed to be the forgotten island of Australia with awful jokes that people there were two-headed inbreds. For good reasons, the reputation changed. Tasmanians are laid-back and friendly, and the island has a fascinating landscape, with one-fifth of its land conserved as a World Heritage Area. Some animals are unique to the place too, such as the Tasmanian devil. Whether it is because of the quality of the air, its rough mountains and lush forests — it can rain here indeed! — pristine waters and empty white-sand beaches, Tasmania attracts many visitors every year, and we are definitely some of them. Its size compares to Ireland but in comparison, only 472,931 people live there — 2.5% of the whole Australian population — with forty percent of them in Hobart, the state's capital. Tourism and agriculture are the main sources of economy and in Tasmania, you find excellent fruit, cheese, wine and lavender. The roads that we drive on give us many samples of local vineyards and walnut tree farms.
Because many of my friends — or acquaintances — have told me that Tasmania is similar to New Zealand, I am looking for signs of it. The narrow winding road between Hobart and Coles Bay unveils rolling green hills topped with tall isolated barren trees that seem to reach the sky, where dirty sheep and black cows graze in peace, undisturbed it seems by the constant sea breeze carrying the scent of the ocean nearby. The rugged coastline is definitely dramatic, reminiscent of landscapes I have seen in New Zealand before, with large empty white sand beaches where from time to time, only a fisherman and a few walkers can be seen, and where the color of the sea displays a wide palette of blues, from light green to deep blue, depending on how much sun the water absorbs. Both the sand flying around from the dune caps and the sea foam from the surf look like a haze of white smoke. This view looks like a scene of déjà-vu as I remember some of New Zealand's wild beaches in the South Island. "C'est un peu la Nouvelle-Zélande mais avec une touche australienne," I tell P. Indeed, even if I definitely see similarities, I also find a real Australian touch. I see it in the trees, in this je-ne-sais-quoi that I cannot explain. Maybe one has to go and discover it for him or herself. The trees lining the coast are so much beaten by the wind that they lean dangerously on one side, as if ready to fall at every minute, proof that the weather can be harsh. But this is their way, standing and merging into the surroundings naturally.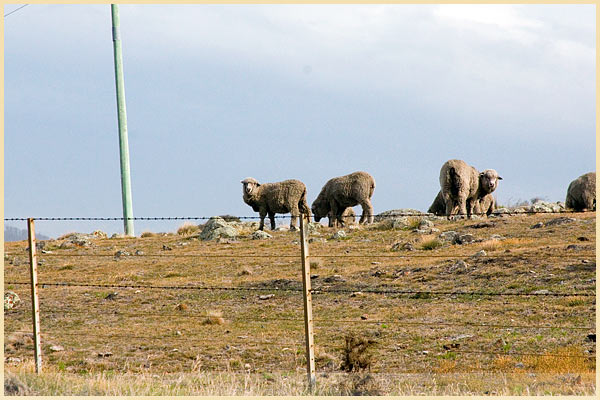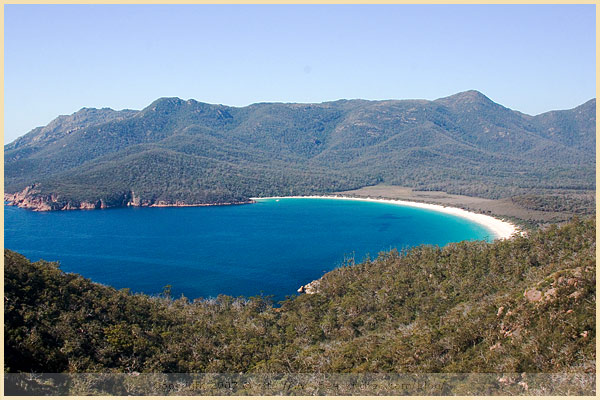 Wineglass Bay in Freycinet National Park
When we finally arrive to our rental place, we are surprised. And so lucky, we feel. "Wouah, regarde-moi cela !" I tell P. when I walk in the house (Look at this!). Even the best internet searches could not have prepared us for what we discover. There we are, expecting an apartment on the beach but instead, we find an outstanding new modern beach house with a superb ocean view, large enough for eight or more people, equipped with everything one can dream of. Large French windows in the open living/kitchen area make you feel that you are outside all the time. Everything is carefully thought of, and when I see the kitchen, I do not need to think twice: I know I will have a blast. We do not have either a phone or an internet connection, which is a good thing too. A total disconnection that forces us to step outside our comfort zone.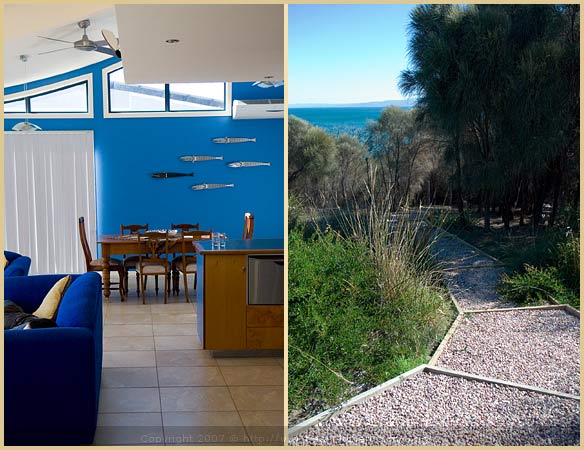 Waves Edge where we stayed, Coles Bay
Early on the first morning, I wake up all excited and rush on the deck to look at the ocean, hoping it will still be there. It is amazingly calm and clear. And already bright and sunny. In the black guest book on the table by the front door, a few guests have left as a note "[…] the best beach house to view sunsets […]". They are so right on. Evenings see us walk down the path by the house leading to the beach, in order to catch the beginning of every single one of them. It becomes a routine as we want to make sure it really happens. One night, when the clouds make it impossible to see the sun paint the sky in this fantastic hue of orange, we feel that someone is stealing something from us. "Eh, ah mais non ! C'est quoi le problème ?"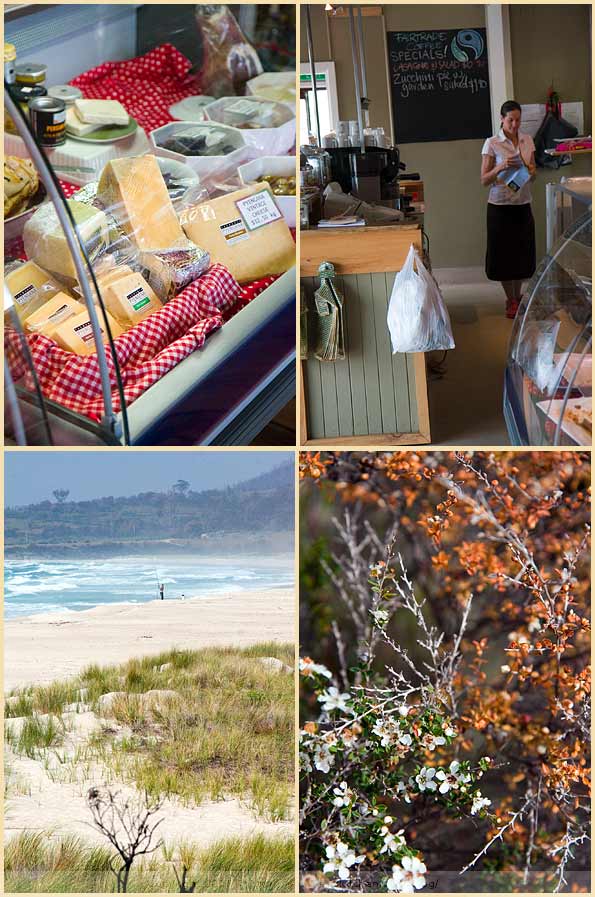 Tasmania is known for producing a lot of dairy products, yogurts and cheese which we sample with greed. We gulp down Brie, Camembert, Cheddar and delicious yogurt every morning at breakfast or on the trails. With so many cows everywhere, this does not come as a surprise. Some of them have a wide white stripe in the middle of their pitch black coat, which make them stand out against the vivid green of the grass seen on some hills.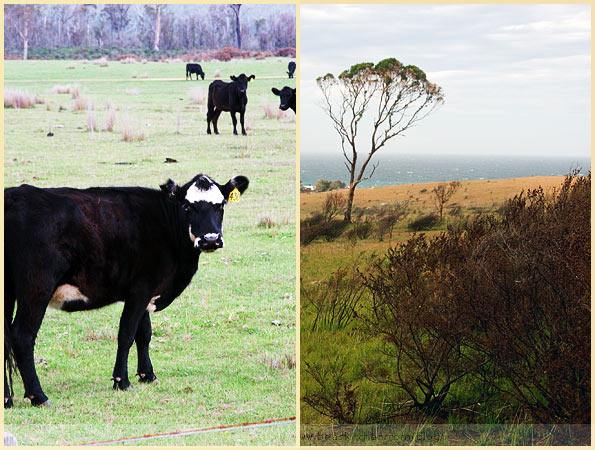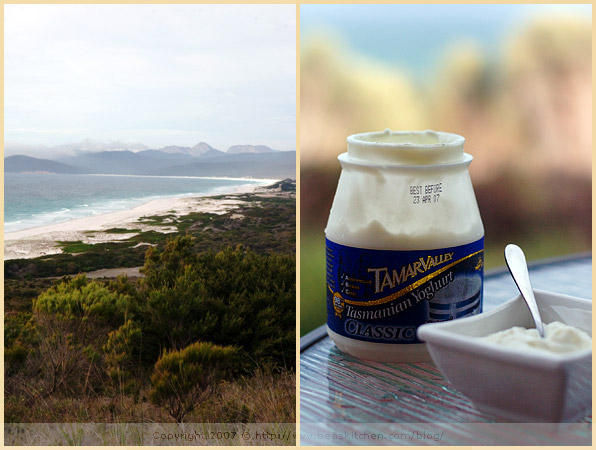 Even if Coles Bay is known as a tourist destination on the island, it remains tiny by all means — which we love — with only a slim selection of dining options. Restaurants like the Edge or Freycinet Lodge close by are popular we read, but we do not feel like dining out when we are so comfortable in the house. With such a well-equipped kitchen and fresh local produces, I prefer to cook simple casual meals taken late on the deck watching the sunset. Or reading and watching A Fish called Wanda from the collection of dvds we find .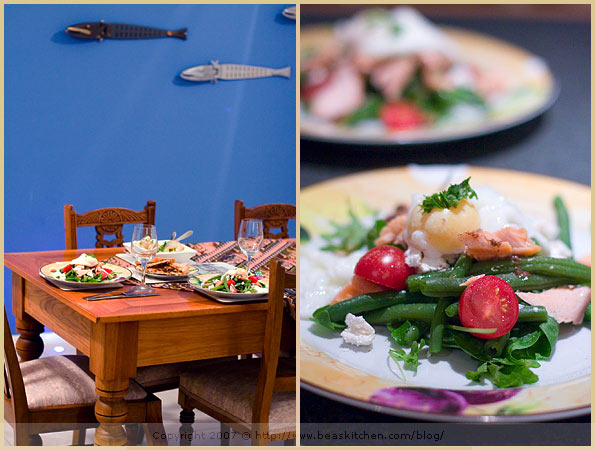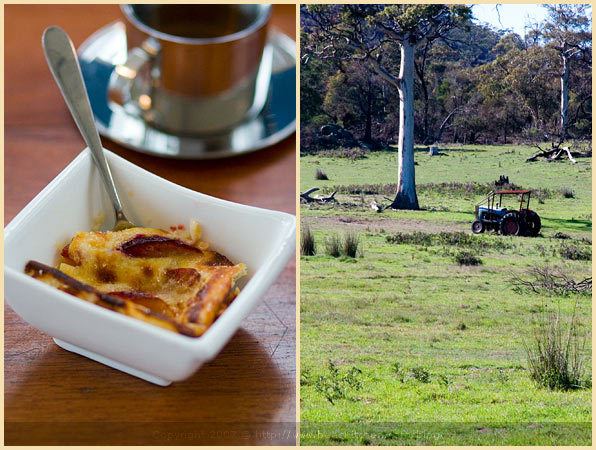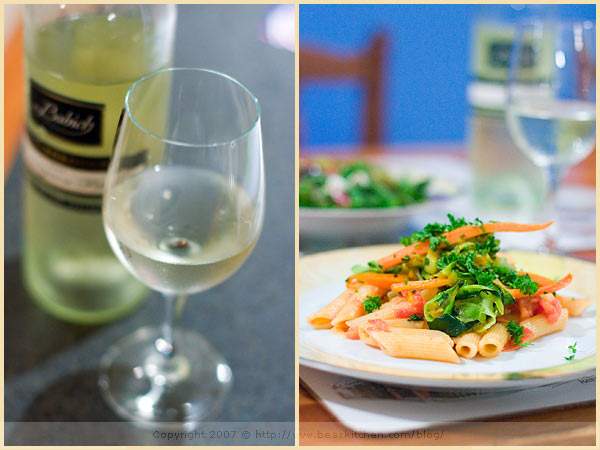 "Demain, on va à Wineglass Bay," I tell P. before going to bed on the first night (tomorrow, we go to Wineglass Bay).
We pack a healthy lunch with us. By now, this has become a routine, faster to prepare every time. Aren't we people of habits? Our backpacks are full of sandwiches prepared with smoked salmon, avocado, feta, scallions and cherry tomatoes, our usual carrot salad, salt and vinegar chips, yogurts, fruit and cookies. The hike, even if not too long, gives us plenty of good exercise as we climb its steep trail. But when we reach the top, we know that every bit of our sweat is worth it.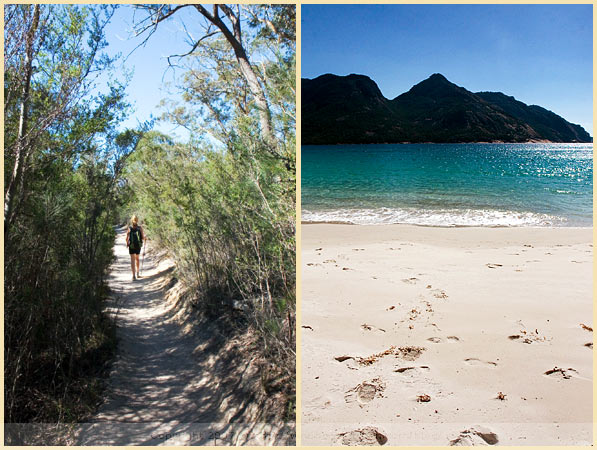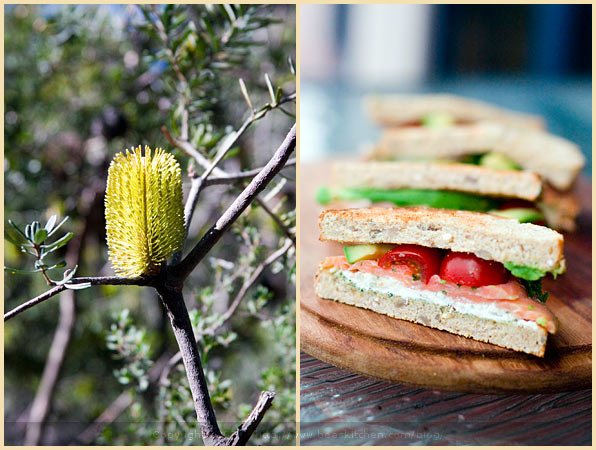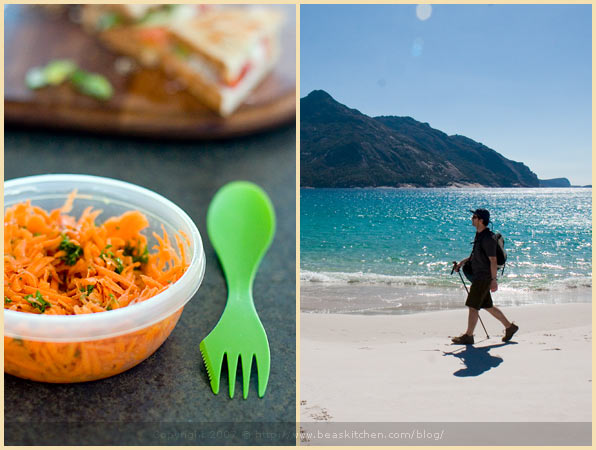 Wineglass Bay is rated as one of the Top Ten World Best Beaches. It is untouched, probably because it can only be reached after this two hour walk. From the top, the view is stunning, becoming better as we arrive at the foot of the beach where a thin white sand borders a clear turquoise water. Not many people are there either, making us feel that the beach is all ours. The surf is wild. We decide to continue on for an extra fifteen min to the other end of the beach where we find a much quieter spot ideal to swim and eat our lunch in the shade of the rare bushes around.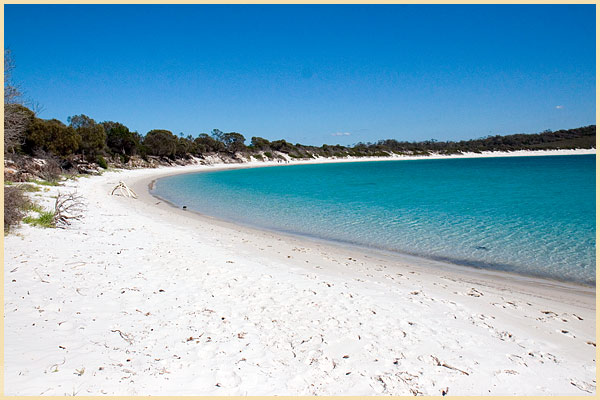 Wineglass Bay Beach
Curious wallabies sneak close. A treat!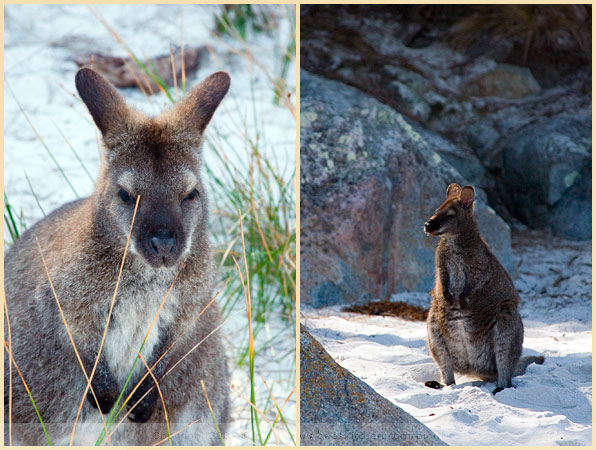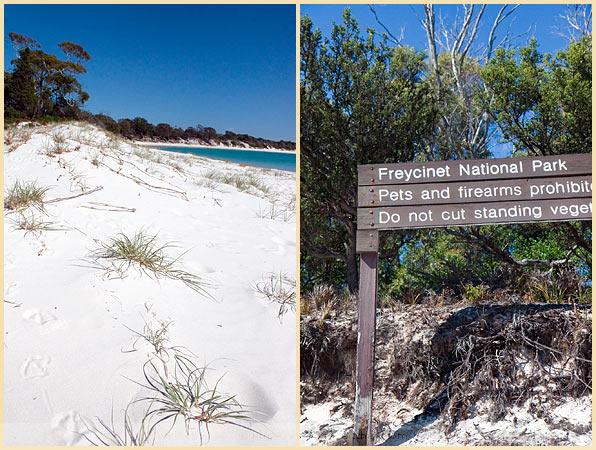 Numerous walks are possible at Freycinet National Park, from one full day to a three to four day circuit, introducing each time more of the marvelous granite of the Hazards mountains which domineer the place. I try to think of what place they remind me of, looking at the shape and color of the rocks, smelling the spiky shrubs on the trails. Corsica or some of the American West Coast mountain ranges come to my mind. And New Zealand of course.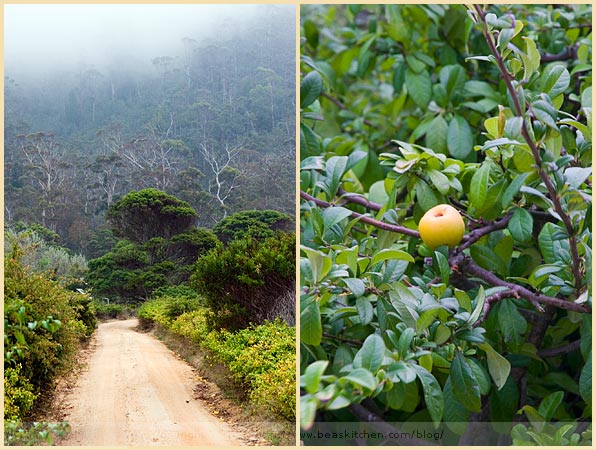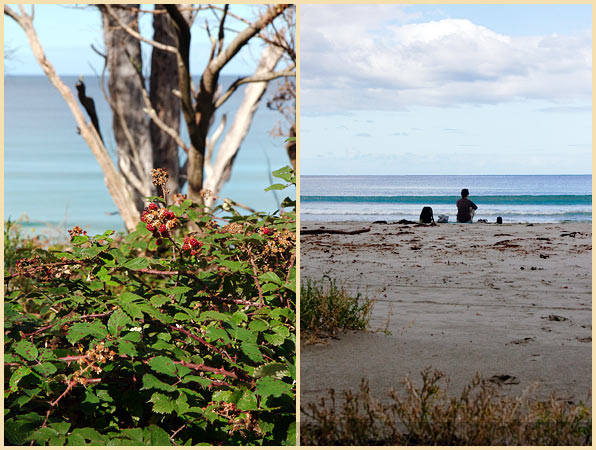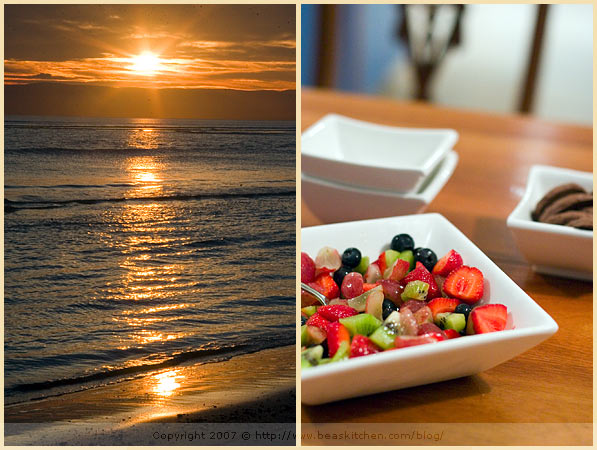 P.'s favorite drink becomes this Australian Bundaberg Ginger Beer, which we only hope we could find the US. And maybe we can?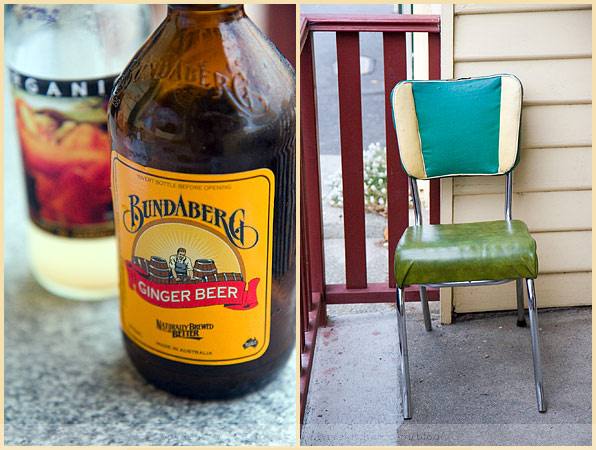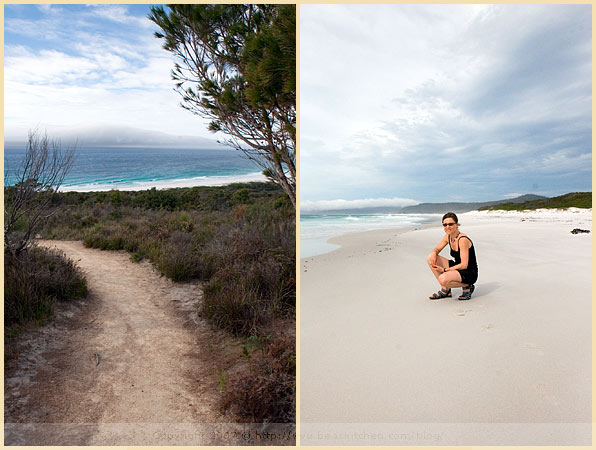 Friendly Beaches in Freycinet National Park
Another day is spent walking on Friendly Beaches, a long fascinating beach where the surf is wild enough to attract many a surfer. That day, we almost have four seasons in one day. Returning from St Helens further North, we pay a visit at the local Marine Farm nearby, where we are able to taste local oysters, mussels and crayfish. "We call them Crayfish here in Tassie, although they are really Rock Lobsters," the owner's wife tells us when she holds them up. And then, she breaks into a happy deep and loud laughter that brings even more color to her already red upper cheeks. "Taste this oyster," she adds when she hands me a freshly opened one. "They are the best." It is deliciously juicy and salty in my mouth, and I have a hard time refraining from not asking for more, right there. Beaten by the sun, wind and drive, we feel tired and long for a shower, but at the thought of this fresh seafood dinner, our energy is regained. "I will open the oysters, no worries," she continues on in the same cheerful mood. We feel relieved. Even better.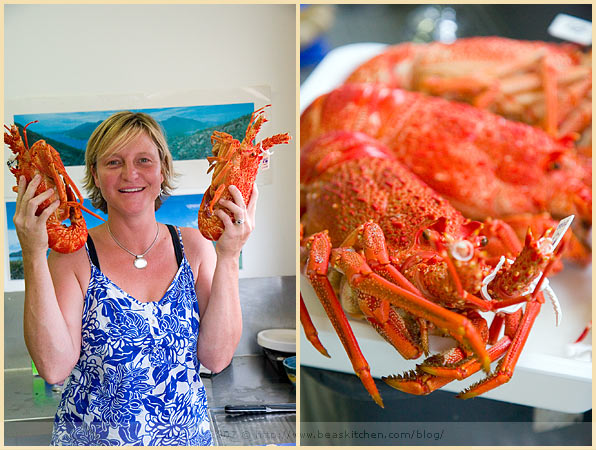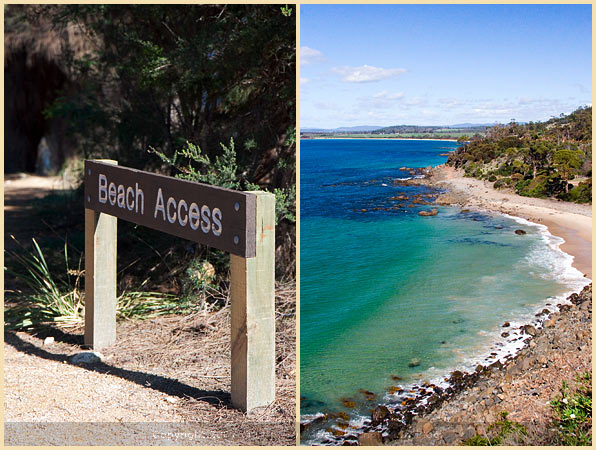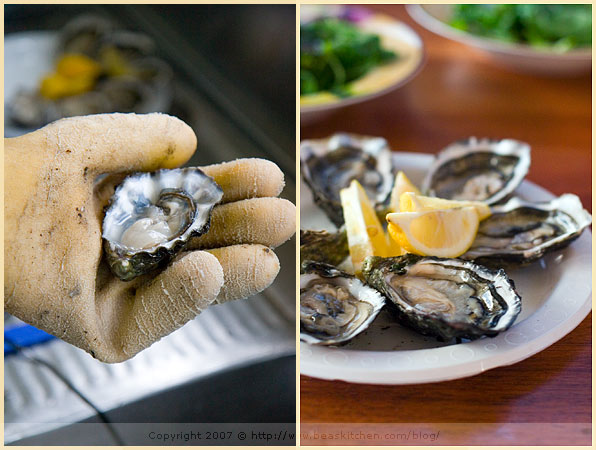 "Moules marinières !" I tell P. when we get in the car. We stop to buy some white wine. P. picks a local one, from Bicheno nearby. We are curious to see what it is like. Our menu turns out simple: Oysters as a mise-en-bouche, Moules Marinières served with thin oven-baked Parsnip Fries, and a fresh Green Salad . The wine is divine, the mussels and oysters too.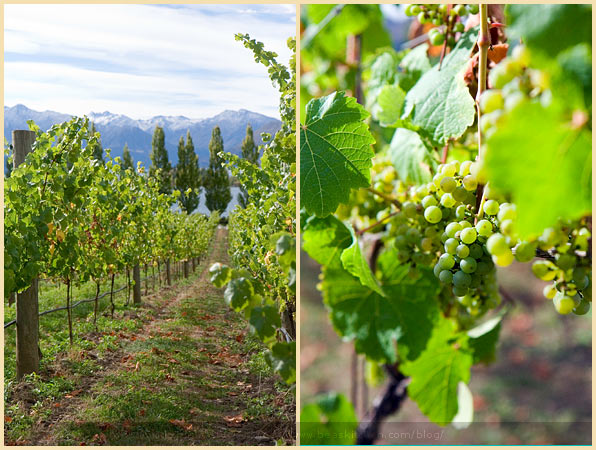 Local Vineyard
En route to Hobart on our last day in the island, we decide to drive to the Tasman Peninsula in the hope of getting glimpses of its known dramatic high cliffs. "I also want to see Port Arthur," P. adds as he studies the map. Port Arthur is a small town at the tip of the peninsula, home to the Port Arthur Historic Site. Back in 1830, Governor Arthur chooses the place as a natural penitentiary where hundreds of prisoners, mainly from England and Ireland, are sent. The place is huge, with many buildings scattered around, including a hospital, a church, gardens and the prison. I try to get a sense of what it must have been like to be sent there, but it is hard when the sun shines and all I can see is sheep grazing quietly near a stream running through soft green hills adorned with thick trees. A cold shiver runs through my entire body however when I catch a glimpse of the menu displayed on a wall inside the main building, with details of the daily food prisoners lived on. Gloomy.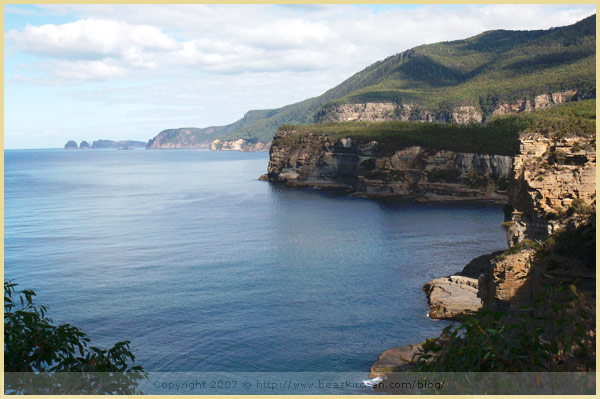 Tasman Peninsula Cliffs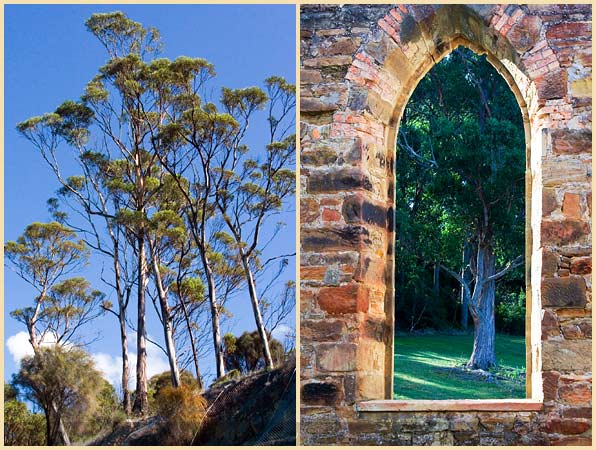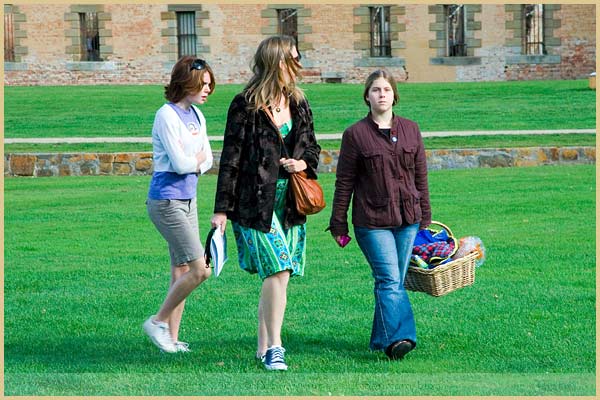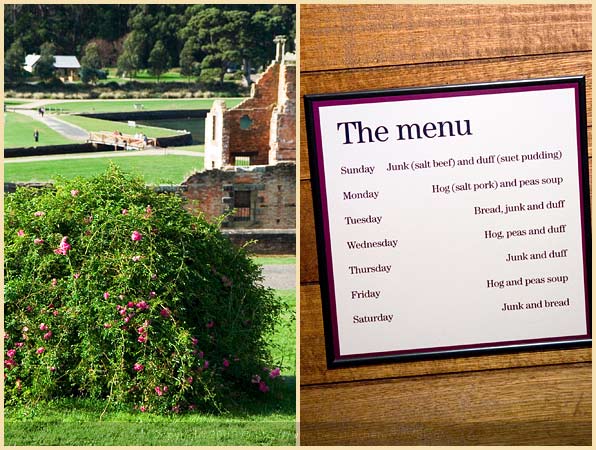 Port Arthur Historic Site
We only have one night to spend in Hobart and I feel sorry to miss the Saturday Salamanca market held every week from 8:30 a.m. to 3 p.m in the capital. Another time. We arrive late and only have time for a shower, an email check and dinner at T 42 restaurant located on the waterfront near our hotel. P. reads a little about it and we do not know much about the place. But we do not really care as we only want an easy dinner. When we arrive at 7 p.m., the place is already packed. The food is good even if not extraordinary. After starting with delicious Oysters with Pickled Ginger and Mirin, P. chooses Scallops Linguini, and I have an Ocean Trout Salad with Arugula, Boiled Potatoes and Chickpeas. For dessert, P. has a Blueberry Cake and I prefer to taste a local Brie with Quince Paste and Fruit, from King Island I am told. We wish to have more time but this is all we can get of the biggest town to be found here. Time to pack our bags. Leaving the following morning will be hard, but it has to happen.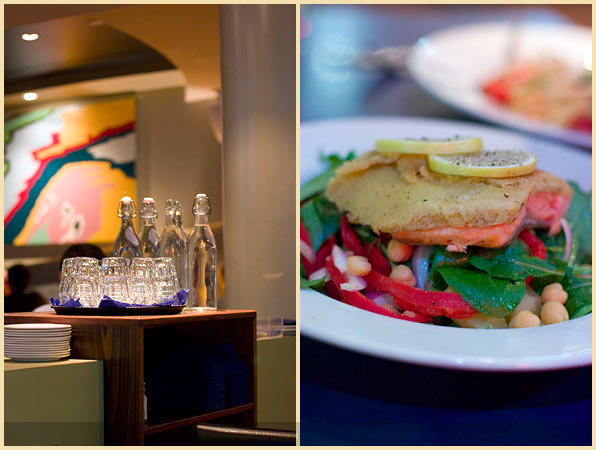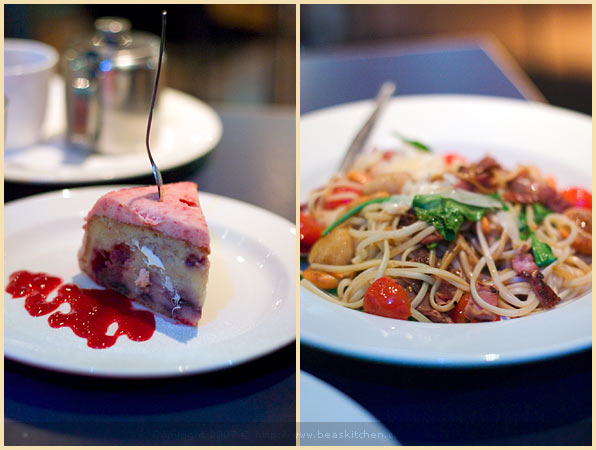 Dinner at T 42 in Hobart
Même les bonnes choses ont une fin (even good things come to end). I had promised to myself that one day, I would visit Tasmania. And boy I am so glad I did with P. I know already that we will be back. There is so much more to see, both my intuition and guidebook tell me, including Australia's deepest lake, St Clair Lake. It will be next.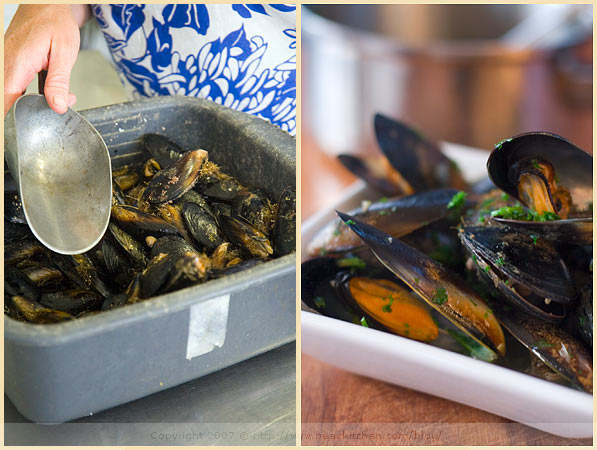 Mussels Marinières
Mussels Marinières
You need:
2 lb fresh large mussels
1 glass dry white wine, about 1 cup
2 shallots
2 Tbsp butter
Bunch of fresh parsley, finely chopped
Steps:
Brush the mussels to clean them well, removing all sand and beard.
Melt some butter in a large pot and add the chopped shallots, then the wine.
Increase the temperature and when the wine boils, let reduce for 5 min.
Add the mussels, cover and cook on high heat for a few min, shaking the pot from time to time, until all the mussels are opened. Discard the ones that remain closed.
Remove the mussels and add chopped parsley and 1 Tbsp butter to the sauce.
Season with salt and pepper if necessary.
Serve the mussels with the sauce, fries (I made oven-baked parsnip fries) and a nice green salad. And of course, slices of a good bread, for the sauce, it is delicious!
Le coin français
Moules marinières
Ingrédients :
1 kg de grosses moules
1 verre de vin blanc sec
2 échalotes
30 g de beurre
Persil frais, haché finement
Étapes :
Brossez les moules pour bien les nettoyer.
Faites fondre un peu de beurre dans un grand faitout et ajoutez les échalotes hachées, puis le vin.
Augmentez la température et quand le vin commence à bouillir, faites réduire pendant 5 mns.
Ajoutez les moules, couvrez et faites cuire à feu vif pendant quelques minutes en secouant de temps à autre, jusqu'à ce que toutes les moules soient ouvertes. Jettez celles que restent fermées.
Retirez les moules et ajoutez le persil hache et une noisette de beurre au jus de cuisson.
Rectifiez l'assaisonnement.
Servez les moules avec le jus, des frites (j'ai choisi des frites de navet) et une bonne salade verte. Et de belles tranches de pain pour la sauce, c'est délicieux.