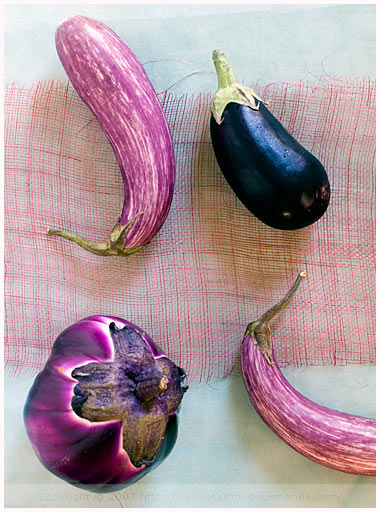 Eggplants
If I could have bought more, I would have. This is how fascinated I am now by the many varieties of aubergine/eggplant on the market (Aubergine for us the French and the English, Eggplant for the rest of the English speaking community). White, pink, dark or light purple; striped like a zebra or plain; Thai, Indian, Italian, Sicilian or Chinese; round, teardrop-shaped or oval-elongated. Aren't they beautiful? Not forgetting to mention the lovely curvy shapes they can describe. When I was growing up, I only knew one sort. Things have surely changed.
I chose these ones because of their color and funky elegant shapes. Without thinking much, I dropped them in my basket because I knew that I would be dying to photograph them before even considering how I was going to cook them. Eggplants are not vegetables that keep for a long time. But as beautiful as they are, I now only wished that they kept their attractive, sexy color once cooked. Quel dommage, non ? ( a shame, don't you think?)
So, what are your favorite ways to cook eggplants? And, do you belong to those who love them or those who hate them? Because truth being said, eggplant does trigger these kinds of debate, doesn't it?
Me?
I prepared a vegetable mille-feuille and a chicken tajine, amongst other things. As much as I love them, I realized that I had not yet presented many recipes. So come back to see, if you like aubergines, that is!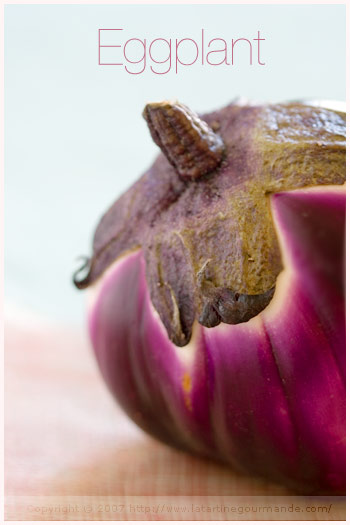 Technorati Tags: Food Styling, La Tartine Gourmande, Food Photography, Eggplant, Aubergine, Sexy Vegetable