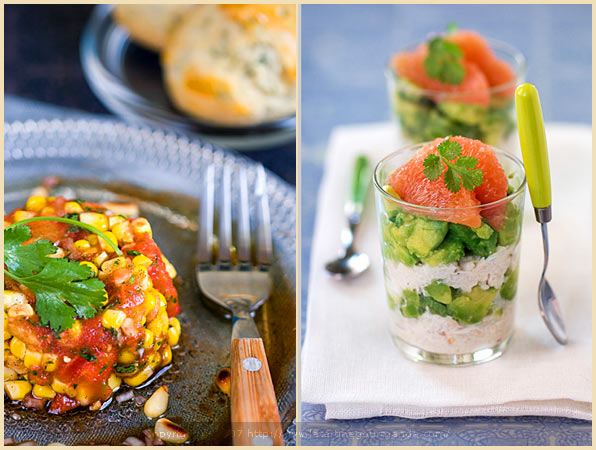 Corn and Tomato Timbale & Crab for Edible Boston
Avocado Crab Verrine for the Boston Globe
All right, it sounds way odd to say this here, like this, but I have to say it anyway. Please excuse the little excitement on my end, but I promise that I am not bragging. Juste un tout petit peu. I am simply too happy!
-1-
I published today my first article for The Boston Globe, and it includes one of my recipes (Crab and Avocado Verrine) and its picture. The story is about a food I am particularly attached to, as you must have already noticed, les verrines, in an article entitled Pretty and portable, verrines offer layers of satisfaction. Because it is all often too pretty to eat!

-2-
I also contributed to the Summer Edition of our local magazine Edible Boston, with a Corn and Tomato Timbale recipe, as seen in the picture. I hope that you will like it. Corn is delicious at the moment, and I learned to appreciate it while living here! The recipe will be on line on Edible Boston site soon. In the meantime, the recipe I wrote for the Spring Edition can be found here.
Which made me think.
Did I ever tell you that my dad is the one who, somehow, influenced me into loving photography? He and I used to spend hours developing Black and White films in our chambre noire (dark room) when I was a kid. I liked to believe that I was really helping him! He has been writing and taking photographs for the Républicain Lorrain* as a local correspondent for years.
Who would have thought that one day, I would just do like papa! I am extremely proud of him, and grateful for what he has taught me.
Voilà !
*Le Républicain Lorrain is the Lorraine region local paper.

PS: And I was delighted to also find in The Boston Globe today, a nice article about my friend Lucy from Lucy's Kitchen Notebook. Check it out!
Update at 12:30 PM: The company that P. founded, Stylefeeder, was also in The Boston Globe today, in this article. So funny to see him and me together in the same paper! Really a funny nice reunion!
Technorati Tags: Food Styling, La Tartine Gourmande, Food Photography, The Boston Globe, Crab Avocado Verrine, Corn Tomato Timbale