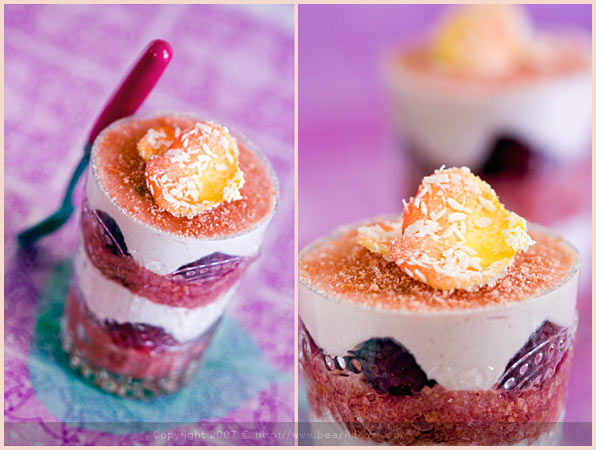 Verrine aux framboises — Raspberry Verrine
Did you notice the small pinkish icon on the right panel of my blog? It says, in French, Gagnante Saveurs Nomades Rose, in other words "Saveurs Nomades Rose Winner".
Let me explain.
It has to do with the picture (and recipe) that you can see in this post : Verrine aux framboises — Raspberry Verrine.
You might remember my post about pink food with the Quinoa Beet Verrine I made, in order to raise awareness about breast cancer (see Association du Cancer du Sein). Following the same lines, you will also have to know that a few weeks ago, I participated in an initiative organized by Saveurs Nomades, a Canadian-based website which sells online cookbooks. Their idea was to create a cookbook with pink recipes to raise money for Breast Cancer Research. The recipes would come from talented chefs and would include five from participating food-bloggers. Last week, Marie-Christine Copti, the editor, wrote me an email to let me know that my recipe had been chosen, as well as those from four other skilled bloggers: Ninnie, Karine, Lauriana and Soizic. What a privilege! What did I win? Nothing but be happy to be part of the project for such a great cause. Launched today, this online cookbook comprises 20 delicious recipes (in French, so time to take your French textbooks out!) from the top chefs in Montréal (and us bloggers), and can be purchased on Saveurs Nomades Rose. I was lucky to be able to have a peak: the recipes and photographs are fantastic looking! I am sure that many of the other participating recipes must have been stunning, so thanks to everyone!
Now, if only I could cook like these chefs…
Technorati Tags: Food Styling, La Tartine Gourmande, Food Photography, verrine, raspberry