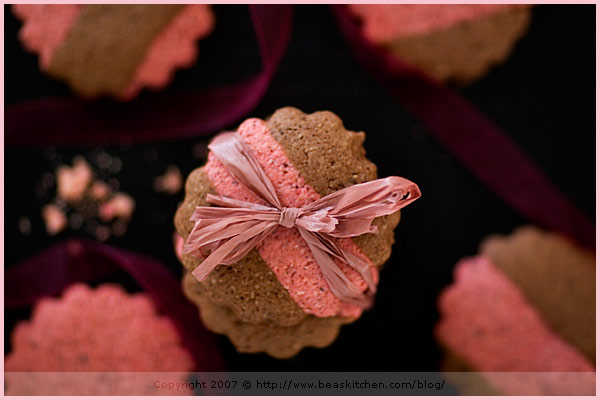 Biscuits Roses de Reims and Chocolate Cookies
The first thing I asked P. when he came home was whether he had liked the cookies I had managed to sneak into his bag before he left. He asks me often to bake cookies, you see, and I don't very often.
"How did you do that?" he said.
"Do what?" I responded, a bit puzzled.
"The pattern on the cookies".
Aha!
I guess I knew something that he did not, and it made me feel powerful.
Ok, only for a little while.
I am usually not known to be good (awful as a matter of fact) at assembling things. In fact, I pretty much dislike it. For example, take a piece of furniture that requires assembly. I know well that such things typically come with instructions but I *really* do not like to read them. It is all the more ironical as I used to translate user guides. Boring, c'm on, you also think so, don't you? So, if I am left in front of a random unassembled piece of furniture, I suffer. It can take me days before I even bother to start, and so when I run out of patience, I bother ask P.. He is the one with a lot of patience. Well, not really. But for these things, he does. Besides, it is also his thing as he loves to assemble and debug things.
On the other hand, with food, c'est une toute autre histoire (another story). I am always keen to challenge myself to something new, trying hard to understand the mechanisms that are required to produce certain foods. Perhaps I should think that the industrial drawing class I took in high school is finally helping, even if my teacher kept telling me that the pieces I drew could never be assembled. "C'est joli (pretty) mais c'est un montage impossible, mademoiselle Peltre," I was used to hearing him comment when looking at my assignments! But with food, this is something else, n'est-ce pas?
I initially found inspiration to make these cookies from the latest copy of Cuisine et Vins de France I received a few weeks ago. In the magazine however, the cookies were only pink because of the Biscuits Roses de Reims — which you know I like to cook with by now — and used almond flour. I liked the idea but also felt like adding something more. I wanted the cookies to be more colorful and interesting to look at, and thought to include a pattern. Then, I thought about associating two colors that I find pretty together: Chocolate and Pink. Chocolate being one of my péchés mignons (weaknesses), it was pretty easy to twist my arm for this new idea of mine. So even if I did not need to have won a Noble Prize to know how to create the pattern on my cookies, seeing P.'s reaction was pretty amusing. I guess it simply shows that he does not spend enough time in the kitchen, does he?
But then, à chacun son truc ! Everybody has their own way. And now, I only wished that Monsieur K., my former high school industrial drawing teacher, could see that I am well capable of assembling things! Montage possible, this time!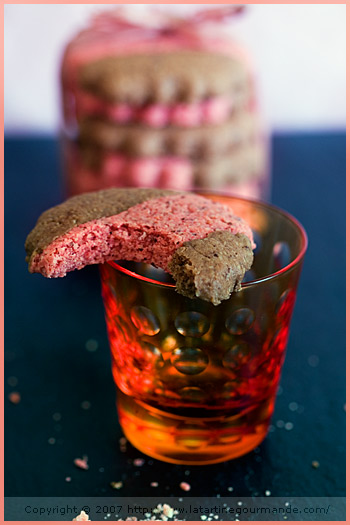 Pink and Chocolate Cookies
(For 24 cookies)
You need:
For the pink dough:
1/2 cup Biscuits roses de Reims powder (6 biscuits crushed thinly)
4 Tbsp butter, melted
A few drops of red coloring (optional)
1/2 tsp baking powder
1 large egg
1/2 cup all-purpose flour
2/3 cup hazelnut flour
1.5 Tbsp confectioner's sugar

For the chocolate dough:

2/3 cup + 1 Tbsp all-purpose flour
2 Tbsp quality unsweetened cocoa powder
1/2 cup confectioner's sugar
2/3 cup hazelnut flour
1/2 tsp baking powder
1 large egg
4 Tbsp butter, melted
Steps:
Note: Prepare the two doughs separately, but following the same steps.
Melt the butter. Add the red coloring if using (or cocoa powder) and mix well, until smooth.
Sift separarely the flour, baking powder, hazelnut flour and confectioner's sugar.
Place the dry ingredients — include the Biscuits Roses de Reims powder for the pink dough — in a mixing bowl (or the bowl of a stand mixer) and add the melted butter progressively. Mix until everything is well blended.
Add the egg. Mix until you have a homogeneous dough that you will shape into a ball. Wrap it in plastic and place in the fridge for 2 hours.
At this stage, follow the same steps to do the second dough, chocolate if you started with pink, or vice versa.
Once the doughs rested, roll each of them flat, 1/3 inch thickness.
Preheat your oven at 350 F.
Cut long strips in each, and place them next to each other, chocolate/pink and so on. Make sure that they stick to each other. If necessary, use a rolling pin to make this happen.
Cut cookies using a cookie cutter of the shape you like and place them on a cookie sheet.
Bake them for 10 min. Let cool on a cooling rack. These cookies keep well in an air-tight metallic box, that is, if you can resist for that long.
Le coin français
Sablés rose chocolat
(Pour 24 sablés)
Ingrédients :

Pour la pâte rose :
50 g de poudre de Biscuits roses de Reims (6 biscuits réduits en poudre fine)
60 g de beurre fondu
Quelques gouttes de colorant rouge (facultatif)
1/2 càc de levure chimique
1 gros oeuf
70 g de farine
70 g de poudre de noisettes
20 g de sucre glace

Pour la pâte chocolat :

120 g de farine
2 càs de cacao non sucré, de qualité
60 g de sucre glace
70 g de poudre de noisettes
1/2 càc de levure chimique
1 gros oeuf
60 g de beurre fondu
Étapes :
Remarque : Préparez les deux pâtes séparément, mais en suivant le même principe.
Faites fondre le beurre. Ajoutez le colorant alimentaire si vous l'utilisez (ou le cacao) et mélangez bien, sans grumeaux.
Tamisez séparément la farine, la levure, la poudre de noisettes et le sucre glace.
Placez les ingrédients secs — y compris la poudre de Biscuits Roses de Reims pour la pâte rose — dans un saladier (ou le bol d'un robot à pied) et ajoutez le beurre fondu progressivement. Mixez juqu'è ce que tout soit incorporé.
Ajoutez l'oeuf. Mélangez pour obtenir une pâte homogène que vous façonnez en boule. Enveloppez-la dans du film étirable et mettez au frigo pendant 2 heures.
A ce stade, recommencez pour la deuxième pâte.
Une fois les deux pâtes reposées, étalez-les sur une épaisseur de 1 cm.
Préchauffez votre four à 180 C.
Découpez des bandes que vous placez les unes à côté des autres, chocolat/rose et ainsi de suite. Assurez-vous que les joints sont scellés (au besoin passez un rouleau à patisserie pour que les joints adhèrent mieux).
Découpez les sablés avec un emporte-pièce de votre choix. Mettez-les sur une plaque de cuisson et cuisez au four pendant 10 min. Sortez-les du four et laissez refroidir sur grille. Ces sablés se conservent dans une boîte métallique pendant quelques jours, si vous résistez.
Technorati Tags: Food Styling, La Tartine Gourmande, Food Photography, Biscuits roses de Reims, chocolate