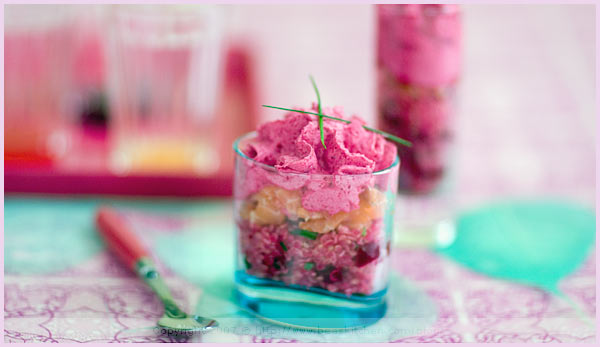 Quinoa Beet Verrine
When I read about the chaîne rose (pink chain) event launched by Requia, in order to introduce the French blog Femmes avant tout, I knew I had to participate. Femmes avant tout is a blog featuring discussions about women unfortunately affected by breast cancer. Like me, I am sure you all know one, two, or maybe more people who suffered or still suffers from this nasty disease. My grand-mother was one, friends of mine were others. A few weeks ago, generous blogger Barbara — deeply touched by cancer herself — created a similar cancer-supporting event. As I unfortunately missed to participate to that event, I was not going to let the second one go by. This contribution of mine is obviously small, but if it can only make a tiny little difference to bring more awareness about cancer, then it matters a lot to me.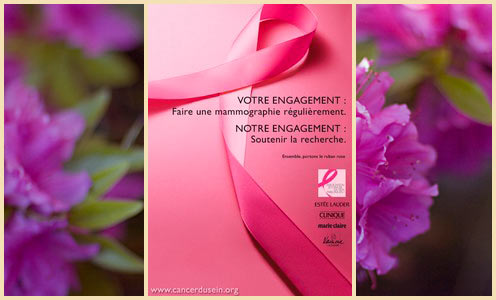 I thought of making an All Pink Verrine, using ingredients that I love and eat often: quinoa, beets and smoked salmon. The recipe comprises three layers: a quinoa/beet salad with a lemon vinaigrette, smoked salmon flavored with horseradish and an all pink beet whipped cream, just for the fun, and the pink color, of course. Whether served in glasses, or simply in a plate, you have all good things in one. And, if you are not a big fan of cream, you can simply skip it.
I personally liked it for its color — and to test my new toy — but could easily do without.
So finally and more importantly, I would like to dedicate this post to all the persons who suffer from breast cancer, or any other type of cancer. I hope that one day, research will be advanced enough so that we can make sure everyone can have the chance to free themselves from this disease.
PS: And a big thank you to Chantal for posting such a detailed summary on how to use a siphon. After purchasing mine a few weeks ago, even emailing Rob who kindly tried to help too, I finally got a grip of that thing! Relief! Much easier than I initially thought, at least for now!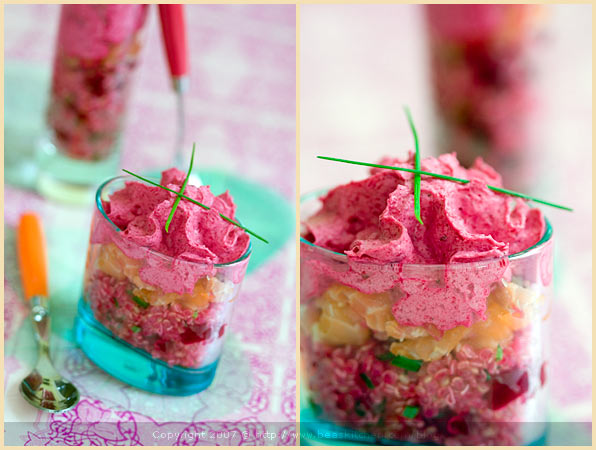 Quinoa and Beet Verrine
(For about 6 small verrines as amuse-bouche, or 4 as a small lunch)
You need:
7 oz cooked red beets
4 slices smoked salmon
2/3 cup heavy cream, cold
7 oz (1/2 cup) quinoa
2 Tbsp chives, chopped
2 Tbsp parsley, chopped
1 spring onion
1/2 tsp horseradish, grated
Juice of 1 lemon (about 4 Tbsp)
2 Tbsp olive oil
Salt and pepper
Steps:
Start by preparing the beet whipped cream. Purée 3.5 oz cooked beets with 1 Tbsp chives. Season with salt and pepper. Add the cream and strain to obtain a smooth texture. Pour in your siphon (if using) and place in the fridge for 2 hours minimum, lying horizontally. If you do not use a siphon, whip the cold cream firm and fold into the beet purée.
Cook the quinoa in salted boiling water until all liquid is absorbed (1 volume quinoa for 2 volume water). Let cool.
Dice 3.5 oz red beets and mix with the quinoa.
Add 1 chopped spring onion and 2 Tbsp chopped parsley adn 1 Tbsp chopped chives.
Prepare the dressing by mixing together 2 Tbsp olive oil with the juice of 1 lemon. Add to the quinoa and mix well. Season with salt and pepper, then place in the fridge until ready to assemble your dish.
Slice the smoked salmon thinly. Add the horseradish and the rest of the chives.
Divide the quinoa between the glasses.
Top with smoked salmon and place in the fridge until ready to serve.
When serving, top with the beet whipped cream. Decorate with chives and serve.
Le coin français
Verrine de quinoa and betterave rouge
(Pour 6 petites verrines en amuse-bouche, ou 4 pour déjeuner léger)
Ingrédients :
200 g de betteraves rouges cuites
4 tranches de saumon fumé
15 cl de crème liquide, froide
200 g de quinoa
2,5 càs de ciboulette, hachée
2 càs de persil, haché
1 oignon tige
1 càc de raifort râpé
Jus d'1 citron (4 càs)
2 càs d'huile d'olive
Sel et poivre
Étapes :
Commencez par préparer la chantilly à la betterave et ciboulette. Mixez 100 g de betteraves en purée très fine avec 1 càs de ciboulette hachée. Salez et poivrez. Mélangez à la crème liquide et passez au tamis. Versez dans votre siphon et mettez au frigo pendant 2 heures minimum, position couchée. Si vous n'utilisez pas de siphon, montez la crème liquide froide en chantilly et incorporez-la délicatement à la purée de betterave.
Faites cuire le quinoa dans de l'eau bouillante salée à couvert (1 volume de quinoa pour 2 volumes d'eau) jusqu'à absorption du liquide (environ 15 min). Laissez refroidir.
Coupez 100 g de betterave rouge cuite en petits dés et mélangez-les au quinoa, pour obtenir une belle couleur rose. Ajoutez l'oignon tige haché, le persil et 1 càs de ciboulette hachées.
Préparez la vinaigrette en mélangeant 2 càs d'huile d'olive, du sel et du poivre et le jus du citron. Ajoutez au quinoa et mélangez. Mettez en attente au frigo.
Détaillez le saumon fumé en lanières et ajoutez le raifort râpé et un peu de ciboulette hachée.
Répartissez le quinoa aux betteraves dans des petits verres.
Recouvrez de saumon fumé. Mettez au frais jusqu'à dégustation.
Au moment de servir, finissez par la chantilly rose. Décorez avec de la ciboulette et servez sans attendre.