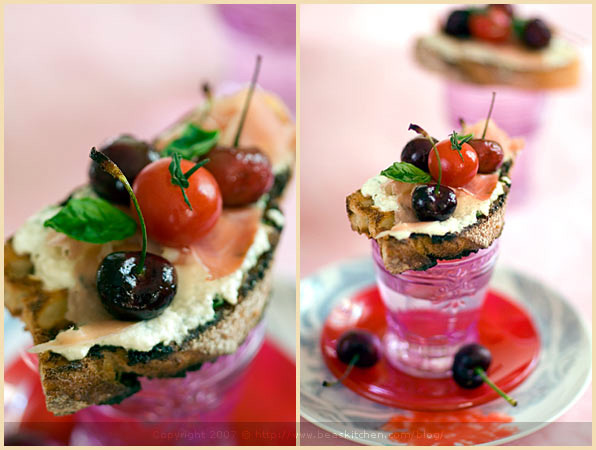 Vanilla and Ginger-Flavored Cherries on a Tartine
You can easily guess it. I would not have called my blog La Tartine Gourmande if I did not like to prepare tartines of all sorts. While in Paris ten days ago, I was in fact reminded of how much I enjoyed to eat these open-faced sandwiches for lunch when David and I met at Cuisine de Bar, in the 6th arrondissement. Oh yes, I liked it and ever since I can remember, I have always been keen on the concept of lunch defined under the format of tartine et salade or tartine et soupe. Simple, fresh and light. And I tried to understand why this was the case. Without being able to find the correct words to explain this that well — I will blame it on the fact that English is not my mother tongue and I can get lost in translation — I however knew where it transported me to. This, I sensed perfectly indeed. Something that had to do with la campagne. Something that spoke of my deep attachment to rustic food, memories of my grand-parents' farm, and summer lunches taken outside at the wooden garden table by the side of my parents' house, hearing the birds chirp — all right, there were sometimes wasps there too, not even to mention the neighbor cutting the grass right when we would sit to eat. Comme si il le faisait exprès ! (As if he did it on purpose!)
"On mange dehors ?" (Shall we eat outside?)
How many times must I have asked this question. I always insisted we did, to feel the small breeze move the leaves of our cherry tree, and feel the soft grass where I liked to gently rub my bare long feet. Without the ants. The smell of being outside and enjoying la nature. La belle campagne (Beautiful Countryside).
Oh yes, how much I am fond of moments like that.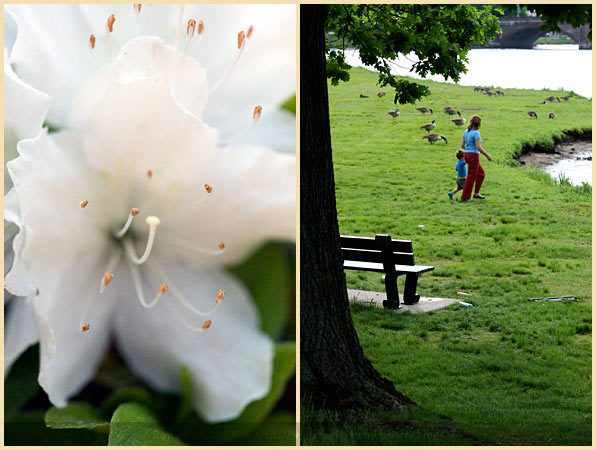 Charles River, Cambridge MA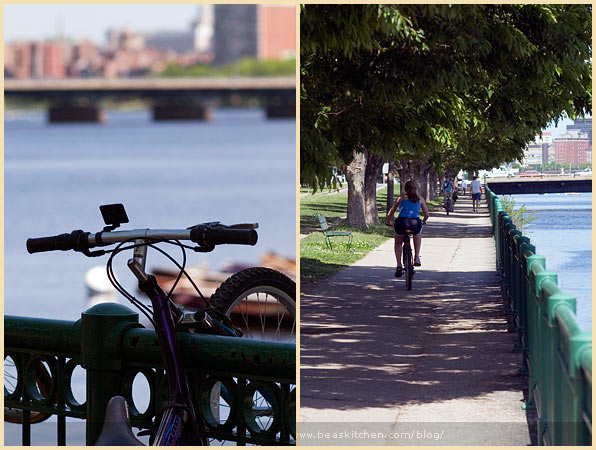 Neither Me Nor my Bike
And during this past long weekend, unlike the previous one when it poured rain for four days in a row, we felt like we were really in summer. The birds went bananas, singing as I had not heard them do so in a long time, and warm temperatures fell on us without much notice. Enough to make me feel lazy, keen to only spend time pedaling fast on my bike by the river, to feel the wind and smell summer. "Cheesy!" you might think, but you know, this really makes me feel alive. So after a long bike ride along the Charles River this past Saturday, when we arrived back home, Nature followed its course. Not forgetting the essential, we were hungry!

"Qu'est-ce qu'on va manger ?" (What are we going to eat?) P.'s and my famished eyes expressed when we looked at each other.
I thought about something simple. I imagined delicious summery tartines and within a few min, I had planned our lunch. I decided to cook cherries with vanilla and ginger. Pain de campagne was toasted, ricotta was spread, prosciutto was added. With a large baby arugula salad, toasted pecans and fresh herbs, this recipe was the perfect lunch for a lazy Saturday with, as a bonus, a real air de campagne. And, in case you wondered, I am not alone to feel this way. With these beautiful two, I am often transported à la campagne too, and oh boy, that feels like Paradise.
Vanilla and Ginger-Flavored Cherries on a Tartine
(For 4 Tartines)
You need:
4 nice country bread slices (sourdough is lovely)
4 prosciutto slices
7 oz whole milk (sheep) ricotta
1/2 lime
1 tsp sherry vinegar
12 cherry tomatoes
12 black cherries
1/2 vanilla bean, seeds removed
A little ginger root, finely grated
4 Tbsp fruity olive oil
1 Tbsp balsamic vinegar
1 tsp whole canne sugar
Fresh basil
Salt and pepper
Steps:
Place the cherries in a bowl and coat with 3 Tbsp olive oil, the juice of 1/2 lime, the vanilla seeds and grated ginger. Let rest for 30 min.
Mix together the ricotta with freshly chopped basil, salt and pepper and 1 tsp sherry vinegar. Keep.
Heat 1 Tbsp olive oil in a pan and cook the cherries for about 2 to 3 min, then add the marinade juice if any, 1 Tbsp balsamic vinegar and 1 tsp cane sugar. Cook for 1 to 2 min.
When ready to eat, add fresh basil coarsely chopped to the cherries.
Toast your bread slices.
Spread the ricotta on top of the bread. Top with a slice of prosciutto, three cherry tomatoes and cherries per tartine. Eat with an arugula or mâche salad.
Le coin français
Tartine et cerises vanillées au gingembre
(Pour 4 tartines)
Ingrédients :
4 tranches de pain de campagne
4 tranches de prosciutto
200 g de ricotta au lait entier
1 càc de vinaigre de Xérès
1/2 citron vert
12 petites tomates cerises
12 cerises noires
1/2 gousse de vanille, fendue et grattée
Un peu de gingembre râpé très finement
4 càs d'huile d'olive fruitée
1 càs de vinaigre de balsamique
1 càc de sucre de canne
Basilic frais
Sel et poivre
Étapes :
Faites mariner les cerises dans 3 càs d'huile d'olive fruitée, le jus d'1/2 citron vert, une gousse de vanille fendue et grattée et le gingembre râpé, pendant 30 min.
Mélangez la ricotta avec du basilic ciselé, du sel et du poivre et 1 càc de vinaigre de xérès.
Faites chauffer 1 càs d'huile d'olive dans une poêle et faites-y revenir les cerises pendant 2 à 3 min. Ajoutez la marinade s'il y en a, 1 càs de vinaigre de balsamique et 1 càc de sucre de canne. Faites cuire pendant 1 à 2 min.
Quand vous êtes prêt(e) à manger, ajoutez du basilic frais ciselé. Réservez.
Faites griller les tranches de pain.
Tartinez le pain grillé avec la ricotta, puis disposez le prosciutto en chiffonade dessus, trois tomates cerises et trois cerises par tartine. Accompagnez d'une salade de roquette ou de mâche.