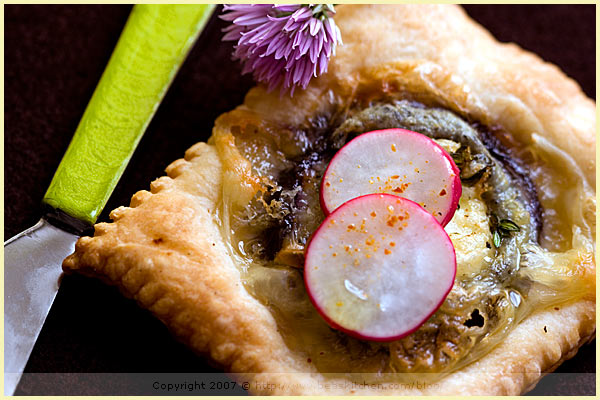 I have learned one thing. As much as I like to think of myself as a queen of multi tasking, I have to face reality. I cannot do it all, and if adding one thing to a list already too long, I am bound to encounter unpleasant surprises.
It occurred a few weeks ago when I set myself to cook, style and shoot three recipes in one day, and while this was happening, I also decided to make puff pastry — well yes, I never buy pastry, I just can't! Like expected, I took the required butter out of the fridge so that it softened before I used it, but I also did not pay attention to the fact that it was 85 F outside. And, oh yes, shall I add that we do not have AC in the house? When I was finally ready to start working my dough, the butter was so soft that it looked mushy. Now, at that point in time, most people with a minimum of common sense would have stopped and rethink about the puff pastry project. "The butter is too soft, no need to try, it will fail." Not me, and do not ask me why. I am sometimes *stupid* like that. In fact, it reminded me of the time when I went to WholeFoods to buy quinoa from the bulk department. I pulled the plastic handle to release the quinoa out of the tall container but forgot to put my bag under, to collect the grains. Instead of stopping immediately at the view of the quinoa covering the floor, I stood there and watched the grains fall like rain, not knowing what to do. My mind had been geared a certain way and I was unable to change the plan — and I do not necessarily want to know what this indicates.
So my puff pastry project failed and I had to start over again. Because I am also stubborn and would have done so until it came out nicely. This time however, my puff pastry reached the perfect consistency and puffed beautifully while cooking in the warm oven. I was able to make one of the recipes I had imagined a few weeks before. In fact, it was a great opportunity to test the recipe a second time and make it better. In the end, one thing served the purpose of another one, and both P. and I really liked it. But then, we love to eat tarts, don't we and perhaps, we would not be wife and husband otherwise.
Just kidding.
So here you are. I had promised recipes with Sainte Maure. Recipe number one.
You need eggplants, thyme, fresh radishes, honey, fleur de sel and chive flowers. What else? A bit of love and play to bake uncomplicated lovely individual-sized tartelettes. Mangées en une bouchée. Ou presque (Eaten in a mouthful, almost). I needed something easy, to recuperate.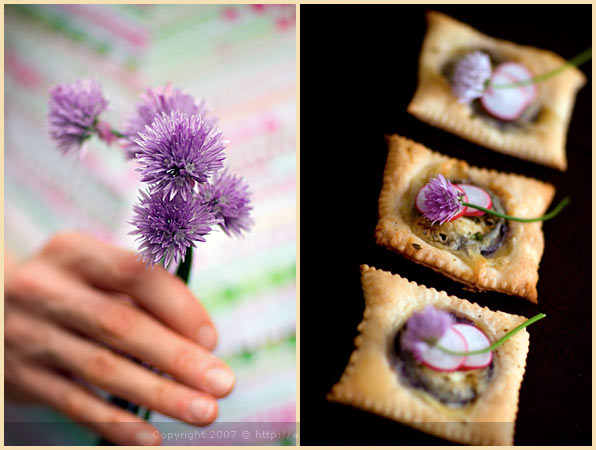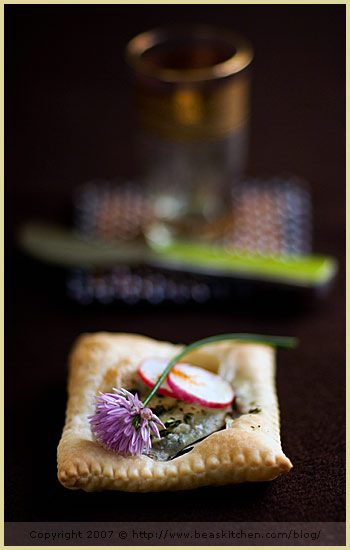 Sainte Maure, Eggplant, Thyme and Honey Tartlets
(for 8 square tartlets)
You need:
Puff pastry (about 9 oz for 8 tartlets)
1 Sainte Maure cheese
2 small eggplants, Italian type
Fresh thyme
Honey (flower, liquid)
A few pink radishes
Olive oil
Chive flowers
Fleur de sel
Fresh cracked pepper
Steps:
Wash the eggplants and slice them. Place them in a colander and sprinkle with salt. Let rest for 30 min, so that they release some water.
Use papertowel to pat them dry. Heat 2 to 3 Tbsp olive oil in a non-stick frying pan and cook them on each side for about 2 to 3 min. Add more oil if necessary. Keep on the side.
Roll your dough finely into 4 inch squares.
Make small holes with a fork, leaving a border. Cover with plastic wrap and place in the fridge for 30 min.
Preheat your oven at 410 F.
Take the dough out and place a slice of eggplant on each square. Add one to two slices of Sainte-Maure.
Sprinkle with some fresh thyme and a dash of olive oil. Season with pepper. Cook for about 15 to 20 min.
Once golden in color, remove the tartlets from the oven. Top each with fresh slices of radishes, fleur de sel, a chive flower and 1/2 tsp honey.
Le coin français
Tartelettes au Sainte Maure, aubergine, thym et miel
(pour 8 tartelettes carrées)



Ingrédients :
Pâte feuilletée, 250 g environ pour 8 tartelettes
1 fromage de Sainte Maure
2 petites aubergines, type italiennes
Thym frais
Miel aux fleurs
Quelques radis roses
Huile d'olive
Fleurs de ciboulette
Fleur de sel
Poivre du moulin

Étapes :
Lavez et coupez les aubergines en fines rondelles. Mettez-les dans une passoire et saupoudrez de gros sel. Laissez-les dégorger pendant 30 min.
Enlevez l'excès d'eau qu'elles rendent, puis faites chauffer 2 càs d'huile d'olive dans une poêle anti-adhésive. Faites-y revenir les rondelles d'aubergines pendant 2 à 3 min de chaque côté. Ajoutez de l'huile si nécessaire, les aubergines aiment cela. Réservez-les.
Étalez votre pâte finement et découpez des carrés de 10 cm.
Piquez-les avec une fourchette, puis placez-les sur une plaque de cuisson. Couvrez avec du film alimentaire et mettez au frigo pendant 30 min.
Préchauffez votre four à 210 C.
Sortez la pâte et déposez une rondelle d'aubergine sur chaque carré et continuez avec une ou deux rondelles de Saint Maure.
Saupoudrez de thym effeuillé et d'un filet d'huile d'olive. Poivrez. Je ne sale pas car le fromage et les aubergines le sont déjà. Faites cuire pendant 15 à 20 min.
Une fois dorées, sortez les tartelettes. Décorez-les de rondelles de radis roses, d'une fleur de ciboulette et d'1/2 càc de miel liquide aux fleurs.
Technorati Tags: Food Styling, La Tartine Gourmande, Food Photography, Sainte Maure, tartlet, Eggplant, honey, thyme, radish, chive flower