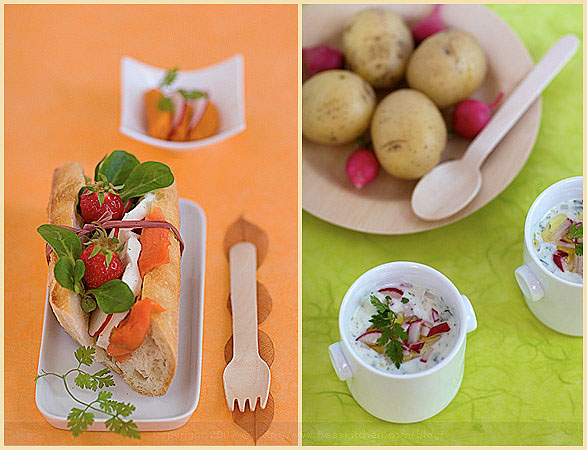 Fresh Lunch
Not in the mood to cook a lot of fancy complicated things these days. The week was a bit crazy, and on top, I keep breaking everything I touch. Therefore, I prefer not to touch anything.
Here is a little something for the weekend, a lunch as I like them. I do not think that you need a recipe as I simply improvised!
Fresh baguette topped with Bufflone mozzarella, Alaskan smoked salmon, chervil and pink radishes on one hand (and a few local strawberries), homemade fromage blanc prepared with shallot, lemon juice, fresh herbs, olive oil and radishes on the other hand — a classic that we used to love eating when I was a kid. A few steamed Yukon potatoes and mini yams, a mâche salad, and lunch is ready. I hope that next week will be better. And that I will stop breaking things.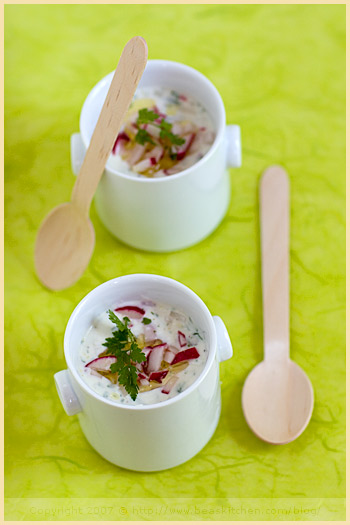 Fromage blanc aux herbes et radis roses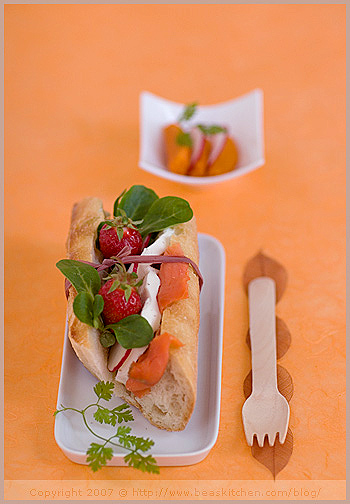 Demie- baguette for a Sandwich
Bon weekend or fin de semaine, as they say in Québec !