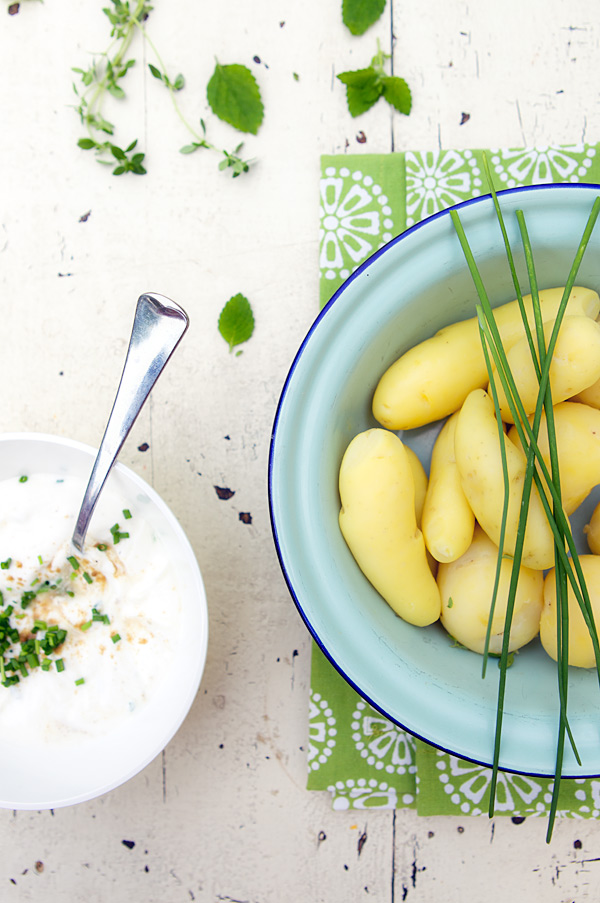 Pommes de terre en robe des champs with yogurt sauce
One of the things that I clearly inherited from my father is his love and attachment à la terre, the soil.
And Nature.
It does not come as an accident. He was raised on a farm, and his summers were filled with afternoons spent to work in the fields during hay season.
With them came potatoes which were frequently the main piece of dinner eaten at my grandparents'.
Like des pommes de terre en robe des champs–which literally translates as "potatoes wearing a dress from the fields"–a rustic dish made of potatoes simply boiled with their skin that his family ate with fromage blanc seasoned with chives, shallot, salt and pepper.
I think that he must have eaten too much of this type of food because today, he does not care so much for it.
On the other hand, I do. In fact, I am completely crazy for it and will prepare it whenever I feel like having earthy foods.
You might find interesting to hear that the French have never been known for eating potatoes with the skin. I only learned about that food habit when I traveled to England for the first time at the age of 12 and I ate Jacket potatoes. Needless to say that I fell in love with them right away.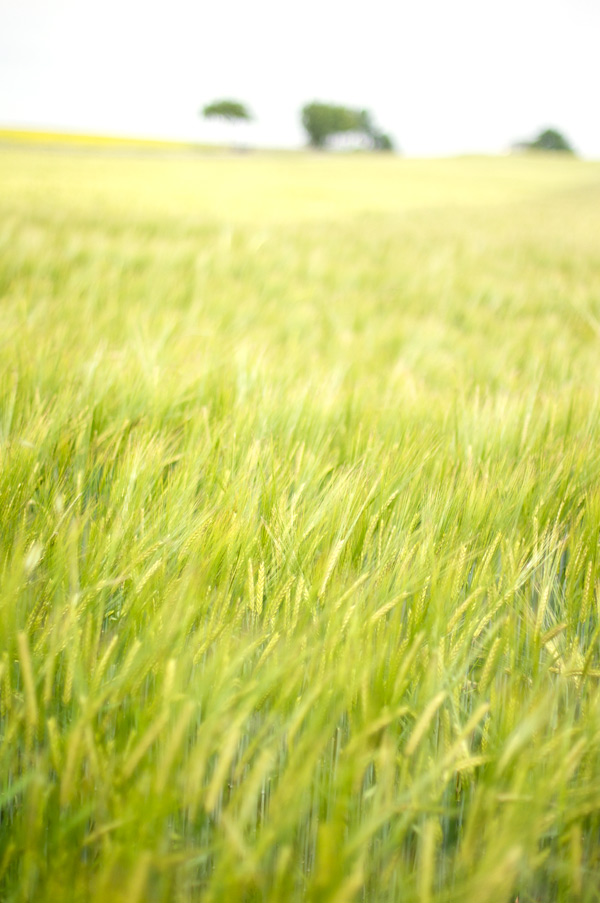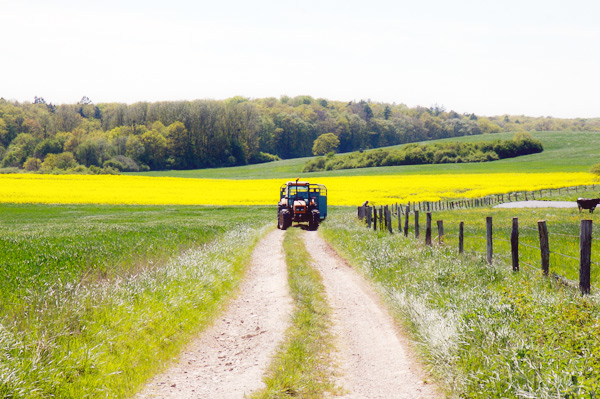 Here in the United States, it's unfortunately almost impossible to find fromage blanc. On occasions, I manage to find some by Vermont Butter and Cheese, but I don't like it since it is 0% fat–which is not my cup of tea.
Instead, I like my fromage blanc to be made with full fat milk so that the texture is silky and flavorful. Hence I only eat fromage blanc — and indulge as much as I can — when I travel back to France.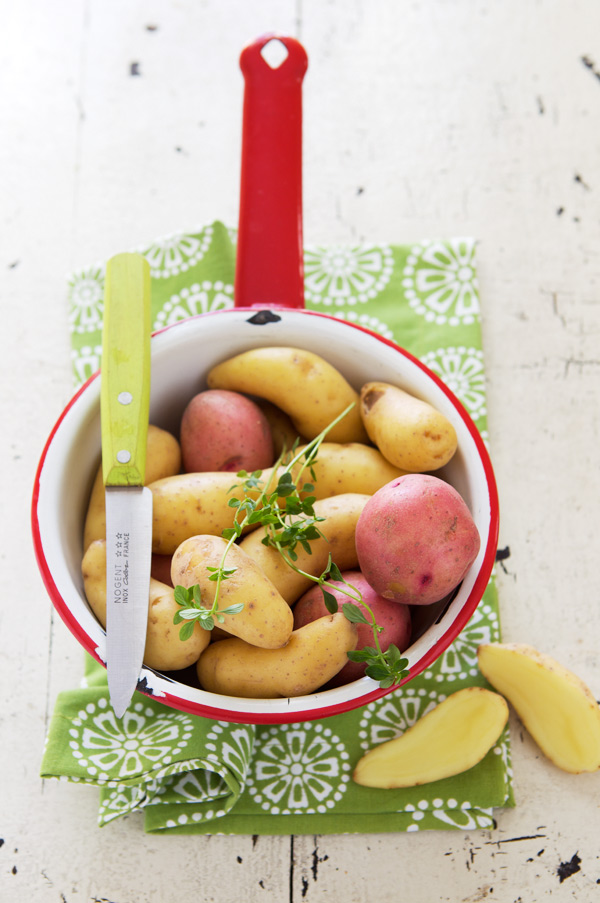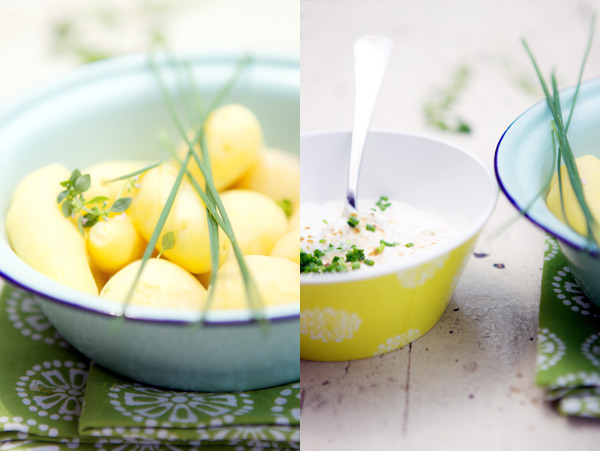 Making the sauce is easy. Instead of fromage blanc (which I also like to combine sometimes with petits suisses), I use Greek yogurt made with whole milk. I add lemon juice, a generous amount of chopped chives, a few spices and shallot and the result is a thick flavorful sauce that accompanies beautifully the potatoes–Lulu more particularly enjoys dipping her potatoes into the sauce. Choose your favorites: potatoes that are dense in texture, like fingerlings, or others like Russet that will crumble more easily. Peel them before serving or leave them on the table with the skin on, for your guests to decide. I personally prefer to peel the potatoes before serving them.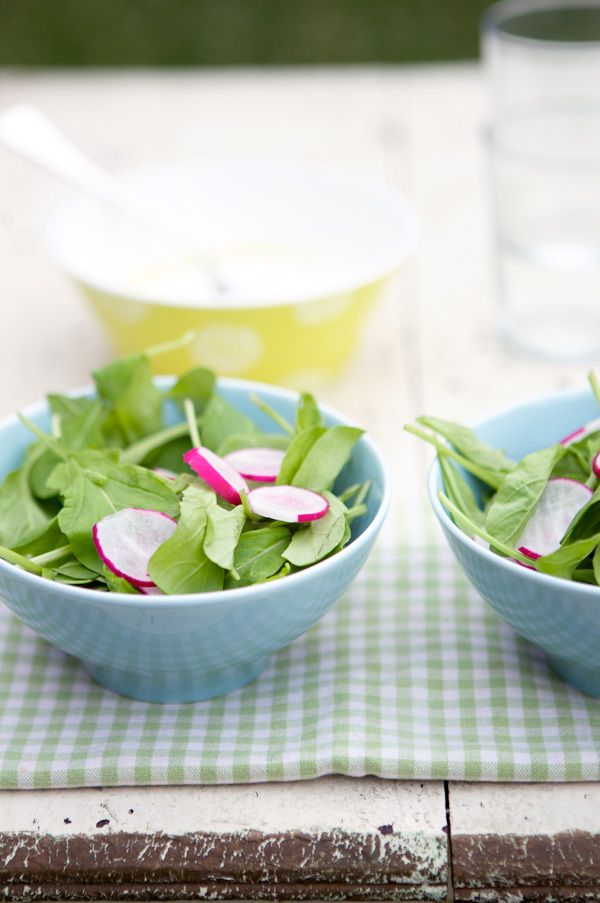 In all cases, it's humble food at its best. Something delicious that makes a light dinner if you eat a green salad on the side; or something more substantial if you accompany the food with cured meats, grilled meats and other fresh summer salads.
Even my dad tends to agree…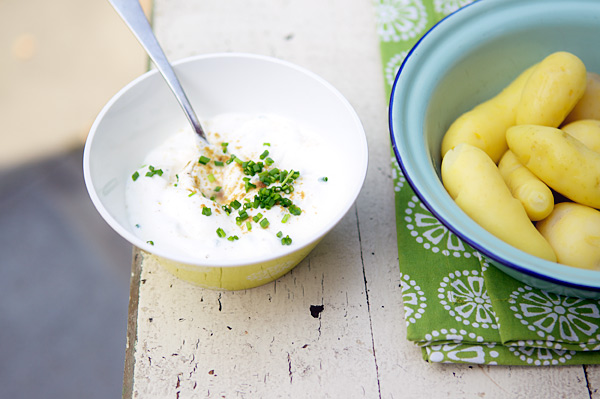 Pommes de terre en robe des champs
For 4 people
You need:
20 fingerling potatoes or 12 to 16 Russet potatoes, according to size

For the sauce:

1.5 cups Greek style yogurt, whole milk (or full fat fromage blanc)
1.5 tablespoons lemon juice
2 tablespoons chopped chives
1 shallot, chopped finely
Dash of ground cumin
Sea salt and pepper
2 tablespoons olive oil

Steps:
Place the potatoes in a pot and cover with water. Bring to a boil and simmer until the potatoes are cooked through (about 15 minutes, depending on size). Drain and let cool before peeling; set aside.
In a small bowl, combine all the ingredients to make the sauce. Serve the potatoes with the sauce.