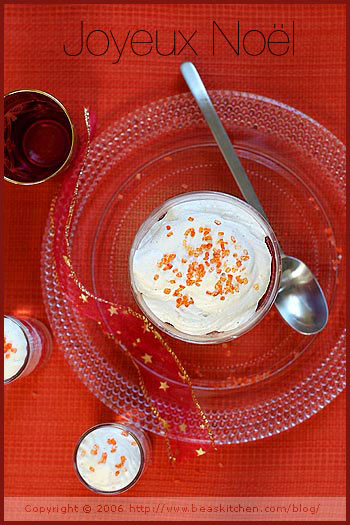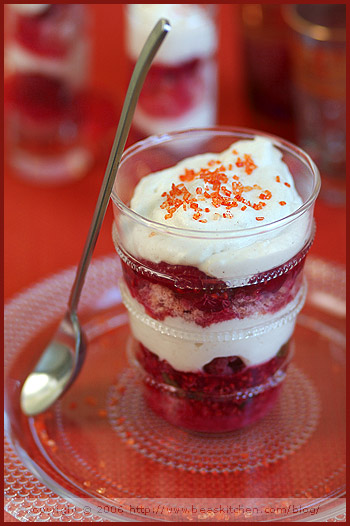 Raspberry and Mascarpone Mousse Verrines
I know what you are going to say. Yet another one! Oh please, do not be hard on me. I have good reasons!
Well, what can I say, it is the season of desserts just like this one and as I am feeling pretty experimental layering food in glasses, eh bien voilà ! I am welcoming an easy classic!
In French, we refer to this type of dishes as verrines. Call them layers of goodness and we get to the same result, agreed? Les verrines are part of a new food trend that started a few years ago, if I recall well. And oh yes, I like them a lot, but you might have guessed this part. I find them lovely to look at and I suspect that you will be pleased to hear that they are also easy to prepare, and dress up or down depending on the meal occasion. I should not forget to mention how enjoyable they are to eat, whether savory or sweet. Some are cold food, some warm. The combinations are endless.
I do not know what is going on this year but unless driven by the calendar or the crowds gathered in stores, I would hardly notice that Christmas is almost here. Where is the awaited snow? The sky persists to stay blue and the sun is out. I hardly need a jacket when I go out for walks. I should feel pleased that I only needed to dig out my warmer coat out once this winter, but instead it worries me. Shall I add that I am actually not really complaining? But! There is a but. Christmas on this side of the planet without snow is just not the same. At that time last year, we went skiing with my family in the French Alps. I hardly remember a colder December week. This year on the other hand, rien, nada, nothing! It seems that the snow is taking a wee vacation. Boston is usually loaded with snow! However, we have hardly seen any so far. But Christmas is definitely coming and happening. I am told that only kids are known to be impatiently waiting a calendar in their hands, counting the days down before D Day when le jour du réveillon de Noël (Christmas Eve) finally arrives. For once, I am ready. Today, I managed to complete a last Christmas purchase — or such is what I think — and as to food, I am starting to empty the fridge. Paradoxical before Christmas, isn't it? In fact, I will be able to relax as I will not be in charge. Les pieds sous la table (my feet under the table, in other words, doing nothing). Are you feeling sorry? an inner voice asks me. Not at all! I respond back. I wonder how long it will take until I miss cooking! Perhaps this is one of the reasons why I am being so productive before D Day.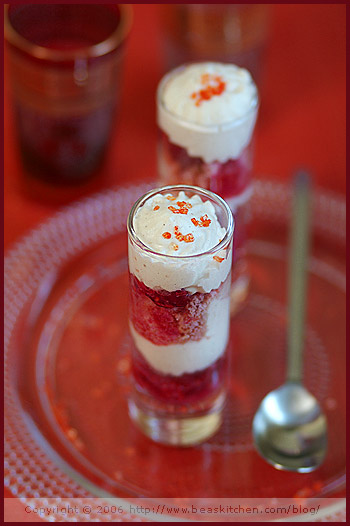 Raspberry and Mascarpone Mousse Verrines — Verrines de framboises et mousse à la mascarpone
This dessert has always been a favorite of mine. I make it under a lot of varied forms, changing it according to the fruit season, my meal theme and/or my mood. For the festive end-of-year occasion, I decided to dress it in red. Sexy, rich, elegant, festive, intimate, full of strength and passionate, in this dessert, lime-flavored raspberries are imprisoned between layers of light mascarpone mousse and crumbled biscuits roses de Reims. Yes these very ones again. Refreshing and smooth. Can it get more simple than that?
Joyeux Noël à tous ! Enjoy the holidays!
This is also my December entry to one of my favorite blog event, in the name of Sugar High Friday. This month, the theme is simply Sugar Art, hosted by Danielle at Habeas Brûlée.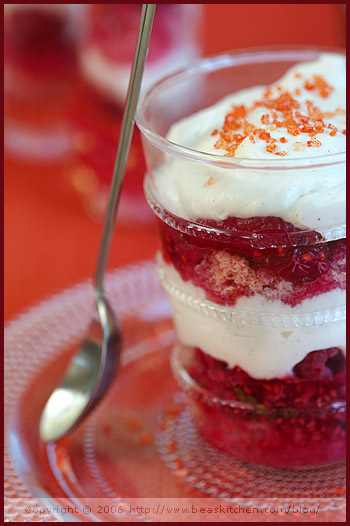 Raspberry and Mascarpone Mousse Verrines
(For 4 people)
You need:
14 oz fresh raspberries
2 oz sugar
3 to 4 Tbsp lime juice
7 oz mascarpone cheese
2 gelatin sheets (+ 4 Tbsp milk)
2 egg whites
1/2 tsp ground cardamom
2 Tbsp maple syrup
Pinch of salt
Mint leaves
12 Biscuits roses de Reims (or ladyfingers)
Colored sugar for decoration
Steps:
To start the verrines, make crumbles with the biscuits and keep.
Purée the raspberries with a fork. Keep a few on the side. Add the lime juice, sugar and chopped mint to the raspberry purée. Mix well.
Soak the gelatin sheets in cold water for 5 mns and then strain. Squeeze out the excess water. Heat the milk and dissolve the gelatin sheets in it.
Whip the mascarpone, maple syrup and ground cardamom together with an electric mixer.
Add the dissolved gelatin and mix well.
Whisk the white eggs firm with a pinch of salt. Fold them carefully in the mascarpone.
To prepare the serving glasses, start by adding a layer of crumbled biscuits. Add some puréed raspberries with a few fresh ones, add some cream then continue with another layer of biscuits and raspberries again. Finish with the cream and decorate with colored sugar (once ready to eat). Place in the fridge for 1 or 2 hours before eating.
Le coin français
Verrines de framboises et mousse à la mascarpone
(Pour 4 personnes)
Ingrédients :
400 g de framboises fraîches
60 g de sucre fin
3 à 4 cas de jus de citron vert
200 g de mascarpone
2 feuilles de gélatine (+ 4 càs de lait)
2 blancs d'oeuf
1/2 càc de cardamome en poudre
2 càs de sirop d'érable
Pincée de sel
Quelques feuilles de menthe ciselées
12 Biscuits roses de Reims
Sucre coloré pour la décoration
Étapes :
Pour préparer les verrines, commencez par émietter les biscuits et réservez.
Écrasez les framboises à la fourchette pour obtenir une purée grossière. Mettez-en quelques-unes entières de côté. Ajoutez le jus de citron vert, la menthe ciselée et le sucre à la purée. Mélangez.
Mettez les feuilles de gélatine à tremper dans de l'eau froide pendant 5 mns. Faites chauffer le lait. Essorez la gélatine et faites-la dissoudre dans le lait chaud.
Battez la mascarpone au batteur électrique avec la cardamome et le sirop d'érable.
Ajoutez la gélatine et mélangez bien.
Montez les blancs d'oeuf en neige ferme. Incorporez-les délicatement à la mascarpone.
Pour dresser vos verres, commencez par une couche de biscuits roses de Reims, puis de la purée de framboises avec quelques framboises entières, de la crème, puis continuez avec une nouvelle couche de biscuits et des framboises. Terminez par de la crème. Décorez avec du sucre coloré (juste avant de servir). Mettez au frais pendant 1 à 2 heures avant de déguster.