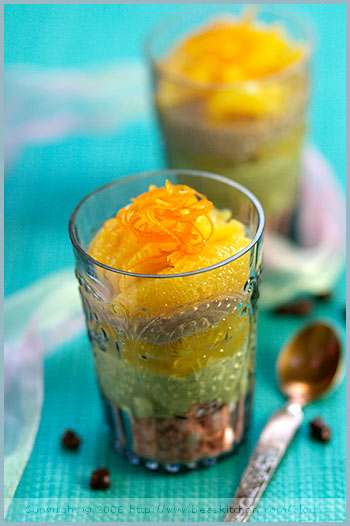 "Obsessive? Moi? You must be joking! I don't think that I am obsessive. I am just persistent. See the difference?"
"No", P. replied.
"Têtue mais pas obsessive." (Stubborn but not obsessive), I insisted.
I will have to admit that at times, it can be hard to draw the line between these two characteristics. They overlap, displaying similarities in a person's behavior. But for my defense, I will add that rather than being obsessive, I know what I want and do not easily let go when an idea creeps into my head. And sometimes, if everything else seems to fail, I can be lucky.

How A New Faux-Tiramisu Was Born
This idea of a faux-tiramisu emerged from a recipe made a long time ago, almost three years ago I should add — where does time go? — when two friends came for dinner. And I can still remember it well. It was particularly a big hit since one of our friends is a big fan of Matcha Tea , maybe from living in Japan for a while. In any event, I had mostly forgotten about this dessert until a few months ago, when the visual memory of it, with its appealing colors and delightful flavors came back to me like in a vision. One of these weird moments when, not only could I "see" the dessert, but I remembered that I had spotted it in a magazine, on a left page, definitely not right, with an attractive large picture next to the detailed recipe. I knew that I wanted to make it again. So my search began. What magazine was it in again? Good question. What year? What month? "Why don't I organize my magazines by season?" I thought. A French one? American? English? Australian? In my ever-growing magazine pile, I looked and looked again but to no avail. The recipe was nowhere close to be found. Not feeling an ounce discouraged, I decided to use strategy two and wrote an email to the French magazine Elle à table, thinking it might well come from one of their issues. To my surprise, they answered despite the very approximate explanation I had given them. "Maybe they are going to think that I am un peu folle (a little crazy)", I wondered. They did not say but instead responded: "Nous sommes désolés mais cette recette ne nous dit rien". (Sorry, but we cannot recall this recipe).
"Oh no! Please no!"
It was definitely lost. I should have known better. It was the cost I was paying from tearing pages off out of my magazines, turning them into papier volant (loose paper) that one day, sooner or later, disappears for good.
I was about to give up.
But we must really all have one guardian angel watching somewhere — mine even has a name — so we are told!
You almost believed me about the name, didn't you?
By a pure piece of luck, while cleaning up a few totally unrelated files — I should definitely do this more often, I wonder what I would dig out — I found the piece of lost paper again, with the missed recipe on it. I was so happy at the sight of my discovery that I dashed into the kitchen. What did I have handy? Could I make it right then? Some ingredients were definitely missing if I wanted to stick to the original recipe. "No biggie," I thought "je vais improviser" (I will improvise). And so this is simply how I became inspired to turn an old version of a highly appreciated dessert into my own. My new faux-tiramisu was given a life again. Not a chance that I would lose it again! Stuck on "paper" in my own blog.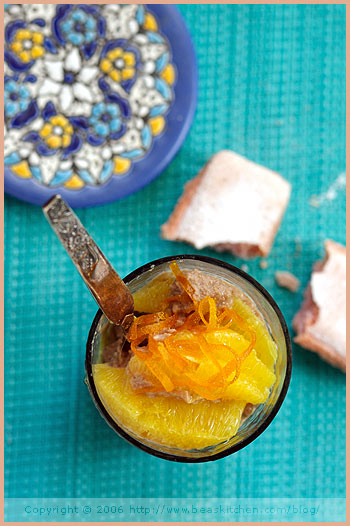 This dessert is very easy to make. With such a display of colors, it can only brighten your day and make you feel happy. The ingredients needed are classic things to be found in my fridge and cupboard: oranges — loads of them in winter — Matcha tea and cocoa powders, eggs, sugar, cream and milk. And then there are the biscuits. The pink biscuits. And let me tell you about these.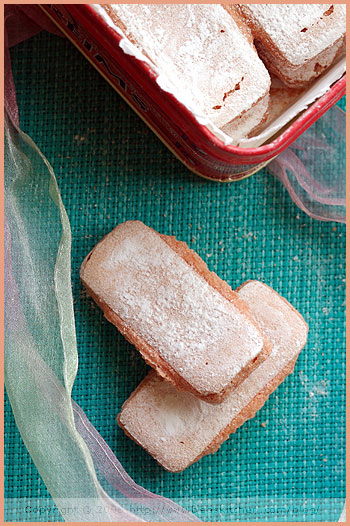 Biscuits roses de Reims
Biscuits roses de Reims are biscuits made by Maison Fossier, a French company located in the north-eastern city of Reims in France, and known to have perpetuated a fine tradition in the confectionery industry. These pink biscuits are simple and delicate: fresh eggs, sugar, flour, vanilla, cochineal (a natural coloring) and icing sugar powered on top are the ingredients used in the dough which is cooked twice. The name Biscuit derives from the mere fact that the baked goods are cooked twice. Cuit in French means cooked, bis, twice, hence the name bis cuit. Hard in texture due to this particular cooking process, these biscuits used to be simply dunked in a glass of champagne or red wine.
Note: It took me some time to find these delicate biscuits here in the US. But aren't we expatriates happy to have online shopping for hard-to-find ingredients! To make sure that I was not going to forget the provider to these biscuits, it dropped a link into my stylefeed.
And so what with the dessert?
The flavors blended very nicely. Orange slices showed as a refreshing touch next to the two mousses, whereas the crunchiness of the crumbled biscuits roses gave body to the dessert. To really appreciate the different flavors develop in your mouth, I loved to dip a long spoon until it touches the bottom: in one spoonful, I got it all. And we loved it! Whether deciding to make this dessert for a casual dinner or a more festive one, there is one thing to be remembered: there is always room for more biscuits roses de Reims that can dunked into a flûte de champagne! I can hear and smell the bubbles already!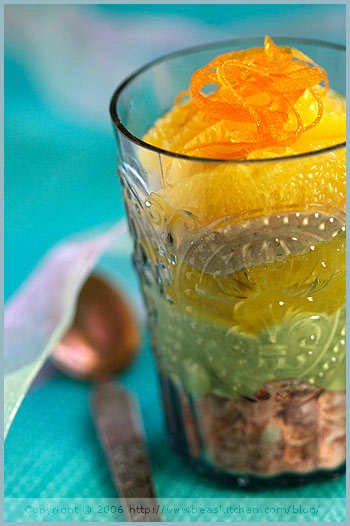 Multicolored Faux Tiramisu with biscuits roses de Reims
(For 4 people)
You need:
For the syrup:
2 oz + 1 Tbsp fine sugar
2/3 cup water
For the creams:
3 organic oranges
2.5 oz fine sugar
1 cup + 1 Tbsp milk
3 egg yolks
1 tsp Matcha tea powder
1 tsp cocoa powder
1/2 cup (minus 1 Tbsp) heavy cream
2 gelatin sheets (2 x 2 g)
8 biscuits roses de Reims (or ladyfingers)

Steps:
To prepare the decorative candied orange zests, take the zest of one orange and cut it in sticks. Boil it for 2 mns and rinse. Start again two more times.
In a pot, pour 2/3 cup water with 2 oz + 1 Tbsp fine sugar to make a light syrup. Add the orange zests and cook on low heat for 10 mns or so, or until the zests are almost transparent. Strain and let cool down. Keep on the side.
Slice the oranges, making sure to remove any white skin.
To prepare the creams, soak the gelatin sheets in cold water for a few mns.
Boil the milk.
In a salad bowl, whisk the egg yolks with the sugar and without ceasing to stir, start by pouring the hot milk. Pour back in the pot and without ceasing to stir, cook on low heat until the cream is thicker and coats a wooden spoon.
Remove from the heat and add the gelatin sheets (squeeze them to remove the excess of water). They should dissolve.
Divide this preparation in two halves. In the first one, add the Matcha tea and in the second, add the cocoa. Mix well and let cool down.
Whip the heavy cream firm and add it carefully to the two creams. Place in the fridge until the creams start to set.
To serve, take regular drinking glasses. Crumble the biscuits roses and place them at the bottom of each glass. Continue with a layer of the Match tea cream, then add slices of oranges. Continue with a layer of chocolate cream, then slices of oranges again. Decorate with the candied orange zests. Place in the fridge until the creams are totally set, 1 or 2 hours. I suggest eating this dessert with a long spoon and get a piece of each layer in each spoonful. You get the best of everything then.
Le coin français
Faux Tiramisu multicolore aux biscuits roses de Reims
(Pour 4 personnes)
Ingrédients :
Pour le sirop :
60 g de sucre fin
15 cl d'eau
Pour les crèmes :
3 oranges non traitées
70 g de sucre fin
25 cl de lait demi-écrémé
3 jaunes d'oeuf
1 càc de thé Matcha en poudre
1 càc de cacao en poudre
10 cl de crème liquide
2 feuilles de gélatine (2 x 2 g)
8 biscuits roses de Reims (ou des biscuits à la cuillère)

Étapes :
Pour préparer les zestes d'orange décoratifs, prélevez le zeste d'une orange et coupez-le en batonnets. Ébouillantez-les pendant 2 mns. égouttez et jetez l'eau. Renouvelez 2 fois.
Dans une casserole, faites frémir 15 cl d'eau avec 70 g de sucre pour obtenir un sirop léger. Ajoutez les zestes et laissez-les cuire à feu doux pendant 10 mns, jusqu'à ce qu'ils soient translucides. Égouttez-les et laissez refroidir.
Prélevez les quartiers d'orange à vif. Réservez.
Pour préparer les crèmes, faites tremper les feuilles de gélatine dans de l'eau froide pendant quelques minutes.
Portez le lait à ébullition.
Dans un saladier, fouettez les jaunes d'oeuf avec le sucre, puis sans cesser de fouetter, versez le lait chaud. Remettez dans la casserole et faites épaissir sur feu doux, en remuant avec une cuiller en bois. La crème doit napper la cuiller.
Retirez du feu et ajoutez les feuilles de gélatine essorées. Elles doivent fondre.
Divisez la préparation en deux. Ajoutez le thé matcha dans l'une, le cacao dans l'autre et mélangez bien. Laissez refroidir.
Fouettez la crème en chantilly et ajoutez-la delicatement aux 2 crèmes. Réservez au frais jusqu'à ce que les crèmes prennent.
Pour servir, prenez des verres. Emiettez les biscuits roses et placez-les au fond de chaque verre. Continuez avec une couche de crème au thé Matcha, puis des quartiers d' orange. Continuez avec une couche de crème au chocolat. Finissez avec des quartiers d'orange et les zestes confits. Remettez au frigo pour que les crèmes prennent, environ 1 à 2 heures.