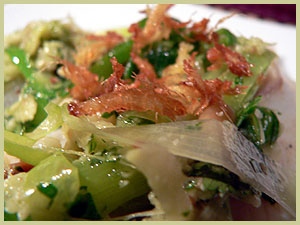 Ginger
I am a big fan of ginger in all forms, although for many years, I kept arguing how much I disliked ginger cookies for example. For some reason and the longest time, I did not "think" ginger in sweets was the same as ginger in savoury food. Go and figure! Ginger snaps, No, no!, would I scream. I recall this time of year when I was a kid, when on Saint Nicolas feast–a celebrated holiday in the Eastern part of France, like in Germany or the Netherlands–, we would be given this not-so-nice ginger Santa Claus (Père Noël en pain d'épice), which I really did not like– and that is, if you were lucky, because you either dealt with Saint Nicolas or le père Fouettard, and I usually made sure I went for le Saint Nicolas despite the ginger treat. So there was not the slightest chance that I would tolerate ginger snaps! Not in my grocery cart today, but things have changed somehow, or I have grown up. I even experiment now with ginger desserts.
Scallions
Scallions is one of my little man's favourite food. No kidding! We go to an Asian restaurant, such as our local Vietnamese, and he asks for shrimp scallions. The Asian soup? Scallions swimming in it. Totally predictable.
So when I want to make both of him and me happy, I decide to mix the two together.
Hence I designed this handy recipe that would combine both ingredients, always easy to pull out on darker days….
With it, I use fresh appealling sole fillets.
I am particularly fond of sole. It is such a delicate fish but has so many endless possibilities.
Sole with Ginger and Scallion Pesto
You need: (for 4 people)
4 sole fillets
3 scallions
1 piece of fresh ginger root
1 tblsp chopped fresh coriander
1 1/2 tblsp peanut oil
1.5 tblsp fish sauce
2 tblsp pine nuts, roasted and crushed coarsely
Safflower oil
Salt and pepper
Steps:
Start by peeling the ginger and julienne it. You should have about 2 Tbsp when shredded. Place 1 Tbsp in a small bowl on the side.
With the other Tbsp, take a frying pan pour about a large Tbsp of safflower oil. Heat on high and when ready, fry for a few min. When done, put on a paper towel to absorb the excess of oil, and set aside (for decoration)
Wash the scallions and slice them diagonally-wise. Take a small pot and heat some water in it. Blanch the scallions for a few min and set aside.
Take a frying pan and dry roast the pine nuts. Then crush them coarsely.
Chop the coriander thinly.
Mix together the ginger placed in the bowl, the pine nuts, the scallions, the peanut oil, and the fish sauce; set aside.
Take your sole fillets and brush them with peanut oil, with salt and pepper on both side.
Take a steamer and steam the fish for a few min only.
You can now assemble your dish
Place the fish on a warm plate, and place the ginger/scallion pesto on top. Decorate with fried ginger. Serve immediately, with steamed jasmine rice and a few greens (I also served it with mashed squash and steamed fennel, and it was delicious! See below)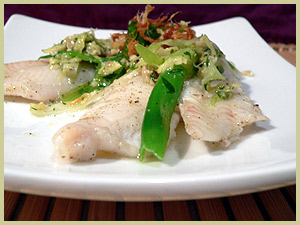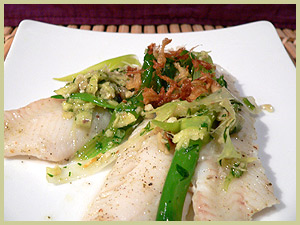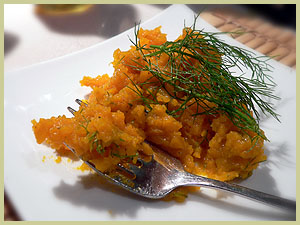 Mashed Acorn Squash
For the mashed acorn squash, you need a full squash.
Wash it, cut it in pieces and cook in boiling water until tender.
Then peel it and mash the flesh.
Mix with it dill and salt, pepper and olive oil.
Serve with anything you like, and that matches this beautiful orange colour.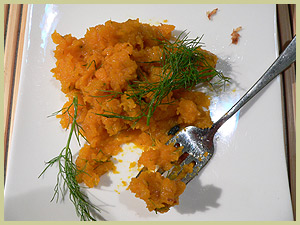 Food is inspiration, non?