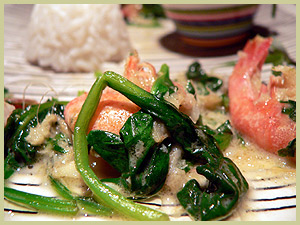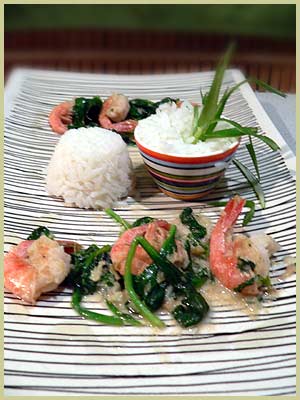 Yeah they are here! The season has started.
Our lovely Maine shrimps are now occupying the fresh fish sections of our stores. Why are they so special? I do not know, a certain je-ne-sais-quoi, small, tasty, full of juice. Very delicate and yummie! You cannot help but eat them with your fingers!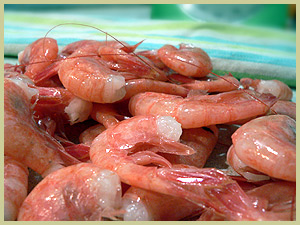 I was delighted to discover this on my last last trip to WholeFoods before we head off to France tomorrow for the holidays. And I could not believe that I let myself do this. I had tons of things to do but I could not resist and bought 2 pounds. One is frozen, the rest was dinner!
I used the very little bits and pieces I had to design a simple stir-fry, with shrimps, scallions (again), ginger (and again), and a few other things.
Maine shrimps
You need:
1 lb Maine Shrimps
2 fresh lemongrass stalks
2 scallions
1 piece of ginger root
3 garlic cloves
1 tblsp fresh coriander chopped
2 tblsp fish sauce
1/2 to 1 lime (juice)
1.5 tsp raw dark sugar
2 tblsp heavy cream (or coconut milk)
4 tbslp sesame oil
Pepper
4 cups fresh spinach
Steps:
Start by peeling your shrimps, making sure you keep the tails.
Chop very thinly the ginger, the lemongrass (white part only), the coriander, the garlic and add 2 Tbsp of sesame oil to the chopped ingredients.
Mix with the shrimps to coat and place in the fridge until ready to use.
Wash the spinach. Take a big wok and heat one Tbsp of sesame oil.
When hot, add the spinach and cook for about 3 to 4 min. It will give out some water. Place on the side.
Remove the water in ther wok and heat again the last Tbsp of oil.
When hot, add the shrimp and cook for a few min.

Then, add the lime juice, the fish sauce and the sugar, cook for 1 mn and then add the precooked spinach. Cook for 1 more mn.
Finish by adding the cream.
Chop fresh scallions and put on top. Serve with steamed jasmine rice.
Now I am off on my vacation to France to enjoy food prepared by others, that is my mum's cooking!!!…(well, I am cooking Christmas dinner with Geneviève, my sister-in-law, but this is just because she and I had made a deal, and I love to cook with her).
Joyeux Noël et à bientôt!